Two guys met at a mall kiosk and started talking about Ravens gear. The next thing you knew, Marc Heyman and Jeff Hinton were partners in a store—HomeGamers—selling sports paraphernalia and other merchandise at the TownMall of Westminster.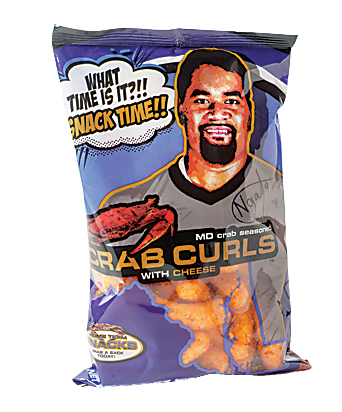 Now, they've come out with Home Team Snacks, managing to snag some top players to endorse their products and share their likenesses on the packaging: Ravens Haloti Ngata for the Crab Curls with Cheese, Joe Flacco for a Pure Purple Power energy shot, and the O's Matt Wieters for Crab Seeds, featuring crab-seasoned sunflower seeds.
"Our business model was to create the best snacks and put the best players on the packages and put them into fans' hands," says Hinton, who is vice president of the company. (Heyman is the president.)
The snacks, which were introduced last year, are available at several local retailers, including Giant, Wegmans, Weis markets, Royal Farms, and various 7-Elevens.
---
CRAB POWER: More snacks to come. As Baltimore natives and Carroll County residents, Hinton and Heyman are introducing two more crab-themed snacks this year.
Around June, they expect to have a Manny Machado crab popcorn ready for consumption.
In August, they'll be bringing out "Pitta Pretzel Pieces," named after the Ravens' Dennis Pitta. The partners have only just begun. They're already in talks with another power player. (Sorry! We can't tell you who it is yet.)
---
---