Best Rooftop Bars
Whether you're enjoying the weather or simply the view, here are our choices.
By Jess Mayhugh. Posted on August 19, 2014, 8:30 am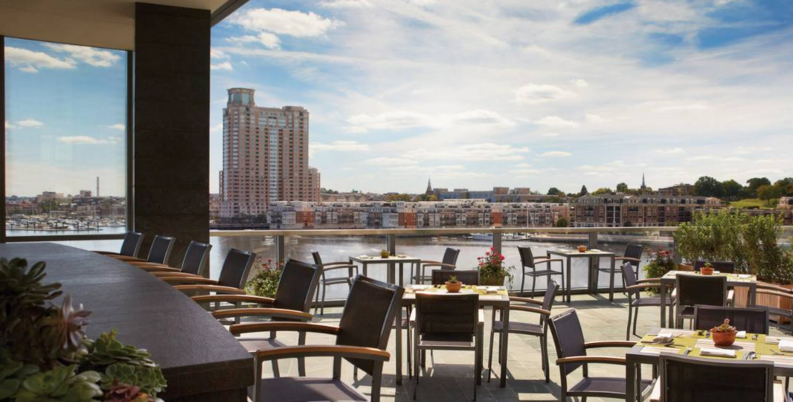 -Four Seasons Baltimore
L.P. Steamers
This crab house is an institution and it's also a stone's throw away from Fort McHenry. But, the best part is that L.P. Steamers has a rooftop deck full of picnic tables for cracking crabs, drinking beer out of plastic cups, and enjoying the harbor views. 1100 E. Fort Ave., 410-576-9294.
Blue Hill Tavern
Within eyesight of the winking Natty Boh, Blue Hill Tavern is an upscale dining and cocktail option in Brewer's Hill. For a more casual vibe, head upstairs where a side balcony and rear rooftop deck offer unparalleled views of the city. We recommend taking in the vista while sipping a dirty martini with blue-cheese-stuffed olives. 938 S. Conkling St., 443-388-9363.
Nick's Fish House
With multi-level decks overlooking the Patapsco River and Hanover Street Bridge, Nick's Fish House has one of the best views in town. Nick's also features plenty of seafood options (hard-shell crabs, calamari, lime mussels) and drinks like the state signature Orange Crush or $12 beer buckets. 2600 Insulator Dr., 410-347-4123.
Splash Pool Bar & Grill
Though you technically have to be a guest at the spa to have access to the Four Seasons Hotel's rooftop terrace, once you get up there, the water view is breathtaking. An infinity pool practically spills out onto the harbor and the bar offers treats like poptails (frozen, boozy popsicles). (While not on the roof, Wit & Wisdom's patio below is a lovely alternative). 200 International Dr., 410-576-5800.
Woody's Rum Bar
Located above both Sláinte and Kooper's , Woody's Rum Bar boasts a third-floor balcony and delicious food and drinks. You'd be hard pressed to find a more relaxing time than sipping on a daiquiri, chowing down on fish tacos, and staring out onto the cobblestoned Fells Point waterfront. 821 S. Broadway, 410-563-6800.
Café Gia
This intimate Little Italy restaurant does a lot of things right—including bruschetta and eggplant Parmesan. But we especially love the New Orleans-style deck, which would make for a romantic setting to watch Inner Harbor fireworks or other Star-Spangled 200 events. 410 S. High St., 410-685-6727.
---
Meet The Editor
Jess Mayhugh is the digital editor for Baltimore, where she covers nightlife, sports, food, and events.
---