Trudging out to your car in the Monday morning freeze, slush in your boots, the sun peeking wanly over the horizon, it's easy to forget that winter provides incredible opportunities for adrenaline-pumping recreation. While Mid-Atlantic skiing is admittedly a different experience than, say, hitting the slopes in Aspen or Sun Valley, the freedom to schuss down a mountain (regardless of its size) just a few hours later is yet another feather (or pom-pom) in Baltimore's (ski) hat.
What follows is a list of our 10 favorite ski resorts within a day's drive of Charm City, encompassing spots in West Virginia, Virginia, Pennsylvania, and Maryland. So the next time you're scraping the ice off your windshield and feel a Jerry Lundegaard-in-Fargo-style meltdown coming on, take a deep breath, focus on the weekend, and throw your skis in the car. It's go time.
1424 Overland Pass, Claysburg, Pa., 800-458-3403.
Slope Stats: When you can say that yours is the highest ski mountain in Pennsylvania (total vertical drop of 1,072 feet), you don't have to say too much more. But we'll say it anyway: Blue Knob's 34 trails and small tubing park make it a great destination for families looking for a quick getaway. The resort gets particularly high marks for its glade runs, aka off-trail skiing through ungroomed, wooded scenery. Après Ski: On-site condos and chalets are available for rent through the resort's website, but quality can vary widely among the privately owned units. The resort maintains indoor/outdoor pools, hot tubs, and saunas for guests who stay in the condos, and also offers a ski school, equipment rental, and cross-country skiing. Hours: 10 a.m.-9 p.m. Mon.-Thu., 10 a.m.-10 p.m. Fri., 9 a.m.-10 p.m. Sat., 9 a.m.-9 p.m. Sun. Cost: A five-hour flex pass can cost as little as $30 Sun.-Fri. or $52 for weekends and holidays. Eat and Drink: At Slick's Ivy Stone (8785 William Penn Road, Osterburg, Pa., 814-276-3131), about eight miles from the resort, wait staff in Colonial dress serve down-home staples like fried chicken and sugar-baked ham. Driving Distance: Three hours.
78 Country Club Trail, Carroll Valley, Pa., 717-642-8282.
Slope Stats: Ski Liberty, as it's known around these parts, is where many young skiers conquer their first runs. The mountain's 16 trails and three terrain parks are serviced by nine lifts, and its elevation (1,190 feet with a vertical drop of 600 feet) presents challenging—but not overly intimidating—runs. Après Ski: New this year is an ice-skating rink, plus the usual tubing, child-care center, restaurants, and bars. A fitness center, wireless internet, and a hot breakfast buffet are included with hotel rates. Hours: 9 a.m.-10 p.m. Mon.-Fri. and non-holidays, 8 a.m.-10 p.m. weekends and holidays. Cost: Lift tickets are $56 for a four-hour flex period, $66 on weekends and holidays. Novice skiers and snowboarders can get a lift ticket, lesson, and equipment rental for $90 midweek, $103 on weekends and holidays. Eat and Drink: Frontier Bar.B.Q. (801 Waynesboro Pike, Fairfield, Pa., 717-642-0030) smokes turkey, beef, pulled-pork, Gouda Italian sausages, and even pit ham. Trouble deciding? Order the Spicy Bullhawg, a half-beef, half-pork sandwich. Driving distance: One hour, 30 minutes.
1822 Resort Dr., Massanutten, Va., 540-289-9441.
Slope Stats: Massanutten is spread over 70 skiable and 6,000 total acres in the beautiful Shenandoah Valley. It often hosts live entertainment, offering a good-time environment for skiers of all ages. But the main attraction is the resort's 2,925-foot summit with a vertical drop of 1,110 feet, plus 14 trails, two terrain parks, and seven lifts. Après Ski: Indoor water park, ski and snowboard lessons, equipment rental, tubing, outdoor ice skating, zip line (weather dependent), gift shops and boutiques, restaurants, and a nightclub. Hours: 9 a.m.-9 p.m. daily; 9 a.m.-10 p.m. Christmas week. Cost: Mon.-Fri. $60 for an extended day ticket, $80 on weekends and holidays. Eat and Drink: Hank's Grille and Bar (49 Bloomer Springs Road, McGaheysville, Va., 540-289-7667) bills itself as an "upscale Southern eatery" that serves barbecue, steaks, and fresh breads. Driving distance: Three hours, 10 minutes.
925 Roundtop Road, Lewisberry, Pa., 717-432-9631.
Slope Stats: In the time it takes to drive to Washington, D.C., in rush hour traffic, you can get to one of the area's best ski resorts for beginners and intermediates, boasting 18 trails, a terrain park with a super pipe and half pipe, and a zip line course—all on 103 skiable acres on a 1,355-foot mountain with a 600-foot vertical drop. Which drive sounds more fun? Après Ski: Main lodge food court, sports shop, ski and snowboard schools, and tubing. Hours: 9 a.m.-10 p.m. weekdays and non-holidays, 8 a.m.-10 p.m. weekends and holidays. Cost: An eight-hour lift ticket is $60 midweek and non-holidays, $69 on weekends and holidays. Eat and Drink: Silver Lake Inn Bistro and Tavern (1295 Lewisberry Road, Lewisberry, Pa., 717-938-4894) specializes in steaks, seafood, and pizza. Driving distance: One hour, 30 minutes.
777 Waterwheel Dr., Seven Springs, Pa., 800-452-2223
Slope Stats: The 2,994-foot mountain with a 750-foot vertical drop offers 33 slopes and trails, seven terrain parks, and 10 lifts. Après Ski: If you've ever wanted to tag along with friends on a weekend ski trip but aren't that jazzed about hitting the slopes, this is the resort for you. There's live music on weekends, bowling, roller-skating, indoor mini-golf, snowshoe and snowmobile tours, tubing, an indoor pool, fitness center, hot tubs, and 11 dining options. A sporting clays course is open year-round, weather permitting. Hours: 9 a.m.-9 p.m. Mon.-Thu., 9 a.m.-10 p.m. Fri.-Sun. and holidays. Lit North Face trails close one hour prior to regular trails. Cost: All-day tickets are $64 midweek, $83 weekends, and $87 on holidays. Eat and Drink: Out of the Fire Café (3784 State Route 31, Donegal, Pa., 724-259-8887) is a family-owned-and-operated casual restaurant serving New American cuisine like Yuengling porter-braised short ribs with horseradish smashed potatoes. It's BYOB. Driving distance: Three hours, 30 minutes.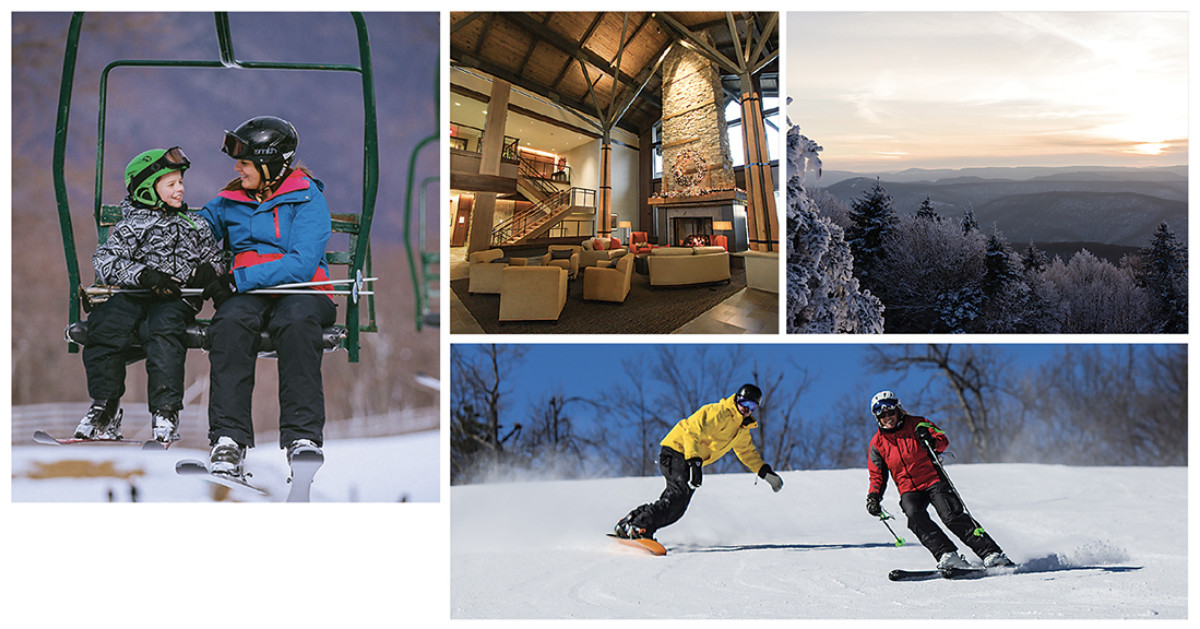 Clockwise, from left: One of five chair lifts at Wintergreen Resort; the Highland Lodge at Liberty Mountain Resort; a wintery vista at Snowshoe Mountain Ski Resort; on the mountain at Whitetail. -Courtesy of Wintergreen Resort; Liberty Mountain Resort; Snowshoe Mountain Ski Resort; Whitetail Resort
10 Snowshoe Dr., Snowshoe, W.Va., 304-572-1000.
Slope Stats: It may be a hike to get to, but serious skiers know that Snowshoe is worth the effort. With 57 trails divvied up among three distinct ski areas, a total of 251 skiable acres, an elevation of 4,848 feet, and a vertical drop of 1,500 feet, Snowshoe is one of the largest ski mountains in the area and presents some of the most challenging runs. Après Ski: Off-road adventure tours, tubing, snowmobile tours, indoor playground with arcade games, climbing wall, hot tubs, an indoor/outdoor pool, restaurants and food courts, lessons, and equipment rental. Hours: 9 a.m.-4:30 p.m. Snowshoe Basin Area; 9 a.m.-4:15 p.m. Western Territory Area; Silver Creek Area is open 12-9 p.m. weekdays and 9 a.m.-9 p.m. weekends. Cost: $79 midweek, $99 weekends and holidays. Eat and Drink: The Route 66 Snowboard and Ski Shop (598 Cass Road, Snowshoe, W.Va., 304-572-2200) has a cafe that serves wings, sandwiches, wraps, and pizza. Driving distance: Six hours.
254 Four Seasons Dr., Davis, W.Va., 800-766-9464.
Slope Stats: The resort describes its Cherry Bowl as "a north-facing gladed bowl which naturally captures both natural and manmade snow with a Western feel." That says a lot about how the resort views itself—as a serious destination for serious skiers. It certainly has the raw ingredients for superior slaloming. It averages 200 inches of snow or more a year. It has an elevation of 4,268 feet with a vertical drop of 1,000 feet, 41 trails, and 100 skiable acres. It also has two double black diamonds, extremely rare in this part of the country. Après Ski: The Slopeside Hotel sits within feet of the main lift. Also look for lessons, equipment rental, Timbers Pub and Fireside Grille with live music and karaoke, cross-country ski trails, and snowshoeing. Hours: 9 a.m.-4:30 p.m. Sun.-Thu., 9 a.m.-9 p.m. Fri., 8 a.m.-9 p.m. Sat. Cost: An eight-hour lift ticket is $54 Mon.-Thu., $59 on Fri., $74 on weekends, and $83 on holidays. Eat and Drink: We love how Hellbender Burritos (457 William Ave., Davis, W.Va., 304-259-5557) describes itself: "If you're looking for authentic Mexican food, you've come to the wrong place. But, if you're looking for unique, West Virginia-inspired, meal-sized burritos filled with homemade ingredients, Hellbender Burritos is for you." How can you argue with that? Driving distance: Four hours.
13805 Blairs Valley Road, Mercersburg, Pa., 717-328-9400.
Slope Stats: Whitetail exhibits many of the same qualities as its sister resorts, Roundtop and Liberty. Like them, it's family-friendly and easy to get to, and it has hosted great runs for many years. The elevation is 1,800 feet with a vertical drop of 935 feet, and nine lifts take skiers and boarders to 23 trails and two terrain parks. Après Ski: Tubing, child care, ski and snowboard lessons, food court, slope-side brick-oven pizzeria, and adaptive snow-sports program for children and adults with mental and physical challenges. Hours: 8:30 a.m.-10 p.m. daily. Cost: Eight-hour lift ticket is $64 midweek, $75 weekends and holidays. Eat and Drink: Go full Pennsylvania and hit up Flannery's Tavern on the Square (5 N. Main St., Mercersburg, Pa., 717-328-5011) on Wednesday evenings for Yuengs (as in Yuengling Lager) and wings night. Driving distance: One hour, 30 minutes.
Route 664, Wintergreen, Va., 434-325-2200.
Slope Stats: Nestled near Virginia's wine country, this resort offers skiing and luxury accommodations on 129 skiable acres with five chair lifts, 24 runs, and two terrain parks that are continually reshaped for new challenges. Après Ski: Two snow-tubing parks, ice skating, winter zip line, pool and fitness center with year-round outdoor hot tubs, therapeutic soak pool, yoga classes, and fun park. Hours: 9 a.m.-5 p.m. Mon., 9 a.m.-9 p.m. Tue.-Sun. Cost: Eight-hour lift tickets $59 midweek, $69 Fri., $79 Sat.-Sun., and $84 holidays. Eat and Drink: Grab a burger or a Reuben at Wild Wolf Brewing Company (2461 Rockfish Valley Hwy., Nellysford, Va., 434-361-0088) and wash it down with a pint in the dog-friendly beer garden. Driving distance: Three hours, 45 minutes.
296 Marsh Hill Road, McHenry, 301-859-3159.
Slope Stats: When you're talking Maryland skiing, you're talking Wisp. Located in the Deep Creek Lake area, it's the state's finest ski resort. Okay, it's also the state's only ski resort, but with a 3,115-foot peak and 172 skiable acres, it more than holds its own. Seven chair lifts and seven surface lifts take skiers and snowboarders to 34 beginner, intermediate, and advanced trails and three freestyle parks. Plus, the area averages more than 100 inches of snowfall per year. Not too shabby at all. Après Ski: Tubing, ice skating, canopy tour with five zip lines (limited winter operation), cross-country skiing, snowshoeing, and a "mountain coaster." Hours: 9 a.m.-5 p.m. daily with night session until 9 p.m. Cost: $59 weekdays, $69 weekends, $79 holidays. Eat and Drink: The Honi-Honi Bar (19745 Garrett Hwy., Oakland, 301-387-9100) has been attracting vacationers for years with its party vibe. Driving distance: Three hours, 30 minutes.
---
Buddy Slopes
As the Baltimore Ski Club enters its 70th season, club officer Jocelyn Curtis explains the benefits of membership.
How did the club start?
The Baltimore Ski Club was originally founded by members of the Mountain Club of Maryland because they wanted something to do in the winter. In 1935, they formed the Baltimore Ski Club. The group became inactive during World War II, but reformed and incorporated as an organization in 1947.
What's on the club's agenda for its 70th season?
The season starts in January and goes until April. We are sponsoring a weekend bus trip to Canaan Valley, West Virginia, in January. We also have another weekend trip that's going to Belleayre Mountain in New York in March. Generally, our members probably go on an independent basis to Wisp and some of the Southern Pennsylvania resorts, including Ski Liberty, Roundtop, and Whitetail.
There are also farther-flung destinations, right?
Yes. On the East Coast, the most northern trip is to Sugarloaf in Maine in March. Then we have several trips going out west—Aspen/Snowmass in January; Breckenridge in February; Schweitzer, also in February; and Park City in March.
What are the benefits of membership?
You have to be a member in order to go on any of our trips, and the big advantage is group discounts for travel, lift tickets, lodging, and even sometimes group meals. And we have a lot of parties, too!
Out of your 300 members, how many go on an average trip?
About 35 to 45, ranging from pretty much beginners to experts—although not complete beginners on some trips because the mountains would probably be too overwhelming. But most of these mountains have terrain that varies from beginner through expert. So there's a little bit of something for all levels.
You have members of all ages, ranging from young families and singles to empty nesters. There are even members who don't ski, right?
Yes, sometimes a husband and wife may get together for a particular trip, but maybe one member doesn't ski. So they might, for example, be interested in the history or ecology of an area. Or sometimes, they're just going to provide moral support for their spouse or friend—and enjoy an après ski party!
Is it too late to get in on this year's action?
Some of the trips are full, and then some have a couple openings. Each trip is listed online with trip leader contact information—phone numbers and email addresses—because there are cancellations. We would not want to discourage anyone from considering it, in case there is an opening.
Even if someone misses this season, it sounds like there are a lot of off-season events, too.
Yes, there are. We just had a group come back from Budapest. Last year, there was a group that went to Germany. This summer, we have a cruise going to Nova Scotia. And these are non-ski trips. More locally, we had a crab feast in August and a picnic in Middle River in June. We have general meetings once a month, and we try to have speakers that we think the general membership might be interested in. It's a good way to get to know people before you go out on the slopes with them.
What do people have to do to join?
We have membership applications online. Individual memberships start at $38 per year. Family memberships are $55, and that includes all the children under 18 in the family.

---
---