Towson Native Adapts Woody Guthrie Song "Old Man Trump"
Music video set in Sandtown neighborhood of Baltimore.
By Jess Mayhugh. Posted on July 21, 2016, 4:30 pm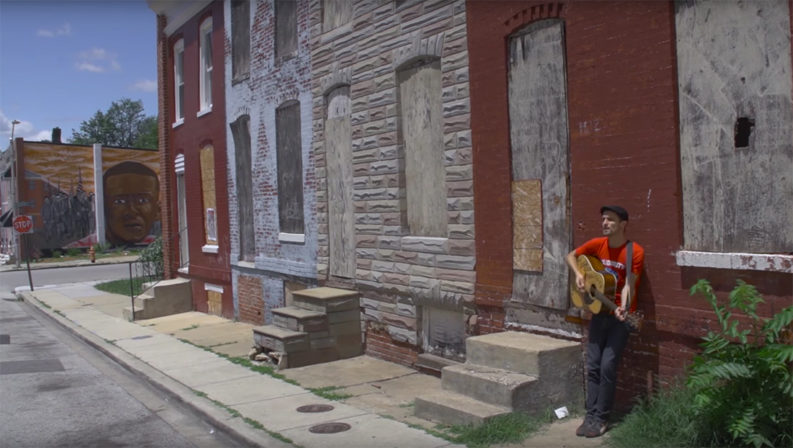 -Courtesy of Firebrand Records
What do Tom Morello, Woody Guthrie, and Donald Trump all have in common? Strangely enough, their stories converge in a new song co-written by Towson native Ryan Harvey called "Old Man Trump."
Harvey, who co-founded Firebrand Records with former Rage Against the Machine guitarist Tom Morello, read an article last year about historian Will Kaufman discovering Guthrie's unpublished lyrics.
In a case of truth being stranger than fiction, the lyrics chronicled a time when Guthrie was a tenant in one of the Brooklyn apartment buildings managed by Fred Trump, father of current Republican presidential candidate Donald Trump. Guthrie's writings focus on the racial segregation within the housing complex.
"This is a modern song that just happened to be written in the past," said Harvey from the Republican National Convention in Cleveland. "Donald Trump supporters are saying 'Make America Great Again.' Now, here's Woody Guthrie, nearly 50 years after his death saying, 'No, actually it wasn't that great.'"
Once Harvey found the lyrics and knew he wanted to make a modern adaptation, he contacted Guthrie's daughter, Nora, and the two worked on editing the three unfinished songs together.
"There was very little editing because Nora's stance is let's leave them as they were," Harvey says. "This became a challenge, but ended up working really well. We did change the lyric 'Trump's heaven' to 'Trump's Tower' to throw in a present tense reference."
Harvey then teamed up with Morello and fellow folk musician Ani DiFranco to record the song in DiFranco's home studio in New Orleans. But, when it came time to make the music video, the setting ended up being Sandtown in Baltimore.
"One idea was to do a throwback video in New York City in black and white," he explains. "But we thought, why won't we make it about the modern housing struggle so we could make it seem like it was written yesterday."
They reached out to the Right to Housing Alliance (where a portion of the song's proceeds will be donated) and decided to film at Tubman House, across the street from the Gilmor Homes where Freddie Gray was arrested.
"We wanted it to feel authentic," Harvey said. "Every person in the music video is an activist or artist involved in Baltimore's social justice community."
The song's lyrics, adapted directly from the notebooks that Kaufman found, read: "I suppose / Old Man Trump knows / Just how much / Racial Hate / he stirred up / In the bloodpot of human hearts / When he drawed / That color line / Here at his / Eighteen hundred family project."
"We wanted the song to be angry, but in a heartfelt and empowering way," Harvey said. "Woody Guthrie was writing history without him really even knowing it. It's incredibly American."

---
Meet The Editor
Jess Mayhugh is the digital editor for Baltimore, where she covers nightlife, sports, food, and events.
---