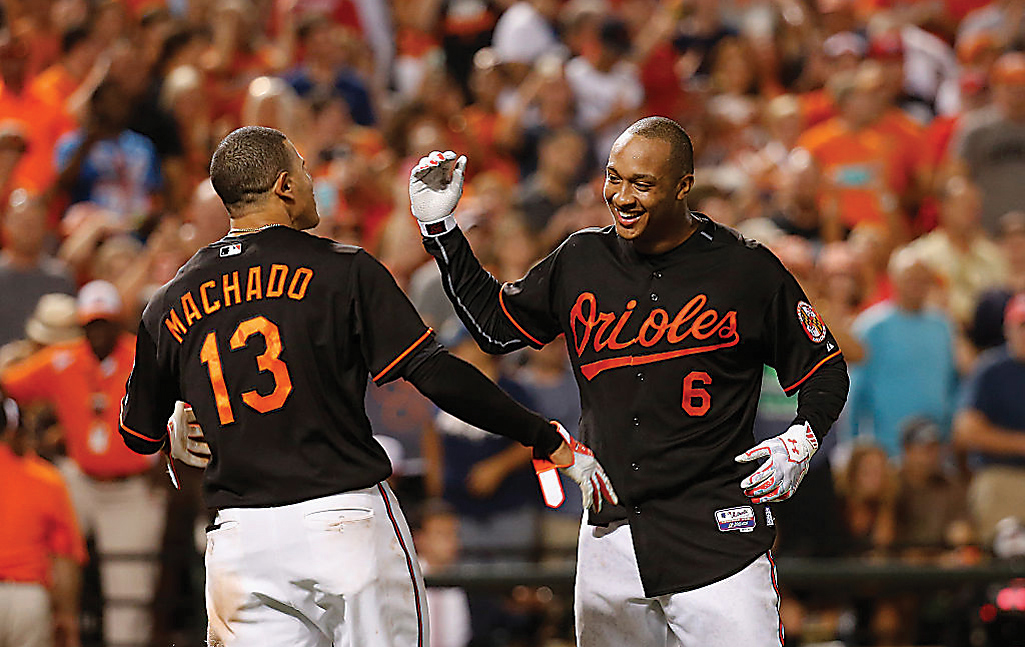 As if on cue, Machado adds, "I'm a beast."
They're recalling the highlights and journey that brought them together as teammates, friends, and Major League stars, on a patio outside of the clubhouse at the Orioles' spring training facility in Sarasota, Florida. The exchange is typical. Like an old married couple, neither is hesitant to interrupt—or contradict—a story the other is telling.
Their ease and comfort with each other is obvious. Granted, it's late February, so the pressure of the regular season seems as far off as the cold weather in Baltimore, but talk to anyone around the franchise and you'll hear the same analogy used over and over.
"They really are like brothers," says first baseman Chris Davis. "We talk about how close we are as a team and how good of a group of guys we have, but those two are peas in a pod, that's for sure."
A few weeks after the miracle comeback win against the Giants, the Orioles played another high-stakes game, this time in New York. In the eighth inning, Schoop ranged deep from his second base position into the outfield grass, dove, rolled over, and fired to first to retire the Yankee hitter. Immediately he glanced toward third, where he exchanged a wry smile with Machado, who an inning earlier had turned in his own defensive gem, throwing out a runner from his knees.
In the same ballpark a month later, Schoop blasted another three-run home run in an O's win over the Bronx Bombers. After he made his way through the dugout, dishing out the standard fist bumps and high-fives and exulting in the requisite sunflower seed shower, he was on the receiving end of a full-on bro hug from Machado.
"When Jonathan does something amazing, it gets Manny hyped," says Machado's wife, Yainee. "They both motivate each other constantly. They're just best friends."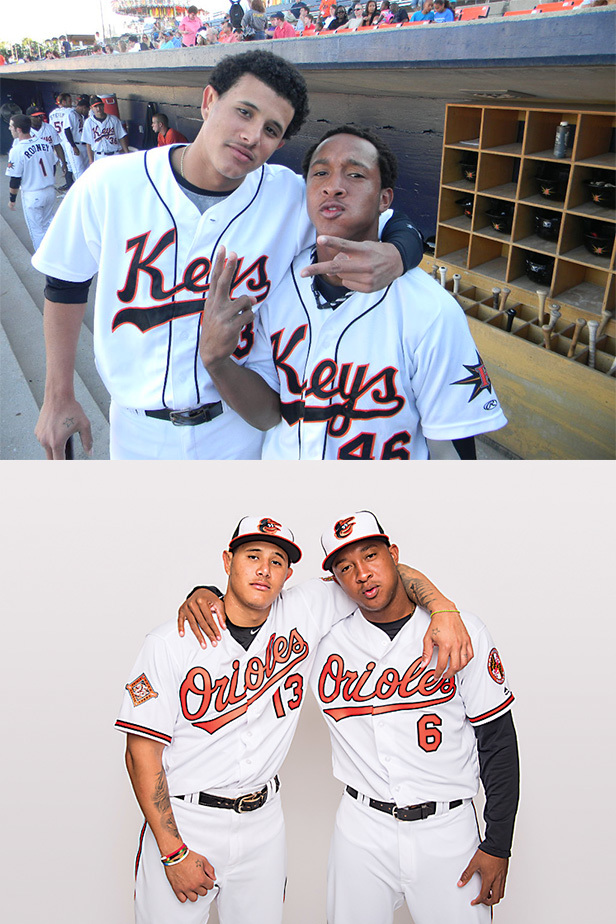 Schoop, his fiancée, Iimayri, and their 2-year-old daughter, Jae'Lyane Isabelle, visited the Machados in December at their new home in Miami. The importance each man places on family is one of their deeper bonds.
"His little baby girl is beautiful—thank God she doesn't look like him," Machado cracks. "I see him FaceTime with her all the time. I see how he treats his daughter, how he gives her everything. He treats her like a little princess. No matter if he went 0-for-whatever that day, he pops a smile every time he sees her when she comes running to him."
After dinner one night, the two men descended to the man cave at Machado's home, where they embarked on a sort of leisure-game Olympics. Video games (FIFA soccer is a favorite), billiards, and chess (there's a bit of a dispute as to who's the better tactician) were among the events.
File the fact that two world-class athletes—even ones as close as Machado and Schoop—are hypercompetitive in all their endeavors under "unsurprising."
"He always teases me that he's better in FIFA, which he is—sometimes," Machado admits.
"I can get in his head easily," Schoop says.
At first, it seemed more likely that they would be rivals instead of friends. When they met in the Gulf Coast League in 2010, both were shortstops. One of them, logic dictated, probably wouldn't make it to Camden Yards playing the position. What's more, they had arrived in the organization from very different places.
Schoop, born 264 days before Machado, signed with the club as an international free agent. He is from Curaçao, a small, baseball-crazy island off the northern coast of South America that is a Dutch constituent country. While he was an intriguing prospect with high upside, he was nothing like the "can't-miss" Machado, a South Florida-raised phenom whom the O's made the third overall pick in the 2010 draft.
With both expected to be assigned to Single-A Delmarva in 2011, it appeared that the Shorebirds had one shortstop too many. Yet, what could have been an uncomfortable or even volatile situation didn't materialize.