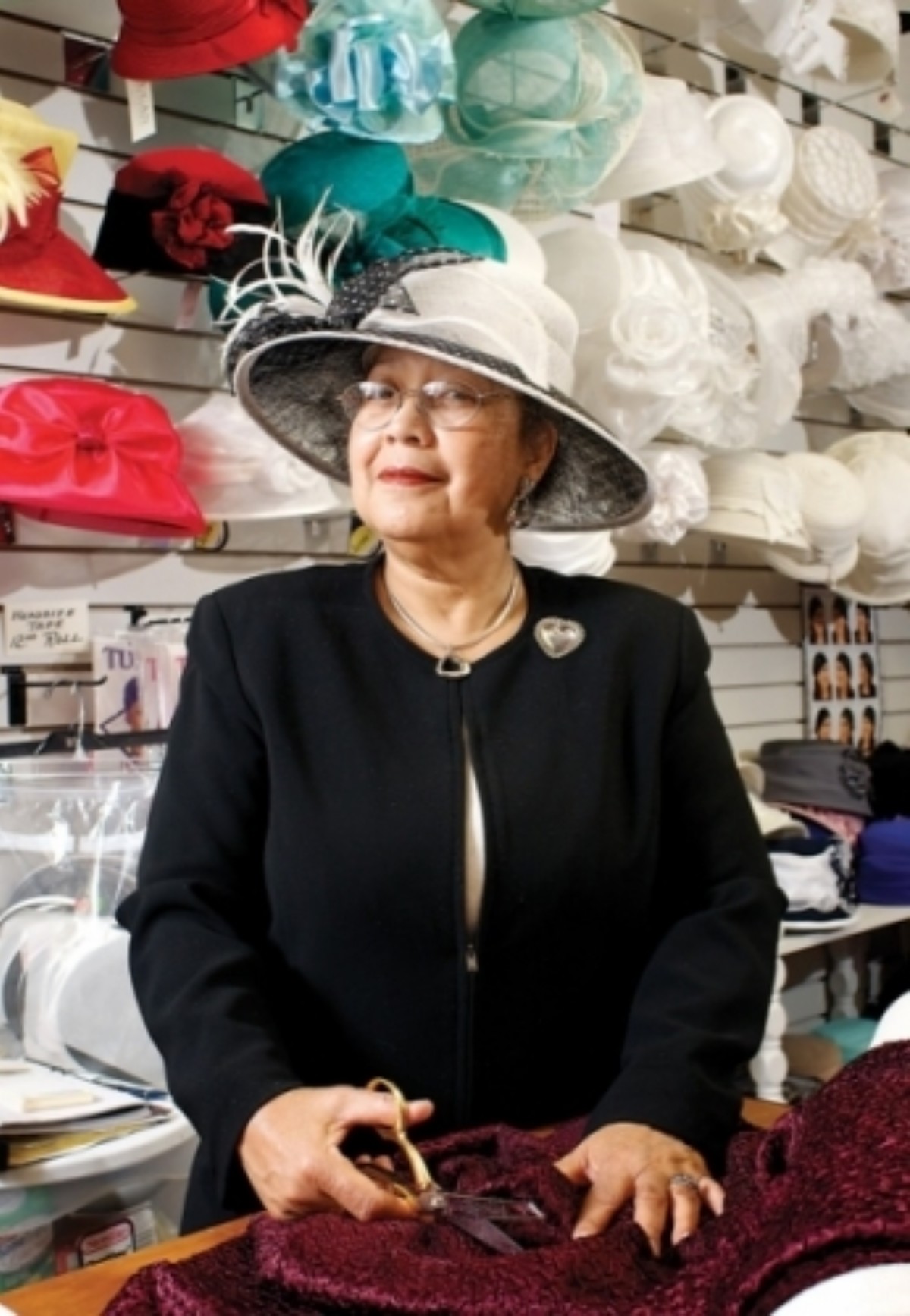 Phyllis Eley is a milliner in Pikesville. -Photography by Cory Donovan
A hat block stands on a table in front of 68-year-old Phyllis Eley. It's just a piece of balsa wood, carved in the shape of a woman's head. But when Eley takes this inanimate object in her hands, it seems to take on life. The block becomes a model, a stand-in for the woman who will wear a Phyllis Eley creation on the top of her head.
Eley, who works out of a shop in Pikesville, is an artist, a maker of women's hats, also known as a milliner. Millinery isn't a term used often these days. Its heyday dates back to a time when hats were de rigeur, when a woman without a hat wasn't completely dressed. These were women who shared Eley's philosophy, that a "custom-made hat is the ultimate accessory for an outfit."
That time is long gone, but, every May, the tradition returns to Baltimore. That's when women join the pageantry of Preakness by donning fabulous headwear.
A milliner cannot make a living on Preakness alone. And these days, most women think of hats as only a special occasion accessory. Yet, Eley is a living reminder that the milliner's art is not gone. In fact, as Mark Twain might say, rumors of its death are greatly exaggerated.
The term "milliner" comes from the city of Milan, Italy, where you could find suppliers of fancy goods in the 16th and 17th centuries.
Over the years, every time clothing fashions changed, hat styles did, too. That's not a coincidence.
"The hat balances out what's worn below," says hat historian Debbie Henderson, who has written several books on men's hats.
So, for example, in the early 1900s, women wore fuller petticoat skirts and had big hairdos, as well as bigger hats. Picture My Fair Lady.
In the 1920s, a big hat would have looked silly with the simple straight-lined dresses of the day. So you had the cloche (the French word for bell). Its bell-like shape fit close to the head.
"During World War II," says Henderson, "everything was rationed. With less fabric, skirt lengths went up. Hats became smaller." And in the early '60s, Jackie Kennedy set the trend with simple sleeveless shifts and her signature small pillbox hats.
At that time, there were quite a number of milliners around Baltimore that catered to hat-wearing ladies, like Kitty Hughes on Greenmount Avenue, Peggy Freed on North Charles Street, and Sophia Lewyt on West Saratoga. But just as they were inundated with orders for pillboxes, they had no idea that their industry was about to collapse. For when pillboxes faded in popularity, nothing stepped in to take their place. Women began abandoning their hats.
So, what exactly happened?
"There are a lot of different theories," says Diane Feen, the editor of a yearly trade publication Hat Life.
"The bouffant hairdo was the big thing that started it," she says. Women started teasing their hair in the '60s and there's no doubt a hat would ruin it. And lord knows, Baltimore's penchant for big hair was immortalized in the John Waters film Hairspray. No way Baltimore ladies were putting hats on that stiff hair.
And there's one other, unlikely contributing factor, says Feen: the newfound popularity of the suntan. "At one time, women of the upper class wanted to look pale because it was workers who were out in the sun," she says. "But in the '60s and '70s, looking tanned was no longer a stigma. Women started sunbathing. So they stopped wearing hats."
That being said, there are some older women who look back longingly at the hat-wearing tradition.
"We always wore a hat with gloves and a pocketbook to match," remembers 83-year-old Angie Rounis of Woodlawn. She bought her favorite hat of all in a little shop on Lexington Street. "It was a pink pillbox with a little veil around the front and taffeta around the edge."
Sixty-six-year-old Barbara Murray of Catonsville notes that every time her family went to church or out shopping, she had to wear a suit, a dress hat, and gloves. "My grandmother used to say, 'If you have respect for yourself, you dress like a lady.'"
Eighty-year-old Dorothy Binder grew up in Atlantic City, N.J. "We would never go out on the Boardwalk without a hat, gloves, and high heels," she remembers.
Years later, after moving to Baltimore, Binder took her teenage daughter to New Jersey and insisted she wear a hat and gloves. It turned out everyone else on the Boardwalk was in shorts.
"My daughter will never forgive me," she says.
But while the days of a hat completing almost any outfit are clearly behind us, there are still pockets of hat-wearing ladies, many right here in Baltimore.
First stop: church. Hats are a longstanding tradition there, particularly in many of Baltimore's African American churches.
On a recent Sunday, 56-year-old Janice Chance of Owings Mills and her good friend Aritha Brown of Randallstown were ready to attend the 11 o'clock service at Randallstown's Colonial Baptist Church. Each wore something on her head. Chance's off-white, large-brimmed hat was decorated with feathers, sequins, and small pearls; Brown's was also off-white, in the shape of a fan, bearing a large bow, small pearls, and lace.
These ladies would never come hatless to a worship service. Ask why, and each turns to the same page in her Bible: First Corinthians Chapter 11. It includes this sentence, "Every woman praying or prophesying with her head unveiled dishonors her head."
But Chance is quick to add, "We don't condemn women who don't wear hats. You can worship God without a hat, because He's looking at your heart."
Of course, you don't need church to love hats. Some women, like Marcy Sagel of Baltimore, have entire collections of headwear and wear hats frequently.
"I wear them to block the sun, keep me warm, and also for fashion," she explains. "It just gives that finished look to an outfit. It's sort of an old-school flavor, but I like it."
Allison Harris, who owns Caribbean Rose Pirate & Vintage Millinery Emporium, shares Sagel's love for hats and wears them often.
"It makes you feel glamorous!" she gushes. "If you want to turn heads, wear a hat."
Of course, that's part of the problem. A hat sets you apart from the crowd. You stand out, and that makes some people uncomfortable.
Phyllis Eley says those women just "don't know what they're missing."
Eley was in her early twenties when she discovered her love for hat-making 43 years ago. She enrolled in a class at the Baltimore YWCA and was instructed by two prominent African-American milliners Nell Sheridan and Sophie Myers. They taught Phyllis the basics of the craft, but Eley didn't stop there. Before long, she taught herself to create all kinds of hats and their trims, entirely by hand. She's a stickler for detail.
"I'm particular about construction," she says. "Everything must be securely sewn."
Back in the '60s, Eley remembers she bought most of her supplies at a shop on Mulberry Street at American Trimming House owned by Al Schalane, where "a hat block cost $14."
Today, she says they're seven times that much. Making hats was not a full-time job for Eley. In fact, it was more like a hobby. She worked for the phone company Bell System for 32 years. "But once I retired," she says with a smile, "I found my true calling."
About 18 years ago, Eley was selling her creations at a benefit fashion show when a store owner from Pikesville approached her and asked if she would work for her. There was a large market for hats in Pikesville among the Orthodox Jewish community, whose women keep their heads covered at all times. Eley took the job.
Today, she works at another Pikesville shop called Hats to Hose, and still has an eclectic clientele. Some of her customers are Jewish. Many are African-American. Others just seek her out year-round, especially at Preakness time.
This is an exciting time for Eley because, she says, customers going to the Preakness race are willing to be more daring, and it gives her the chance to be really creative. She says women feel special in their Preakness hats, and "they could feel just as special for other occasions if they would just consider wearing a hat.
In addition to making her own hats, Eley sells and sizes ready-made hats and restores vintage hats. Sometimes customers ask her to completely restyle an older hat.
That is a delicate task. First, Eley carefully pulls the old hat apart, keeping fabric and trim perfectly intact.
She then cuts out a shape for her new hat from buckram (a coarse, stiff cloth), wets the buckram to make it pliable, and molds it onto the hat block. When it dries, it has the shape of the hat-to-be.
Then, with scissors and pins, Eley cuts the fabric and pieces together a little work of art, to be sewn, finished, and presented to the customer.
"That's the wonderful part," she says, "when they see it, and love it, and appreciate my work."
Oh, yes, they appreciate it. Customer Naon Locust calls Eley "a gem, a hidden gem here in Baltimore."
Customer Dena Soclof agrees. Eley made hats for her for all her daughters' and granddaughters' weddings. "Her work is outstanding," she says.
Hats to Hose co-owner Linda Elman says simply, "I always tell people that Phyllis has golden hands."
Eley herself is almost never without a hat—usually a custom-made one at that. But young people today, when they do buy hats, tend to buy off the rack. So, what does the future hold for the art of millinery?
Author Debbie Henderson says milliners are coming off the endangered species list. "There's an amazing resurgence, and there are young men and women going to fashion schools studying millinery," she says. "There are a lot of new milliners creating exciting styles, especially in Europe."
There's no telling when those styles may make it to Baltimore, but, if nothing else, some future milliners may learn their art in Charm City. Annet Couwenberg, a professor at the Maryland Institute College of Art, teaches a class called Fashioning Culture/Readdressing Clothing.
"The first thing I teach in that course is millinery," she says. "I find it important that students realize the craftsmanship used in traditional millinery techniques. I want them to interpret hats as fine artists."
So women's hats, and the talented milliners who make them, live on. And this month you'll see them in full force at Preakness, sporting feathers, flowers, and wide brims—the bigger the better.
Hat purists like Henderson wish they could see days like this all year-round.
"Hats are the cherry on top of the cake," she exclaims. "They're the finishing touch, the jewel and sparkle. It's what makes a whole outfit come together."
Adds Gaithersburg milliner Allison Harris: "I say dress up! Look beautiful! Wear a hat!"
---
---