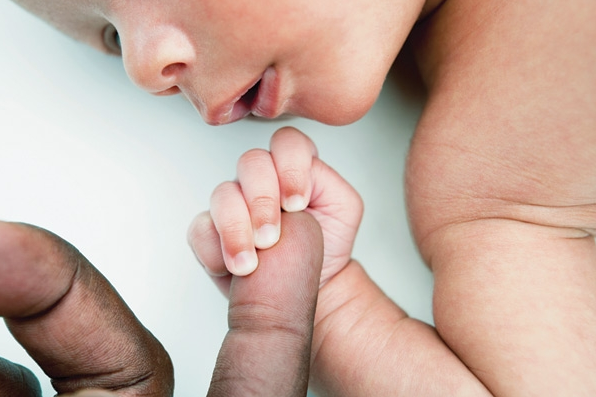 *Some names and details have been changed to protect privacy.
"Stop right there, ma'am!"
Helen Atkins* hadn't even noticed the police cruiser that pulled up as she put her son Robert in his car seat outside the Wal-Mart in Aberdeen. She was rushing to pick up another son, Zachary, from a friend's house. Bewildered, she asked "What's going on?"
"We had a report of a missing child in the area," the officer said, clearly unsure how to proceed. "Um, is that your child? Do you have some way to show that child came with you?"
Atkins, a former police officer herself, demanded to know why she was being questioned. But secretly she knew. It wasn't the first time people had questioned her relationship with Robert. Atkins is African-American and Robert is white. It was, however, the first time she had been questioned by police.
"A lady thought you were kidnapping this child at the store," one officer said sheepishly, adding that the onlooker was moved to call the police when she saw Atkins rushing to the car with Robert.
Her face flushed with frustration, Atkins showed the officers her identification and Robert's passport, but even then, the other officer was suspicious. "Well, you must've done something to make that lady think that," he said.
Several months after the incident, sitting in her home in the Arcadia section of Northeast Baltimore, Atkins still shakes her head at the memory. "It's hard," she says. "After a while, you just get tired of explaining, constantly having to prove yourself."
As she talks, Robert, a smiley blond boy who will turn two in August, flits around the room, moving from the toy cars to the stroller to the kitchen, frequently stopping to bury his head in his mom's lap. He has lived with her since he was three days old.
"Robert was drug-exposed," says Atkins, 44. "Heroin, Vicodin, alcohol—if there was a drug, [his mother] had it."
For several years before Robert was born, Atkins and her husband had been taking in foster children, usually only for a few weeks at a time, until a family member agreed to take in the child or a more permanent home could be found. Atkins's parents had taken in foster children when she was young, and when her own biological children had grown, she decided to do the same. After a while, Atkins, who also worked as a special-education teacher, decided to only take in drug-exposed children.
"Drug-exposed children are either real quiet or they constantly cry in pain because they're coming off drugs and they have the tremors," she says. "Robert was a screamer."
In the days after Atkins took him in, Robert had to go back to stay in the hospital for further treatment. "He had to have morphine for a while to come over it," says Atkins, who slept by his hospital bedside for five nights as he endured withdrawal symptoms. "His bottom was burnt from the drugs coming out, so he didn't have a Pamper on. He had to be in this little bubble with this contraption blowing air on him. When he came home there was a lot of salve and cleaning, keeping that area clean and dry. It took six or seven months to fully recover."
Robert's biological mother has been in and out of drug-treatment programs since his birth and is facing a criminal hearing in June. "She said 'I don't think I'm gonna be able to do it,'" recalls Atkins, who sees Robert's biological mother during occasional visits. "She said, 'You keep him and just let me see him.' And I said, 'As long as you're doing well.'"
Although Robert's mother wants Atkins to adopt her son—and Atkins is eager to adopt him—Baltimore's Department of Social Services has delayed adoption proceedings, hoping the biological mother will get clean and change her mind or that another relative can be found. Typically, foster children are not supposed to be in a "unification plan"—working toward reunification with birth parents—for more than 15 months, but Robert has been in such a plan for almost two years.
Atkins says the adoption is being held up because of her race.
"With Robert, they told me up front, 'Don't get too attached, 'cause we try to place children in culturally-based homes,'" says Atkins. "But that's not a concern with African-American kids at all."
Atkins has had more than 27 foster children come through her home and has adopted two, both African-American. She is also on the executive committee of the Baltimore City Resource Parent Council, a foster-parent advocacy group. She says she has never seen as much effort put into rehabilitating a birth mother or finding a relative as she has seen with Robert.
"They have fought us tooth and nail," she says. "We had a lawyer who told us right off the bat, 'He needs to be with a white family, someone that will know his needs.' I said, 'You don't know anything about me,' and I asked her to leave my home."
Molly McGrath, the director of Baltimore's Department of Social Services, says the priorities when placing children in foster care are different than they are for adoption.
"The federal regulations prohibit me from using race as a factor in decision-making when I place a child into foster care," she says. "But they don't prohibit me from taking race, ethnicity, that sort of thing, into account when I do an adoption."
For foster care, she says, the importance is speed, getting children into safe homes as quickly as possible, regardless of race. But for adoptions, there are other considerations.
"Some adoptive families say, 'You know what, I actually want the kid to look like me,' because of how they feel when they're walking down the street. Or they say, 'I'm in a Muslim home and I'm interested in opening my home to a Muslim child,'" she says. "I have an ethical obligation to [see if] a child can be raised in its own race, ethnicity, culture, spiritual practice. Adoption, since it's a permanent sort of thing, we use factors like that."
But Atkins says that, in trying so hard to find adoptive parents with the same background, case workers often ignore what's in the best interests of the child. She cites the case of an African-American friend and fellow foster parent who has an eight-year-old white girl she has raised since birth. The city, however, has kept the girl in a "reunification" plan, and when an aunt the girl had never met recently stepped forward, they allowed her to have custody for short periods to prepare for a potential adoption.
"When she comes back from the visits, she has regressed so much, she wets her pants, she's not doing well in school—everything is a complete turnaround," says Atkins, again shaking her head. "It's just so sad." Some case workers, she adds, won't place white children in black homes, even for foster care, knowing that judges and administrators will try to move the child out.
"Some workers in the agency will tell you upfront, 'I'm not going to place this white child with you because I don't feel like going through the paperwork to move him,'" says Atkins. "'Because they're not gonna let you keep that child.'"
Despite the many bureaucratic obstacles, some black families have adopted white children. But the challenges do not end with the change in legal context.
Mark and Terri Riding and Terri's mother Phyllis Smith—all African-American—have been raising Katie O'Dea-Smith, a 10-year-old white girl, since she was three. Smith officially adopted O'Dea-Smith three years ago.
Katie, a precocious redhead, spends weekdays with Smith in Mt. Washington, and spends many weekends, holidays, and vacations with the Ridings, who live around the corner and have two young children of their own.
"It's kind of a collective family unit and we're all raising her together," says Mark Riding, an administrator at The Johns Hopkins University's Talented Youth Program.
Like Helen Atkins, Phyllis Smith, a social worker and onetime president of the Baltimore Chapter of the National Association of Black Social Workers (NABSW), had taken in foster children for years. When her biological daughter Terri was in high school, Smith adopted twin boys and raised them to adulthood. Seven years ago—at this point, she was in her late 50s and wasn't expecting to take in any more children—the social services department contacted her and asked if she would take in a three-year-old girl with some behavioral issues who had been bounced around a bit. She said yes.
"I was telling her it was a mistake, she didn't need to be doing this at her age," says Mark, who had married Terri only a month earlier. "Then, this little redheaded girl pops down the steps—she hadn't even told me she was white."
Katie, whose mother hasn't had contact with her daughter in years, wooed her new family. "She was very personable, extraordinarily articulate for her age," he says. "She was a hit."
But soon, the family began to notice the way people looked at them when they walked around holding Katie's hand. Strangers often assumed Smith or Terri were babysitters, but they were particularly suspicious of Mark. One day, when he took her to Federal Hill Park, complete strangers came up to her and asked her if she was okay.
"Clearly, if you were stealing the child, you wouldn't take her to the park," says Mark. He's able to make light of the situation now, but at the time, he found it very unsettling. "I'm walking down the street holding hands with her, walking in the mall, and people are giving us funny looks—and not just looks of curiosity, but looks of concern. Occasionally they'll say something to me, but not usually. Usually they look at her as if to let her know that she has an audience, an 'I'm here if you need me' kind of look."
Riding was most disconcerted, however, with the reactions of friends and colleagues. "People would say, 'There wasn't like an aunt or somebody who could take care of her?' It was like 'anybody but you,'" he says. "You would not ask that question if it was a little black baby with a white family or a little Asian baby with a white family."
"I worked at the Park School, which is a very liberal place," he says. "And the same questions came from those folks as came from more conservative places."
Riding says the experience caused him to rethink his attitudes towards racism and prejudice. "I was always less apt to blame things on prejudice," he says. "It forced me to be more conscious that the liberal, educated world is not as unprejudiced as I made it out to be. I thought we were beyond certain things and it wasn't that way."
Since the election of Barack Obama, there has been a lot of talk about America entering a "post-racial" phase, but Atkins and Riding's experiences have caused them to rethink how much attitudes about race have changed. Riding was particularly surprised by the reaction of neighbors in his relatively affluent, largely white neighborhood.
"I'm an educator, I drive a Volvo and I live in Mt. Washington, my wife is a human resources professional, we're professional people—it doesn't get any more middle class," he says. "It's insulting that people would make so many assumptions based on whatever cultural biases they have."
Savannah Gibbons was two years old when her older brother was taken to the hospital covered with insect and rodent bites and skin infections. He died days later. In a subsequent search of the family's home, Child Protective Services found piles of garbage, feces on the floor, and generally unhealthy conditions. They removed Savannah, who is white, from the home and placed her with foster mother Shant'e Gibbons, an African-American day-care provider in East Baltimore.
"When she first came here, she didn't talk at all—it was about a week and a half before she started responding to me," says Gibbons, who has taken in a handful of foster children over the years. "The thing that surprised me the most is that she never once cried out for her mother or father. Not once."
Gibbons grew very attached to Savannah, who she describes as very smart and emotionally intuitive. About two years after she took the girl in, Gibbons legally adopted her. Now five years old, Savannah is in pre-kindergarten at East Baltimore's William Paca Elementary School, where, Gibbons says, she gets great grades and has lots of friends.
Gibbons says she didn't come under as much scrutiny as Atkins, who she knows through the Resource Parent Community, partially because Savannah's parents divorced soon after she was taken from them and they turned over rights to her soon after that. Gibbons says she was also encouraged by the African-American lawyer handling her case.
"He said, 'This may take a while, but that's okay, don't worry about it,'" she says. "I figured if it was meant to be, it would happen."
Gibbons says she and her extended family have always treated Savannah like a member of the family, and that Savannah loves all of her aunts and cousins. The only negative encounter Gibbons has had happened recently when a school crossing guard she usually sees while walking with Savannah, saw her alone and asked, "Where's whitey?"
"That really hurt me," she says, adding that the crossing guard probably thought Savannah was a student in her day care center. "To hear her defined like that."
By far, the most common type of interracial adoption is white families adopting non-white children, and the subject of white families adopting black children in particular has been the subject of major debate and controversy. The National Association of Black Social Workers described the practice as "cultural genocide."
Onetime NABSW executive director Leora Neal has explained, "If you don't practice your culture, it dies out," she says. "It is not a color issue. It's a culture issue."
According to researchers Owen Gill and Barbara Jackson, such interracial adoptions are condemned because of "fears . . . the child will feel different and unaccepted, that he will not be able to create and maintain relationships with grandparents and extended family members, and that the child will be unable to relate to members of the black community."
Even Mark Riding, who has come to love his adopted daughter Katie, says the same concerns apply to white children adopted by black families.
"A lot of people, myself included, think it's probably healthier and easier if the cultures match," he says. "Certainly it's easier for everybody involved. You don't have complicated questions. You don't have the challenges of trying to explain a race that you're not a part of, or a culture you're not a part of, and you don't have a child with identity issues, trying to figure out, 'Why don't I look like or act like or smell like or does my hair look different than the people I live with?'"
But ultimately, Mark says, Katie will benefit from being raised by a black family. "When she is an adult, looking back on her experience living with a black family, I think she'll feel informed and she'll have a better understanding of what black families are all about," he says, adding that, now, Katie generally avoids the topic of race altogether, preferring not to identify people by their race. "I don't think right now she understands that. I think she does her best to kind of ignore [race]."
Similarly, Savannah doesn't seem to notice the difference between herself and her family. And Gibbons points out that if the adoption guidelines were enforced absolutely, she would never have been able to be Savannah's mom, a relationship that she says has given them both a tremendous amount of joy.
"It's not about color, it's about love and guidance," says Gibbons, who says she especially loves playing music with Savannah and recently arranged for her to take guitar lessons from one of the parents at her day care center. "I could see myself starting a band with her," she says, laughing at the thought. "Maybe, like, when she's 10."
---
---