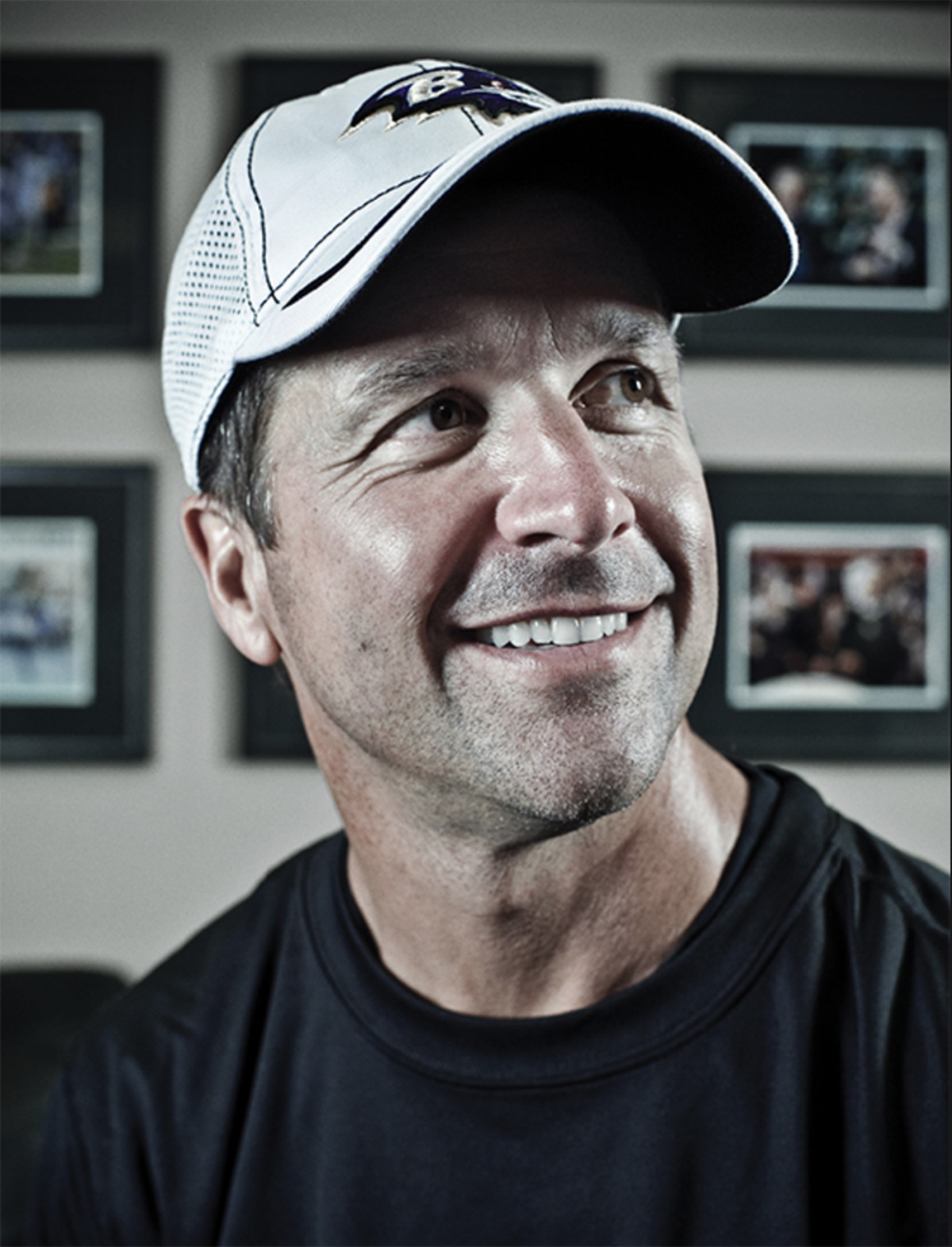 John Harbaugh at his Owings Mills office. -Daniel Bedell
Nine-year-old John Harbaugh strapped on his helmet, slid into his shoulder pads, laced up his cleats, and stared at the mirror. Scowling back, he saw the world's toughest football player. His father saw things differently.
"My dad was right behind me," Harbaugh recalls. "'John boy, you're not a football player,' he says, 'until you make your first tackle.'"
The Ravens coach is recounting his inauspicious debut in front of the teams in town for the NCAA lacrosse final four. Forty-eight hours before the semifinals, the players are seated around circular dinner tables in the club level of M&T Bank Stadium.
Until now, they've been fidgety, but, five minutes in, Harbaugh captures them, as he can almost anyone, in the web of a story.
"His name was Ralph," he says. "Ralph at that time could have been 200 pounds for all I knew. Ralph had one eyebrow, he shaved twice a day, I think. I knew for a fact he had hair under his armpits—and in other places—in the sixth grade. Ralph was a big, mean guy."
Harbaugh stands in front of the podium holding the mic with the second-nature ease of a standup comic. He's written down nothing, but speaks smoothly to the roomful of strangers like they're long-lost friends. It's the same genuine warmth with which Harbaugh greets everyone. He stands 5'11", yet seems to shrink or sprout to the eye-level of whomever he's speaking with. When he talks to you, you're sure there's nothing he'd rather be doing.
"Whistle blows, I pop up. I got in a good football position: I got my butt down, my eyes up. I was ready to attack this guy. I went after Ralph with everything I had. I uncoiled—ahhhh!—with every ounce of fiber I had. You know what happened next, right?"
The players' eyes, earlier shifting, now are fixed on him.
"Ralph's knee hit me right in the chest. I didn't have any air anymore. Then he came up into my chin, I felt my helmet start to go back and sideways. After that, it gets a little fuzzy. All I remember is holding on for dear life to whatever it was, I think it was his foot or an ankle, as Ralph proceeded to plow the field with my body. I'm not sure how long it lasted."
Unlike the younger brother who in so many ways overshadowed him, Harbaugh wasn't a naturally gifted football player. He'd walk another path, channeling his passion for the game through coaching.
As his brother, Jim, bathed in NFL glory—"Captain Comeback" quarterbacked the Bears and Colts—Harbaugh bounced from school to school, position to position, converting every doubt and dig (are you Jim Harbaugh's younger brother?) into fuel.
"Harbaugh wasn't a naturally gifted football player."
Back then, when he was toiling in places called Morehead and Kalamazoo, the summit seemed insurmountable.
Though he's reached the Promised Land—he's the first coach in NFL history to win a playoff game in each of his first three seasons and, in February, he signed a reported three-year, $12-million contract extension—Harbaugh won't forget the journey. The lonesome nights on the road recruiting, the late-night film sessions, the failed job interviews. The Ralphs.
"Somehow, someway, maybe he got tired, maybe he felt sorry for me, maybe he tripped, Ralph went down over top of me and I realized, well, I wasn't sure what happened because it was all black," he continues. "I couldn't see. What went through my mind? Good God, I've been blinded. Lord, please give me my sight. Right when I prayed, I saw this circle of light off in the distance. A bright light. Ralph killed me. I'm dead. I'm going to heaven."
"Then I started to hear voices in the background, guys cheering, some guys laughing, and I realized I wasn't dead. I hopped up to my feet, I grabbed my face mask and pulled it back around and stood tall with my chest out. I had made my first tackle. I was a football player."
As happens many Sundays and undoubtedly will Thanksgiving night when John's Ravens face Jim's San Francisco 49ers, the club level floods with cheers. Harbaugh might have had to become a football player, but he was born to coach.
Destiny often is obvious only in hindsight. Looking back now, it seems inconceivable that either of the sons of Jack Harbaugh, the best football coach either of them has ever known, wouldn't follow in pop's footsteps.
But Jim was the one fated for football greatness. They grew up "like twins," Jack says, and to this day, refer to each other as "my best friend." Athletically, however, they were not equals.
"Jim was a great athlete," says Harbaugh, who's 15 months older. "He was always way bigger than the rest of the kids in his class and way better."
The boys were born in Perrysburg, Ohio, where Jack was an assistant high school coach. As he landed more prestigious collegiate assistant jobs, the family moved around the Midwest. Harbaugh went to Pioneer High School in Ann Arbor, where Jack coached defensive backs under University of Michigan coach Bo Schembechler from 1973 to 1979.
Competition was always the third brother in the Harbaugh house.
"There were always little [ones] going on," Jim says. "They were mainly inspired by my dad. He'd clear the floor and have us wrestle in the living room. We could be sitting there watching TV and he would time us to go get something for him, usually a beer out of the refrigerator. We would do everything we could to get the world record. My dad always made everything seem exciting."

Left to right: teenagers Jim and John dressed for summer baseball; celebrating on Heinz Field in 2010 after a 17-14 victory over Pittsburgh; Harbaugh family at University of Michigan in 1977. -Courtesy of the Harbaughs
Both Harbaughs played to win, but John pursued victory with less of an edge.
"Jim was really competitive to the point where people thought he was kind of obnoxious," Harbaugh says. "He would dominate kids and didn't care."
No one could say that about John, who had "a great amount of respect for everyone," says his sister, Joani, who, naturally, married a coach, Indiana University basketball's Tom Crean. "I think that's why he's such a good leader."
"He was the pied piper," says Jim Minick, a childhood friend. "Jim and I were the guys who were going to cause a problem, and John was the one who was going to solve it."
On the football field, Harbaugh was a decent defensive back with limited physical capabilities. He landed a partial scholarship to Miami University (in Ohio), where knee injuries derailed a career that would have ended at graduation anyway.
Meanwhile, Jim went to Michigan, and led the legendary maize and blue to Big Ten glory. In 1987, Chicago chose him in the first round of the NFL draft.
"I was going to go into law," Harbaugh says.
But the breakup wasn't clean. Football, his lifelong love, nagged at him, and he missed it. He gave it one more whirl, and luckily, at 21, he had an in. His father, then head coach at Western Michigan, hired him as a graduate assistant in 1984.
"The first year he worked on the defensive side of the ball, the next year we brought him over to the running backs," Jack says. "He lived at the house. He and I drove back and forth to work."
It wasn't glamorous, but for Harbaugh, it was an awakening.
"I never realized how much there was to football, the X's and O's," he says. "Twenty-seven years later and I still can't believe how much I don't know, how much there is to the game."
Son studied father like he hadn't before, particularly noting the way he communicated with his players and staff.
"He knew how to paint a picture with words," Harbaugh says. "He always used to say, 'I have my concept in my head, and I want to put it into your head.' There are different ways to do that and a great teacher figures out how."
Admittedly biased, Jack spotted something special in return.
"Some coaches could see [the game] narrowly," he says. "John had that ability to see the whole field. He'd be working on the defensive side, yet he wanted to know everything he could about the offensive side: Why certain plays were being run, what they were trying to attack. He wasn't satisfied with the little picture."
"We caused a problem, and John was the one to solve it."
Harbaugh embarked on a college coach's nomadic voyage, stopping at Pittsburgh, Morehead State, and Cincinnati. Linebackers, tight ends—he'd have coached the water boys if asked.
In 1997, Cam Cameron (now the Ravens offensive coordinator) hired him to coach special teams at Indiana. Harbaugh and his wife, Ingrid, were ecstatic. They'd met at Western Michigan while he was working for his dad and she was a student assistant in the baseball office. Now, six years into their marriage, they'd made it to the Big Ten. The only way they'd leave idyllic Bloomington was if a dream job—Michigan or the NFL—came calling.
The phone rang. Harbaugh was driving back to IU after a recruiting trip when he learned the Philadelphia Eagles wanted to talk to him about their special teams coach vacancy.
"They interviewed, I think, 12 guys, then I got called back for a second interview," he says. "It came down to two guys. They called me up and said, 'We're giving it [to the other guy], you have a great future, blah blah blah.' They called back four hours later and said, 'He turned it down, do you want it?' Yeah, I wanted it."
In hindsight, he was the perfect pick.
Following the 2001 season, his fourth with the Eagles, he was voted Special Teams Coach of the Year.
"John's special teams played their asses off for him," says ESPN's Sean McDonough, a longtime friend. "John's the kind of guy people rally around."
After a decade in Philly, Harbaugh's name was on many college head coaching short lists, but he always came up short. He interviewed with UCLA, Boston College, and the University of Cincinnati—twice.
Having fired Brian Billick on New Year's Eve 2007, Ravens owner Steve Bisciotti was embarking on his first coaching search. He assembled a committee that included general manager Ozzie Newsome, who promptly called Eagles coach Andy Reid.
"I think what people are looking for is a problem-solver," Reid says. "Somebody that's smart, honest, puts people in the stands, and wins football games. If you go through John's checklist, he hits all those areas. Ozzie saw that. I go, 'You are one smart dude.' I thought it was a very bold move."
The Ravens whittled their list of 30 to five, and Harbaugh was still on it.
"I came in for the interview and Bisciotti cornered me on a question that I had no answer for," Harbaugh says. "He asked me how I would divide up my time between coaches and players and scouting and all that. I didn't have the percentages right. I was so wrong on the question I figured I'm done, I got no shot, but at least, I can learn from this guy for a day."
Bisciotti chuckles at Harbaugh's recollection.
"It was a question posed to open up discussion, not necessarily for him to get right or wrong," he says. "I startled him a bit. I wanted to see the way he thought and the way he proccessed a question that didn't have a guaranteed answer. I loved his enthusiasm."
But not so much that the Ravens didn't first pursue Jason Garrett. When they didn't land the now-Dallas Cowboys coach, they hired Harbaugh.
Once again, in hindsight he was the perfect pick.
From the outside, the John Harbaugh experiment looked shaky five weeks in. The Ravens were 2-3, and their offense was in the hands of a rookie quarterback.
"I saw his staff take a hold of Joe Flacco and put him in a position to be able to perform," says Matt Stover, the kicker on that team. "He casts a vision to make sure [everyone] sees the direction they're going in. I saw that this guy had the ability to manage people and create that environment that would allow change."
Harbaugh's willingness to delegate—he doesn't call plays or run the defense—is a rarity in the ego-littered NFL coaching landscape.
"What you see on the field is a reflection of how I want it to look," he says. "I have the best handle on the big picture, I don't have the best handle on what the Steelers do on third and long. I'll understand a lot of that, but [the assistants] have to know it the best. If you're calling the plays, then what aren't you doing?"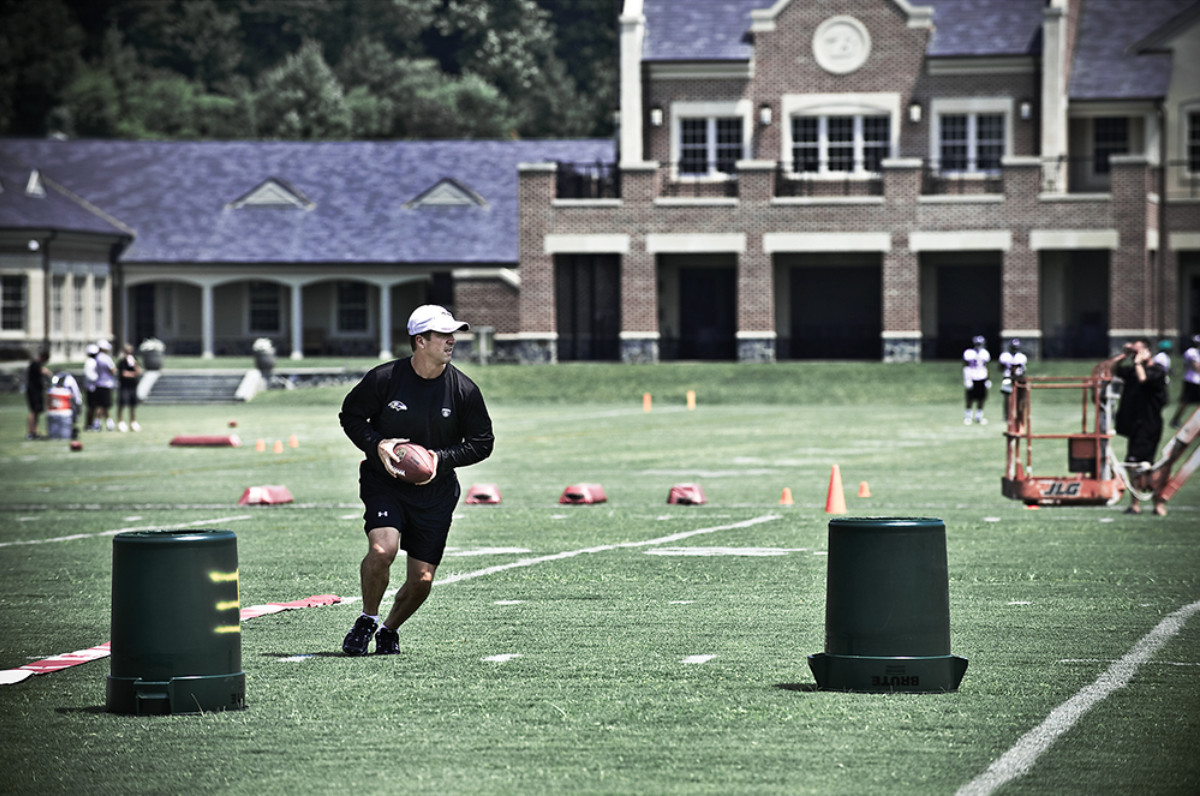 Harbaugh on the field during practice at the Ravens' training facility in Owings Mills. -Photography by Daniel Bedell
Baltimore made it to the AFC championship that season, but a year later was in danger of missing the playoffs. Following a deflating loss at Green Bay in December, Harbaugh got an e-mail from his friend Minick, a colonel in the U.S. Marine Corps.

"Tough one last night. Good time for a little history," Minick wrote. "Famous Marine Gen. Chesty Puller had a great quote when his Marines were surrounded on all sides by swarms of Chinese by a ratio of 29:1 at the Chosin Reservoir during the Korean War. 'Men, great news, now we can attack in any direction.'"
Speeches preach, stories teach. Harbaugh prodded Minick for more and relayed the tale to his team.
"The way those Marines sacrificed everything, we just had to rally around each other," says defensive tackle Kelly Gregg, who was released in July. "Nothing outside the building affected us."
The Ravens beat Detroit that week, the first of three victories in the last four games that clinched a post-season berth.
The season ended, however, as all Harbaugh's have: with a loss. Some fans gripe about his seemingly hands-off approach. But don't let his youthful looks and exuberance beguile his intensity. He's been known to rip into players, like he did last year after Dannell Ellerbe hot-dogged across the goal line in a preseason game. Harbaugh grabbed the linebacker by his jersey and chewed him a new one, in full view of TV cameras.
Call it a teachable moment.
Harbaugh's sitting in an armchair in his office in June. The NFL lockout has kept him in here—and off the field—more than he'd like this summer. He's played a little golf, visited the battlefields in Gettysburg, PA, but he hasn't coached his players. It's a frustration he's turning into a positive.
"It's been an opportunity," he says. "Being a great coach is about being a great teacher. To me the foundation of being a good teacher is having a good lesson plan. We've had more time to look at how we set things up, how we teach."
Photos of men who have taught Harbaugh loom all around him. In one, he and Reid, both wearing Hawaiian shirts, greet each other at the 2009 Pro Bowl. In another, he stares intently as O.J. Brigance, the Ravens director of player development, who is stricken with Lou Gehrig's disease, addresses the team in the locker room.
Across the suite on a bulletin board are drawings by his daughter, Alison, a fourth-grader. One features a happy-faced cow, another a smiling deer and bunny. His favorite is a rectangle design that looks like a maze. He's learning lacrosse from Alison, who totes a stick around their Reisterstown home.
But even his lovely office is tainted by an 800-pound Roethlisberger in the room, if you will. Harbaugh's gone 2-6 against hated Pittsburgh.
"Being a great coach is being a great teacher."
"We've gotta find a way to beat the Steelers," he says. "We've gotta get so much better than them that we bury them the next time we play, and then we come back and bury them again and again. Whatever we gotta do to put our foot on their throat and not let them up. When you walk out there and 75,000 Terrible Towels are waving and they've got the music going, that song they do by Styx, 'Renegade'—I hate that song! But it gets you fired up because you want to be in that situation."
Oddly, the two tussles with Pittsburgh won't be the most anticipated games on the Ravens schedule. Instead, it will be the so-called Harbaugh Bowl on Thanksgiving, when two brothers will face each other as head coaches for the first time in NFL history. Emotions will run high.
"I love him," Jim says. "He's been my role model, my best friend. I'm forever proud that he is my brother."
Harbaugh feels the same, but expresses it his way.
"We were in the same room for 16 years, and we had to draw a tape line. If you stepped across, there was a fight. The last time we fought, I was 27. He was the quarterback for the Bears. He got up to 6'4", 230 pounds. I was 195, something like that. He takes us on vacation to Florida, we're on the beach and we get into this wrestling match."
The fiercest of competitors, yet the closest of allies, rolling around in the sand. The picture is painted.
"It's getting a little aggressive and works its way over to the water. He gets a shot in, I get a shot in. I'm starting to think maybe I can hang with the big little brother. Next, he grabs me in a headlock, picks me up, and slams me into three feet of water.
"My head is on the sand underneath the water. Of course, he's not going to drown me, but I'm thinking maybe he's snapped. My dad's trying to pull him off, but he's too strong. I'm going to drown. Before I died, he pulled me up. He didn't do mouth-to-mouth—that would have been against the rules. I then realized I'm never going to fight my brother again. He's too big."
When the laughter dies down, Harbaugh quickly adds that on Thanksgiving night, the outcome will be different.
"This time I'm going to have his head under the water, and the little bubbles are going to be coming out," he says. "It's gonna be big. I can't wait."
Win or lose—or, as Harbaugh matriarch Jackie says, "If it ends in a tie, wouldn't that be wonderful?"—John Harbaugh will have one hell of a story.