When executive chef Jesse Sandlin sent out word in mid-summer that the hip, charming wine bar Vino Rosina was closing its doors in Harbor East after a three-year run, I was saddened by the news but not entirely surprised. I've long been a fan of owner Jim Lancaster, who years ago brought gourmet Italian deli food to Baltimore with his brilliant sandwich shop Rosina Gourmet, and I had high hopes for his first venture into full-blown restaurateurship. And Sandlin, the former Top Chef competitor who opened Vino Rosina (she subsequently left and came back), is a talent to be reckoned with. Indeed, the restaurant was lovely, but the opening of a spate of similar, wine-bar-ish enterprises nearby proved to be a competitive hurdle too high to surmount, a familiar scenario in the precarious restaurant world.
But the plucky Lancaster and Sandlin had no intention of folding. Instead, they had something else up their sleeves, the launch of an entirely new venture in the same place mere weeks after Rosina had closed. If upscale New American restaurants were now a dime a dozen in glitzy Harbor East, they reasoned, why not open a barbecue joint? Granted, an upscale barbecue joint, but nonetheless an anomaly in this prime piece of real estate, one that offered something genuinely different.
Within a few weeks—warp speed in the restaurant world—Rosina was transformed into a more casual barbecue venue. Enter the newly christened Oliver Speck's Eats & Drinks, a name borrowed from Sandlin's pet Juliana pig (Speck being the name of a variety of Tyrolean ham). Not much needed to be done to the décor. The original exposed brick and warm wood, mixed with industrial touches and chalkboard walls, lend themselves to a more relaxed vibe. The changes are subtle: There are two big-screen TVs in the bar now for Ravens' watching and two big communal tables in the center of the dining room, along with metal chairs in primary red, orange, black, and silver, all of which quietly state that Ollie's, as it's dubbed in the mission statement, is for good times. And the price point is just that much lower—enough to encourage a regular crowd.
It doesn't hurt that the cuisine is squarely in Sandlin's wheelhouse: southern-style comfort food with decadent ingredients and rich flavors. There are crunchy, salty pork cracklings and fat fried oysters to snack on. Smoky bacon studs the egg-laden potato salad and an arugula "BLT" salad with homemade ranch dressing. The grits are creamy, the cornbread tastes like dessert, and the biscuits are buttery good. No dieting allowed.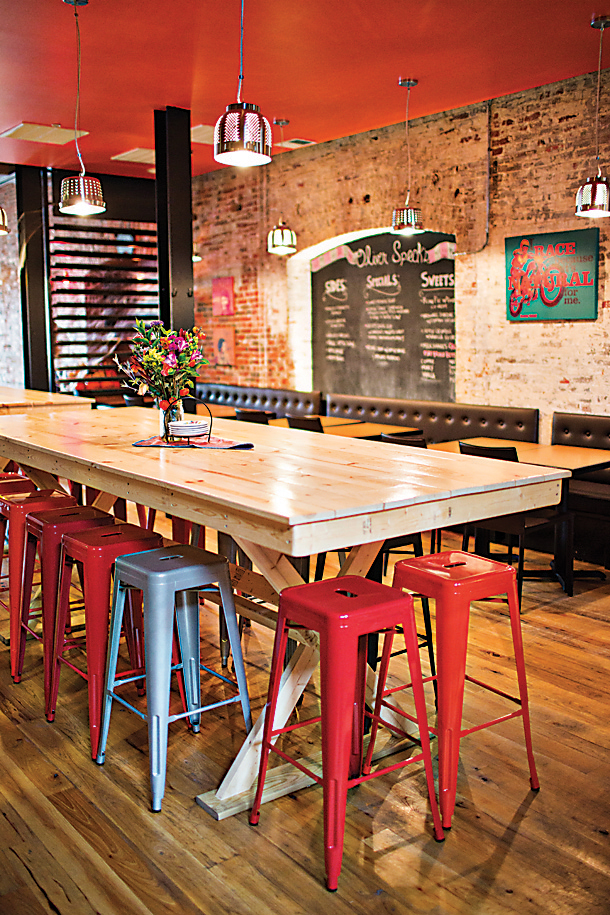 The first time two companions and I tried Ollie's back in early September, these sides and small bites were the highlights of the meal. We loved the little snacks—excellent deviled eggs and a Mason jar full of zippy house-pickled vegetables—plus those tender biscuits with homemade jam. The sides, which come a la carte at $4 each or with various meat combos, are impossible to stop eating. Case in point: A little pot of delicately mild macaroni and white cheddar dusted with porcini mushrooms and breadcrumbs disappeared so quickly we had to order another one. A spinach salad made us feel more virtuous, although the topping of fresh late-summer peaches and blue cheese was as irresistible as the richer dishes.
There are four basic barbecue choices on the menu, and we tried them all. We were happy with the tender pile of just-vinegary-enough pulled pork (which you can get piled on a bun or solo) and a beef brisket that appropriately melted in the mouth. But our Texas-born pal was not convinced by the pork ribs, specifically by the sauce. I know that civil wars have broken out over the particulars of barbecue, but my quibble wasn't about regional pride but taste—the sauce was just a tad too sweet and slightly bland. Happily, a sextet of various and delicious house-made sauces appeared at our table, which we sprinkled on liberally.
Likewise, the smoked chicken was disappointingly dry.
But a month later we came back to find that these two glitches had been fixed, the pork ribs gilded with a dry rub that was satisfyingly peppery and devoid of cloying sweetness. No need for hot sauce. And the chicken? Juicy, smoky, and flavorful. We were a little sad to see that lately this item has disappeared from the menu and been replaced by an herb-rubbed roasted chicken.
Desserts here are, as you'd expect, unfussy and home-style. The bourbon-laced pecan pie topped with bourbon-vanilla ice cream was a dizzying delight.
Speaking of bourbon, it shows up in several artisanal cocktails and is a specialty of the house. As befits a barbecue joint, the emphasis at Ollie's is on beer, bourbon, and whiskey; wine lovers have to content themselves with a list of about a dozen reds and whites. If you want to get into the down-home mood here, you'll be wise to forget the old Vino Rosina and surrender to a more laid-back kind of fun.
---
OLIVER SPECK'S EATS & DRINKS: 507 S. Exeter St., 410-528-8600. HOURS Lunch: 11 a.m.-4 p.m. Mon.-Fri.; dinner: 5-10 p.m. Mon.-Thurs., 5-11 p.m. Fri.-Sat., 10 a.m.-4 p.m. (brunch) and 4-9 p.m. Sun. CUISINE Barbecue. PRICE Appetizers and salads: $2-8; entrees: $8-40; desserts: $4-6. ATMOSPHERE A relaxed vibe with a bar area with a TV and a dining room with two communal tables as well as individual tables.
---
---