There have always been interior designers and homeowners who've understood the value of furniture that's made just for them and totally one-of-a-kind. Sometimes it's because no standard-sized, store-bought piece would fit in a certain space. Or maybe it's because the style they wanted was so unique, only a custom craftsman could fulfill the vision. And while it may cost a bit more than what is in stores, the completed piece will be a perfect fit and worthy of heirloom status. Where to find these craftspeople? We tracked down four local furniture makers who are making a name for themselves doing it from scratch.
Goodwood Design
It makes sense that Garrett Brooks became a furniture designer—his mother is an artist and his father is an engineer. To that DNA, he added a degree in furniture design from the prestigious Rhode Island School of Design and worked not only making furniture, but in museums, too. While Brooks, a Michigan native, was living in California, a friend with some studio space in Mt. Vernon lured him to Baltimore.
One of Brooks's obsessions is tables. "There's something elegant about them, their pure functionality," he explains, but he's been doing quite a few custom beds of late, too. His clients generally fall into two categories: those who saw his work online and want exactly what they've seen, and those who like the look, but want something made to their specs.
"A lot of times, people are looking for a particular function they can't find in a store," he says, noting a recent commission for a couple in Manhattan who needed a dining table that could collapse down to a small occasional table.
Though he says he draws inspiration from many styles, Brooks's own work most closely aligns with Shaker and Scandinavian modern designs. He will work with other artisans to add metal to a piece, but his studio is all about American woods such as walnut and white oak that achieve his clean, contemporary look. He will sometimes throw in a soft wood like Douglas fir or Redwood, a shoutout to his California days.
What he builds: Tables, beds, credenzas, benches, and accent pieces.
See his Stuff: goodwooddesign.com
---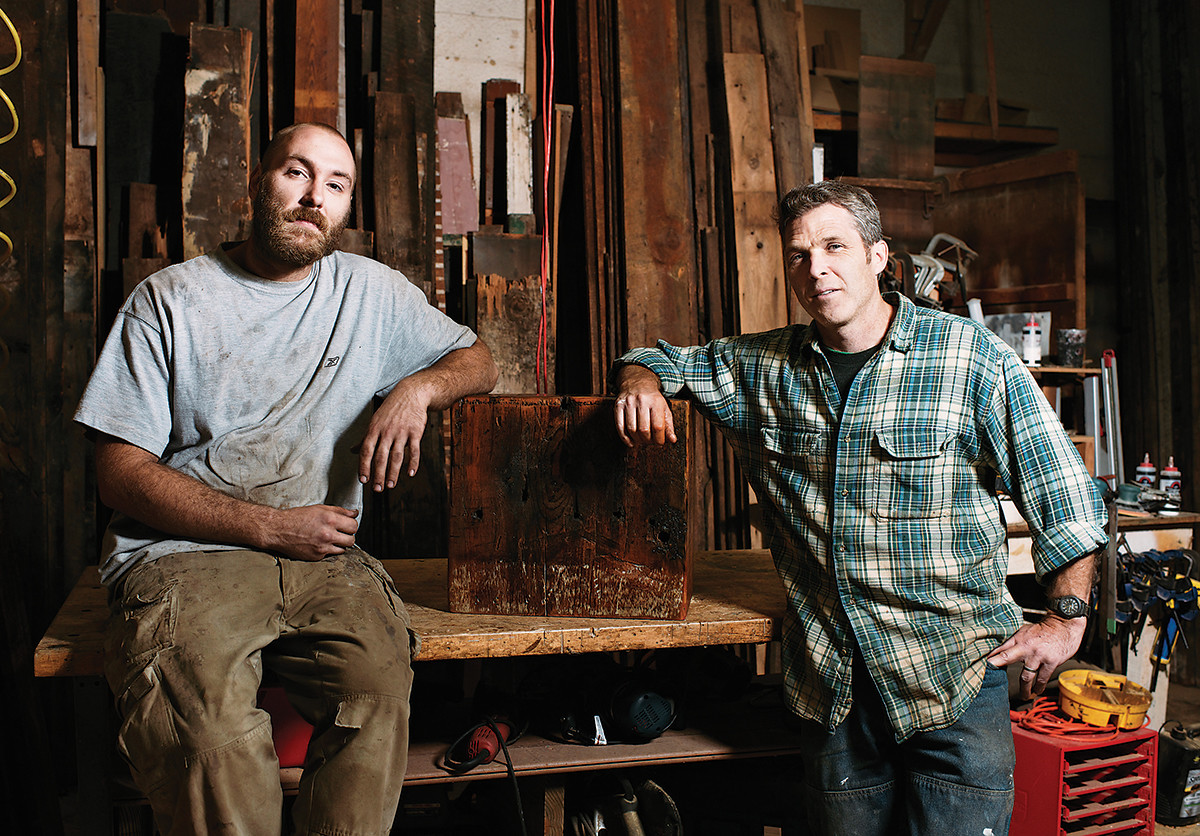 Sandtown Millworks
For starters, Sandtown Millworks isn't in Sandtown—the studio is in Federal Hill, and there's a showroom in Silo Point. The name harks back to the company's creation three years ago when co-founder Will Phillips asked fellow founder John Bolster, who had been renovating row houses for 20 years, to help out on a Habitat for Humanity house in Sandtown.
"They were gutting the place," Bolster, pictured right with production manager Jim Klausmeyer, recalls, "and Will saw all this old wood going in the dumpster." Phillips thought the wood would make great furniture and Bolster, who had been using reclaimed wood in his rehab work for years, agreed.
Bolster admits he was drawn to reclaimed wood long before it got traction with the recycling crowd for being green.
"What you get from the reclaimed wood is character and warmth," says Bolster. "This furniture would work in a modern, spartan apartment or in a farmhouse."
Sandtown Millworks carries a line of furniture and also builds custom pieces—tables, beds, reception desks, and the like—pretty much anything that doesn't require upholstery. The pieces are rustic yet elegant, with the unique patina that can only come from salvaged material. When the company scored a load of 300-year-old heart pine out of the Admiral's Cup restaurant in Fells Point, they began placing address-specific emblems on works made with wood from special sites. They've also begun offering neighborhood-specific emblems so the owner will know the provenance of the wood, be it Federal Hill, Canton, or elsewhere.
Bolster says the beauty of their custom pieces isn't just that the product is equal or better to what's in a store, but that "the reclaim, fabrication, and delivery could all happen within a five-mile radius," he explains.
Now that's buying local.
What they build: Dining tables; benches and sideboards; coffee and end tables; TV, media, and storage consoles; desks and bookshelves; beds and bedroom furniture.
See Their Stuff: sandtownmillworks.com
---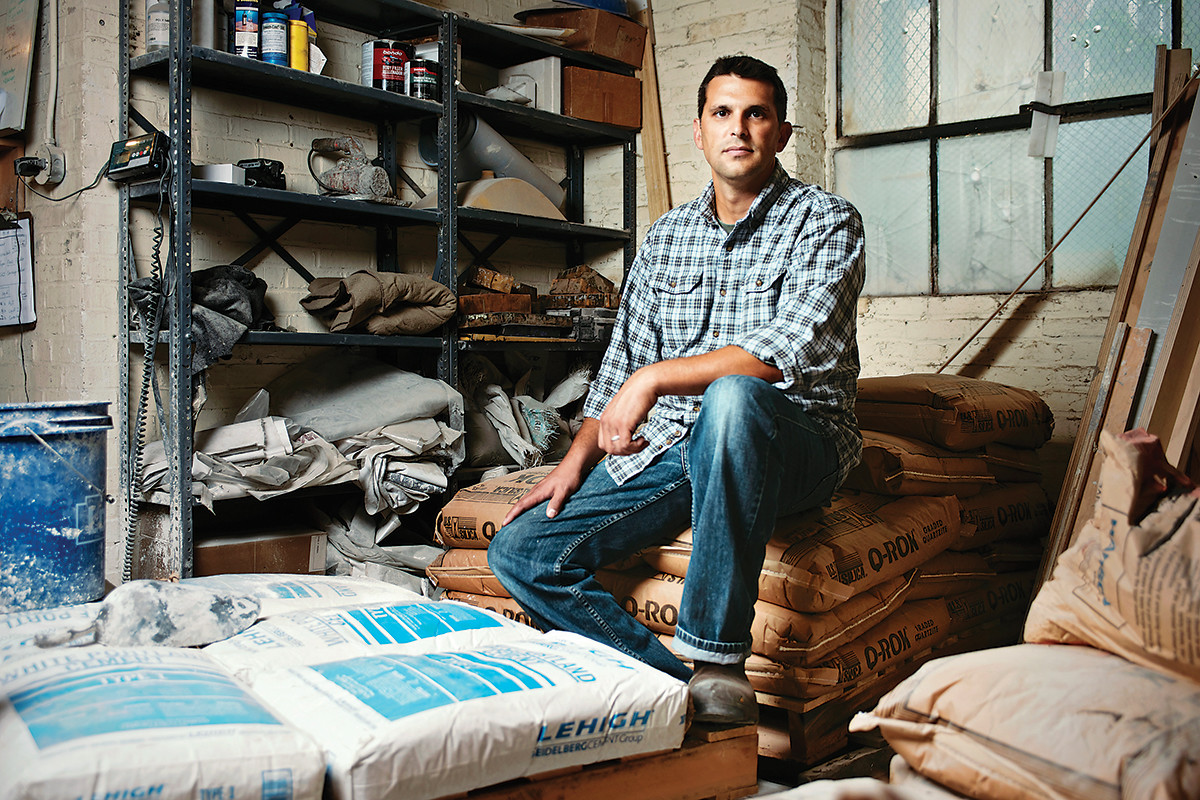 Luke Works
Anyone who's been in Artifact Coffee recently is familiar with Luke Works craftsmanship (including the fabulous bathroom sinks crafted from old coffee bean bags). The company works in wood that's largely not treated or tampered with—reclaimed local hardwoods, white oak, ash, bamboo—as well as steel and concrete. Around for 12 years, founder Mark Melonas's business has grown enough to keep four craftsmen busy.
Ask Melonas to categorize his designs and he gets hung up between "modern" and "contemporary."
"Neither is quite right," he admits. "We like to say we're materials-focused. We like celebrating the materials in the work, stripping the piece down to its elemental structural components, then expressing them directly."
In other words, nothing is added to his pieces just for ornament's sake. Every piece of metal, concrete support, or strip of wood is there because it is doing its job and doing it in beautiful simplicity. It gives a certain elemental feel to Luke Works's pieces.
Clients seek out their expertise for custom vanities, as well as handmade tables, built-ins, office desks, and benches. Melonas believes that the value a custom designer provides is a well-rounded view of how the furniture will function in the home.
"Most people picture a desk as a flat thing for a computer," he explains. "Clearly, with a desk, that engages the whole room and how the family works and interacts with the piece. We can envision the project holistically and open [clients'] eyes to the things the furniture could solve."
What they build: Reception desks, credenzas, console tables, dining tables, benches, dressers, media centers, accent pieces, and book storage.
See Their Stuff: lukeworks.com
---
C.W. Robertson, Traditional Cabinetmaker
Chris Robertson provides the solution for any homeowner who loves traditional, antique furniture, but hates the creaky hinges and sticky drawers that inevitably come with something that's been around for 100-plus years.
"A lot of people want something that looks old but functions like new," he explains.
From his studio in a two-car garage in Parkton, Robertson creates elegant interpretations of Federal, Queen Anne, and Chippendale furniture. He favors the same wood used in early American furniture: mahogany, walnut, maple, and cherry. He also buys lumber sequentially cut from a single tree, which makes for ideal, matching door panels.
"If a customer came to me and said, 'I saw this piece in Winterthur that I love,' I could recreate it," he says. "More typically, they have a general idea of the function of the piece, and, from there, I show them pictures of styles and elements from which I create a drawing." He's a one-man operation, so large pieces might take a little time, but he can make anything a reality, from a custom bar or library to the perfect end table.
But business is growing fast enough that Robertson may have to hire an apprentice soon. The demand is there, in part, because high-quality antique furniture in good condition is not plentiful and often very expensive. And many factory-rendered replicas lack the refined elegance that was the hallmark of the old, handcrafted pieces—the very reason people are still drawn to that look today. Robertson channels that painstaking perfection into his own work.
"I'm very particular about things, and if it isn't just right, I'll take the time to make it right," he says. "Even things that no one would notice but me."
What He builds: Reproduction furniture in the William and Mary, Queen Anne, Chippendale, and Federal styles and built-in architectural woodwork.
See His Stuff: traditionalcabinetmakers.com