It's taken more than five years, but it's finally back—the health of the metro real-estate market, that is. Whether you're a seller who sat out the downturn to recoup your investment, or a potential buyer waiting for the right mix of reasonable prices and low interest rates, the time is now.
In fact, prices are rising so steadily in the most popular neighborhoods that the pendulum may already be swinging back to a sellers' market not seen since 2006.
So where are the hottest markets? We'll save you some of the suspense and tell you upfront that a lot of them are in Howard County or near Annapolis—good schools and equidistance between Baltimore and Washington have always buoyed demand there. But the number of communities with rising prices and quick sales are increasing in the other metro jurisdictions, too, from fashionable neighborhoods in Baltimore City to leafy suburbs in Harford and Baltimore counties.
Here's the low-down on the most in-demand areas, whether measured by sky-high prices, fewest days on the market, or, in some cases, just steady demand fueled by things like location, schools, or unique charm.
Priciest 'Hoods
Howard County dominates the list of neighborhoods with the highest median sales prices.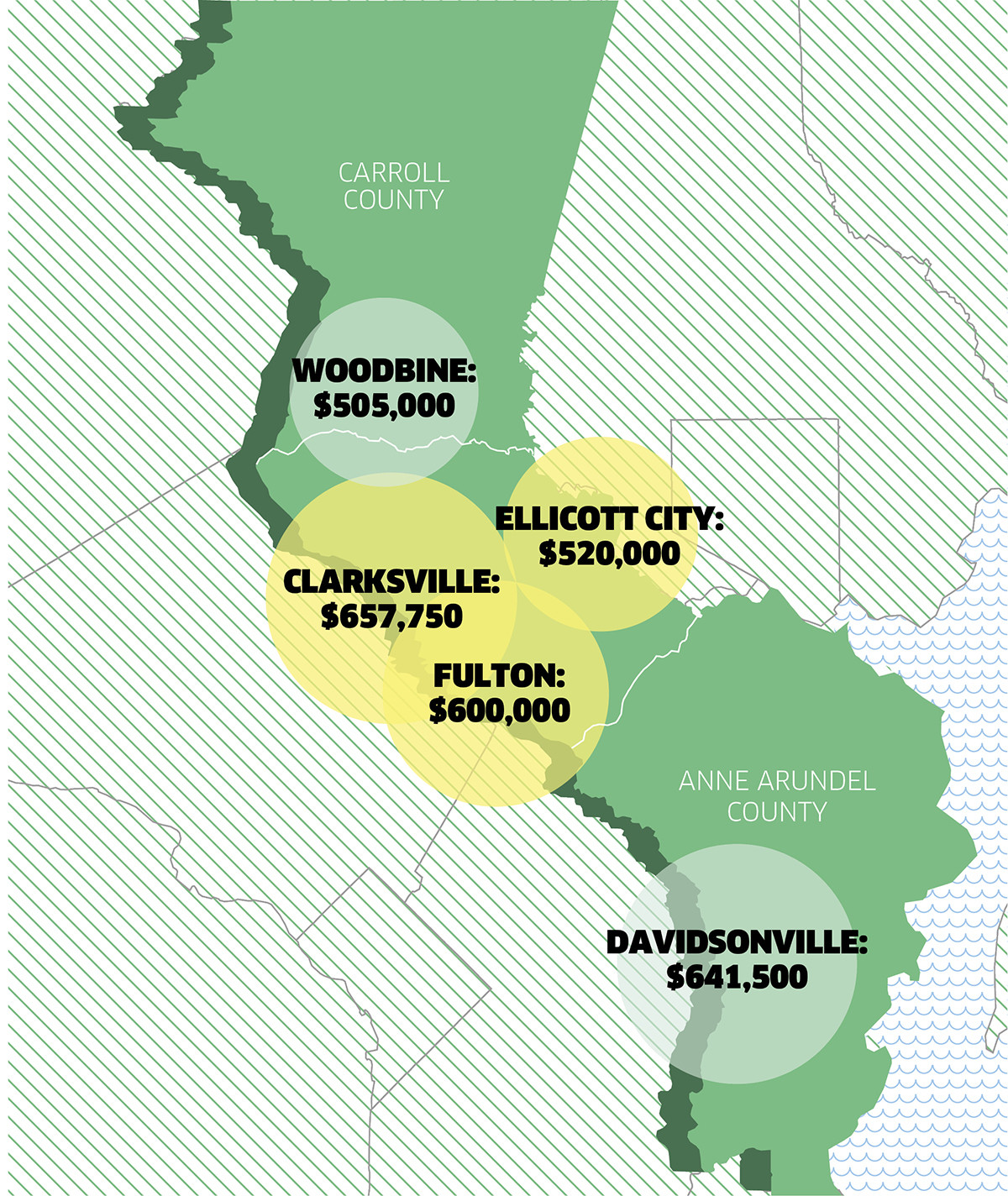 ---
Take It or Leave It!
Three neighborhoods that sell closest to their asking prices.
Ranking a surprising No. 1 on this list is the 21202 zip code: That's the eastern side of the downtown business district, near the water, where prices are being driven both by increasing demand for condos and townhouses and by the charms of the upscale Harbor East area. Average prices paid for units were 100.6 percent of the asking price, with the number of sales increasing more than 17 percent since 2012.
Close behind was the upscale bedroom community of Fulton, in southern Howard County, which is within spitting
distance of both I-95 and the Montgomery County line. (Think good schools, lots of green space, and a doable commute to either Washington or Baltimore.) Homes here sold for 98.2 percent of their asking price, on average, with sales increasing 18.3 percent year over year. That qualifies as hot, right?
Howard County takes third place in this ranking, too, with Ellicott City homes selling for 97.6 percent of their list price on average, and sales up 18.6 percent.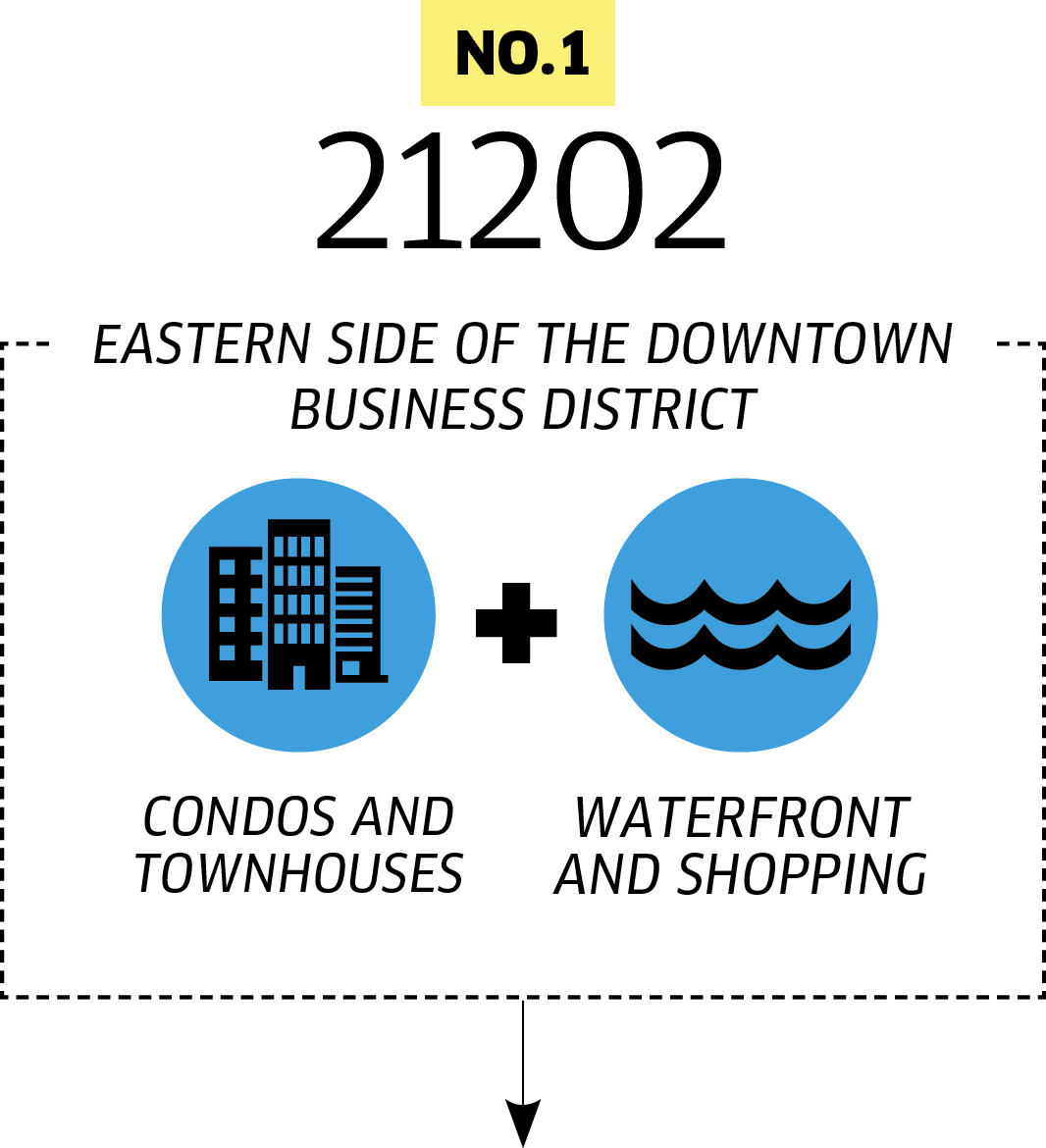 Average Price Paid
(relative to asking price)
100.6 %
---
Increase in Sales
17 %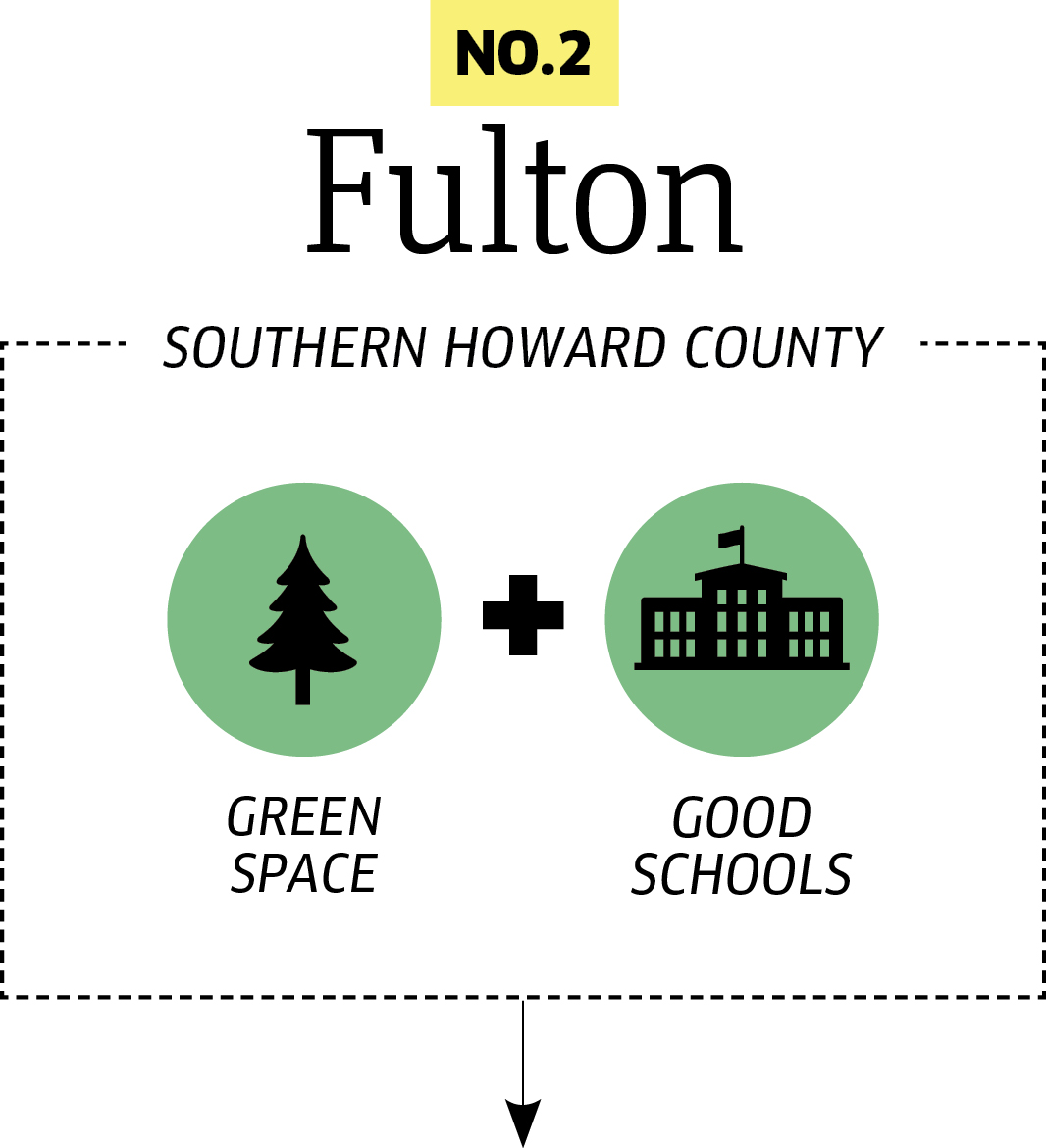 Average Price Paid
(relative to asking price)
98.2 %
---
Increase in Sales
18.3 %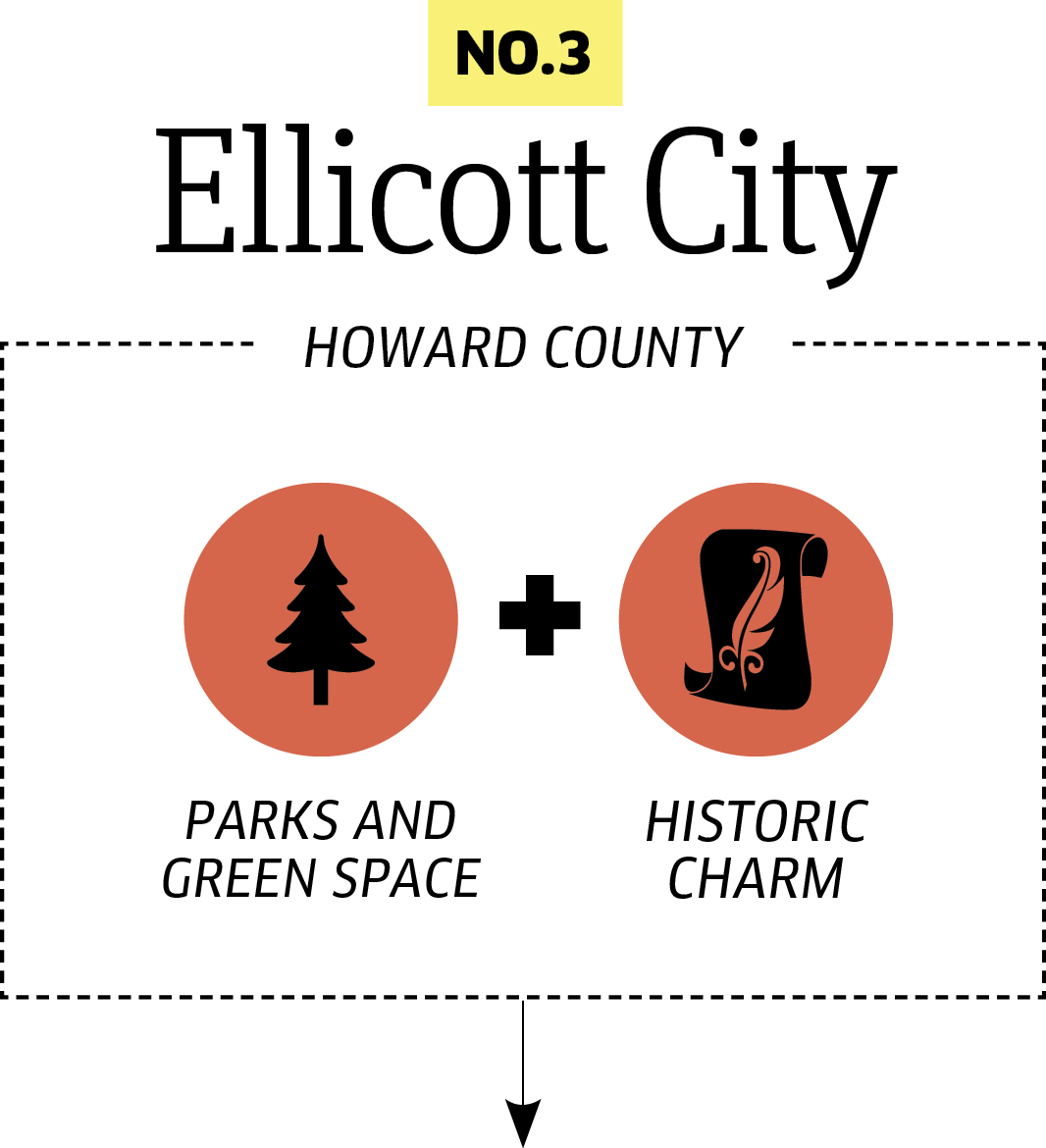 Average Price Paid
(relative to asking price)
97.6 %
---
Increase in Sales
18.6 %
---
You Paid How Much?
For the lucky land barons who bought these properties in the past year, money was apparently no object. Here are the 10 highest sale prices in the region in the past year, according to real-estate data king Maryland Regional Information Systems (MRIS).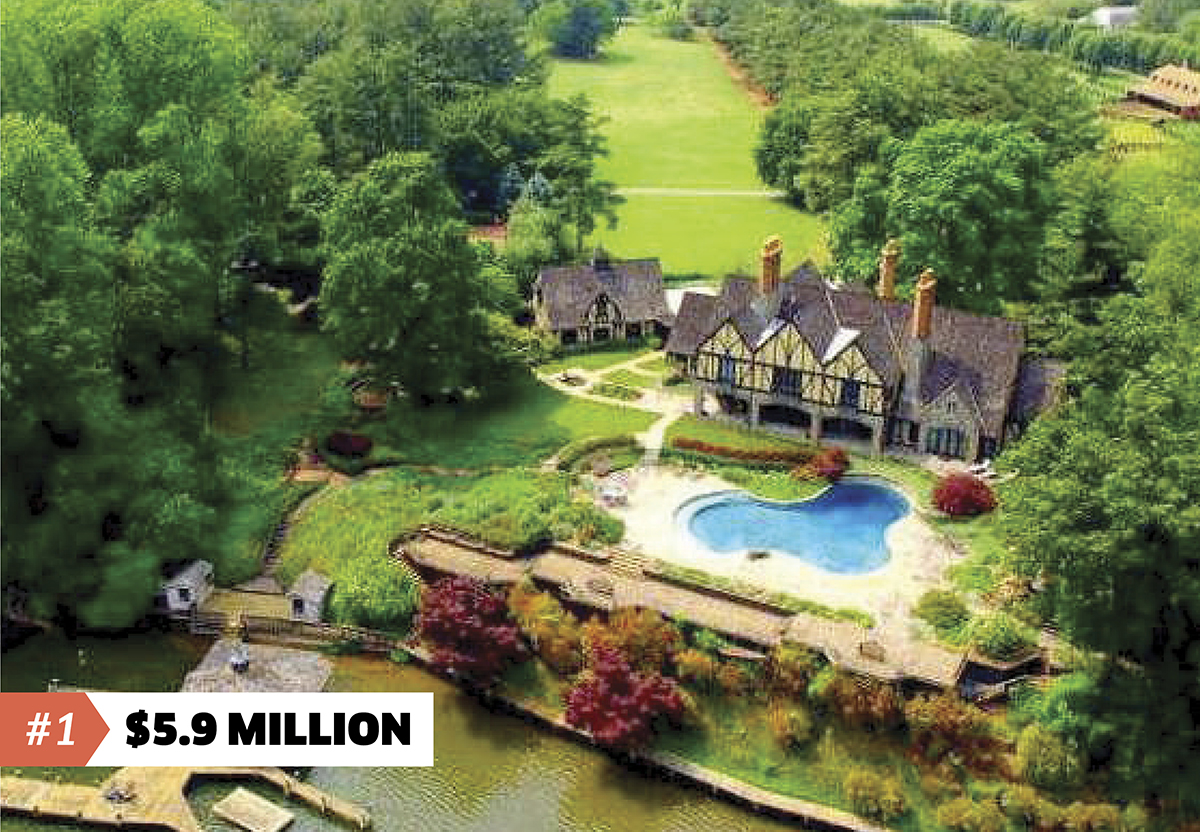 869 Child's Point Rd., Annapolis
Leading our list in price is this property overlooking Crab Creek and the South River, with its seven bedrooms and seven-and-a-half baths. It sits on 9.25 acres on a private road just minutes from Main Street in Annapolis. Throw in multiple balconies, porches, and patios, an outbuilding apartment, a tennis court, and a pool, and someone was happy (or at least willing) to pay $5.9 million for it. (Sold Nov. 6, 2013.)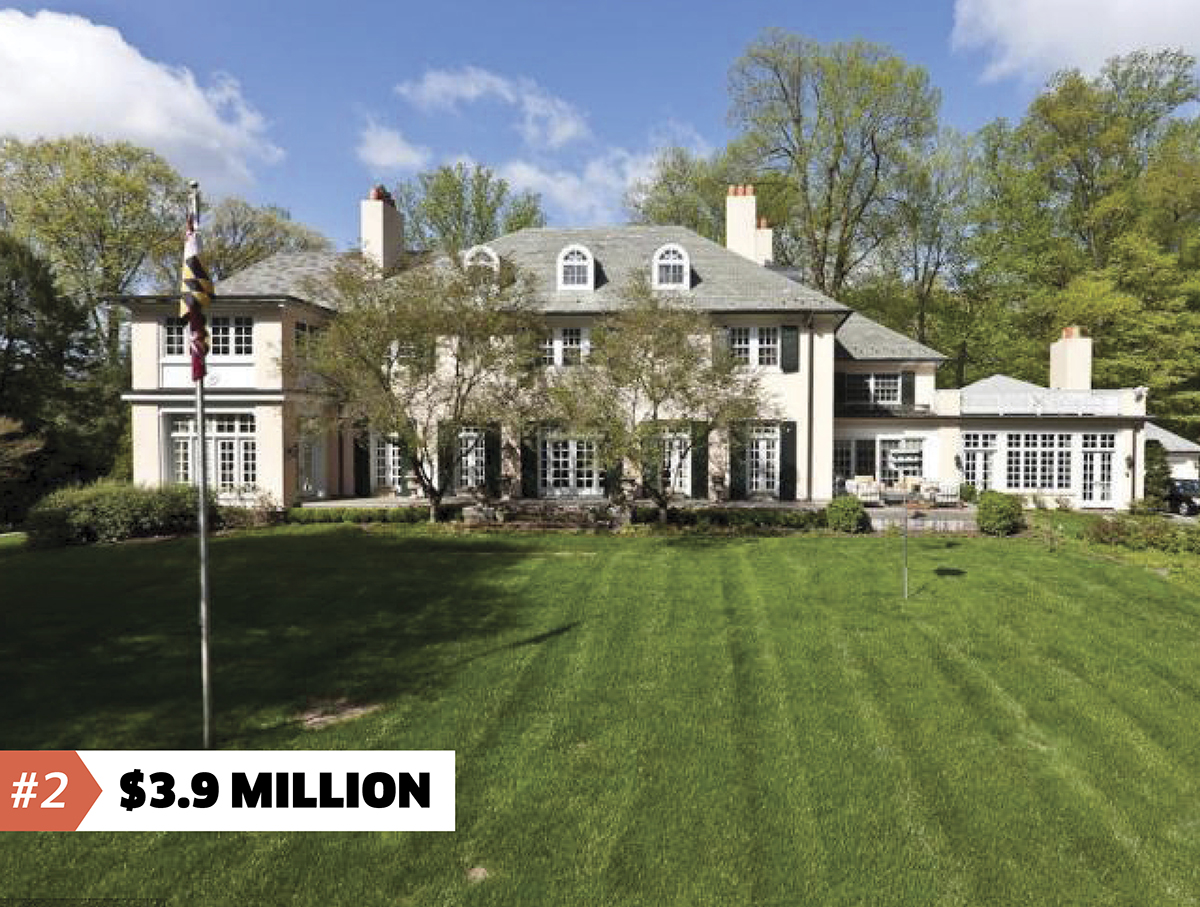 1832 Circle Rd., Ruxton
In the runner-up spot is this 1918, French-inspired manse on an 11.5-acre wooded, hilltop lot near the city-county line, offering six bedrooms, four full baths, three half baths, six fireplaces, and a gourmet kitchen in nearly 9,000 square feet, plus a tennis court, pool, and pavilion. And the kids can go to county schools. A bargain, we're sure, at $3.9 million. (Sold April 26, 2013.)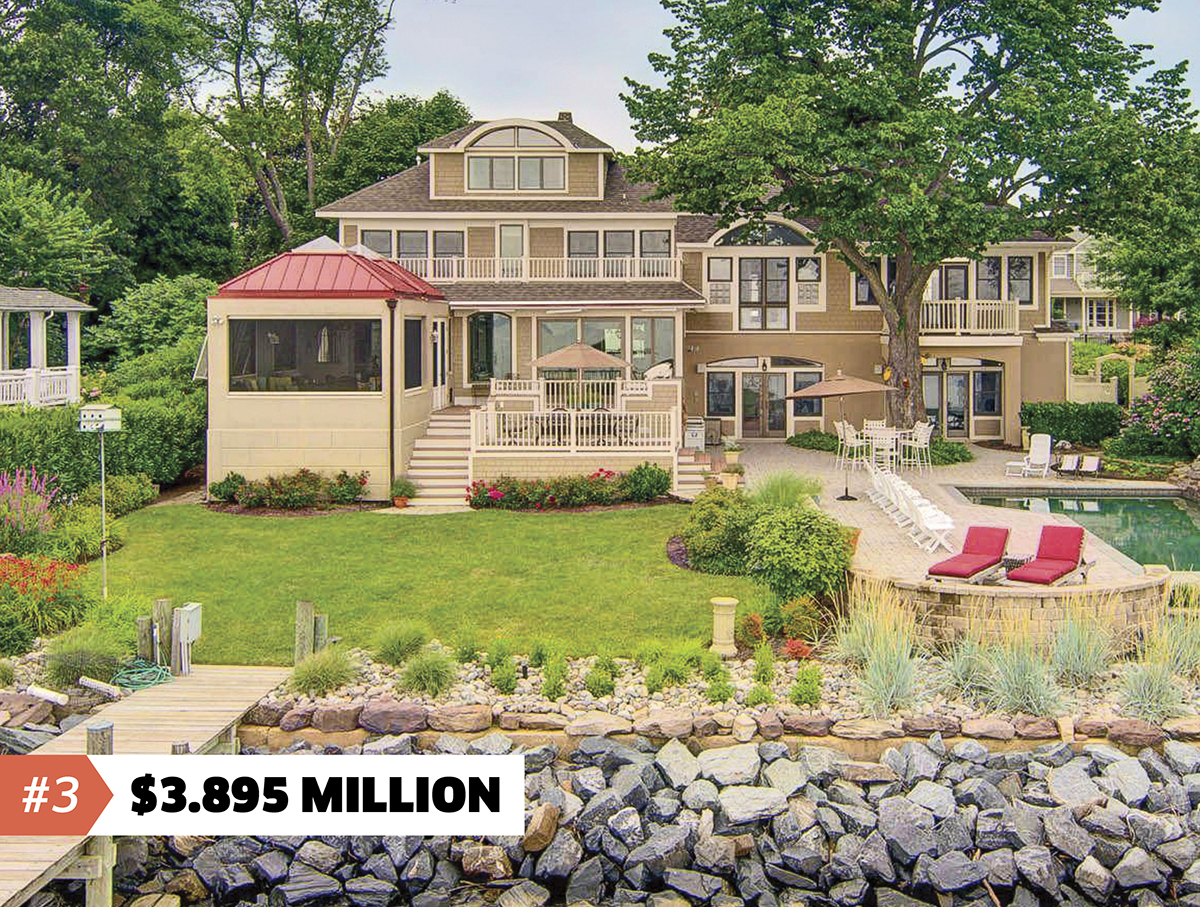 17 Eastern Ave., Annapolis
Imagine a waterfront home with 180-degree views of the bay, a gourmet kitchen, waterside pool, multi-level decking, a private pier with lifts, five bedrooms, and five-and-a-half baths. Then locate it within walking distance of Annapolis's city dock and restaurants and you've got yourself a $3.895 million sale. (Sold Nov. 19, 2013.)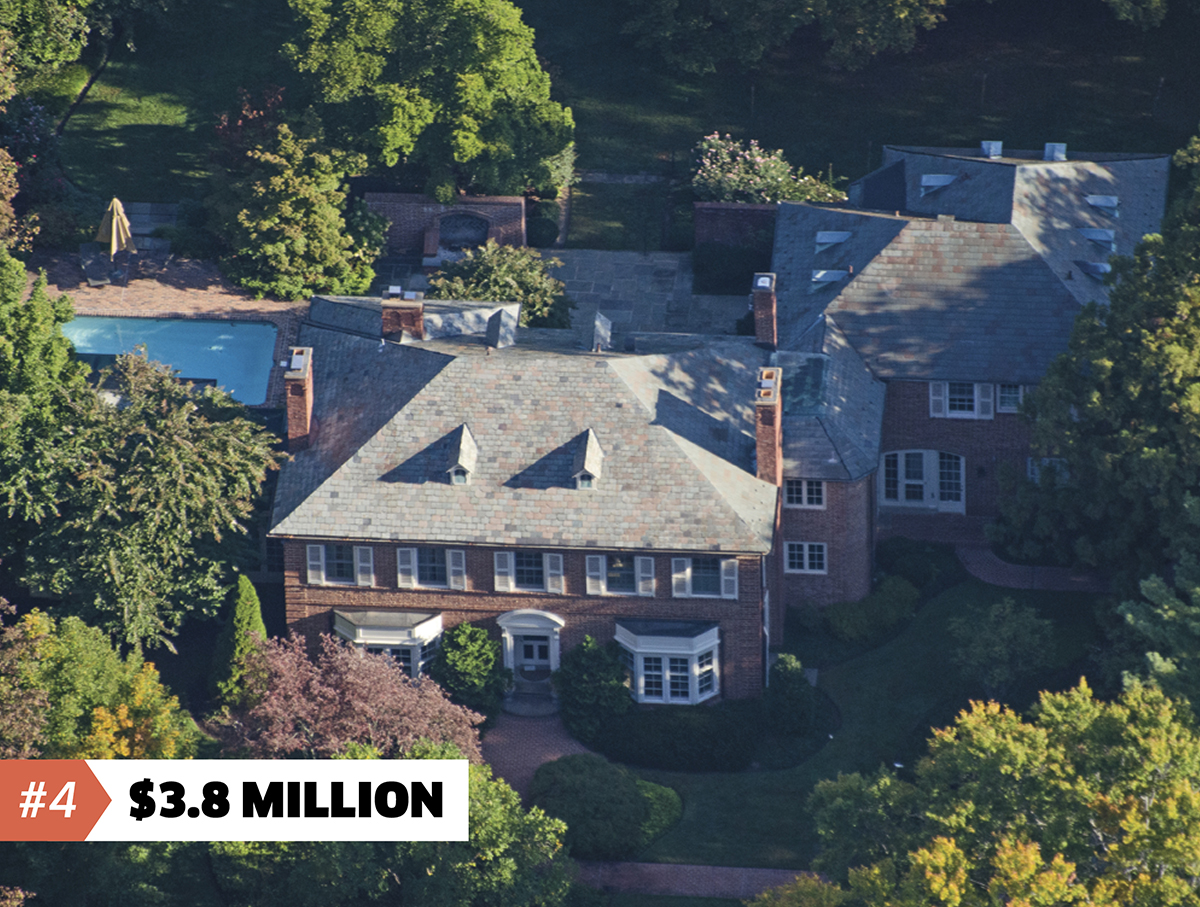 7117 Bellona Ave., Ruxton
Just a quarter-hour north of Baltimore in tony Ruxton is this gracious 1934 home on 2.58 acres. It has six bedrooms, six full baths, two half baths, and a total of 6,895 square feet of living space. And, yes, of course, there's an in-ground pool. Sold to the folks with $3.8 million. (Sold Sept. 16, 2013.)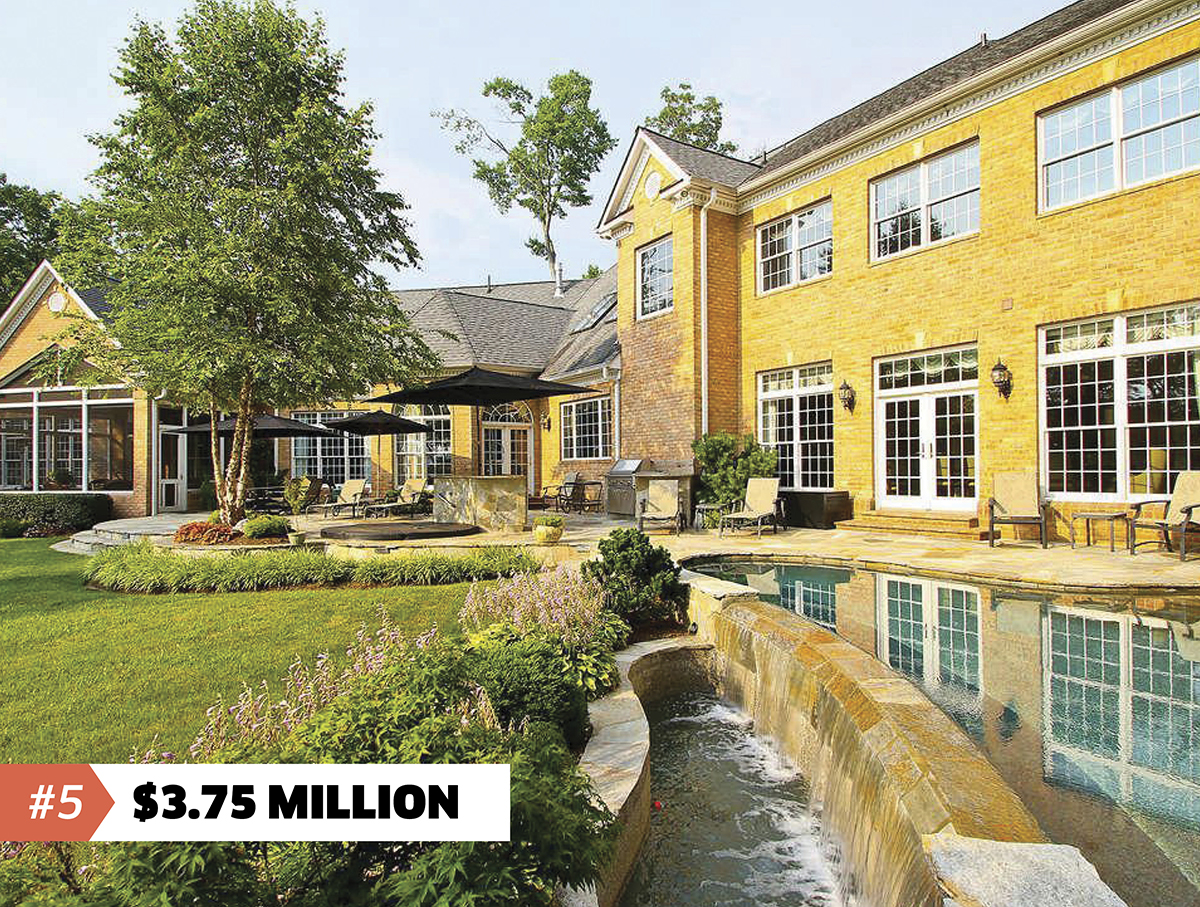 1236 Harbor Glen Court, Arnold
Coming in at number five is a property for the unrecovered car enthusiast—there's garage space for six cars. Then there's the six bedrooms, seven full baths, two half baths, five fireplaces, and a total living space of just over 11,000 square feet. (That's 4.4 times the average American home.) It could have been yours for just $3.75 million. (Sold Nov. 6, 2013.)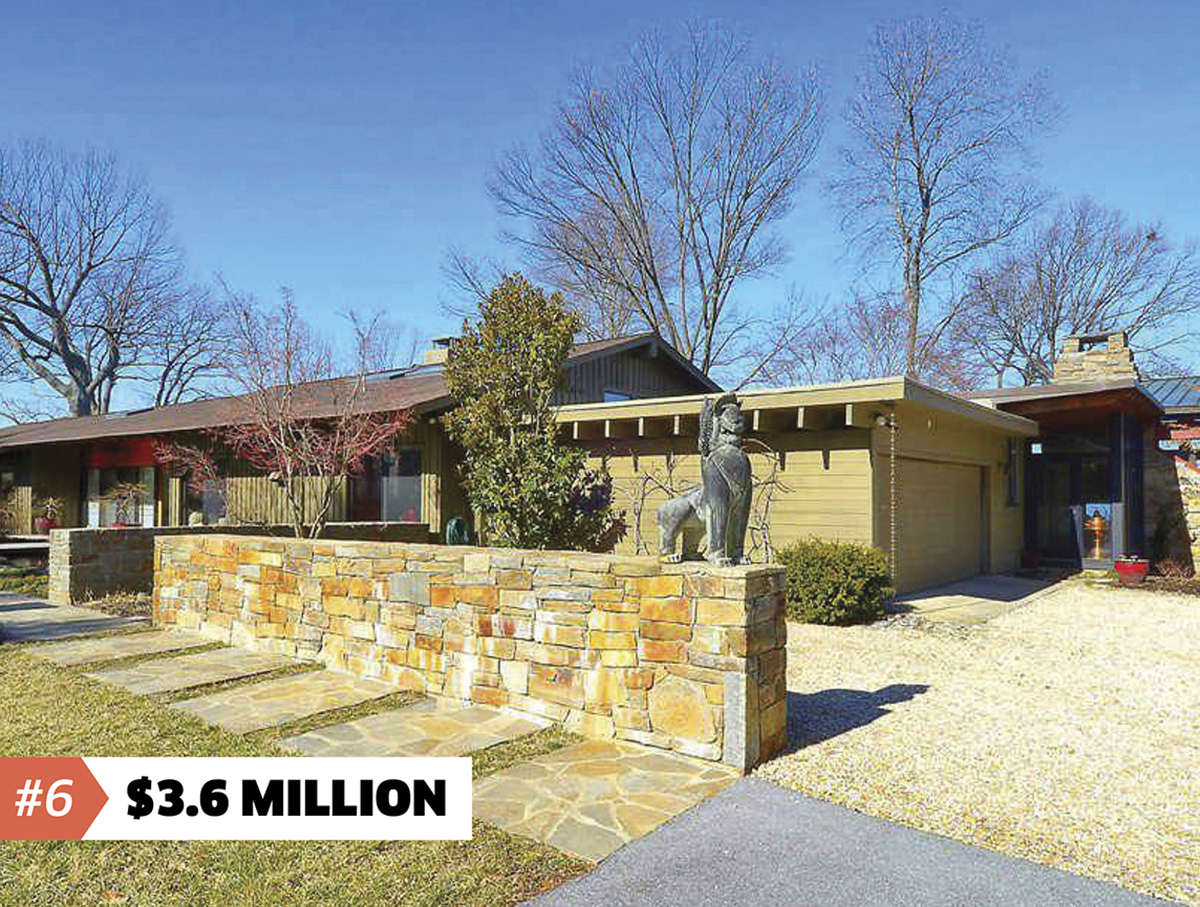 1800 Dreams Landing Way, Annapolis
Seemingly modest on this list with its paltry four bedrooms and seven bathrooms, this home makes up for that with its 4.1 acres on 1,450 feet of frontage on the Severn River, Luce Creek, and Howard's Cove. Then, add in a waterfront infinity pool, multiple decks, a deep-water pier, boat lift, and double (!) two-car garages. So that makes it totally worth $3.6 million. (Sold May 3, 2013.)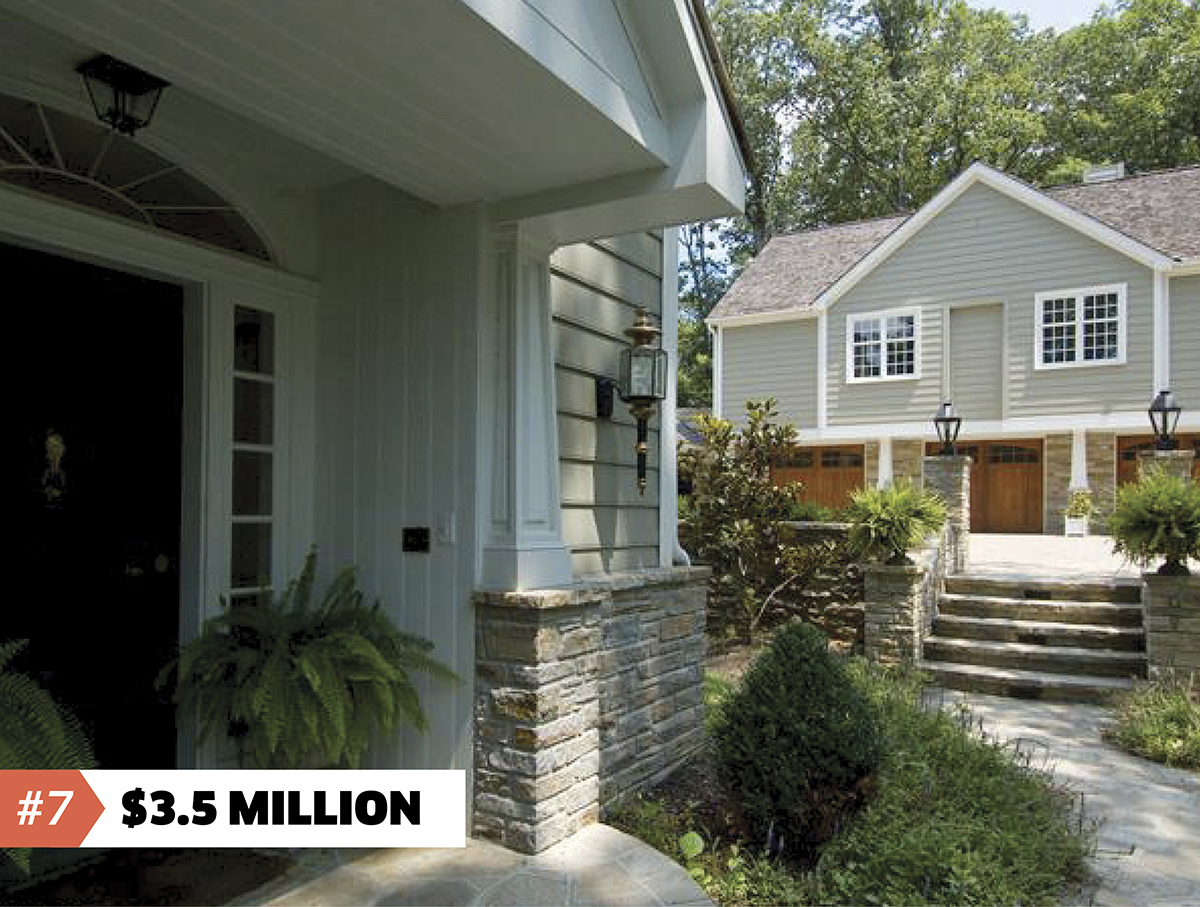 14123 Mantua Mill Rd., Glyndon
This historic property on 32 acres of rolling hills (including its own stretch of the trout-filled Piney Run River) includes a historically correct addition, floor-to-ceiling fireplace,
a professional-style kitchen, several outdoor patios, riding trails and barns for Trigger and Mr. Ed, a pool house, and a 2,500-bottle wine cellar. (BYOB, we presume.)
Price: A mere $3.5 million. (Sold June 14, 2013.)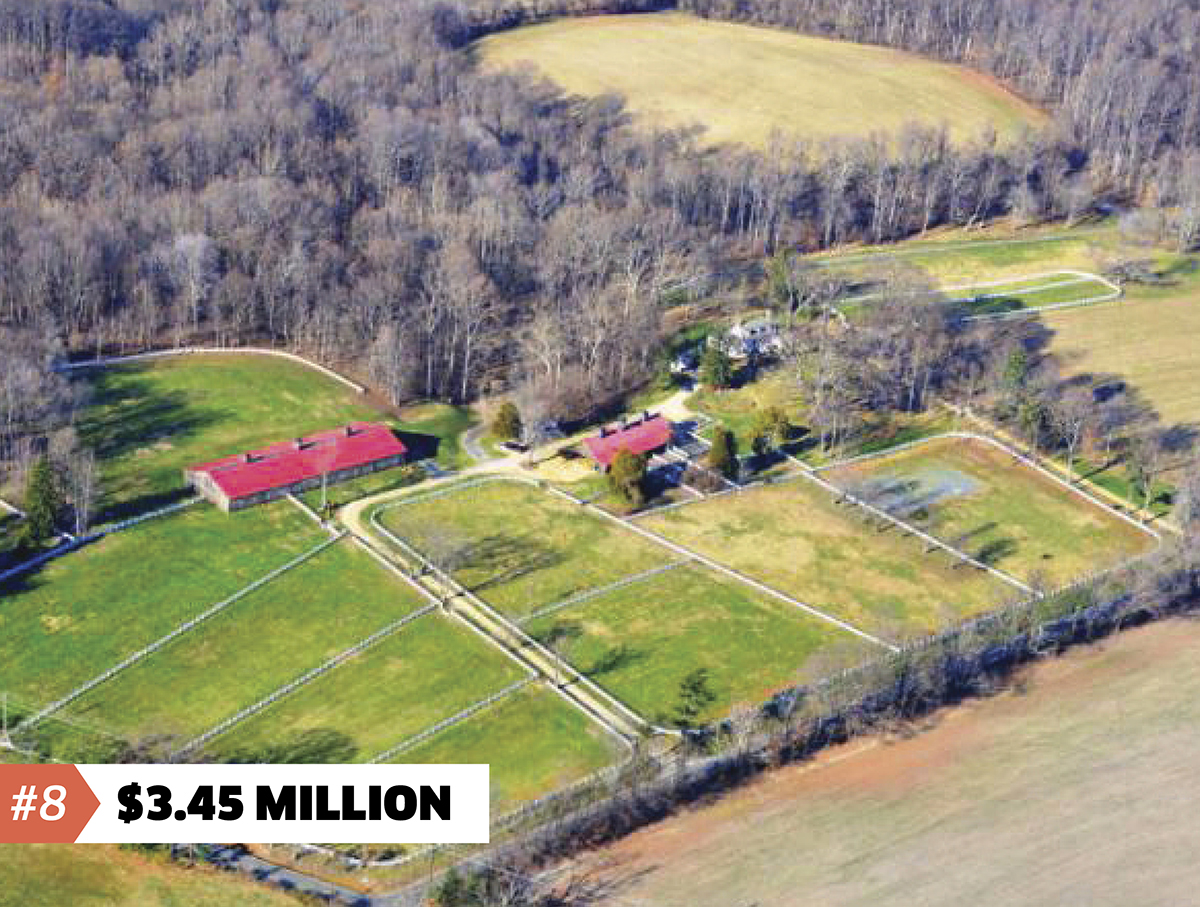 5238 Old Sudley Rd., West River
What this estate lacks in waterfront, it makes up for in elbow room with its 133 acres. Located just 10 miles from Annapolis, the 17th-century Georgian-style house, may have only three bedrooms and bathrooms, but then you have to factor in the two-bedroom guest cottage and Jeeves's caretaker apartment. Let's call it $3.45 million for this. (Sold Sept. 6, 2013.)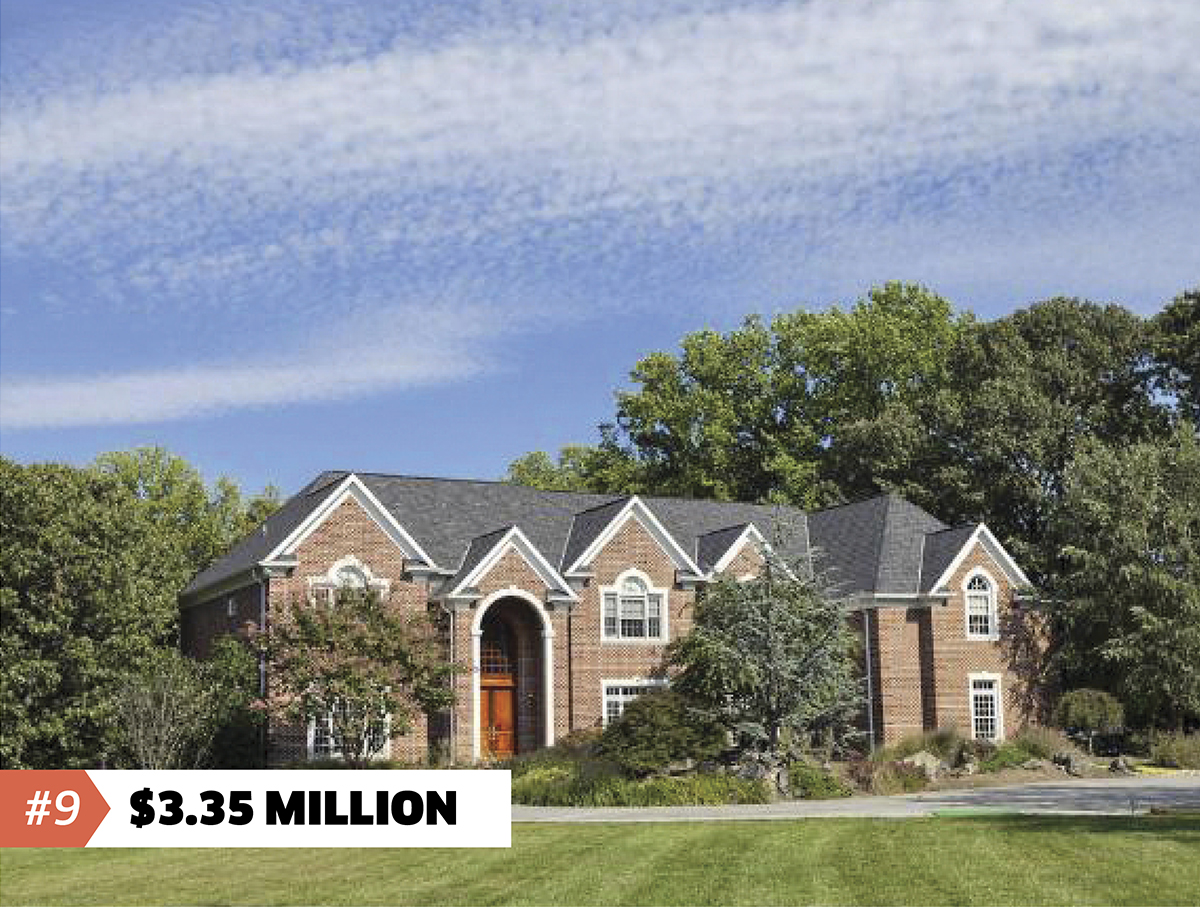 919 Dreams Point Rd., Arnold
Another waterfront manse on an aptly named road, this one has even more bathrooms (eight and a half—what's with rich folk and bathrooms, anyway?), eight bedrooms, a 54-foot pool with multiple changing rooms, a gated driveway (no solicitors, please), a hot tub, and a racquetball court. Throw in the putting green, and it's clearly worth the $3.35 million that was paid for it. (Sold Aug. 30, 2013.)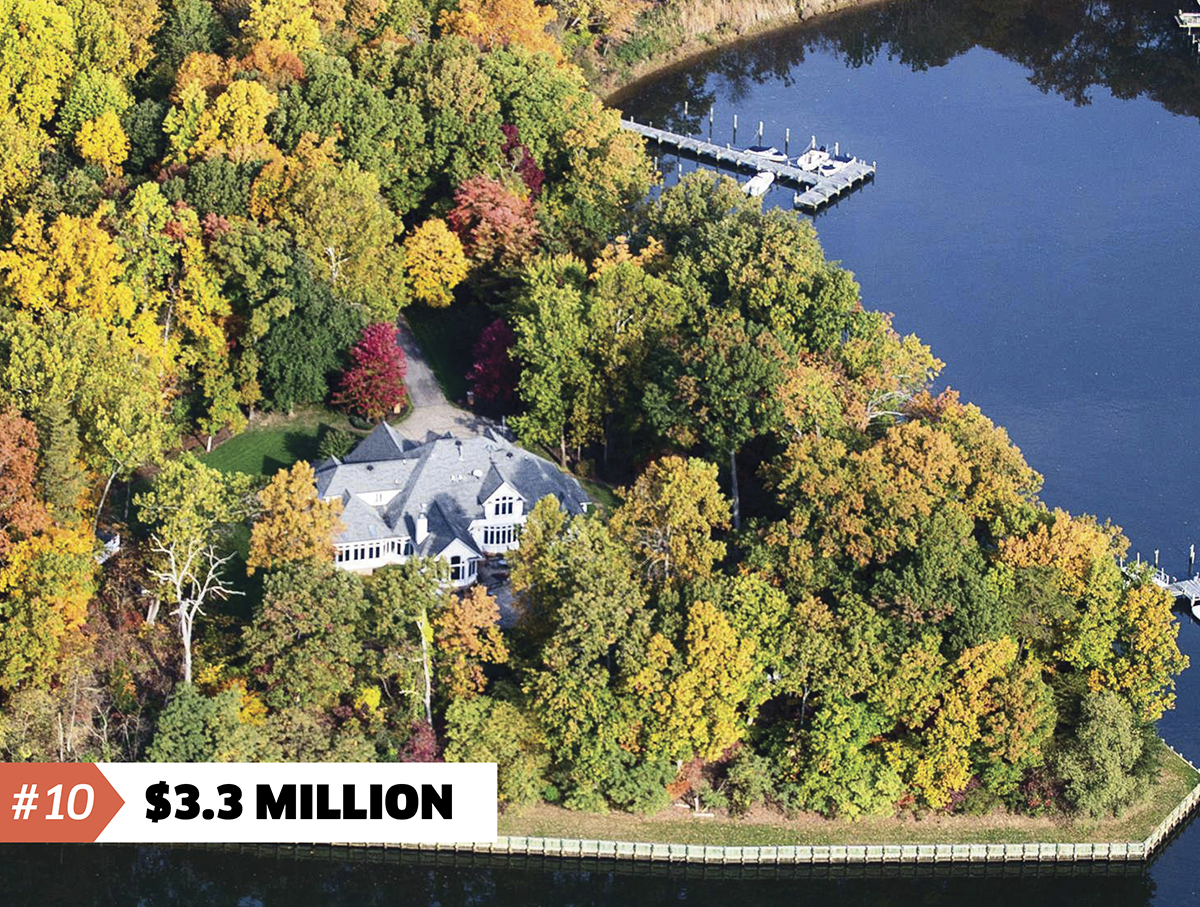 530 Post Oak Rd., Annapolis
Bringing up the rear on our list is a modest 7,859-square-foot, four-bedroom, five-and-a-half bath abode with a four-car garage. Driving up the value is its 3.6-acre lot overlooking the South River and Broad Creek with a deep-water slip and boat lift. (For
the piranha-phobic, there's also a pool.) All that for the bargain price of $3.3 million. (Sold Oct. 21, 2013.)
---
Hang up the "Sold" Sign
If you're still laboring under the misconception that a typical house for sale in Baltimore will languish on the market for months before selling, think again: The lowest median number of days a house stays on the market—or DOM in real-estate jargon—is in Ellicott City, where houses sold in a median 15 days, followed by Columbia at 17 days. (Good news: The median DOM for the whole region went from 53 in 2012 to 36 last year.) For comparison, below are the DOM stats for the fastest-selling communities in other jurisdictions.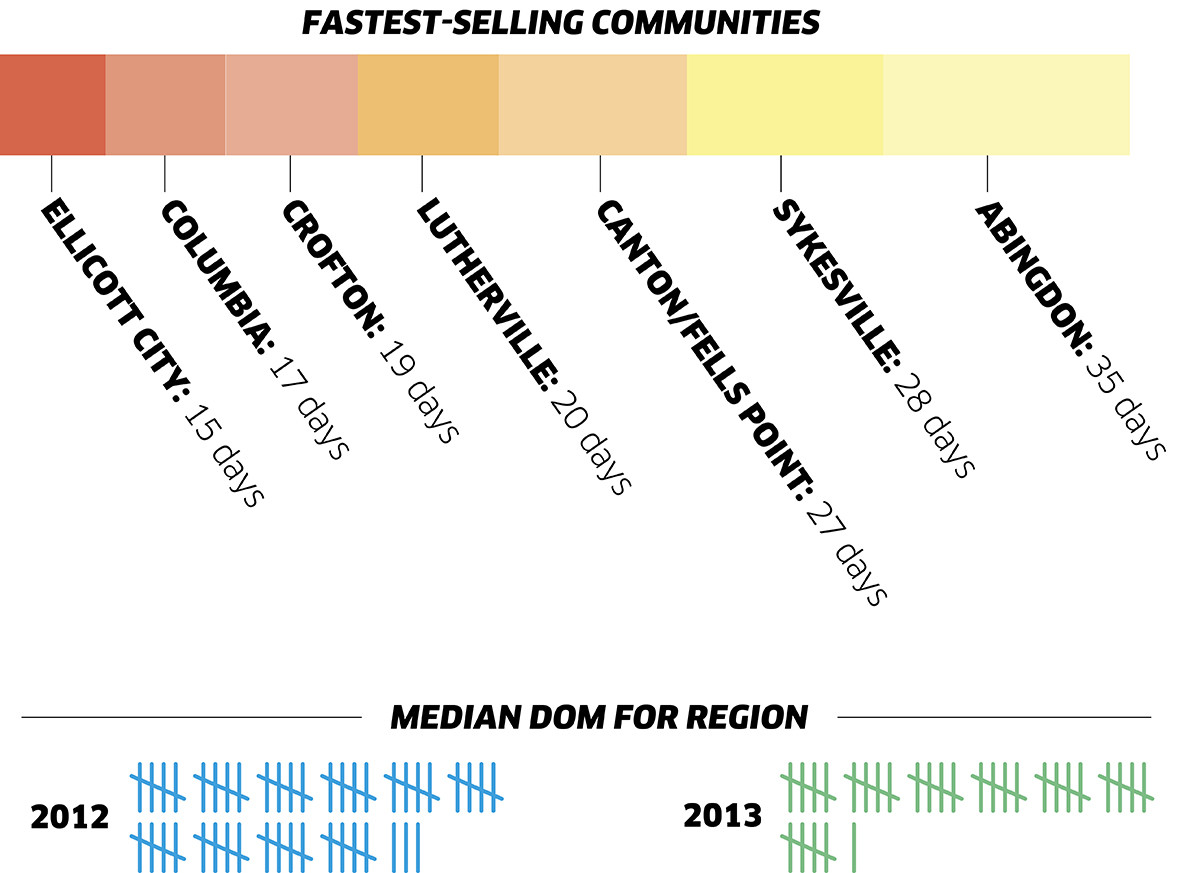 A primary source for data was MRIS, which lists nearly $103 million in real estate daily in Maryland, Washington, D.C., and Virginia, as well as markets in Pennsylvania and West Virginia. Want to be your own expert? MRIS operates mrishomes.com, a real-estate home-searching site with real-time local listings. You can also access listings through their mobile app, MRIShomes.
---
10 Hottest Housing Markets For 2014
Baltimore has been included in the top 10 major metro areas expected to see the biggest increase in home prices this year, according to CoreLogic Case-Shiller's latest home price forecast.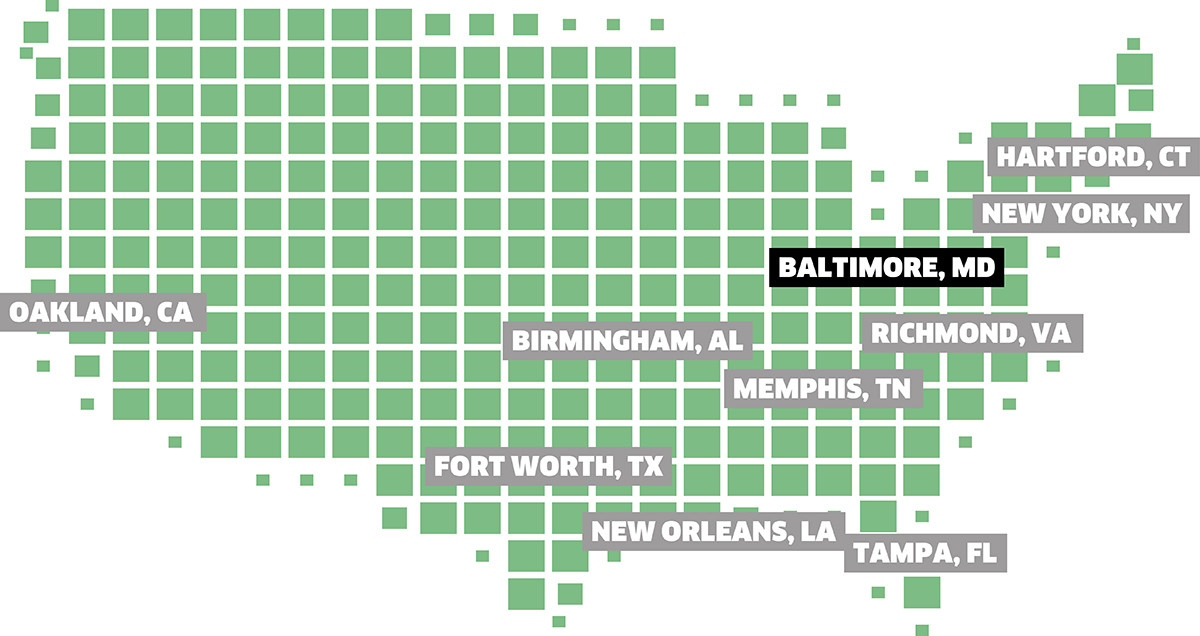 The latest CoreLogic Case-Shiller home price forecast revealed the cities that will experience the biggest home price increase over the course of 2014. The forecasts are for 12 months, ending in September 2014. Each metropolitan area had to have a population of at least one million people or more to be ranked. In addition to using data from the Case-Shiller index, CoreLogic also took data from the National Association of Realtors, the Federal Housing Finance Agency, Moody's Analytics, and the Bureau of Labor Statistics into consideration.
Based on CoreLogic's findings, the hottest housing markets in 2014 will be:
Oakland, CA
Fort Worth, TX
New Orleans, LA
Richmond, VA
Hartford, CT
Tampa, FL
Baltimore, MD
Birmingham, AL
New York, NY
Memphis, TN
Forecast for Baltimore:
Median home price : $299,000
Predicted gain through Sept. 2014: 8%
---
Suddenly, Moving Up Means Downtown
When you hear talk of hot real-estate markets, you often think of the suburbs. But guess what? People are moving back downtown in droves.
For the first time in 100 years, population in the U.S. is growing faster in cities than the suburbs, and it's happening here, too.
Census data shows that, between 2000 and 2010, Baltimore's downtown population grew 395 percent within one-quarter mile of City Hall. It grew nearly 80 percent within a half-mile and 5.58 percent within a one-mile radius, for a total growth of more than 5,700 people.
That one-mile area currently has more than 40,000 residents, making it the eighth densest urban center in the country, according to the nonprofit Downtown Partnership of Baltimore, which represents property owners and merchants in the center city. And, since 2010, residential demand there has accelerated, driving apartment occupancy rates higher than 97 percent.
Developers are struggling to keep up: "Our housing demand study, Outlook 2017, showed that, between 2012 and 2017, Baltimore's downtown could absorb 5,800 new residential units," says Kirby Fowler, president of Downtown Partnership. "And there are currently more than 4,000 in the pipeline."
So who are all these new neighbors? "Millennials represent two-thirds of the transplants, while 22 percent come from empty nesters and retirees, and 12 percent from families," says Fowler. "And one of the big draws seems to be mass transit: About 65 percent of the new city residents owned a car just prior to moving downtown, but got rid of it because they now don't need one. Instead of driving, they prefer car- and ride-sharing options like Zipcar and Uber," he says. They also make heavy use of the Charm City Circulator, with 75 percent of them using the free service at least once
a month and 30 percent riding it weekly.
So with urban living suddenly all the rage, what better time to doll up the downtown's image with some quaint new neighborhood names? That initiative is in the works now at Downtown Partnership, which is just waiting for a City Hall okay. After all, it'd be cooler to say you live in "Preston Gardens" (think the landscaped median strip near Mercy Medical Center) or the "Bromo Arts District" neighborhood (the Howard Street corridor) than to just think of it all as "downtown".
Here's a map, opposite page, of the new neighborhood names being proposed by Downtown Partnership, monikers it hopes will take hold through signage and marketing by real-estate agents.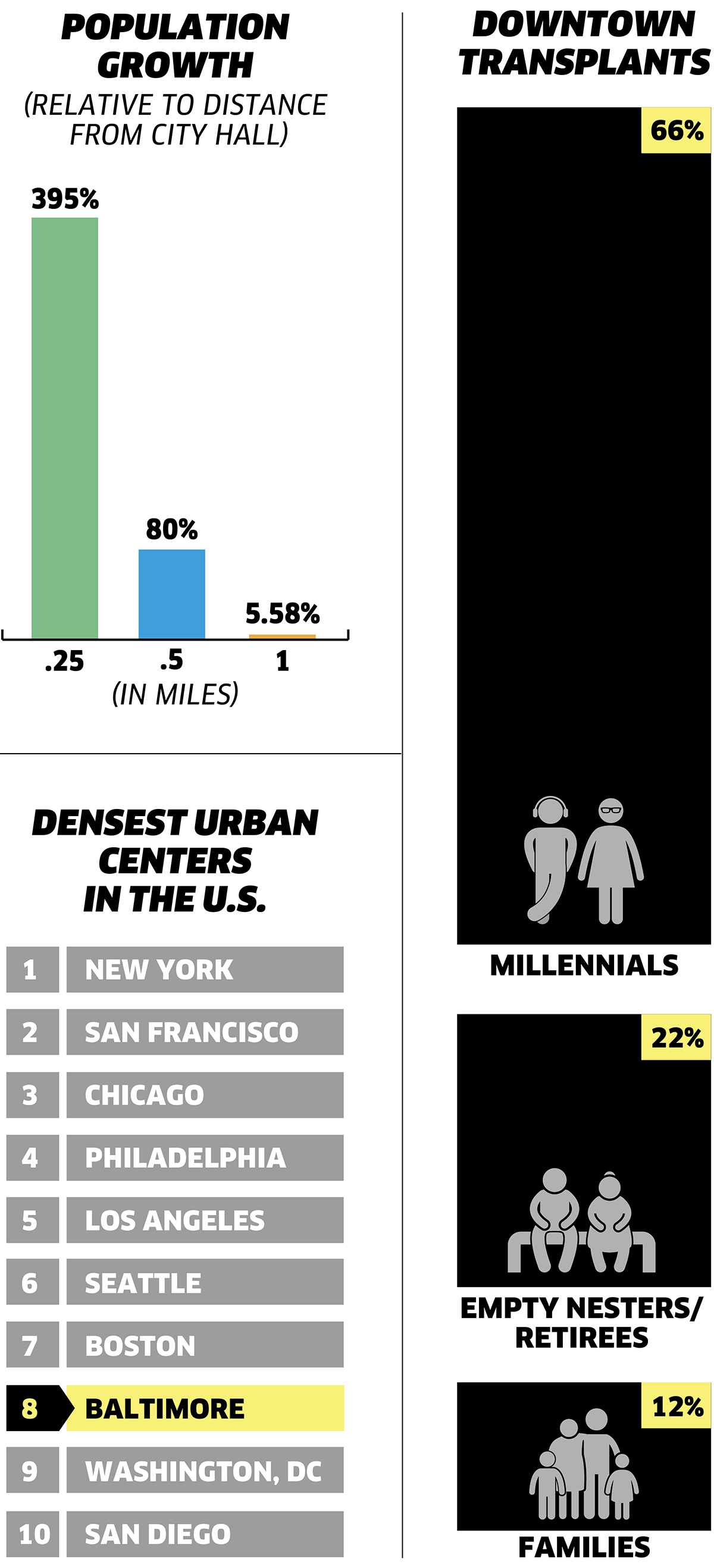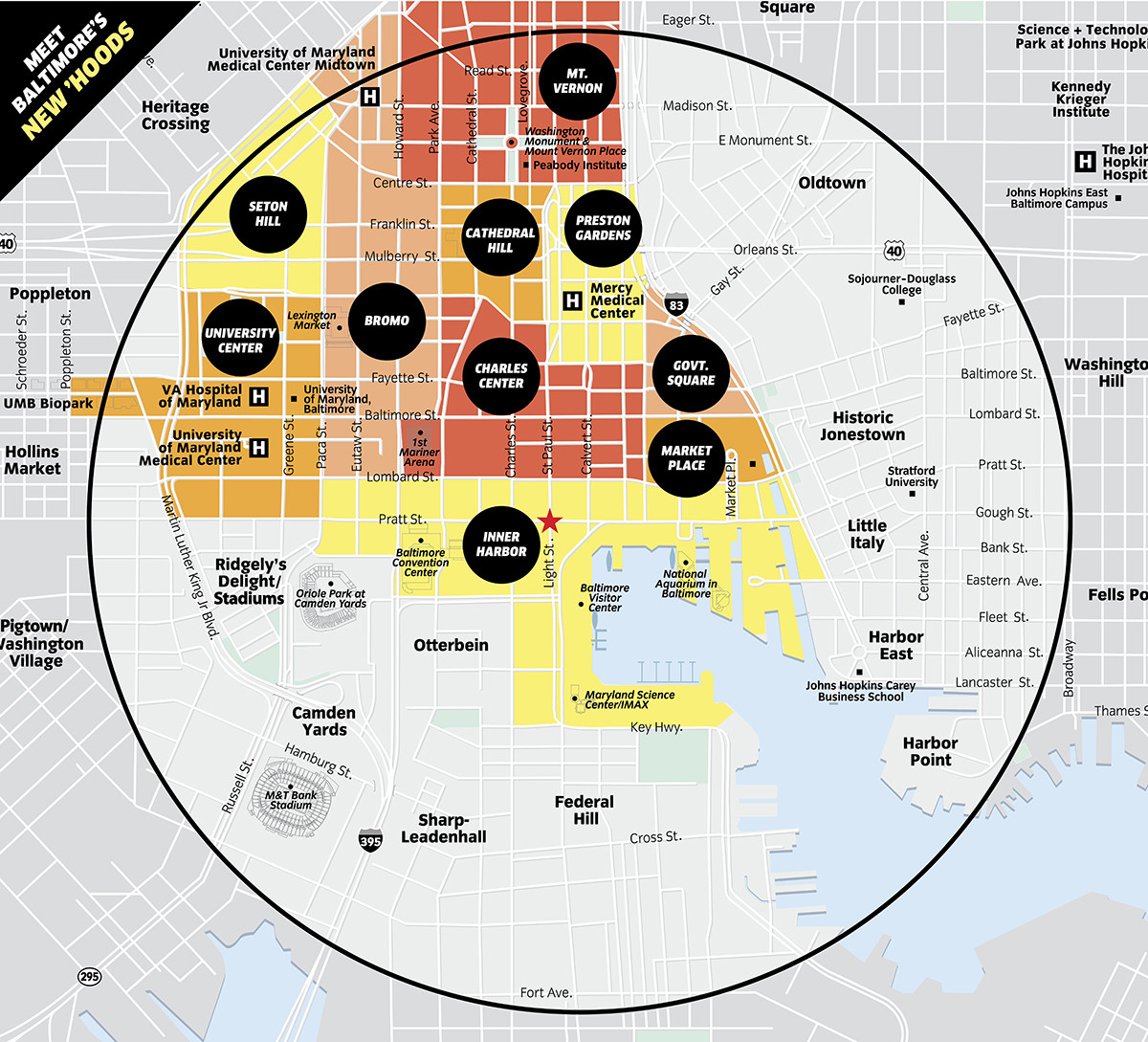 -Downtown Baltimore Map Courtesy of Downtown Partnership
---
Meet You on Main Street
Remember when there was Main Street instead of the mall? Here are a few pedestrian-friendly thoroughfares that have retained the timeless charm of a village center.
West St., Annapolis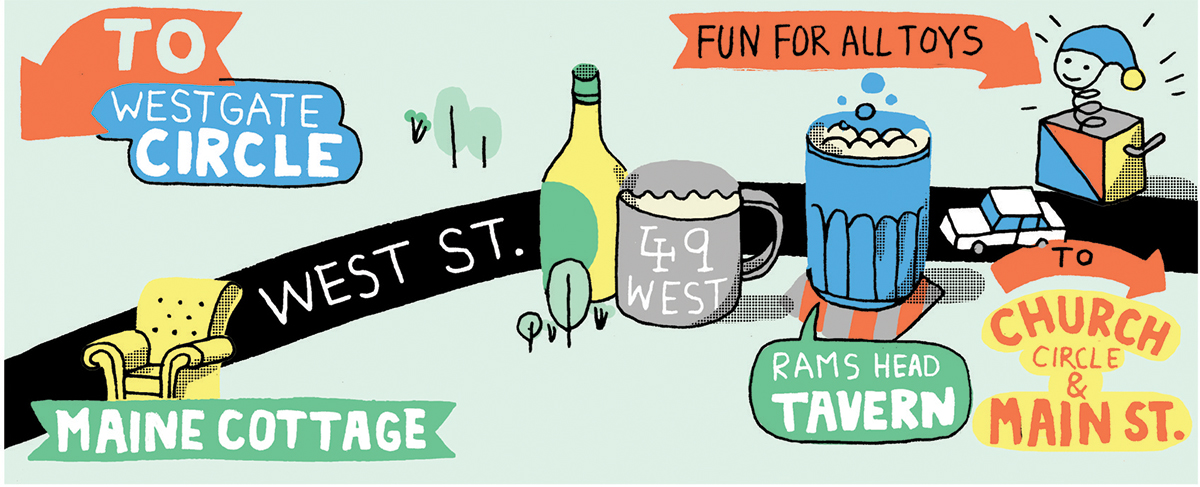 The actual Main Street in the historic capital has a few new hotspots, most notably the "speakeasy" DRY 85, but West Street continues to thrive. Coastal-style furniture retailer Maine Cottage just opened its flagship store there, and kids will like Fun For All Toys while the parents will prefer the easy access to wine, coffee, and live music at 49 West.
Main St., Sykesville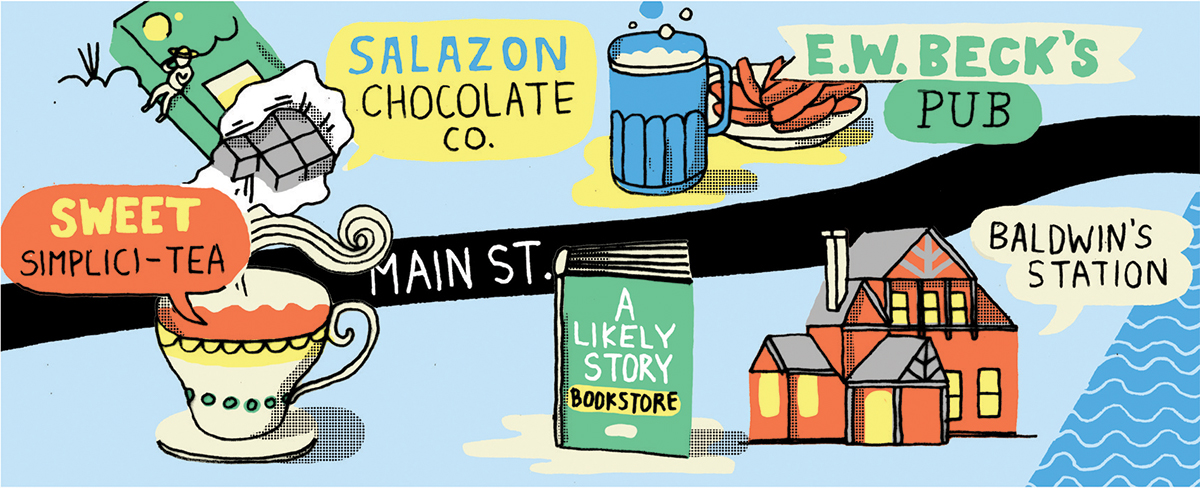 Sykesville's proud history shows in the old-town charm of its downtown. Many historical buildings have been repurposed, like the original train depot, now Baldwin's Station restaurant. Take a break from shopping at the storefront location of nationally recognized Salazon Chocolate Co.
Main St., Ellicott City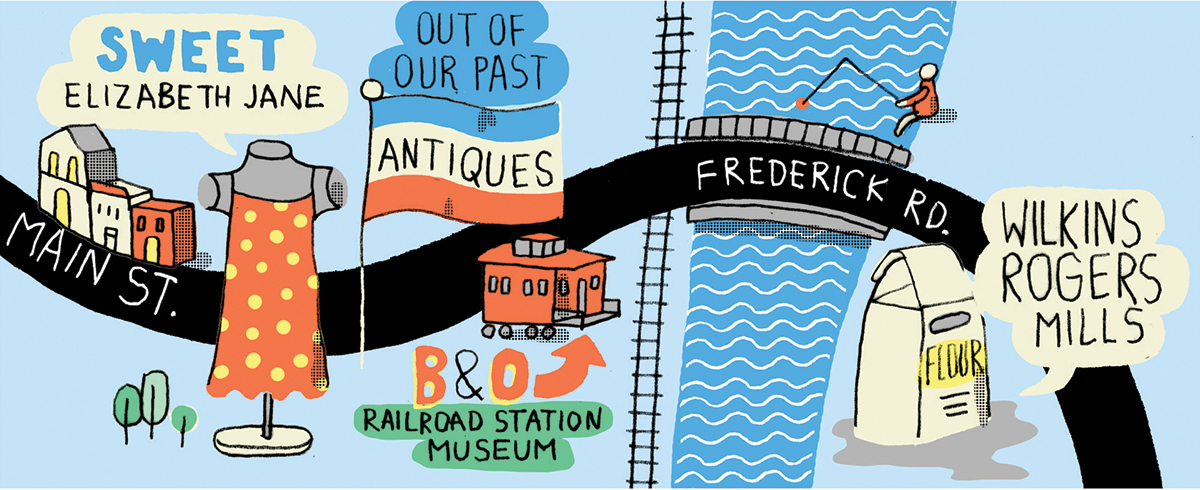 Arguably no one does Main Street as well as this Howard County historic enclave, which has even withstood floods. The history can be revisited at the working Wilkins Rogers Mills flour company or the B&O Railroad Station Museum, but most people enjoy the window shopping in this charming center.
Main St., Westminster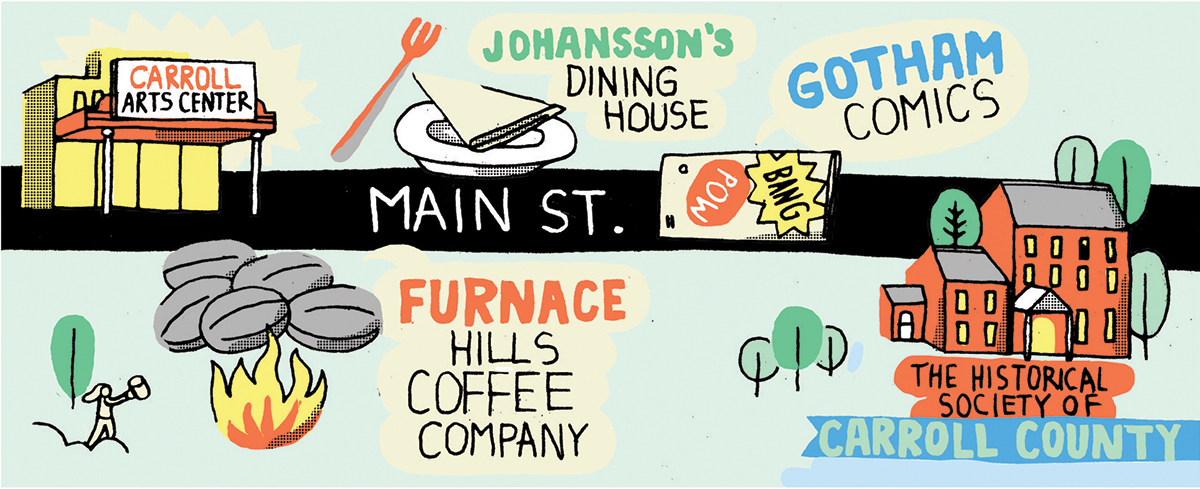 The Historical Society of Carroll County is at one end and the Carroll Arts Center is at the other. In between is an abundance of boutiques, galleries, and eateries. Gamers will enjoy Gotham Comics, then savor the java at Furnace Hills Coffee Company, which provides jobs to the developmentally disabled.
Harford Rd., Hamilton-Lauraville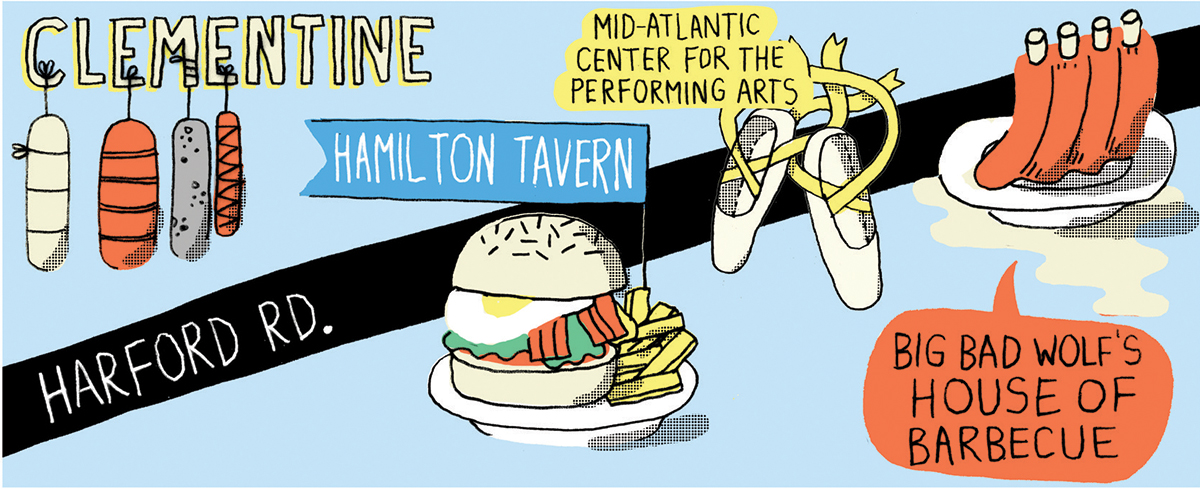 Anchored by popular restaurants like Clementine, Hamilton Tavern, and Big Bad Wolf's House of Barbeque, this section of Harford Road is still an up-and-comer, but the Mid-Atlantic Center for the Performing Arts should be a draw, too.
Frederick Rd., Catonsville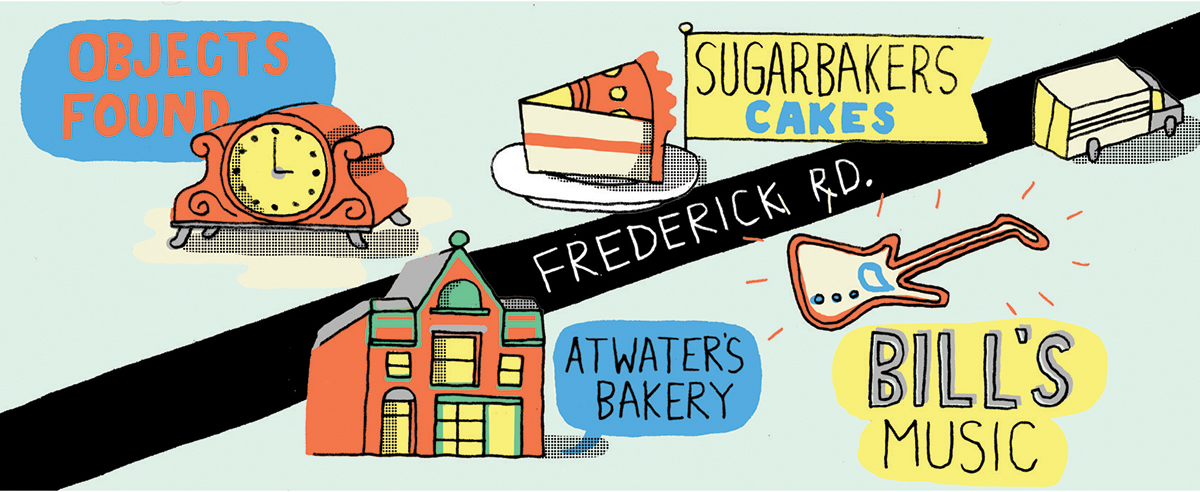 Where there is an Atwater's Bakery, only good things can follow. (Actually, the exhausting full name is The Naturally Leavened Bread Bakery and Café.) This busy shopping district boasts sweet spot SugarBakers Cakes, great consignment spots like Objects Found, and stalwart independent shops like Bill's Music, in business since 1965.
Washington St., Havre de Grace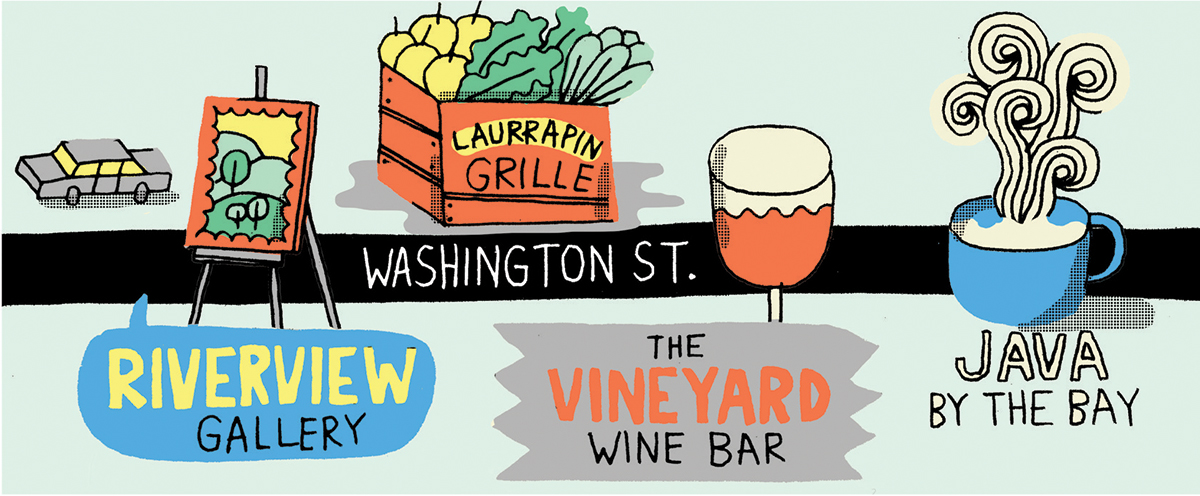 When The Vineyard Wine Bar opened, the winds of change seemed to be blowing through a place best known for its decoy museum. Now there are bookstores, art galleries, and plenty of dining options, with the added benefit of a waterfront view.
36th St., Hampden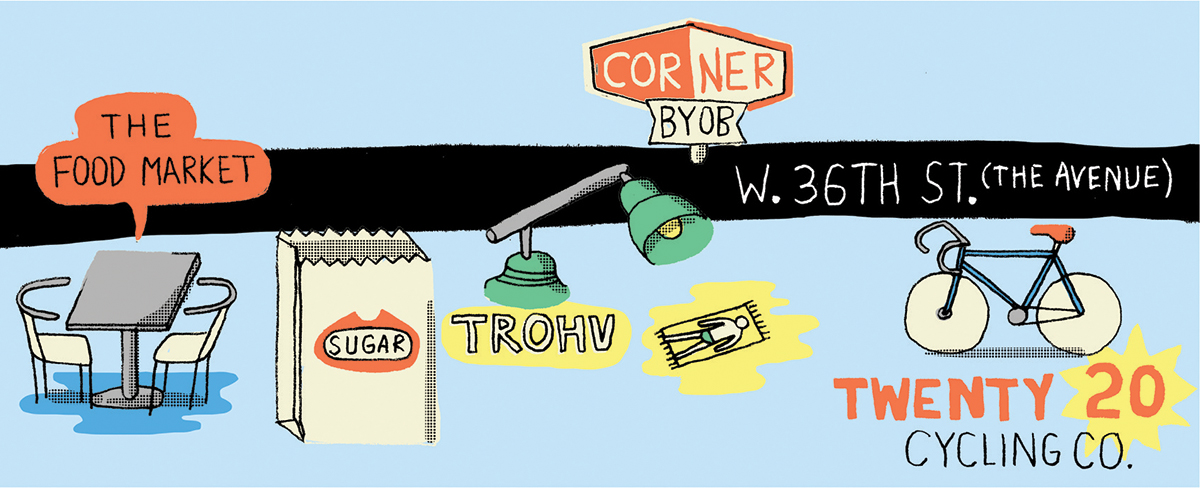 The main drag in what was once a mill town has been so successful that much of the kitsch for which it was famous has now become a cliché. But there's no reason to cry over the pink flamingo that was if you're cozied up to the bar at The Food Market, enjoying a meal at Corner BYOB, or carting home wares from Trohv or the saucier Sugar.
---
Okay, not every quaint village center is defined by a single Main Street——but these un-Main Streets give you the same walkable and vibrant feel.

Not so much a Main Street as a village, Kelly and Sulgrave avenues and Newbury Street squeeze in restaurants from the intimate (Crêpe du Jour) to the institutional (The Mt. Washington Tavern) alongside newbies like The Nickel Taphouse. Swank shoppers indulge at C.H. O'Malley Antiques, while cost-conscious connoisseurs prefer consignment shops like La Chic Boutique.
---

If ever a place could give Fells Point a run for its money in bars-per-square-inch, Canton Square would be it. New bars and restaurants like Plug Ugly's Publick House and Shiso Tavern squeeze into this stretch of O'Donnell Street next to old timers like Nacho Mama's that hark back to when the square was grittier and the parking was less intense.
---

Yes, it's cheating slightly as this is as much a waterfront neighborhood as a main street, but it would be unfair to snub upscale Harbor East on a technicality when every inch of this area is packed with both national chains and local, independent shops and restaurants.