When Roswell Encina turned the Big 4-0, he decided to celebrate by writing a bucket list. "I didn't want to be one of those people who writes one at 70," says Encina, Encoh Pratt Free Library's director of communications. "I wanted to be able to do the things that were on it. So I wrote one while I was still relatively young." Two items he's already crossed off the list: meet a president (he's visited 1600 Pennsylvania Avenue twice); and learn to ski. (His first attempt led to a sprained ankle on the bunny slopes at Liberty Mountain Resort.) And one still to go: work as a balloon handler at the Macy's Thanksgiving Day Parade. ("I need to befriend someone at Macy's sometime soon," he cracks. "That's the only way to do it. You have to have a connection.")
Given his sense of joie de vivre and past record of accomplishment (graduation from high school at 16 and college at 19), the young-at-heart Encina can certainly say—bucket list or not—he's packed a lot into his 44 years. "My life has been a good ride," he says, "but I'm far from done."
As an only child born to a father who served in the U.S. Navy, Encina grew up in the Philippines, but dreamed of one day working as a broadcast journalist in the United States. "When I was younger, I'd watch Bryant Gumbel on Today," he says, "and I'd say, 'I want to do that.'"
After earning a degree in marketing management at De La Salle University in Manila in 1989, Encina moved to the Mid-Atlantic to be near a relative and to study journalism at Salisbury University. (Along the way, he also worked in the marketing department at Sam's Club.) After completing his degree, the job offers rolled in. "I always said that the only state I wouldn't go to was Alabama, and what came calling . . ." he says, laughing.
While in Huntsville, AL (where he became best friends with Adam May, now of Al Jazeera and Derek Valcourt, now of WJZ-TV), he quickly moved up the career ladder as a reporter, eventually decamping to Memphis, TN, where, in addition to covering politics as a general assignment reporter, he became a certifiedbarbecue judge. ("Most of it is about presentation and tang," he explains.)
"It's amazing how Filipino food has flown under the radar compared to other Asian foods."
Following a lead from May and Valcourt, Encina moved to Baltimore in the hopes of freelancing at local news affiliates, but ultimately wound up working at the Pratt. Explains the well-read Encina, who counts Michael Chabon's The Amazing Adventures of Kavalier & Clay as his favorite book, "This, as Jane Pauley has said, is my second act. This is my life reinvented."
These days, Encina lives in Fells Point in an adorable apartment he shares with his pound pup, Olivia, as well as occasional dinner guests for whom he's fond of whipping up Filipino food, osso buco, and dishes from Ina Garten's The Barefoot Contessa. "It's amazing how Filipino food has flown under the radar compared to other Asian foods," says Encina. "I've been reading Filipino cuisine may be the next big restaurant trend. Restaurants with acclaimed chefs are opening in New York City and in California. Plus, one of the previous Top Chef contestants specialized in it."
Baking is another story, however. "I don't like baking," he says. "I'm impatient. I'm good at putting on some spices and herbs and shoving things in the oven."
Encina's chicken adobo—the unofficial national food of the Philippines—requires a stovetop only, but it's a dish close to his heart. "My father died last November," says Encina, "and when he died, something changed in me. We went back to the Philippines to bury his ashes, and I hadn't been there in 19 years. I'm embracing my heritage more now. This recipe represents a symbolic turn in my life."
---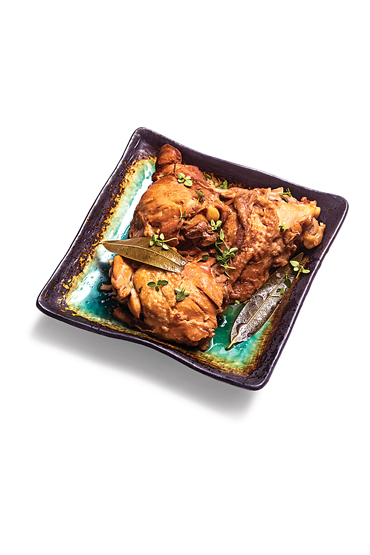 Chicken Adobo
Ingredients
4 tablespoons soy sauce
1 head garlic, pounded
2 1⁄2 pounds chicken, cut into serving pieces
1⁄4 cup cooking oil
1 cup water
3 pieces of dried
bay leaves
1⁄2 teaspoon whole
peppercorns
2 tablespoons
white vinegar
1⁄2 tablespoon of sugar
Salt for seasoning
1⁄2 teaspoon fresh
thyme, chopped
Directions
In a bowl, combine soy sauce, garlic, and chicken. Marinate for three hours.
Heat cooking oil in a large pan.
When oil is warm, add chicken and cook all sides for about five minutes.
Pour in remaining marinade and add water. Bring to a boil.
Add dried bay leaves and peppercorns. Simmer for 30 minutes or until chicken is tender.
Add vinegar. Stir and cook for additional 10 minutes.
Add sugar and salt. Stir and turn off heat.
Place chicken in serving dish and sprinkle with thyme. Serve with rice.
---
---