For Amy and Casey Johnson, their mission is simple: to sculpt well crafted and aesthetically pleasing wood pieces for the home. With Foxwood Co., they're doing just that. The Annapolis-based duo, married for nine years, officially started their company in April 2014 after trying their hand at a craft fair a few months prior. Casey is the creative head, and spends hours in their backyard woodshop sketching, sawing, sanding, and staining pieces that are equal parts decorative and functional—like planters, cake stands, and cutting boards. Amy, a former art teacher, is the force behind all things promotional and administrative, like social media and their recent heap of holiday orders that left them busy as ever. But with 2016 underway, it's clear they're ready to get back to the grind. Read on to learn more about Amy and Casey (and their favorite drool-worthy dessert!).

Describe your business in one sentence.
Amy Johnson: Our focus is on creating sculptural pieces that are driven by strong craftsmanship.
If you had a superpower, what would it be?
Casey Johnson: It would be helpful if I had octopus arms. I need a lot more hands, so I can get more work done.
AJ: I would be able to teleport or be in two places at once.
Who inspires you when you're crafting?
CJ: There are a few artists that inspire me, one being Martin Puryear, and there's a handful of modern sculptors that I look to as well. They're looking at nature and the figure and abstracting it into their sculptural forms.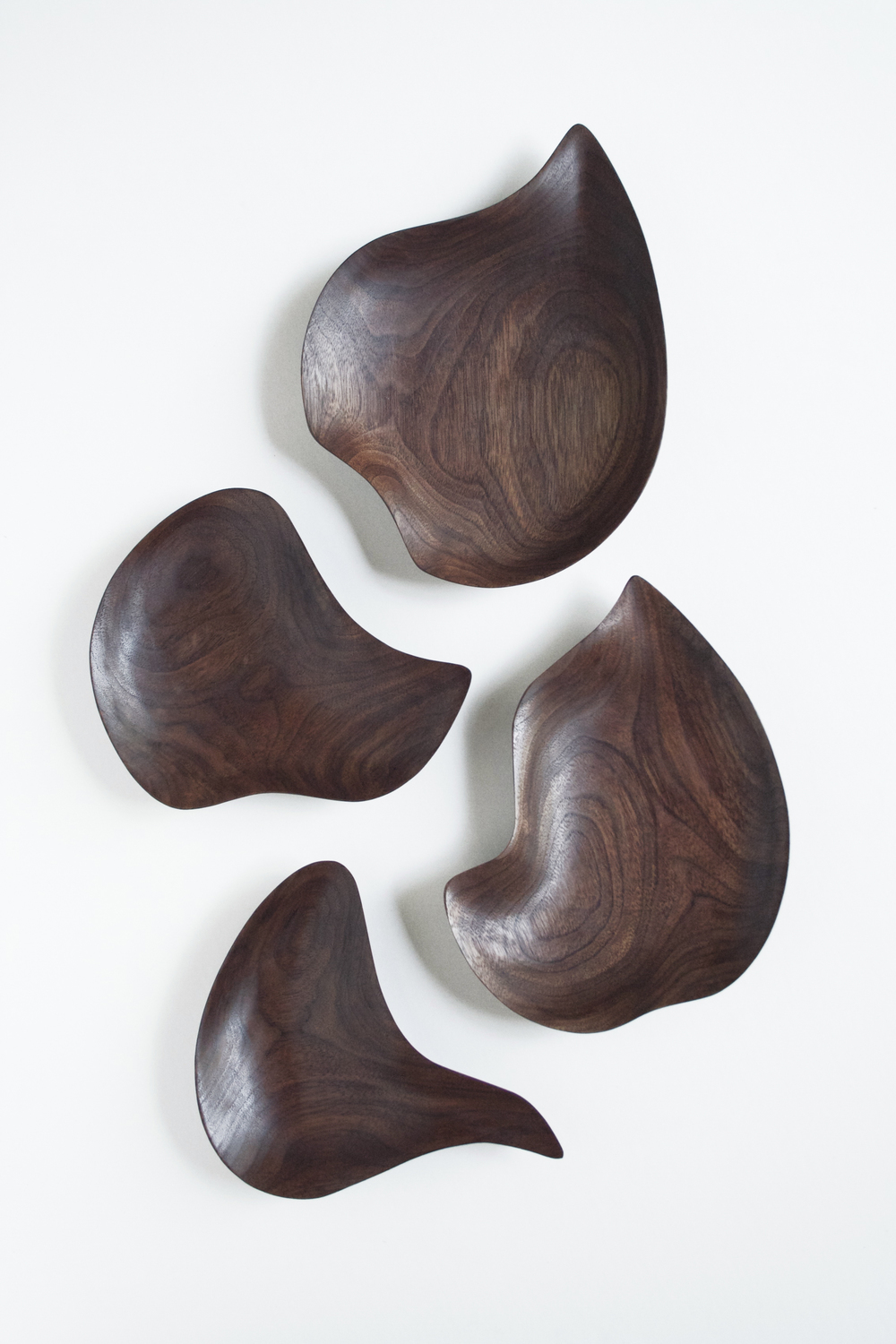 What is your favorite item in your collection?
CJ: The newest thing is usually what I enjoy the most because I get bored with making the same thing over and over again. I also enjoy making the pieces that are more sculptural and maybe less functional.
AJ: The whole Forma collection probably. It seems to be more true to where we're headed with the organic shapes and carving and sculptures.
What is the most embarrassing trend you used to love?
AJ: When we first got married, we painted all the furniture in our house pastel colors. It was like coral, pastel purple, sea foam green, and robin's-egg blue.
CJ: It was like Easter year-round.
AJ: Three or four years later we're like, 'What are we doing?!' and then everything in our house became white.
What is your guilty pleasure?
AJ: A classic treat for us is cinnamon rolls and ice cream, usually late at night when the baby is asleep. We've been doing that for years.
How did you get the name for your company?
AJ: We named it after our son, Fox. Not to shove it down his throat, but one day we want him to be a part of it, either making or designing or just having fun in the wood shop.
Do you have a favorite saying or motto?
CJ: Our general thought when creating new work is 'function follows form.' We dream up the form or shape of a piece first, and let the function for it come afterward.
What is no space is complete without?
CJ: Your home isn't really complete until you connect with the objects you put in it, whether that's a physical use or you're drawn to it for its beauty.

What are your current favorite and least favorite trends?
AJ: [Our favorite is] supporting local businesses. We want the thing that's handmade and someone thought about and that's really quality even if it costs a little bit more.
CJ: Our least favorite trend would have to be some of the big corporate companies out there, who are starting to notice America's desire for quality, handmade work, and are attempting to capitalize on it in the wrong way. It seems to me that they are trying to pass off mass-produced pieces as artisan, perhaps seeing it as a trend that will attract customers and boost sales.
Are there any local businesses in particular you recommend?
AJ: Our friend Karin Best, her brand name is Kajs. She casts things in silver from things she finds, like tiny shells and shark's teeth or coral. She has similar painstaking attention to detail and high craft. We also have friends over at Almanac Industries. They're very laid back but committed to craftsmanship.
CJ: Cloud Terre, too. Their pieces are really beautiful.
AJ: They do all of their own ceramic work and a lot of small batch stuff for restaurants. Their work is really strong.
---
---