From pumpkin fields and scary stories to the ghosts of Prince and David Bowie past, there are endless options for having a happy Halloween this year in Baltimore.
DEADLY DANCE PARTIES

OTTOBAR'S HALLOWEEN SUPERBASH
10/28: Come fully costumed to hear Japanese pop punk girls Shonen Knife and local bands Natural Velvet and Cowabunga Pizza Time. 2549 N. Howard St., 410-662-0069
HALLOWEEN COSTUME SHOW WITH ELM
10/28: WTMD hosts its first-ever Halloween costume party with a live show by local psychedelic rockers Electric Love Machine. WTMD, 1 Olympic Place, 410-704-8938

THE HAUNTING OF POE: A BURLESQUE MASQUERADE
10/28: Throw on a ballroom mask and head to the Creative Alliance for this macabre musical about the life of Edgar Allan Poe, followed by a post-show dance party with music spun by DJ JFell. Creative Alliance, 3134 Eastern Ave., 410-276-1651
GLOW BALL
10/29: After the lantern parade, celebrate with spirits at this adults-only after-party featuring the sounds of Afro-Mexican jam band Las Cafeteras. Creative Alliance, 3134 Eastern Ave., 410-276-1651
HALLOW'S EVE
10/29: In honor of Michael Jackson, David Bowie, and Prince, local bands rock the Science Center with booze, food, and epic costumes. Maryland Science Center, 601 Light St., 410-685-5225
FREAK THE FUNK OUT HALLOWEEN COSTUME PARTY
10/29: Shake your bones to live music by indie rockers Slow Lights and tenor saxophonist Ron Holloway at this spirited show. Costume contest winners will walk away with wiped bar tabs and free tickets to upcoming concerts. The 8x10, 10 E. Cross St., 410-625-2000

HALL-OWL-WEEN WEEKEND
10/27-10/31: As part of this annual weekend-long bash at The Owl Bar, throw on your scariest getup and dance the night away at a Zombie Prom on October 28, and an '80s dance party on October 29. The Owl Bar, 1 E. Chase St., 410-347-0888
FAMILY FRIGHTS
WITCHES & WIZARDS WEEKEND
10/22-10/23: Take the kids to this Halloween celebration featuring potion-making, wand-decorating, and a Wizard Show in the roundhouse. B&O Railroad Museum, 901 W. Pratt St., 410-752-2490
ZOO BOO
10/28-30: Costumes are encouraged for treat-or-treating, carnival fun, and contests at the zoo. The Maryland Zoo in Baltimore, 1876 Mansion House Drive, 410-396-7102
GREAT LANTERN PARADE NIGHT
10/29: Follow the bright lights of the 17th lantern parade through the rolling hills of Patterson Park. Creative Alliance, 3134 Eastern Ave., 410-276-1651
SPOOKY SCIENCE
10/29: Make your own slime, carve your own pumpkin, and decorate trick-or-treat bags with activities, crafts, and demonstrations. Maryland Science Center, 601 Light St., 410-685-5225
HEATHER L. HURD 5K & TRICK OR TREAT WALK
10/29: Adults and kids alike can take part in this benefit run/walk with face painting and activities for the kids. Harford Community College, 401 Thomas Run Road, Bel Air, 443-412-2000
KIDSPEACE TRICK OR TROT
10/29: Don your orange and black for this seventh annual 5K run or 1K walk through the Inner Harbor to the baseball field. Oriole Park at Camden Yards, 333 W. Camden St.
FALL-O-WEEN FAMILY FESTIVAL
10/29: Bring your mini mummies and witches for face-painting, activities, and treats at the museum. Port Discovery, 35 Market Place, 410-727-8120

LANTERN NIGHT
10/29: Show up in costume to receive half-priced admission to this family-friendly celebration featuring glowing antique lamps and lanterns, and stories from actors in period attire.The Fire Museum of Maryland, 1301 York Road, Lutherville, 410-321-7500

TRICK OR TREAT AT THE MARKET
10/29: Bring the family to sit-in on cooking tutorials led by Charm City's own Chef Egg, dance to the steel drum sounds of Orlando Phillips, and gather treats from the merchants of Lexington Market at this second annual soiree. Lexington Market, 400 W. Lexington St., 410-685-6169

TRICK-OR-TREAT AT THE SQUARE
10/30: With pillow cases and plastic jack-o-lanterns in tow, round up the kids and head to Belvedere Square to receive treats from all of the merchants, partake in a "Thriller" dance tutorial, and see which outfit reigns supreme in the annual costume contest. 540 E. Belvedere Ave., 410-464-9773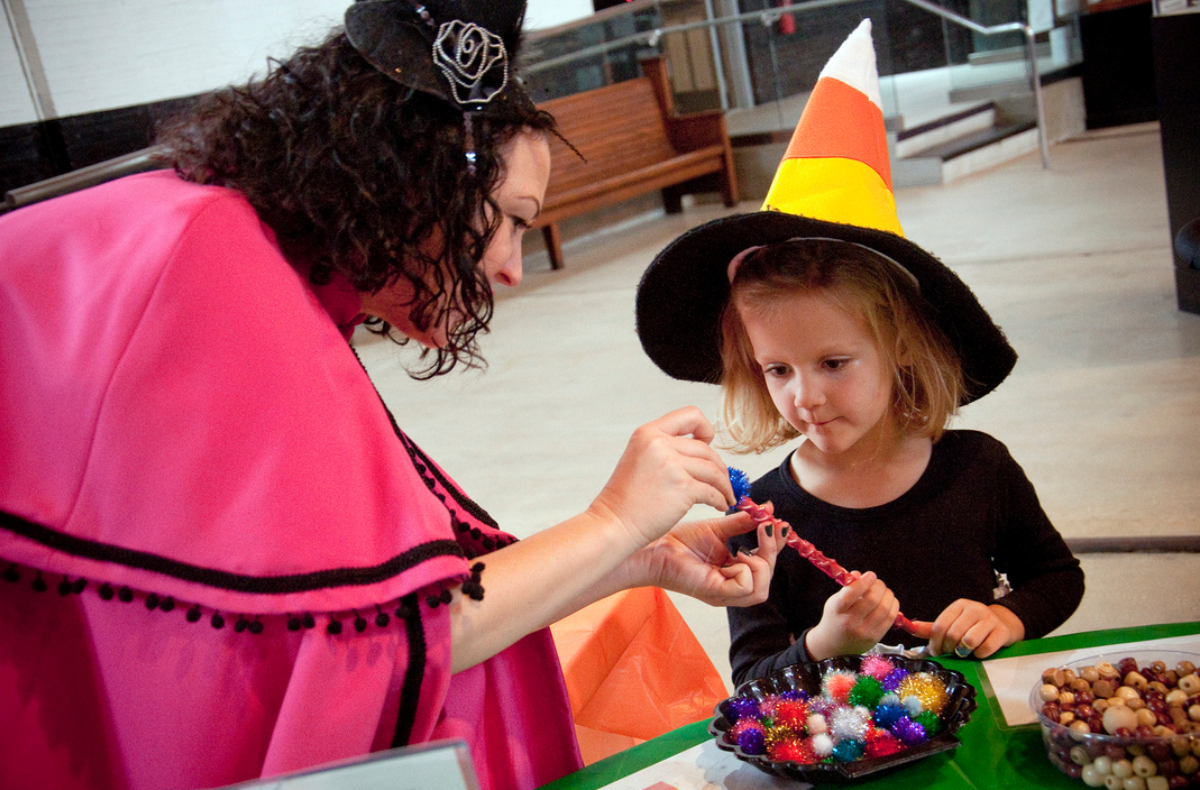 -Courtesy of the B&O Railroad Museum
SPIRITED SOIREES
PUMPKINFEST AT VICTORIA GASTRO PUB
10/10-10/11: Sip flights of local pumpkin beers paired with fall-inspired game dishes from executive chef Chad Wells at this Halloween-themed tasting event. 8201 Snowden River Parkway, 410-750-1880
FRIGHT NIGHT
10/20: Join the Stoop Storytellers for tales of nightmares, phobias, and old-fashion ghosts, alongside cocktails and karaoke. Creative Alliance, 3134 Eastern Ave., 410-276-1651
FEDERAL HILL-O-WEEN
10/29: Embark on this creepy crawl around Federal Hill to take advantage of devilish drink deals including $3 Miller Lites, $4 Blue Moons, and $4 Leinenkugel's Harvest Patch Shandy's at more than 10 participating spots. Registration at Mother's, 1113 S. Charles St., 410-244-8686
SAINTS & SINNERS BLOCK PARTY
10/29: Show off your costume and stroll around O'Donnell Square at this annual moonlit meet up, where bars like Looney's, El Bufalo, and Claddagh Pub will feature festive drink specials. Registration at Portside Tavern 2821 O'Donnell St., 410-522-7678

HALLOWEEN 2016: DEAD OR ALIVE
10/29: Cue the fog machine—the mainstage dance floor at Power Plant Live is transforming into a full-on tombstone graveyard in honor of the haunted holiday.Get down to the live sounds of DJ Janko and DJ Sal Flip all night long, while entering to win cash prizes in the costume contest. Power Plant Live, 34 Market Place, 410-727-5483

HALLOWEEN PARTY AT THE BREWER'S ART
10/29: Show up in costume to enter to win prizes and sip drink specials, like $3.75 craft drafts, at The Brewer's Art's annual basement bash. 1106 N. Charles St., 410-547-6925

SPOOKY SIGHTS

BALTIMORE BIKE PARTY: HALLOWEEN RIDE
10/28: Suit up in your Halloween best to join hundreds of other local cyclists on this annual glow-in-the-dark ride, complete with candy, costumes, and a post-ride party with plenty of Heavy Seas beer to go around. Ride departs from St. Mary's Park, 600 N. Paca St.
MICA HAUNTED HOUSE: TIMESTREAM
10/20-10/22: MICA's annual student-run haunted house is back with another eerie experience that is guaranteed to give you goosebumps. Take a walk around this year's time travel-themed production to catch a glimpse of strobe lights, fog machines, and other mind-altering mischief. 1601 W. Mount Royal Ave.
AVAM FREE FALL HALLOWEEN CELEBRATION
10/27: Create a DIY lantern, embark on a glow-in-the-dark bicycle ride around Federal Hill, and kick back under the stars to enjoy a special screening of Young Frankenstein at the AVAM's annual free event. 800 Key Highway, 410-244-1900
FELLS POINT GHOST TOURS
TO 11/22: Apparitions abound on this walking tour of historic Fells Point. Stop by a number of supernatural sites while learning about the neighborhood's history as a rowdy seaport town along the way. Tours depart from Max's Taphouse, 735 S. Broadway.
-Courtesy of the American Visionary Art Museum
MIDNIGHT MUSIC
ROCKY HORROR PICTURE SHOW
10/27-31: Head to the Motor House for eight performances of this cult classic musical. 120 W. North Ave., 410-637-8300
SINATRA 101
10/28: Dress in your favorite Sinatra-era getup and snap along to Ol' Blue Eyes classics at this special pre-Halloween show featuring Baltimore native Angelo Divino. Cabaret at Germano's Piattini, 300 S. High St., 410-752-4515
WITCHES, WIZARDS, GHOSTS AND GOBLINS
10/29: Celebrate Halloween with the spooky sounds of Fantasia-famous Night on Bald Mountain and the score of Harry Potter. Joseph Meyerhoff Symphony Hall, 1212 Cathedral St., 410-783-8000
THE NIGHTMARE BEFORE CHRISTMAS
10/29-30: The BSO performs a live score alongside a screening of Tim Burton's cult classic, holiday-clashing film. Joseph Meyerhoff Symphony Hall, 1212 Cathedral St., 410-783-8000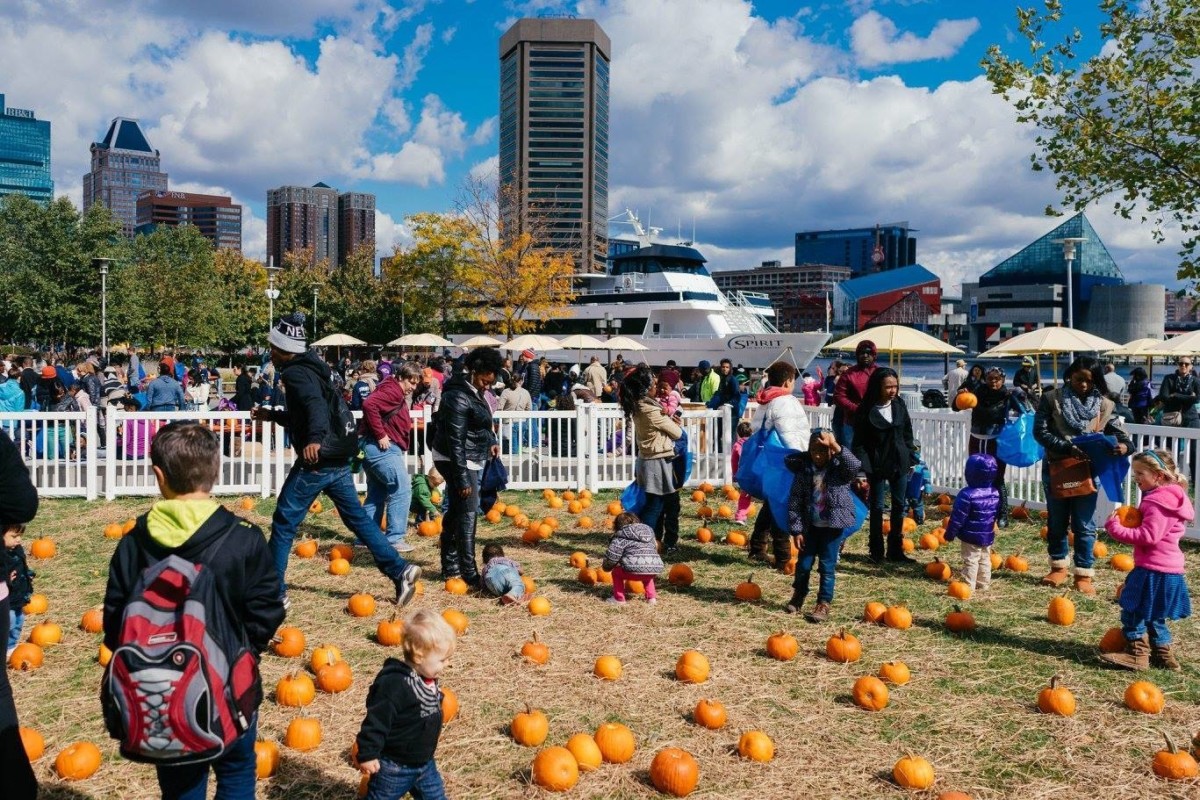 -Courtesy of Waterfront Partnership
PUMPKIN PARTIES
MARYLAND PUMPKIN FESTIVAL
10/8-9: Don't miss this giant fall fiesta in Frederick with a corn maze, farm animals, hayrides, and all things pumpkin. Summers Farm, 5620 Butterfly Lane, 301-620-9316
PUMPKINFEST
10/15: Bring the family for pumpkin painting, sack races, hayrides, and more in Owings Mills. Irvine Nature Center, 11201 Garrison Forest Road, Owings Mills, 443-738-9200
FAMILY & FRIENDS PUMPKIN CARVING NIGHT
10/19-10/20: Watch your little witches and warlocks learn how to carve pumpkins like a pro at this event featuring candy-cornhole and a caramel apple fondue bar. Adult activities will include boozy apple-bobbing and bottomless hot toddies. Das Bier Haus, 1542 Light St., 443-708-8854
HARBOR HARVEST
10/22: Celebrate fall with a family fun day of pumpkin patches, pumpkin decorating, face painting, and a petting zoo. West Shore Park, 401 Light St., 410-779-4700
WESTMINSTER HALLOWEEN PARADE
10/22: Head to Carroll County for this annual Halloween parade and town-wide celebration. East Main St., Downtown Westminster, 410-751-5501
---
---