It's no secret that the chemicals in chocolate are known to boost your mood, and there's nothing quite like a mug full of piping hot cocoa to help forget all of those winter woes.This season, plenty of area eateries are getting creative by putting their own unique spins on the classic cold-weather treat.
"It's something everyone has a connection to," says The Ivy Hotel's pastry chef Sarah Malphrus, who remembers making batches of hot chocolate and spiced cider with her family as a child."You can never have just one cup."
Malphrus is premiering a special holiday tea service at the elegant Mt. Vernon mansion this month, complete with festively flavored teas, malt ciders, white chocolate snowmen, seasonal fruit tartlets, hazelnut mousse, and two varieties of boozy hot cocoa. Her one-of-a-kind concoctions include a hot white chocolate infused with chili powder and Rumchata, as well as a peppermint dark hot chocolate spiked with a shot of Bailey's Irish Cream.
In addition to The Ivy, there are plenty of other spots around town highlighting decadent hot chocolate recipes this season. In honor of National Cocoa Day on December 13, we've compiled a list of some of the top steamy sips:
The Charmery: Especially this time of year, when crowds flock to see the 34th Street Lights in Hampden, a visit to this neighborhood creamery is in order. If you're one of the naysayers who thinks it's too cold for ice cream, indulge in a cup of The Charmery's thick, creamy hot chocolate topped with whipped cream and a hunk of house-made marshmallow. 801 W. 36th St., 410-814-0493

The Bun Shop: This late-night coffee corner is a favorite of neighborhood locals and college students alike, with a menu full of worldly beverages and snacks including Paraguayan empanadas and European pastries. Not only does The Bun Shop have a killer classic hot cocoa, but it also features a Mexican hot chocolate amped up with cinnamon and chili spices. Multiple locations including 239 W. Read St., 410-989-2033
Pitango Gelato: Take your taste buds on a journey to the Italian Alps by way of Fells Point at this neighborhood gelato spot that offers an entire menu full of European hot chocolate drinks during the colder months. Head to the mint green awning to enjoy specialties such as Hot Italian Sipping Chocolate (premium cocoa brewed with milk and sugar), Marrochino (equal parts sipping chocolate and espresso) and Chocolate Affogato—a scoop of any flavor gelato drowning in Pitango's signature sipping chocolate. 802 S. Broadway, 410-236-0741
Stone Mill Bakery: Alongside the plethora of pastries and scones on the morning menu at this Green Spring Station stalwart is a variety of warm beverages including mocha, Americano, and café au lait coffees. The list also showcases a rich hot chocolate using Valrhona cocoa powder sourced from the village of Tain L'Hermitage in the south of France. 10751 Falls Road, Lutherville, 410-821-1358
Miss Shirley's Café: Just in time for the dropping temperatures, Miss Shirley's is warming diners up with a new seasonal sip that takes the classic hot chocolate to the next level. The restaurant's spiked S'mores Hot Chocolate is infused with whipped cream-flavored vodka, topped with a marshmallow skewer and a chocolate drizzle, and served in a glass with a graham cracker crusted rim. Multiple locations including 750 E. Pratt St., 410-528-5273
Spro Coffee: Head to this Hampden hangout to enjoy Colombian and Mexican-inspired hot chocolates that make use of the shop's house-made ganache, and can be customized to include extra spices or a shot of vanilla. 851 W. 36th St., 410-243-1262
Pure Chocolate by Jinji: Gourmet chocolate purveyor Jinji Fraser highlights a sophisticated sipping chocolate during the holiday season. Swing by her stall in Belvedere Square Market to sip small pours of the dairy and gluten-free drink, which features raw Ecuadorean chocolate. 529 E. Belvedere Ave., 410-394-9901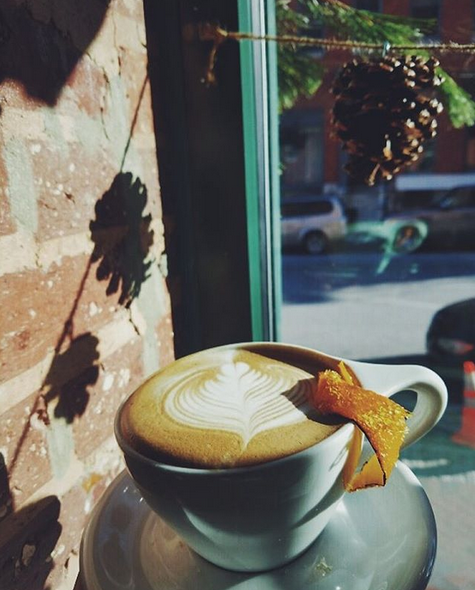 Dooby's: As an ode to the milk chocolate oranges that often double as stocking stuffers this time of year, this beloved Mt. Vernon hangout has added special orange flower mocha to its list of seasonal beverages. Ask for it to be poured without espresso to treat yourself to a unique, orange-infused hot chocolate. 802 N. Charles St., 410-609-3162

Artifact Coffee and Bird in Hand: These sister-restaurants are getting in on the fun by offering 8-oz. cups of hot chocolate for $1 from noon to close on National Cocoa Day. In keeping with their farm-to-fork philosophy, the restaurants' signature recipe uses local Jinji's Chocolates, and can be infused with different flavorings like maple, blackberry jam, and fresh mint. 1500 Union Ave., 410-235-1881 and 11 E. 33rd St., 410-243-0757
---
---