Kudos to Blue Hills State Reservation in Massachusetts, which hosted the first, First Day Hike in 1992—the start of an outdoors tradition that has swept across America's state parks over the past quarter-century.

In Maryland, First Day Hikes this Sunday literally stretch the breadth of the state, from Assateague State Park and Wye Island on the Eastern Shore to Swallow Falls State Park in Garrett County. Not in shape? Not to worry. These hikes are short—generally 1- 2 miles—meant as an introduction to Maryland's state parks as much as an opportunity to get the New Year off to a healthy start.
In Baltimore County, Patapsco Valley State Park hosts two First Day Hikes, including the Orange Grove History and Cascade Falls Trail Hike, which will be lead by the Maryland Conservation Corps and include a local nature lesson—plus coffee and cider afterward. The park's other hike leaves from the McKeldin area in Marriottsville and traces the Plantation Trail.
The Friends of Jerusalem Mill will host a hike through nearby Gunpowder Falls State Park, leaving from the blacksmith shop there. At North Point State Park, Maryland Conservation Corps members will lead a hike down the scenic Black Marsh Trail, offering opportunities for bird watching (binoculars suggested) and some history about the old Bay Shore Amusement Park and trolley car powerhouse.
Soldiers Delight Natural Environment Area in Owings Mills will also host two First Day Hikes, including a 7:15 a.m. sunrise jaunt, which begins at the overlook just north of its visitor center, and then an afternoon history trek that includes discussions about the nearby Red Dog Lodge and former Choate Mine.
"Volunteer Jimmy Johnson is a former mining engineer and gives an amazing talk about the Choate Mine, which dates back to the 1800s, and the area's geology," says Soldiers Delight ranger Jamie Petrucci, adding that more than 1,110 Marylanders participated in First Day Hikes last year.
"The Patapsco hikes, in particular, are mobbed when the weather cooperates," Pertrucci said. "I'm expecting a good turnout this year."
To his point, the forecast for New Year's Day is fantastic—sunny, with a high of 50 degrees.
A complete listing of the Maryland state park First Day Hikes, including directions and time, can be found at the Department of Natural Resources website.
State parks are not the only venue offering First Day events, however.
The Friends of Druid Hill Park are hosting their fifth annual First Day Hike—this one is longer—a 6-mile loop on the park's paved surfaces that starts with coffee, hot chocolate, and bagels at the Rawlings Conservatory. The $10 fee benefits the free programming offered at the Druid Hill Farmers Market.
"We get some people who are shaking out the cobwebs [from New Year's Eve parties]," Tom Orth, with the Friends of Druid Hill Park said with a laugh. "And we have some people who've made a resolution to get the year off to a healthy, outdoors start. We also get people who have family visiting and bring their relatives who are in town—people who don't want to sit in the house all day—and also people who just want to understand the park better."
The Friends of Gwynn Falls/Leakin Park are hosting two events—a First Day Walk and a First Day Bike Ride, which includes rides of four, seven, and 23 miles.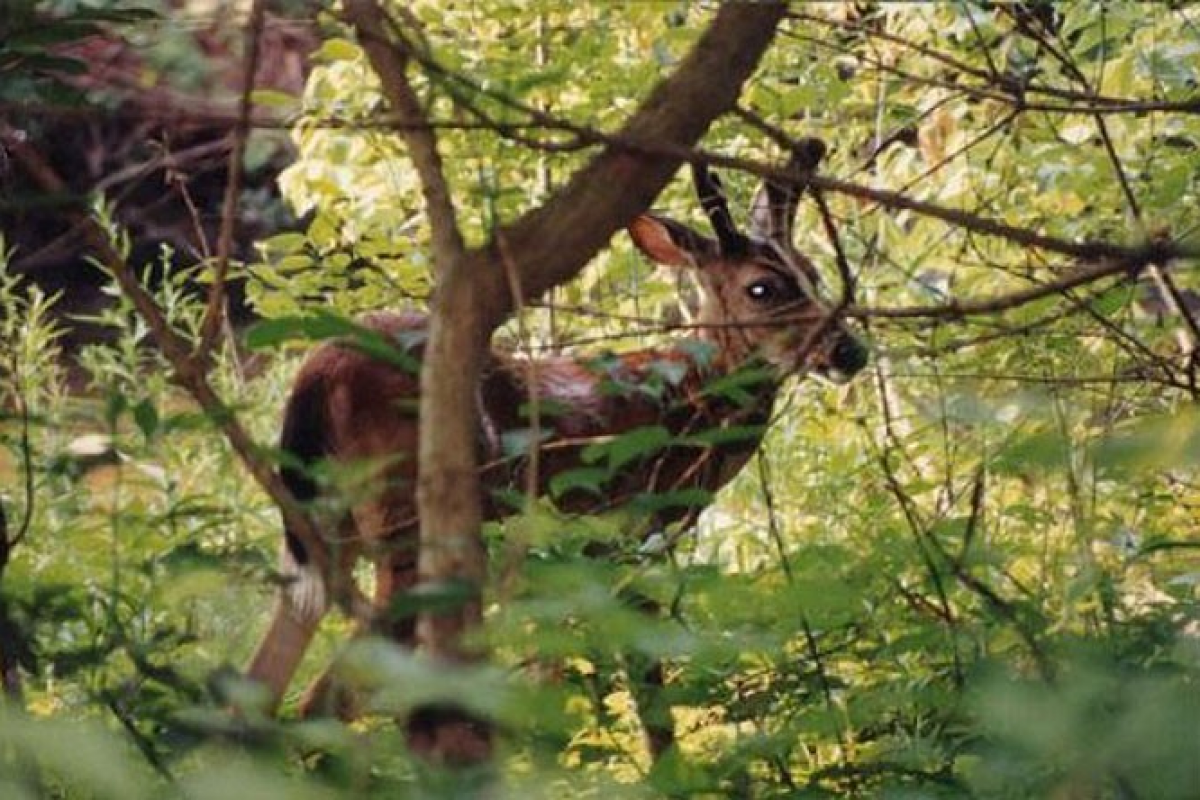 A deer in Leakin Park.
And, for the jogging inclined, there is the annual Patterson Park 5K Run Resolution Run/Walk, which benefits Earl's Place, a transitional home for men experiencing homelessness.
Signups are available on race day for the Resolution Run, which doesn't kick off until 2 p.m.—so plenty of New Year's Eve recovery time if need be to get the year off to a good, if late, start.
---
---