A ribbon-cutting ceremony on Friday morning officially marked the grand re-opening of Enoch Pratt Free Library's historic Canton branch, which had been closed for renovations for nearly four years.
Roswell Encina, director of communications for Enoch Pratt, said that the project was only anticipated to take 18 months, but contractors ran into unforeseen roadblocks.
"We're so grateful to the Canton community more than anything," he said. "They've been so patient with us. We've been asked about the opening so many times and we've shared everyone's frustrations because we know how passionate people are about it."
The Canton Square fixture is the last of the original four Enoch Pratt libraries that is still functioning and, coincidentally, its re-opening overlaps with the month of the building's 130th anniversary.
At Friday morning's event, community members toured the refurbished branch, which now boasts an ADA compliant entrance, updated floor plan, newly designed meeting room, 13 public computers, free WiFi, self-checkout systems, and a 15,000-volume collection. Soon, the space will feature additional interior touches, like waterfront-themed wall murals that reflect the character of the neighborhood.
Among those in attendance was 95-year-old Mollie K. Witow, who vividly remembers her experiences at the Canton branch as a young girl.
"The atmosphere was so wonderful and enveloping," Witow said. "I remember the librarian, Mrs. Gough, wore a starch white shirt and a long billowing white skirt with shoes that you had to buckle. The first book that she gave me to read was called The Keeper of the Flame. It was about an Indian father who taught his son to leave little objects along a path so people would know to follow him."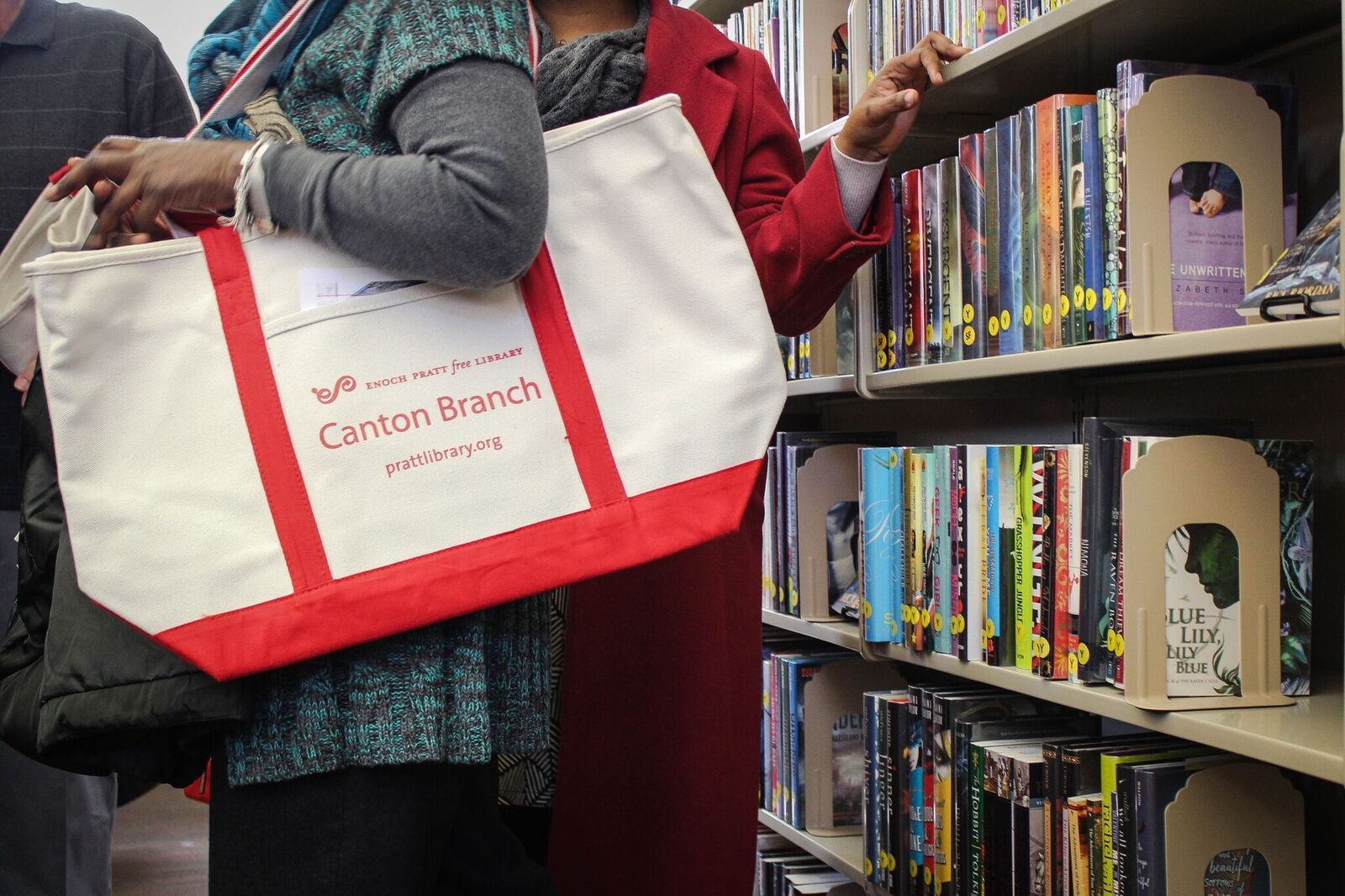 Remarks made by Enoch Pratt CEO Carla D. Hayden and Mayor Stephanie Rawlings-Blake emphasized the library's historical significance, referencing speeches made by their predecessors when the building first opened in 1886.
"Being able to celebrate the completion of this four-year renovation project marks a major milestone for Baltimore and I hope that this re-opening also demonstrates how dedicated our city is to preserving its legacy," Rawlings-Blake said. "When this library opened 130 years ago, the mayor at that time, Mayor James Hodges, observed that it was a 'noble event in the history of Baltimore that marks an epoch in its progress.' How right he was."
Encina stressed how important the support of the Canton community was throughout the renovation efforts. Specifically, he noted that fundraisers for the project—spearheaded by community leaders like Maryland State Delegate Peter Hammen and Canton Community Association president Sean Flanagan—raked in nearly $275,000.
The grand opening festivities will continue this weekend, with highlights including a balloon sculptor, a slide-illustrated talk by local photographer Denny Lynch, and a re-launch of the beloved Mother Goose Baby Steps program.
"There always used to be a long line of strollers parading into the library for story time and we're hoping for that kind of thing to happen again," Encina said. "The babies who were there for story time when the branch closed are bigger now, and we're excited to re-introduce it to them."
---
---