Our annual roundup of the top 50 dining spots in Baltimore.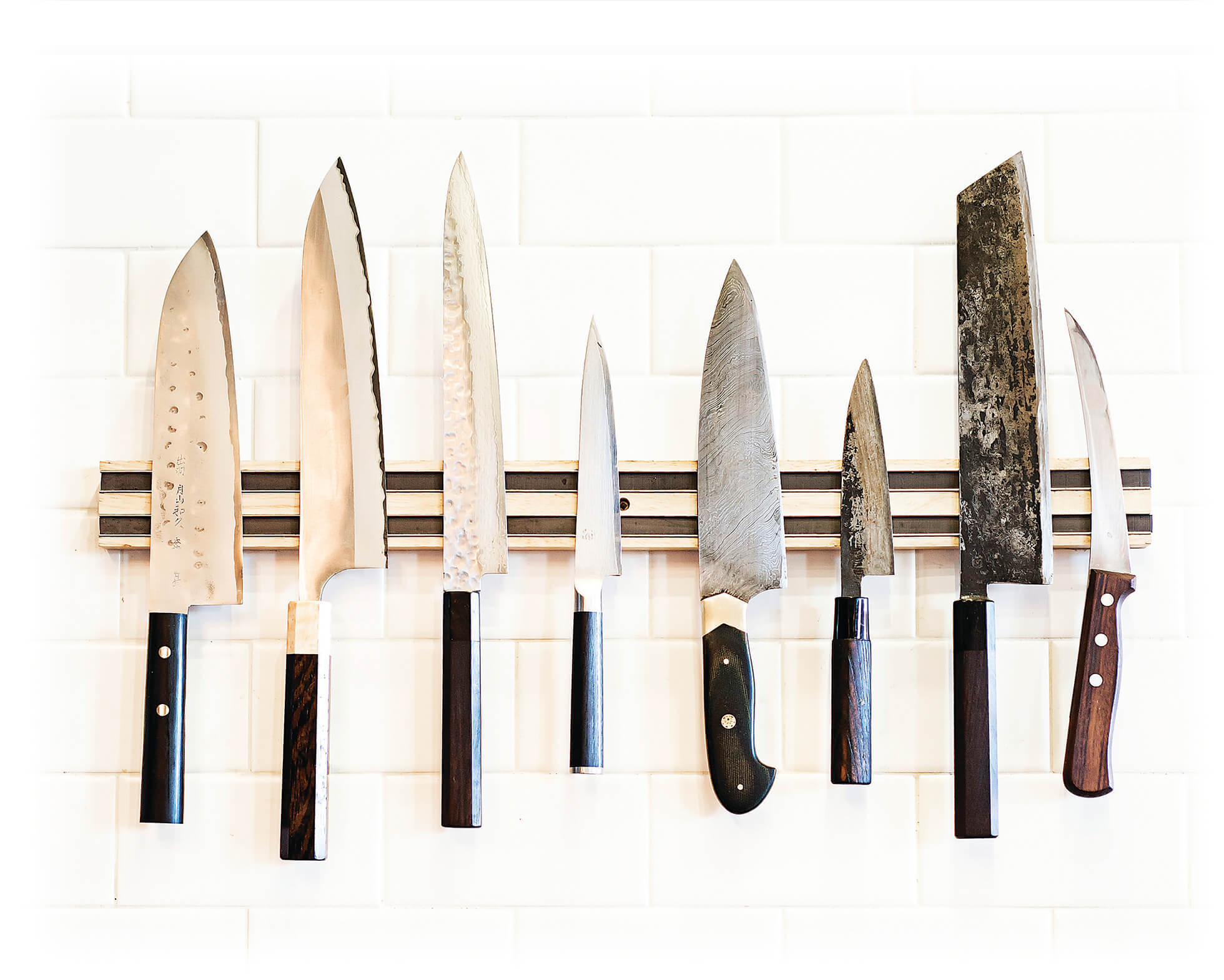 It's a simple question: "What's the best restaurant in Baltimore?"
Sounds straightforward, right? But with a dizzying array of options, and a thrilling evolution underway, the answer can be complicated, inevitably leading to a few questions of our own. Do you want a sterling fine-dining newcomer in a spectacular setting (Magdalena), farm-to-table fare from a James Beard Award-winning chef (Woodberry Kitchen), nouveau Italian prepared by a former Top Chef finalist (Aggio), or upscale bar bites that rival any temple of haute cuisine (1157 Bar + Kitchen)?
Wherever you go, here's what you need to know about Baltimore dining—our town has none of the airs (no snooty maître d's, no sneering staffers) plaguing other metropolitan meccas. Our favorite chefs accept our "friend" requests on Facebook and share images on Instagram. (Speaking of which, follow the gorgeous grub 'grams of chefs Zack Mills of Wit & Wisdom and James Beard finalist Cindy Wolf of Charleston.) The icing on the proverbial cake is that booking a table at even the most celebrated spots is doable without too much advance planning or, when compared to other epicurean epicenters, too much of a wallop to the wallet.
In short, there's never been a better time to get your eats on here. (We know it, but now the world knows it, too: Baltimore just took the No. 2 spot on Zagat's 2015 list of Top Food Cities.) So peruse our list and get yourself a seat at any one of these 50 tables. But be sure to check back with us again next year. As Baltimore continues to emerge as a culinary capital, our answers to that simple question are bound to change.
1157 Bar + KitchenLocust Point
On the Table: Plenty of watering holes have mastered the snack scene, but with its creative twists on traditional pub grub, 1157 Bar + Kitchen raises the bar on bar bites. (Think pork belly banh mi with bacon pâte and plump mussels steamed in Pabst Blue Ribbon with garlic and green Tabasco.) Owned by Jason Ambrose (who co-owns Salt), this unassuming Locust Point stunner is worth the trip whatever your ZIP. Go early or expect to wait—happily for you, it has been shown that heightened anticipation makes everything taste better. At Your Service: We love that the bartenders double time as waiters, so we get guidance on proper pairings as our drinks stay filled to the brim. Inside Story: With several two-top booths, 10 or so barstools, and black-and-orange accent lights, this neighborhood bar is homey and hip. Good Taste: Randomly point to any item on the seasonal menu and you'll have a hit on your hands, though the signature Korean fried chicken wings shellacked with sweet soy and chili paste are a definite diner "do." 1157 Haubert St., 443-449-5525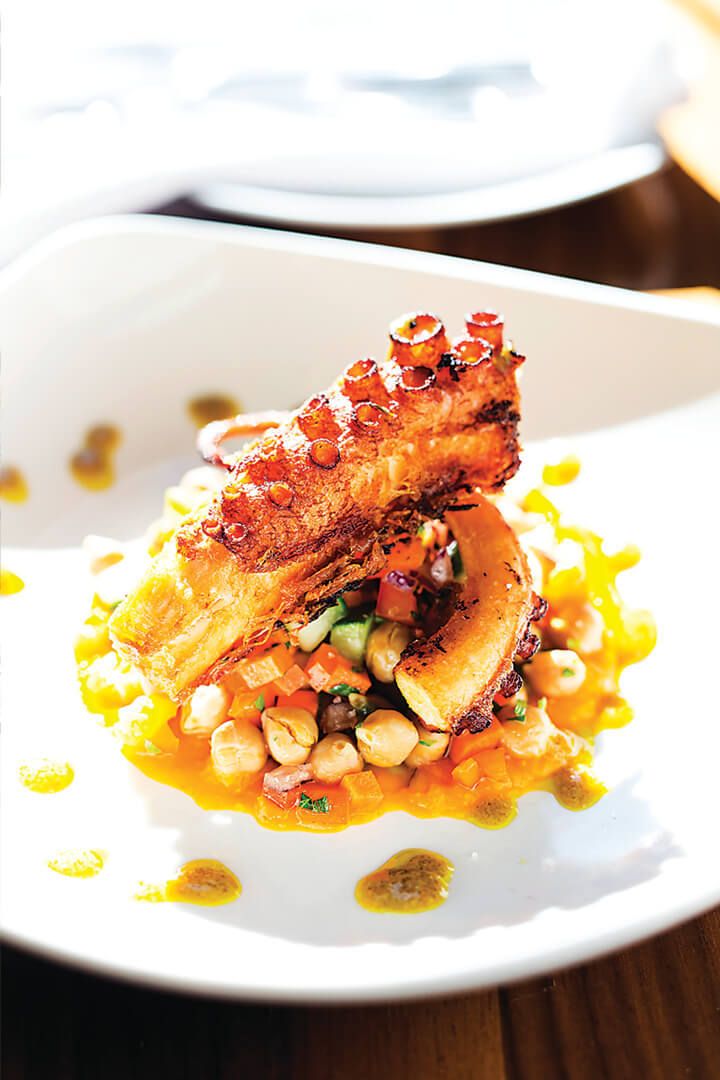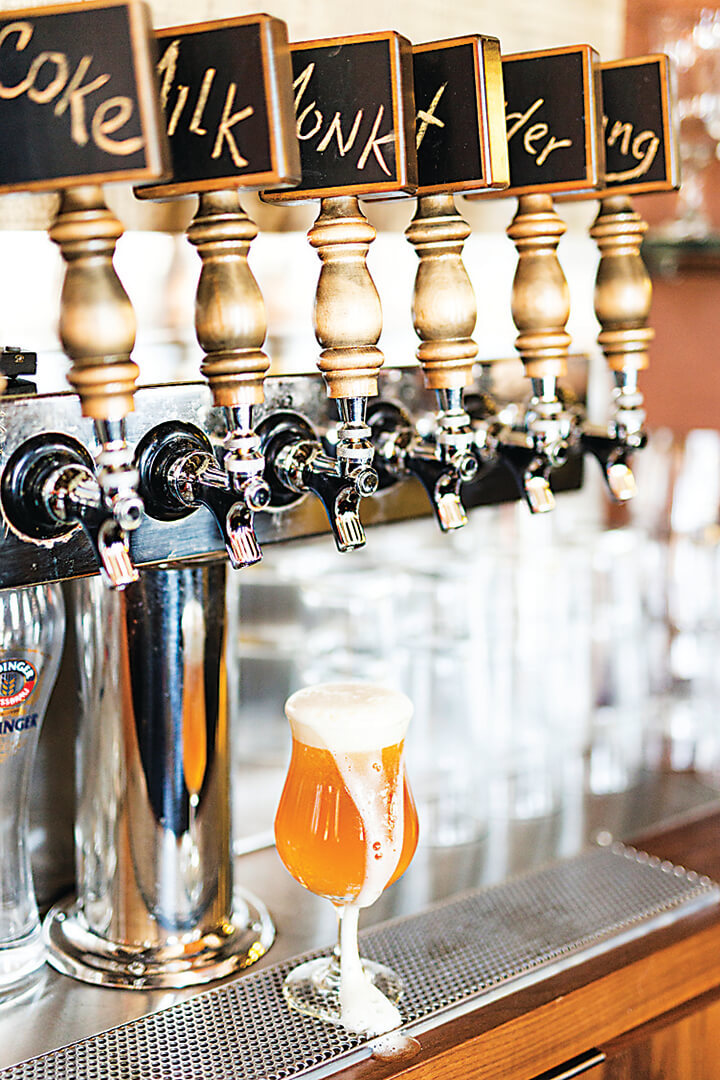 Crispy octopus; the bar filling station.
Aggio Inner Harbor
On the Table: Celebrity chef Bryan Voltaggio's contemporary Italian cuisine offers Baltimore diners a quieter, but no less bravura, experience than you'd find in the best upscale New York joints. Suave, sophisticated flavor combinations—a dusting of fennel pollen on crisp breadsticks, the hint of saffron and smoked ricotta salata in a hen-and-chicken-of-the-woods mushroom risotto, the slick of basil yogurt beneath a hunk of king salmon—make for some of the most engaging dining around, heightened by platings that are positively painterly. At Your Service: Servers explicate the menu with panache and steer you toward the best Italian red to go with that Tuscan strip steak. Inside Story: Subtle, dark tones and a hushed atmosphere make this prime date territory. Good Taste: Whether it's the supple, hand-rolled sheets of lasagna interlaced with lamb Bolognese or the toothsome tangle of chestnut tagliatelle mixed with a pork ragu, Voltaggio's way with pasta is nothing short of miraculous. 614 Water St., 410-528-0200
Aldo's Ristorante ItalianoLittle Italy
On the Table: When Boot Country-born Aldo Vitale opened Aldo's in the 1990s, Italian-American cuisine was all the rage. Today, his 18-year-old Little Italy restaurant—with peach-hued walls and an old-school, "that's Italian!" atmosphere—offers an homage to the past. While perusing the daunting wine list, start with appetizers like paper-thin slivers of beef carpaccio topped with pungent Parmesan and a tangy tonnato sauce. When ordering entrees, keep in mind that Aldo's shines brightest in the pasta department. At Your Service: The jacketed waitstaff is superlative, which is what you'd expect from a restaurant that features a bottle of wine for $965. Inside Story: With starched white tablecloths, a backdrop of Doric columns, and priests and celebrities (actor Chazz Palminteri is a regular) digging into plates of pappardelle, Scorsese could do a casting call here. Good Taste: While the noodles are noteworthy, we also loved the slow-braised ossobuco and the caveman-sized veal chop. 306 S. High St., 410-727-0700
Alma Cocina LatinaCanton
On the Table: Caracas-born Irena Stein's lively Latin American restaurant quickly became one of the hottest tickets in town when it opened in April, winning diners' hearts with a menu offering brightly flavored versions of Venezuelan street food and contemporary takes on traditional Latin favorites­—think crispy chicken wings gilded with spicy pineapple-guava sauce and gourmet hot dogs topped with sweet-corn cream sauce and chiles. Beautifully crafted Latin cocktails and fabulous desserts (try the rum-soaked coconut cake) round out the south-of-the-border experience. At Your Service: A young, eager, and knowledgeable waitstaff will sell you on items you didn't think you'd like but actually end up loving. Inside Story: The sleek white space dotted with bits of greenery is the perfect canvas for the kitchen's colorful creations. Good Taste: Be sure to order at least one of the eight Venezuelan arepas, grilled corn-cake sandwiches stuffed with an array of fillings. Our fave is the Luis Brito's Pig, an unctuous combination of pulled pork, avocado, and tomato mojo. 2400 Boston St., 667-212-4273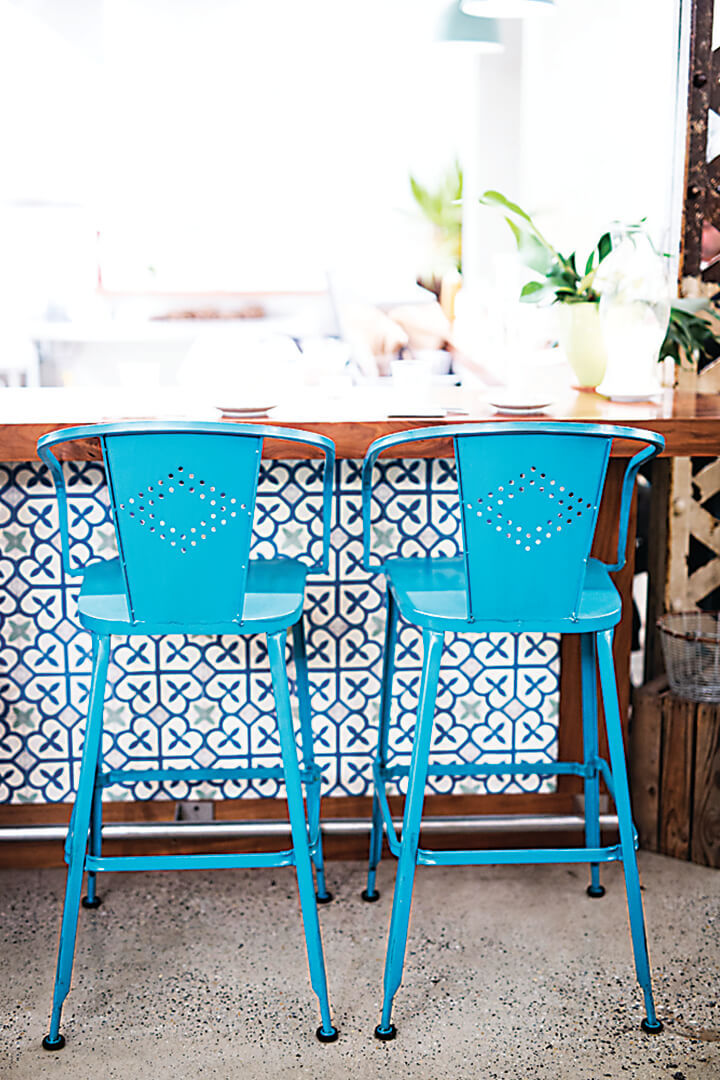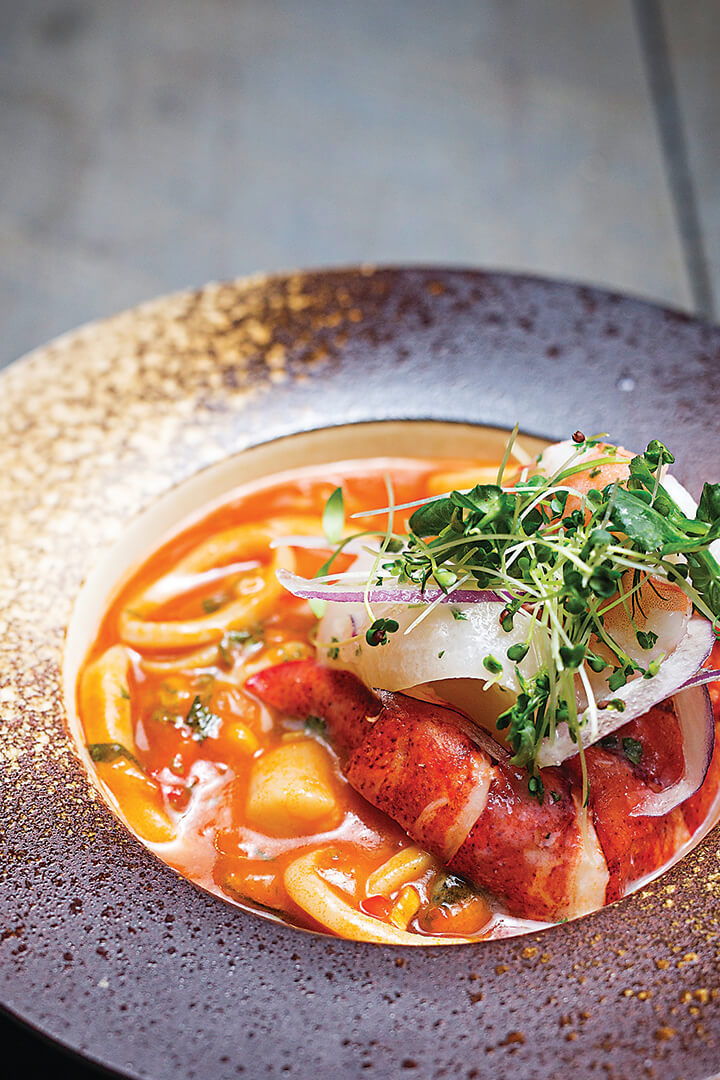 The arepa bar; ceviche vuelve a la vida.
Ambassador Dining Room Tuscany-Canterbury
On the Table: Given that this fine-dining establishment resides on the first floor of a great faux Tudor-Gothic apartment building, we've actually considered renting a room here for the sheer proximity to one of our favorite upscale Indian outposts in town. In addition to killer curries and marvelous masalas, the Ambassador offers transformative treats from the tandoor oven such as the reshmi kebab, a chicken breast marinated in yogurt, lime juice, and spices. At Your Service: Servers typify Old World civility—their manners would make their mothers proud. Inside Story: 1930s-era Tudor-Gothic meets British Colonial India. No matter the weather, insist on nabbing a table on the charming enclosed porch. Good Taste: It's hard to overlook the best version of chicken tikka masala in town, but the whole fish—pan fried with tangy tamarind, roasted garlic, and scallions—is an entree essential. 3811 Canterbury Rd., 410-366-1484
Ananda Fulton
On the Table: When we heard that the Singh family of Ambassador Dining Room fame was opening a second spot, we didn't think that it would be possible to improve upon a formula that already worked so well. But after two years—and $3 million in the making—Ananda exceeds our expectation (and more than lives up to its name's meaning of "bliss") when it comes to spots for refined northern Indian cuisine. From seasonal compositions (we adore the roasted cauliflower seasoned with lime, chili, and tamarind) to sauces that make us swoon (the masala defies description), the fare is prepared with precision and passion. At Your Service: Flawless. As soon as a need comes up, a server is on it. Inside Story: The interior dining room is stunning, with reclaimed glass windows from a Bolton Hill mansion and a gleaming marble bar. The veranda with glass garage doors and large, handsome fireplaces offers the best seats in the house. Good Taste: Don't overlook Ananda's elaborate cocktail selection, including the Mumbai mule. 7421 Maple Lawn Blvd., Fulton, 301-725-4800
Arômes Hampden
On the Table: Reims-born Steve Monnier's artful, experimental menu may not be for everyone, but count us among his fans. We're thrilled he somehow made his way to this BYOB spot in Hampden after stints at some of the most famous kitchens in the world, among them Taillevent in Paris and L'Orangerie in L.A., and we're equally happy to submit to his singular approach: a weekly prix-fixe menu comprised of six successive dishes, featuring Monnier's French way with exotic ingredients. Hence, a light-as-air potato doughnut glazed with essence of sea urchin, coffee, and liquorice might follow a delicate dish of local broccoli melded with phytoplankton and lovage oil. Up next might be lamb gilded with caramelized milk skin, finally followed by artichoke ice cream and pawpaw carrot cake. True food lovers will swoon to the complex flavors brewing in this bastion of artistry and imagination. At Your Service: Front-of-the-house manager Gilles Mascarell guides you through the intricacies of Monnier's menu with the skill and passion of a great literary translator. Inside Story: The tiny Hampden rowhouse, decorated with little more than Edison lights and plain wooden tables, lets the food take the spotlight. Good Taste: The only choice here is whether to order three plates at $45 or the whole six courses for $65. Go for the gusto. 3520 Chestnut Ave., 410-235-0035
Arturo's Trattoria Glen Burnie
On the Table: If you're searching for iconic Italian fare but nowhere close to Little Italy, look no further than the nearest suburban strip mall. Case in point: The year-old Arturo's, which turns out homey Boot Country classics (veal marsala, shrimp scampi) that make it easy for everyone to find something that appeals—from tots to AARP card carriers (and Ravens owner Steve Bisciotti, who was sighted on a recent visit). At Your Service: It's the small things that make a big impression. When the shells from our linguine alle vongole amassed on a side plate, our server whisked it away and brought us a dirt-free dish. And when we stopped by for a late lunch and, unknowingly, overstayed our welcome long after the restaurant had closed, the staff continued to wait on us graciously, never saying a word. Inside Story: With its dusty rose walls, beige tablecloths, and still life paintings, think nonna's dining room. Good Taste: Don't miss the aforementioned linguine with clams. We heart the white sauce. 1660 Crain Hwy. South, Glen Burnie, 410-761-1500
KITCHEN
LINGO
Do you speak kitchen?
---
Like any workplace, kitchens have their own lexicon. "In an environment where speech has to be clearly communicated, you tend to speak in abbreviated form," explains Howie Velie, associate dean of culinary specialization at the Culinary Institute of America. "You don't have time for real dialogue." If you want to sound like a pro—whether working in your own kitchen or visiting someone else's—here's the 411 on restaurant parlance (courtesy of Velie with a few of our own thrown into the mix).
▼
Amuse douche: A jerk in the kitchen (from the movie Chef!).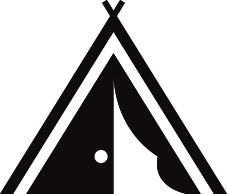 Camper/ camping out: Guests who stay for an unusually long period of time.
Comp: Short for "compliments of the house," a discounted or free item or items.
Cover: A term for a guest, used exclusively when counting.
Eighty-six: A menu item that's no longer available.
Family meal: Food for staff at the beginning or end of service, usually prepared by a lower-ranking member of the kitchen staff, and generally consisting of leftovers.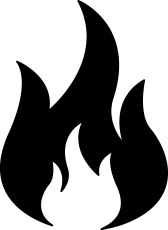 Fire up: When a chef yells "fire," a cook will start cooking a particular dish.
Mise en place: French for "set in its place," this term refers to all of the prepped items and ingredients a cook will need for his or her specific station.
On a double: Working both lunch and dinner service.
On deck: When the food is ready to be plated and go out to the customer.
The Pass: The flat surface where dishes are plated and picked up by the waitstaff. When food is "dying on the pass," it has been sitting out too long because waitstaff are taking too much time to deliver it to the table.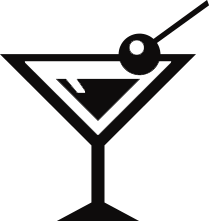 Shifty: A free drink for kitchen and waitstaff, a standard benefit of the service industry. Shifty drinks are often bartered for mise en place or time off.
Shoemaker: A cook who doesn't care about the food or cooking.
Stiffed: When a server has been left no tip.
Azumi Harbor East
On the Table: Comparisons with its predecessor, Pabu, may be unfair but forgivable, given the especially rarefied air in which they dwell—high-end Japanese, a category that simply would not exist if not for this particular waterfront spot. While some of the playfulness of the original izakaya has given way to a more traditional restaurant, the insistence upon ultra-premium ingredients and fastidious preparations remains intact. Seemingly simple nigiri is not just exquisitely fresh fish, but perfectly cooked sushi rice and a wasabi mixture, all in ideal proportions. Even the ramen is elevated here. And for the indecisive (or indulgent), there is an omakase chef's tasting menu. At Your Service: The service is formal, as the staff seems earnest and genuinely excited to be working here. Inside Story: Basically, the Tao of the Mid-Atlantic. Good Taste: Miso-marinated cod is a deft balancing act of sweet and savory, firm and melting, while the wagyu carpaccio really is A5 grade, more marbling than muscle, beautifully accentuated with spicy pepper and chimichurri. 725 Aliceanna St., 443-220-0477
BirrotecaWoodberry
On the Table: Robbin Haas's rustic Italian hot spot (with a second location in Bel Air) is always bustling—and with good reason. Whether dining in the huge barroom or the more subdued dining areas (our favorite tables are upstairs), this is where you put together a meal in no particular order—and it always works out. Just to give you a sense, on a recent visit, we started with Evolution Craft Brewing's Exile Red Ale and the light and lemony calamari, and ended up splitting the family dinner of the night (lamb shank cacciatore) and legendary Duck Duck Goose pizza. Can you say "satisfying"? At Your Service: Clad in plaid, the servers here are always accommodating, whether we're a large party or just a couple sitting at the bar. Inside Story: Housed in a converted 19th-century mill, the city location is just gorgeous with stone walls, Edison light bulbs, and the restaurant's extensive craft-beer menu written in chalk. Good Taste: Birroteca's meatballs are our constant craving. The fork-tender treats float atop a fluffy mound of ricotta and can also be found on top of the Double D thin-crust pizza. Multiple locations, including 1520 Clipper Mill Rd. 443-708-1934
The Black Olive Fells Point
On the Table: Anyone who can crumble a little feta is opening a Greek spot these days, but amidst the expansion, The Black Olive endures. All you need to remember about this family-owned taverna is this: the whole fish. The selection changes daily, but whether it's red snapper or bass, sweet swimmers are grilled over charcoal, then brushed in olive oil, and showered with lemon, before being delicately deboned tableside. Sit near the front window looking out over the cobblestones of Bond Street, sip on the namesake Black Olive martini, and nosh on an assortment of mezes (grilled octopus salad, stuffed calamari) before the entrees arrive. You're welcome. At Your Service: Follow your waiter to the fish display where you'll get schooled on everything you need to know about the catch of the day. Inside Story: Greek-chic with whitewashed walls and crisp, linen accents. Good Taste: If seafood isn't your thing, go for the rack of lamb, six savory lollipops charred on the grill and served with a satisfying side of roasted vegetables. 814 S. Bond St., 410-276-7141
Bookmakers Cocktail ClubFederal Hill
On the Table: While much is made of Bookmakers' boffo bar program, what makes it a real powerhouse is that the food is its equal. Rustic with a slight Southern leaning, this Federal Hill spot certainly won't leave you hungry. Start off with clever appetizers like cheeseburger deviled eggs (hard-boiled whites filled with ground meat, shredded lettuce, and cubed tomatoes, all drizzled with chef's sauce) or smoked shrimp croquettes, served with a bright lemon-caper aioli. There isn't a wrong item on the menu, but the classic Bookies Burger or crispy Southern fried chicken are safe bets. At Your Service: We loved our down-to-earth server, who provided personal recommendations and paced our meal perfectly. Inside Story: Hard to imagine now, but this space used to be the grimy karaoke bar Nevin's. Now, with its gothic, glowing bar; plush furniture, and white chandeliers, the space has been reborn as a dark, dreamy den. Good Taste: End your repast with an addictive cinnamon-chocolate bread pudding that you won't soon forget. 31 E. Cross St., 443-438-4039
BottegaStation North
On the Table: We wept last summer when Bottega closed its doors so the owner could open a second spot in Hampden, and then five months went by without a stir. So when this baby-sized BYOB bistro reopened in late fall, it was time to toast (though we had to bring our own wine to do so). Everything about this place reflects the touch of the human hand—from the chalkboard menu and handwritten guest check to the simple but brilliantly interpreted plates of house-made pasta with lamb, duck, or pork sausage, and starters such as chicken-liver mousse with raspberry jam. And now with the addition of contorni side dishes, Bottega is back—and better than ever. And although owner Adrien Aeschliman never did end up expanding to Hampden, we can't wait to see what he does next with Colette, his new French bistro around the corner from Bottega. At Your Service: On a recent visit, our waiter knew every nuance of the menu. As he discussed preparations with so much detail, it was as though he'd done the cooking himself. Inside Story: Farmhouse fabulous. Good Taste: The charred escarole with white bean and anchovy dressing is our favorite take on a classic Caesar. 1729 Maryland Ave., 443-708-5709
CharlestonHarbor East
On the Table: There are plenty of places that don't match the hype—and then there's Charleston. This crown jewel of the Baltimore dining scene commands the corner of Exeter and Lancaster streets and manages to serve as its own epicurean city-state within Harbor East. Here, James Beard-nominated chef Cindy Wolf turns out brilliantly executed plates of classic French food with Low Country cadences. Wolf's lobster soup with curry oil and shrimp and stone-ground grits are among the best bites in town. Oh, and the wine cellar is stellar. In fact, even the water—served in hand-blown glasses—tastes better here. At Your Service: The service at Charleston is legendary, from the handsome valets, who whisk away our car in a New York minute, to the always-accommodating front of the house (Peter, we're talking to you), to the servers, who espouse the intricacies of the plates and deliver dishes with Swiss-watch efficiency. Inside Story: Bernardaud French porcelain plates with 24-karat gold, Riedel stemware, and a Siena-red color palette all add up to elegance incarnate. Good Taste: Asking us to choose between the Norwegian salmon tartare or magret of duck is a tall order. But when the gastronomic gavel falls, a plate of the Virginia Local oysters bathed in buttermilk and fried in cornmeal has our hearts. 1000 Lancaster St., 410-332-7373
Cinghiale Harbor East
On the Table: There's Italian food, and then there's the Italian food at Cinghiale. This is where you go for pristine plates of thinly shaved Tuscan-style finnochiona with fennel, pungent Ubriaco cheese freshly flown from Veneto, or duck egg ravioli stuffed with stracchiatella and swimming in Parmesan brodo. In other words, no chicken parmigiana or a basket of garlic bread here. At Your Service: We love the comment card that comes with the bill at the end of the meal. "Did you truly feel welcome?" it reads. "Did things happen when and as you wished?" "Was [the cooking] satisfying, beautiful, interesting, balanced?" Why thank you for asking, folks at Foreman Wolf. Check. Check. And Check. Inside Story: Emilia-Romagna visits Lancaster Street. Good Taste: Picking just one dish is a lesson in major restraint, but on a recent outing we went wild for a beautiful bowl of Grand Marnier rice pudding, flecked with lemon zest, and tossed with Chantilly whipped cream and roasted pineapple. Pro tip: Go on a Tuesday, when all regular bottles are half price in the enoteca. 822 Lancaster St., 410-547-8282
Corner Charcuterie Bar Hampden
On the Table: The giant metal meat cleaver on the rooftop of this dark den gleams like a beacon from the corner of Elm Avenue and 36th Street. Here, committed carnivores can bliss out on some of Baltimore's best house-made charcuterie, roasted bone marrow, grilled pheasant with prosciutto, and even a roasted pig's head with crispy greens and sweet-and-spicy cucumber vinegar dipping sauce. The fried pickles alone are worth the trip. Even on a Monday night, this no-reservations spot hums with diners chowing down on a whole suckling pig. At Your Service: The edgy young staff is full of fun and excellent at advising. Inside Story: Everything about this place feels stylishly underground—and tongue-in-cheek, from the animal motif and the black-stencilled walls to the drinks divided into pre- and post-Prohibition categories. Good Taste: Charcuterie is the highlight, and we love the tiny tastes of beautifully spiced house-made pickled products (watermelon, pineapple, kimchi) with dabs of jams that pretty up the plate. 850 W. 36th St., 443-869-5075
Cunningham'sTowson
On the Table: When most of the food is sourced from the restaurant's eponymous farm, you might expect a rustic, cozy little spot for a quiet nosh. But at the spacious Cunningham's—the Bagby Restaurant Group's Towson outpost—the lively vibe and youthful crowd are as stylish as the menu is sophisticated. Exquisite salads boast fresh appeal even in winter: Try the cumin roasted baby carrots laced with citrus vinaigrette and pumpkin seeds or the pickled beets in pine-nut butter. A wood-fire grill turns out everything from luscious flatbreads to a robust strip steak, while seafood shines at the raw bar and in entrees like shrimp and grits with house-made bacon. At Your Service: A rare combination of competence mixed with high spirits and youth, Cunningham's team in action is a pleasure to behold. Inside Story: Dazzling design elements—light fixtures bloom like sea anemones, polished wood and stone mix with copper and crystal—make this one of the handsomest venues in town. Good Taste: The chocolate pretzel pavé with salted caramel and stout ice cream is out of this world. 1 Olympic Pl., Towson, 410-339-7730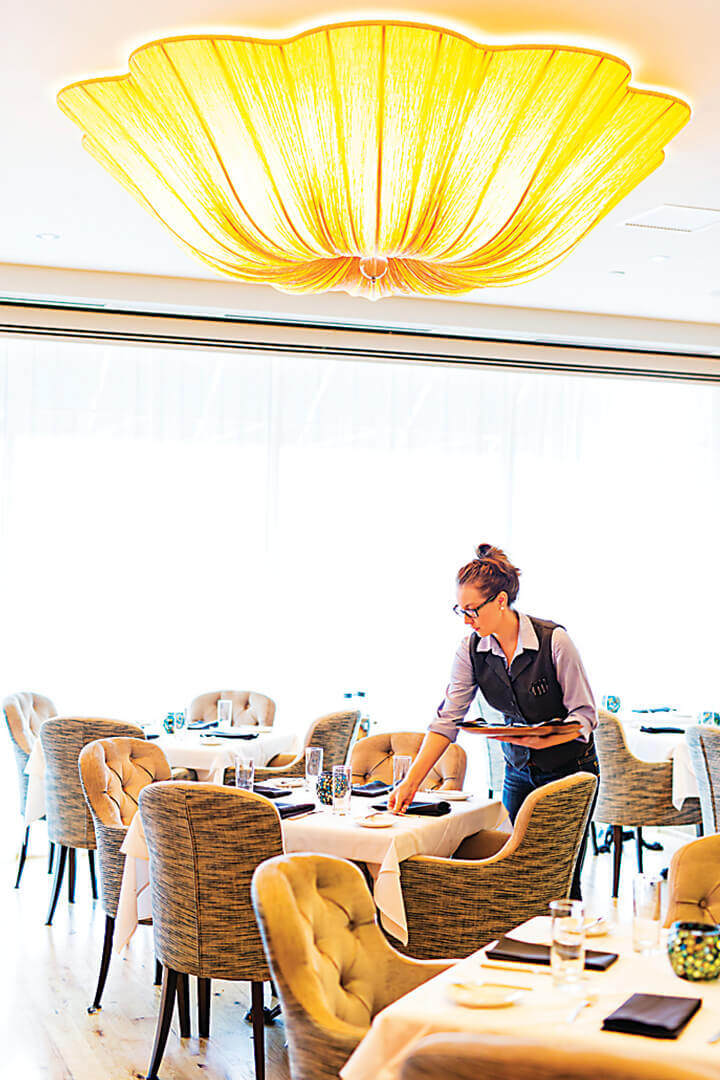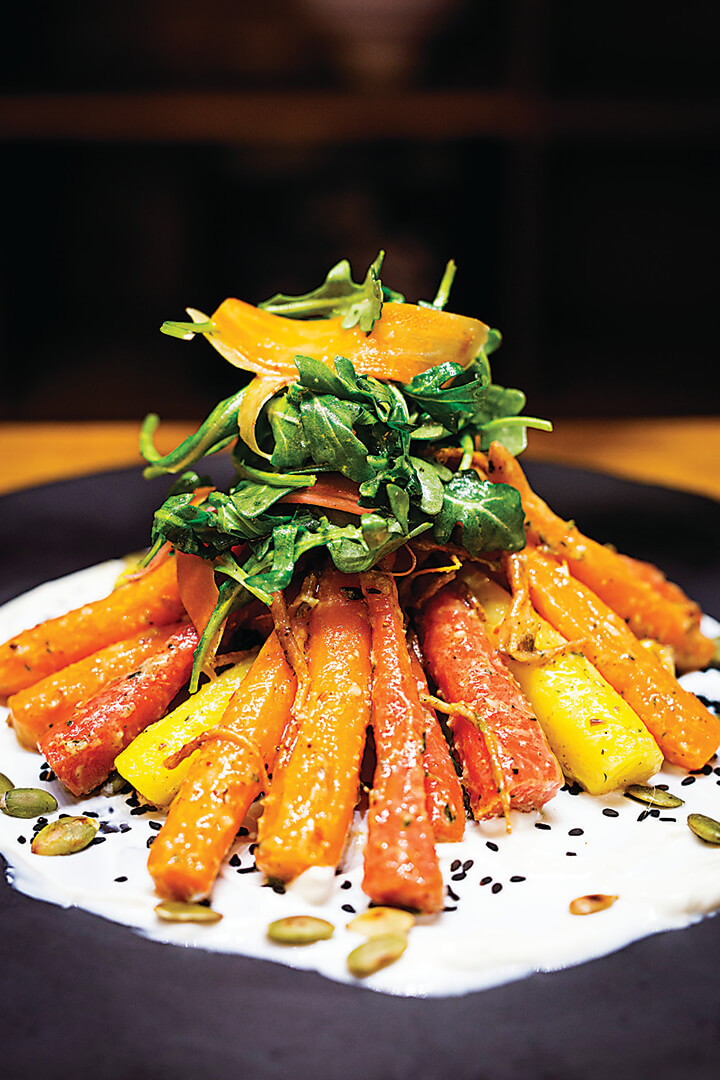 Prepping for dinner service; the roasted carrot salad.
Fleet Street Kitchen Harbor East
On the Table: After some chef-shuffling over the past three-plus years, Fleet Street Kitchen now seems to be fulfilling its promise as one of the city's finest dining spots, turning out exciting cuisine that belies the humdrum "New American" label. Executive chef Michael Correll elevates every dish with playful combinations that make you taste each element in a whole new way. A simple square of Angus steak tartare, ringed with creamy dots of white truffle-miso emulsion and shavings of pink radish, gets a shower of crispy shards of Brussels sprouts and the addition is somehow revelatory. A pastrami short rib approaches greatness with the witty addition of sauerkraut-rye breadcrumbs and the surprise of huckleberry. It's the kind of dining experience where every bite matters. At Your Service: The staff is attentive and deeply knowledgeable about both food and wine. Inside Story: Rustic meets sophisticated in a blend that works as well as the food. Picture chandeliers, rough-hewn wood, and tartan plaid. Good Taste: Feeling flush? Spring for the foie gras torchon, an over-the-top confection including warm banana bread, Concord grape jam, shaved radish, and black-walnut crumble. 1012 Fleet St., 410-244-5830
The Food MarketHampden
On the Table: Nearly four years into its run, chef Chad Gauss's Hampden bistro shows no signs of slowing down. The basics of the menu—divided into little, small, big, and in-between plates—haven't changed, but Gauss routinely rolls out inventive new dishes, like pan-roasted rockfish with cauliflower purée and Old Bay quinoa, topped with a hunk of lobster for good measure. At Your Service: Laidback, but dependable. Inside Story: The tables in the large (albeit loud) open dining room are situated close together, and always filled. People stand two-deep at the bar to try cocktails like the Raven Up, made with High West bourbon, Warre's porto, Disaronno, agave nectar, bitters, and muddled blackberries, which packs a ton of flavor—and punch. Good Taste: A duck scrapple patty, served over a warm pumpkin flapjack with cranberry butter and warm syrup, is a delectable breakfast-for-dinner treat. 1017 W. 36th St., 410-366-0606
Fork & WrenchCanton
On the Table: With its unassuming entrance and red neon sign, this quirky Canton spot, which bills itself as a "boutique dive bar," is both real—and rarefied. After several chef changes, former Salt alum Ben Sawyer is now at the helm and turning out gorgeous plates of New American fare with innovative flavor combinations (braised brisket with mustard crème fraîche and black bass with kumquat relish, to name a few). At Your Service: The hip waitstaff is helpful without hovering. On a recent outing, bartender Jay Calvert appeared after each round to make sure his clever concoctions were to our liking—multiple rounds made our opinions obvious. Inside Story: Black walls, a randomly placed birdcage, a manual typewriter, and assorted bric-a-brac lend a steam-punk vibe. Good Taste: While the food shines, the copious cocktail list is a highlight. Consider the bracing but balanced Brass Tacks with Pikesville rye, ginger syrup, brandied cherries, and ginger beer. 2322 Boston St., 443-759-9360
The Iron Bridge Wine Co.Columbia
On the Table: Tucked away in Howard County horse country, this Columbia hideaway is an intimate refuge, with its dark wood seating, burgundy accents, and floor-to-ceiling wine library (with 2,000 bottles). For more than 10 years, food and wine lovers alike have flocked to this back-road bistro for affordable vinos, rare vintages, and comforting treasures of land and sea. Indulge in delectable small dishes like roasted "Skinny Dipper" oysters from St. Mary's County with sweet corn, bacon, and tarragon butter, or the bountiful, DIY charcuterie board featuring the likes of house-made duck pastrami. For your main course, move on to specials like savory risotto with sweet, succulent prawns swaddled in coconut curry. On most nights, it's a bustling scene, so reservations are a good idea. At Your Service: The knowledgeable staff excels at proper pairings. Inside Story: Iron Bridge also serves as a well-stocked wine shop, so leave time to browse. Good Taste: Burrata is still having a moment on nearly every menu. We love this interpretation with tomato-and-fennel jam, olive oil, sea salt, and a grilled baguette for maximum slathering. 10435 MD-108, Columbia, 410-997-3456
Jack's BistroCanton
On the Table: Given its petite size, it's a wonder that Jack's Bistro produces such a diversity of flavors and cuisine. Chef Ted Stelzenmuller has been churning out innovative dishes from his tiny Canton kitchen since 2007—and a recent visit was no exception. Our table, in a side booth of the bustling barroom, turned into an all-out smorgasbord, with appetizers like Jack's famed dark chocolate and mac-and-cheese shells (try it, you'll like it) and a bowl of spicy lemongrass-infused mussels. The entrees were just as diverse, including a Malaysian Laksa bowl with thick noodles in a curry-coconut milk sauce with chicken, shrimp, half-cooked egg, and pickled vegetables. And there was the hearty seared duck-cakes special, served atop a white bean, tomato stew. At Your Service: Though we visited on a packed Friday night, we were seated within 10 minutes (Jack's only takes reservations for large parties) and our server never made us feel rushed. Inside Story: With a handful of booths in the bar and room for fewer than 20 diners in the back, the quirky restaurant is cozy not cramped. Good Taste: This is a bold statement, but Jack's may have one of our favorite crab cakes in town. The broiled cake bursts with lump meat and comes with a side of house-made Dijon and horseradish sauce, roasted red potatoes, and the most delicious Brussels sprouts, made with mascarpone. 3123 Elliott St., 410-878-6542
Johnny'sRoland Park
On the Table: While some spots that are open for every meal are usually better at one time of day than another, that's not the case at this Foreman Wolf, Roland Park charmer featuring scrumptious West Coast cuisine. Whether you're digging into fried rice for breakfast (apparently the go-to for every pregnant woman in Roland Park), snacking on ahi tuna salad with pickled daikon and crispy wontons for lunch, or dining on the zippy fish tacos with pickled cabbage and cucumber-jalapeno crema for dinner, this haunt hits a home run 'round-the-clock. The ultimate imprimatur? Owner Tony Foreman, his wife, Katie, and their baby daughter can often be seen supping here. At Your Service: The staff aims to please and clearly memorized the voluminous Foreman Wolf waitstaff playbook. Inside Story: Designer Patrick Sutton created two distinctive spaces—a bright breakfast room to the right, and a cavernous, clubby space to the left—to satisfy all whims. Good Taste: We've got a chef crush on former Hollywood stuntman turned sushi master Ron Choi, who works wonders with his Global knife as he turns out plates of gleaming fish from a menu replete with sake, beer, and wine pairings. 4800 Roland Ave., 410-773-0777
La CucharaWoodberry
On the Table: As one of the newer kids on the block, La Cuchara had all of us Googling what, exactly, Basque cookery is when it opened in Meadow Mill this past April. The Basque region, at the intersection of France and Spain, boasts cuisine all its own—primarily known for using a wood-fired grill to cook meat, seafood, and poultry, as well as pintxos (peen-chos), one- or two-bite snacks that burst with flavor. (Our favorites included a salt cod Spanish omelet with saffron aioli and Serrano ham croquettes.) Chef Ben Lefenfeld (who has racked up major cooking cred with Ted Kennedy and Maya Angelou on his chef CV) also dazzled us with knockout renditions of bronzino with artichokes, capers, and piquillo peppers, and a lamb loin served with whipped pumpkin purée. At Your Service: At times, service can be spotty. But while our server was busy with several other tables, a cook came from the kitchen to sub in one time, which was greatly appreciated. Inside Story: When we first stepped inside the former London Fog coat factory headquarters—with its soaring ceilings, grand wooden beams, and huge 80-seat bar that is the restaurant's focal point—we may have audibly gasped. Good Taste: We loved the steak tartare served with radishes, Dijon, and amazingly acidic cornichons. 3600 Clipper Mill Rd., 443-708-3838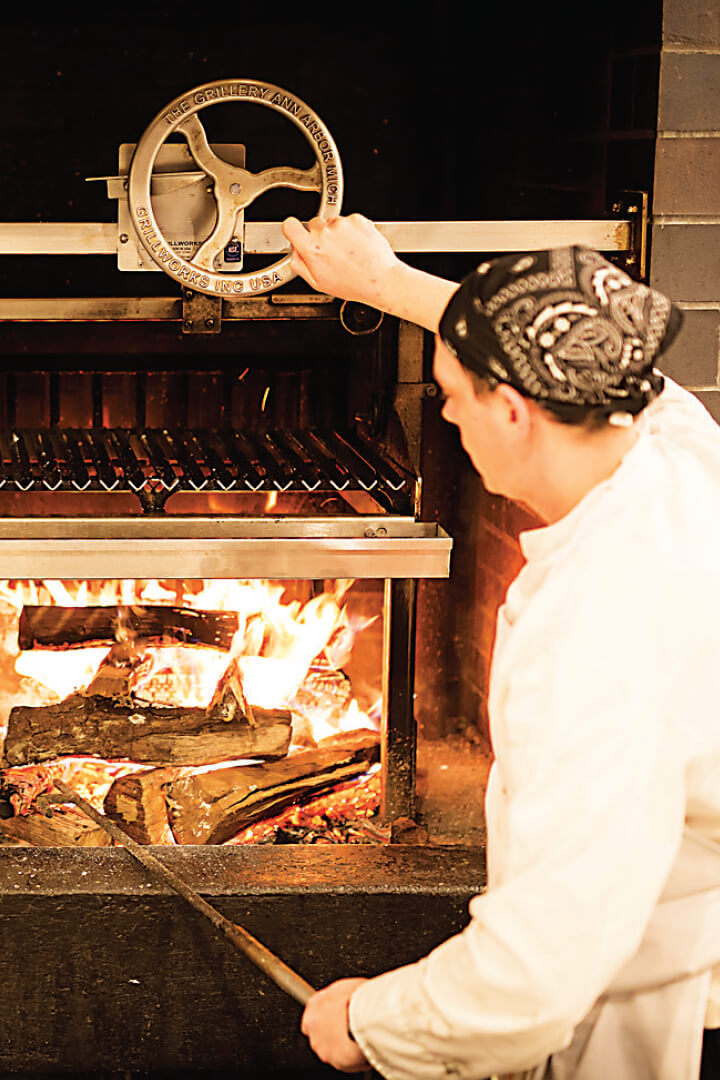 The wood-fired grill; red snapper with black truffles.
La Scala Ristorante Italiano Little Italy
On the Table: La Scala's Sicilian chef-owner Nino Germano isn't in the game to break new culinary ground—he just prepares the standards with great ingredients and solid technique, a formula that yields precisely the food you want when you're looking for the Italian classics. La Scala distinguishes itself with a broad menu that offers favorites from the elegant cream-based cuisine of the north to the red-sauced riches of the south. A spinach fettuccine Bolognese boasts a meaty, complex sauce, and the veal saltimbocca will make you remember why you fell in love with the dish. Above all, everything is made with love. At Your Service: Our young waiter was a model of Old World attentiveness, and the staff's adorable blue button-up vests are a lovely touch. Inside Story: The décor is like the Italian restaurants of your childhood: plush carpeting, warm wood, artifacts from Sicily, a seaside mural on the wall, and a bocce court in the basement. Good Taste: Even cannoli-haters love La Scala's version, famously made by Germano's mother, Pina. They're light and flaky and stuffed with cream-based fillings in flavors like espresso, hazelnut, and chocolate. 1012 Eastern Ave., 410-783-9209
Chefs You Need
to Know Now
Chef photos by David Colwell
"I wanted to create a perfect bar for people to stay in their Baltimore neighborhood."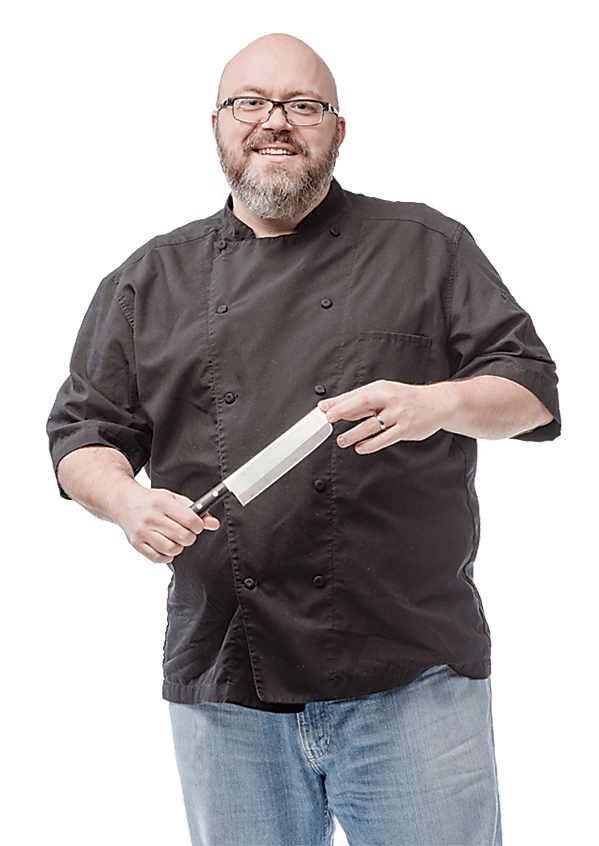 Jason Ambrose Executive chef // 1157 Bar + Kitchen, co-owner // Salt
Menu Mission: At 1157, I wanted to create my vision of a perfect bar for people to be able to stay in their Baltimore neighborhood and enjoy interesting flavors that also felt familiar. First Meal I Ever Made: Both of my parents worked. I complained to my mother that my friends got to have dinner at 5 o'clock. She said, 'If you want to eat at 5, you'd better start cooking.' My first meals were Shake 'N Bake pork chops with applesauce. Signature Dish: The braised short-rib melt with Vermont cheddar, horseradish mayo, and shaved red onions, served au jus, is my version of French dip. Top Tool: My MAC knife. This knife is lightweight and balanced. Claim to Fame: When [former Baltimore Sun food critic] Elizabeth Large gave Salt four stars, I was blown away and humbled. I remember waking up and my wife read me the review. I went to work right away—I felt such a sense of responsibility. Secret Talent: I played King Charlemagne in Pippin in high school. "War is a Science" was my solo.
"Every Venezuelan's grandmother teaches the kids to use arepa dough as if it was clay."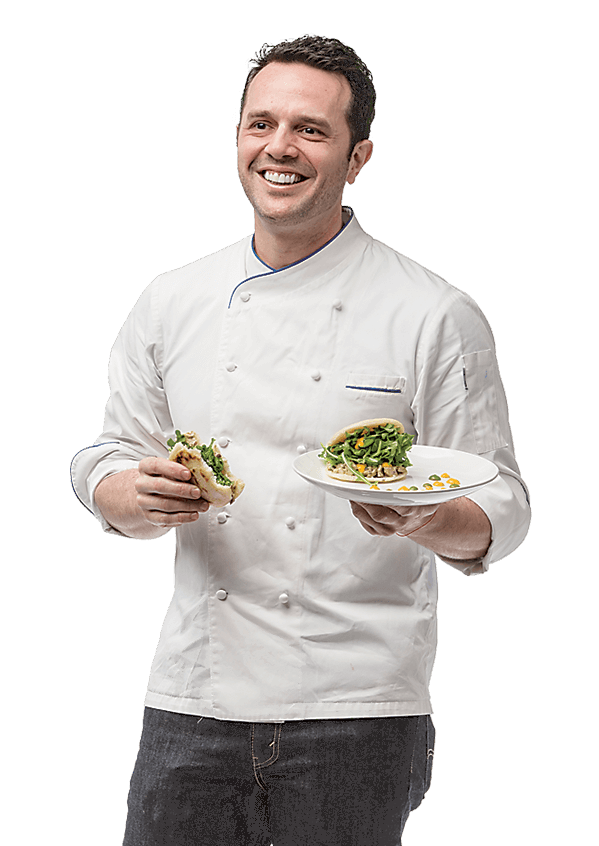 Enrique Limardo Co-executive chef // Alma Cocina Latina
Menu Mission: The unique and refined flavors of our menu introduce the culture and identity of our beautiful Venezuela to the American people. First Meal I Ever Made: Arepas, of course! I was probably between 3 and 5. Every Venezuelan's grandmother teaches the kids to use arepa dough as if it was clay. Signature Dish: The chivo al coco y curry (goat in coconut with curry, rice, sweet plantains, and beans). This particular dish mixes very well with our Venezuelan tradition from east to west and also the Caribbean influence. Top Tool: A very sharp Kikuichi knife. Claim to Fame: I won the most important prize in my country, "The Golden Fork" (the National Gastronomy Academy award). I have cooked for French President François Hollande, the Malaysian prime minister, and fashion designer Carolina Herrera. Secret Talent: I'm excited to express myself through painting. When I was young, I studied architecture. Now I paint with natural charcoal and pastel colors. Also, I like to use acrylic and experiment with sewing on wood.
"I am ambidextrous in the kitchen."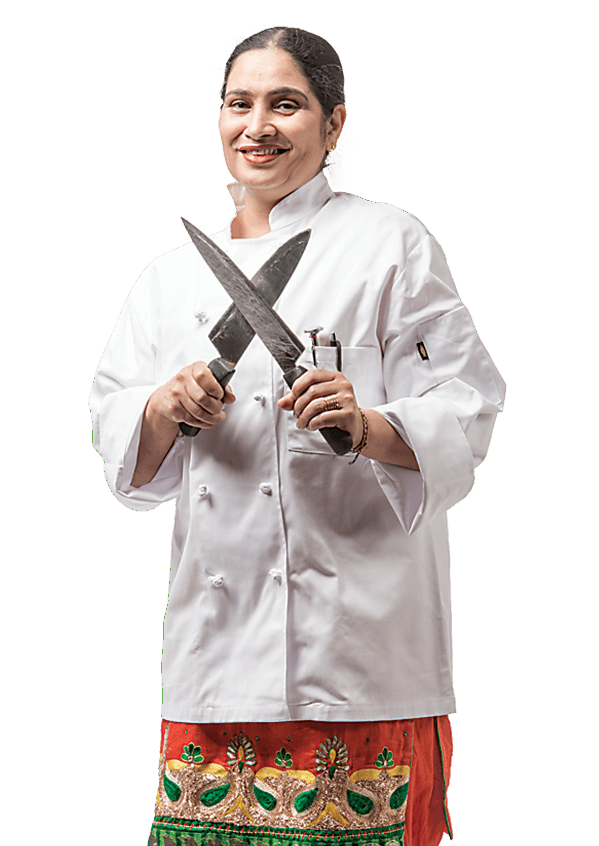 Kinday Kaur Executive chef // Ananda
Menu Mission: To provide authentic Indian cuisine with fresh, local ingredients. First Meal I Ever Cooked: I learned to make dal, a staple vegetarian dish in northern India, consisting of lentils, onion, ginger, garlic, cumin, and turmeric. In India, girls start cooking at a young age with their mothers. I have been making dishes like dal on my own since I was about 9 years old. Top Tool: The tandoor oven. Cooking over coals with that intense heat gives such a special flavor that is unique to Punjabi food. Signature Dish: In the fall/winter, the Dharamshala Duck is our signature. It is comforting in the cold months with the rich meat, hearty sauce, and crispy skin with a tangy goji berry and pomegranate reduction. Claim to Fame: I have cooked for many celebrities who dined at our restaurants, but I am proud of the people I've fed in India. My first experiences cooking for the masses were in Indian orphanages and Sikh temples. This is the audience I enjoy cooking for the most. Secret Talent: I am ambidextrous in the kitchen. I can chop with two knives, simultaneously, and rapidly. Outside of the kitchen, I am a devout meditator.
"My favorite kitchen tool is a silver spoon handed down to me from my wife's grandmother."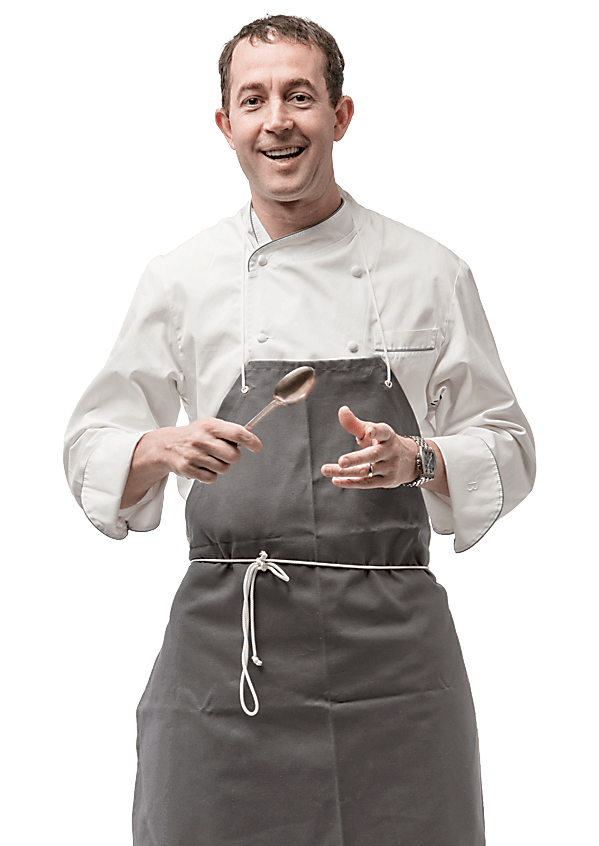 Steve Monnier Owner/executive chef // Arômes
Menu Mission: I'm always trying different flavor combinations, techniques, preparation methods. My menu changes, sometimes daily. I hope for people to be adventurous. First Meal I Ever Cooked: When I was about 12, I learned to make langue-de-chat cookies in school. That weekend, my parents left me in charge of babysitting my sister. Instead, I re-created the langue-de-chat cookies. My parents came back to burnt cookies and a black oven. They were relieved I hadn't burned the house down. This is how my mom found out about my love for cooking. Top Tool: My favorite tool is a silver spoon handed down to me from my wife's grandmother: I use it to taste, to season, to make quenelles, baste, and everything in-between. Signature Dish: My menu changes so often, I wouldn't say I have a signature dish, but there is one I like the most that's currently on my menu and that's the carrot miso crème brûlée. Claim to Fame: I was named best apprentice of the Champagne-Ardenne region in France; I was the private chef for Charlie Sheen's 40th birthday party. Secret talent: I'm a marathon runner.
"I stood on Gordon Ramsay's toe the same night that I cooked with Charlie Trotter in London in 2002."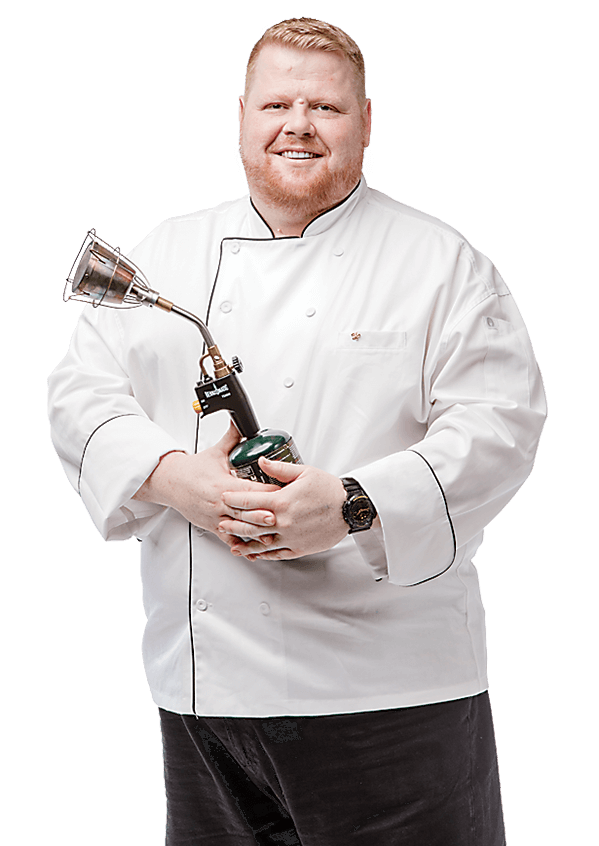 Mark Levy Executive chef // Magdalena
Menu Mission: I believe in flavor, quality, consistency, and range. First Meal I Ever Made: When I was about 10 years old, I made a bacon sandwich—it's essential British cuisine. I had just returned from the bakery with a fresh loaf of white bread and made two sandwiches, one for me and one for my older brother. It was epic, and I never looked back. Signature Dish: My signature dish is the one you like the most. Personalized signature dishes are the future. Top Tool: I love the Searzall. It's basically a high-powered crème brûlee gas gun that is great for searing any item. Claim to Fame: I stood on Gordon Ramsay's toe the same night that I cooked with Charlie Trotter in London in 2002. Secret Talent: I know every word to "We Didn't Start the Fire" by Billy Joel. I'm also a high-quality darts player.
"'Our Rice Pudding' is a fun rendition of the classic dessert that doesn't actually contain rice."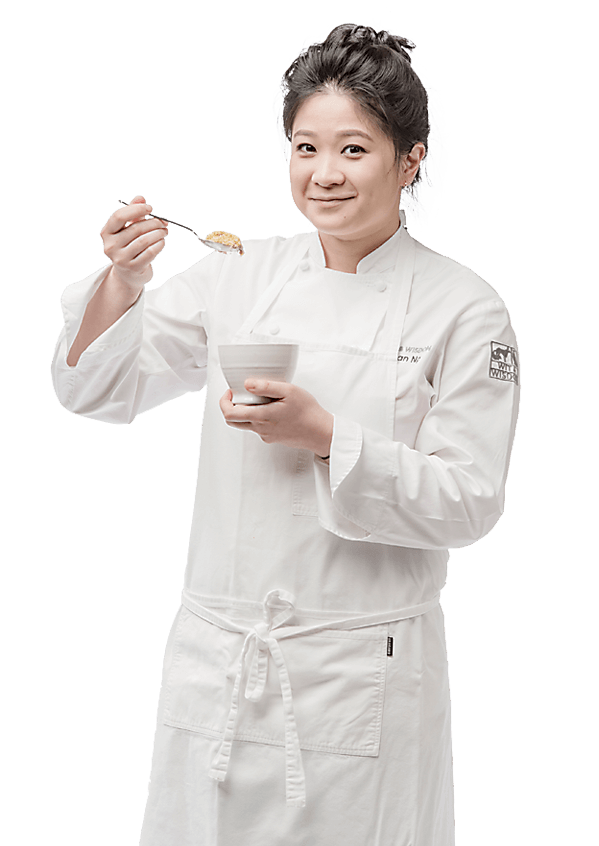 Dyan Ng Pastry chef // Wit & Wisdom
Menu Mission:
To provide our guests with a unique dessert experience filled with delicious and unusual flavor combinations and concepts. First Meal I Ever Made: My family always made different flavored Popsicles as a sweet treat for the kids—some flavored with coconut, some with jackfruit. When I was 8, I made one using avocado, flavored with sweetened condensed milk and corn kernels. Signature Dish: "Our Rice Pudding" is a fun rendition of the classic dessert that doesn't actually contain rice, but is instead compiled of layers of milk skins that have been previously cooked with rice and served with a juice pairing of fresh young coconut water infused with cocoa nibs. Top Tool: Dehydrator: To me, texture is just as important as the flavor and, with this tool, I am able to create various types of textures. Claim to Fame: At 24, I became the executive pastry chef for Restaurant Guy Savoy in Las Vegas. Secret Talent:
My secret talent is . . . a secret.
BEN LEFENFELD Owner/Executive Chef La Cuchara
Menu Mission: The mission of the menu at La Cuchara is to stay fresh and interesting every day. First Meal I Ever Made: When I was very young, I could not sleep in, so I would wake up very early. My parents would come downstairs and cereal boxes would be lined up, orange juice was made, and fruit was arranged. Signature Dish: My signature dish is the jamon croquette. It has been on the menu since Day One, and we constantly receive great feedback from it. Our croquette contains no potato, so it's very light, yet rich. Top Tool: I have two. The first is my Misono 12-inch handmade slicing knife. It's thin enough for fine work, but strong enough to split a suckling pig in half. The second would be a Super Beniriner Mandoline. A sharp mandoline can allow even the most novice cooks to create great knife cuts. Claim to Fame: While working in Washington, D.C., I cooked for many heads of state, Maya Angelou, Robert De Niro, all of the D.C. mayors. On my first day at Gerard's Place in D.C., the first plate of food I sent out was for Ted Kennedy. Secret Talent: I can wiggle my ears.
ERIC HOUSEKNECHT Executive chef Thames Street Oyster House
Menu Mission: To serve classic mid-Atlantic and New England dishes that the guests may have eaten growing up—old recipes, comfort food, things that evoke memories of summer trips to beach towns and childhood. First Meal I Ever Cooked : French toast for my mom. Top Tool: At work: A KitchenAid stand-up mixer, because we can use it for so many different things: pasta dough, pastry and desserts, to make fresh butter. Signature Dish: We do a Gulf of Maine hake entree three seasons of the year. It's a classic Southeast New England fisherman's dinner with fresh tomato sauce, flaky hake, linguica sausage, fresh shelled fava beans, and potatoes, all baked together in a terrace-otta pot, and finished with a braised egg. And, of course, the lobster roll, too. Claim to Fame: I cooked for Julia Child at age 20 while working at Cafe Nuovo in Providence, R.I. Secret Talent: Carpentry and gardening.