It seems the ramen revolution that was so ripe for explosion two summers ago has settled down to a slow simmer, with just a few new options popping up around Baltimore these days. Of these, Federal Hill's Mi & Yu Noodle Bar has drawn particular attention, thanks to its chef and proprietor, Edward Kim, remembered fondly by old-school Baltimore foodies for his elaborate, modernist cooking at Ixia and Soigne 15 years ago. Although the offerings are highly streamlined and firmly rooted in tradition, the food at Mi & Yu still possesses that fullness and depth of flavor one might expect from a highly seasoned chef.
On cold days, the windows at this charming, unfussy noodle bar are opaque with steam, while, inside, the narrow space stretches back from a sparse but bright dining area to a small galley kitchen that's set up assembly-line style for massive volume.
In fact, that the kitchen is granted more real estate than the dining room is a very good portent.
Mi & Yu uses a modular menu system, wherein one chooses from an array of proteins, noodles, and broths to build a custom noodle bowl. This open-ended scheme may fluster ramen purists, but this place is billed as a "noodle bar," and ramen is but one of the starches on offer, along with thick udon noodles and pho noodles.
Broth selection ranges from a clean, yet rich, Japanese miso to one flavored with the punch of Korean spicy peppers and garlic. All soups come with the same vegetables—napa cabbage, carrots, red onions, and daikon radishes—but you can further garnish with meats such as braised pork belly or short rib, duck carnitas, or even buttermilk-fried chicken. Seared tofu and vegetable broth options also are available for vegetarians.
---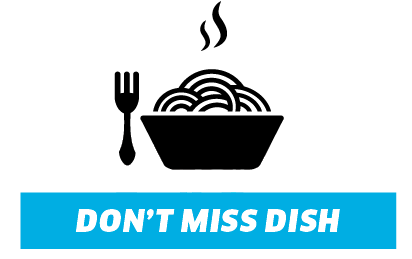 NOODLE BOWL WITH PORK BELLY, KIMCHI, AND CHICKEN
We loved every combination of noodly noms, but the ramen topped with pork belly, kimchi, tender chicken, and a kick of ginger and spicy chili pepper, is a required order.
---
Most individual components seem recognizable enough, but the preparations are drawn from such diverse cuisines that for the adventurous, it is possible to end up with a fairly off-the-wall concoction. (The sweetness and five-spice flavor of the pork belly make for an unusual pairing with the already complex sambal broth, for example.) But, whether it's thanks to careful menu planning or straight-up culinary chops, it's nearly impossible to come up with a combination that's anything less than tasty (if unconventional) and deeply satisfying.

And while regular patrons seem to have it down pat, rattling off their orders in efficient Starbucks-style staccato, first-timers are often seen gripped in menu-gazing paralysis, as is apt to happen with so many options.
To avoid such a fate, one need only be armed with the following six words: "pork belly, kimchi, ramen, add chicken." It is this combination that provides the most intense, yet familiar, flavors, pleasing contrast in textures, and the all-important "ahhh"-inducing feeling that is only attainable from a good bowl of noodle soup. The kimchi broth is deeply savory, with unmuted high notes of ginger and spicy chili pepper—indeed, the only caveat would be the considerable heat. The barely resilient texture of the ramen noodles, whose crinkliness helps transport a bit more of the broth in every bite, is nicely offset by the napa and daikon mixture, which is right at home with the kimchi flavor.
So, too, is the pork belly, which is seasoned subtly enough that the five-spice merely perfumes without overwhelming. The buttermilk-fried chicken frankly speaks for itself, and is straightforward enough to complement any permutation with a bit of crunch.
Pro tip: Mi & Yu does not take carryout orders over the phone, only online via its website or mobile app, which is also where one can find timely updates about the availability of the elusive special "beef dashi broth."
There are other noodle bars in town, but this one is not to be missed.
---

MI & YU NOODLE BAR 1016 S. Charles St., 443-388-9295.
HOURS Mon.-Thurs. 12-10 p.m., Fri.-Sat. 12-11 p.m., Sun. 12-9 p.m.
PRICES Noodles: $11.50-14.
ATMOSPHERE Minimalist zen.
---
---