It was a feat of skill, determination, and sheer will as human-powered sculptures lumbered through the streets of Baltimore Saturday. And at its core, the Kinetic Sculpture Race showcases the creativity, and eccentricity, that defines Charm City. Now in its 18th year, the race is beloved by its participants and the spectators who line the streets from Federal Hill to Patterson Park. As Jeff Krannebitter of Essex, who raced the vehicle Pocket Monster on Saturday, says, "It's my favorite day of the year."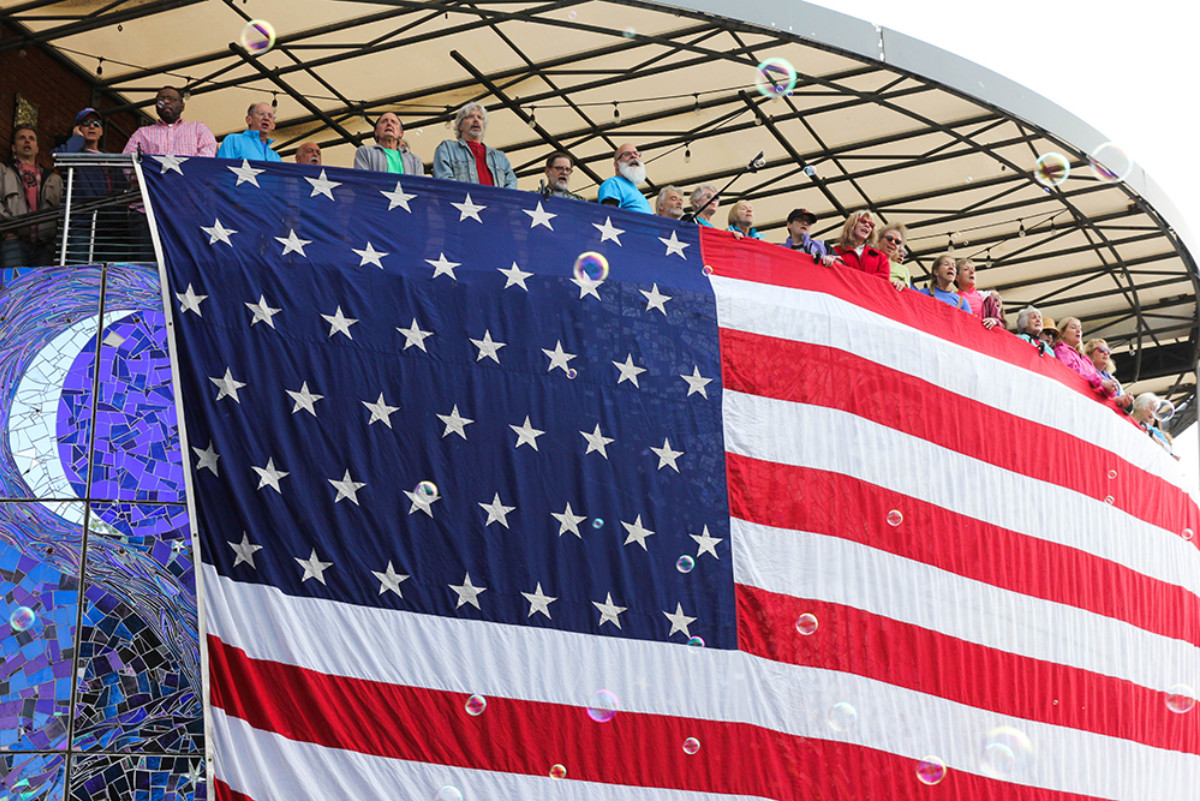 The race kicked off with the singing of The National Anthem by a community chorus at the American Visionary Art Museum.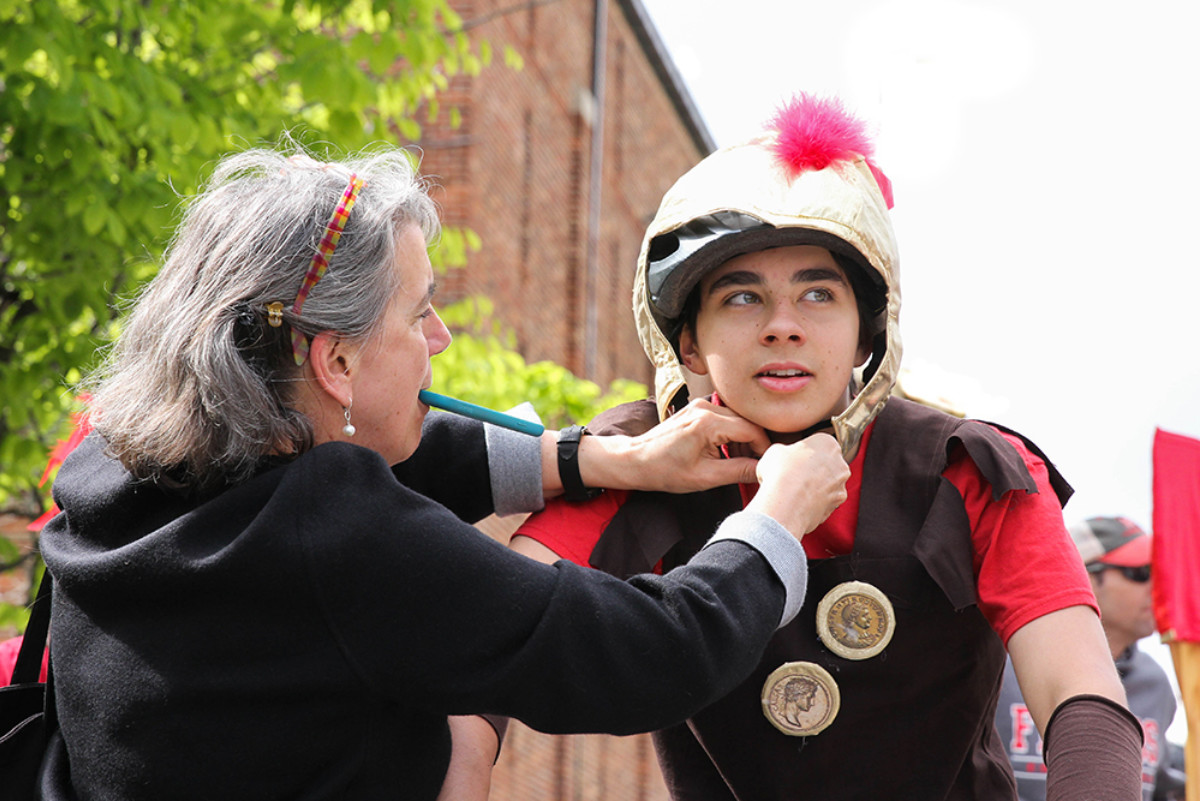 "Your helmet's not on," says the mother of a young Chariot participant, who stops to fix it before the start of the race.
The participants who manned the The Bees' Knees vehicle get ready for the start. It was a good day for The Bees' Knees, which ended up being the Grand Mediocre Champion.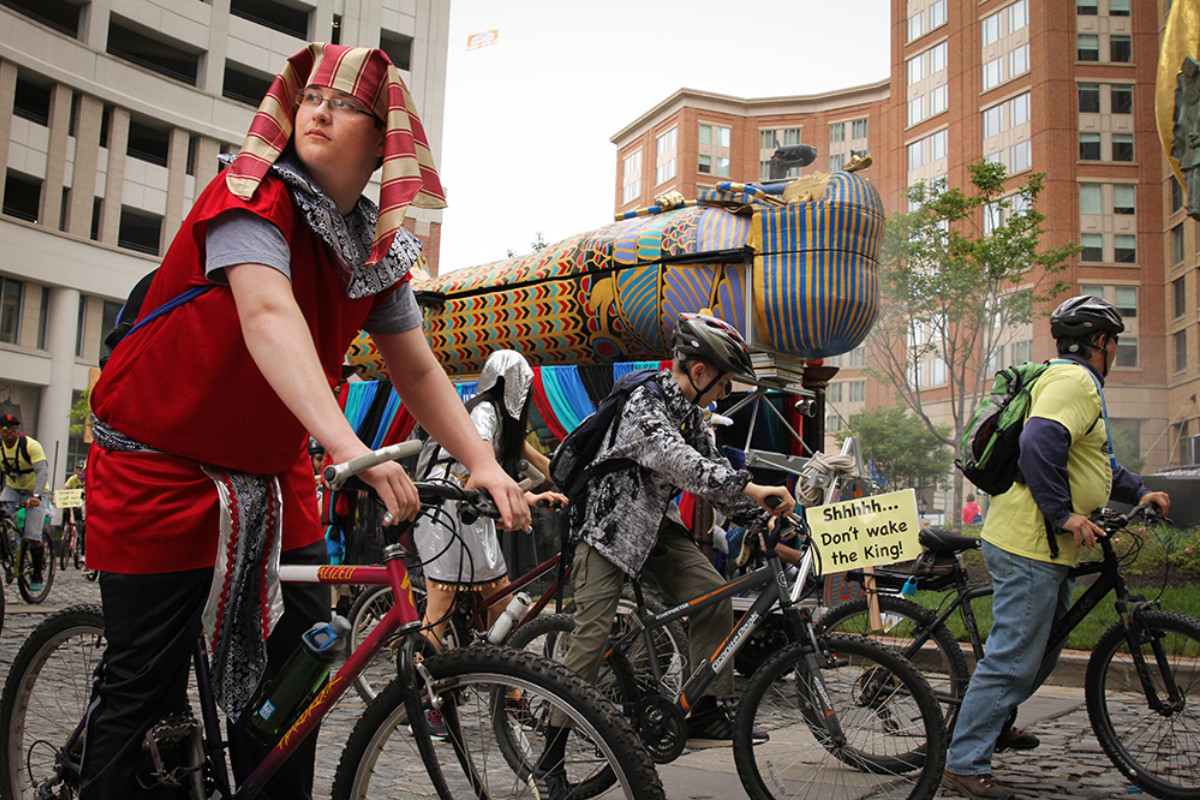 "Check point time!" calls a race volunteer and Riders of the King Bal-Tut-More sculpture, which took home the Best Art prize, makes a brief stop at Harbor East.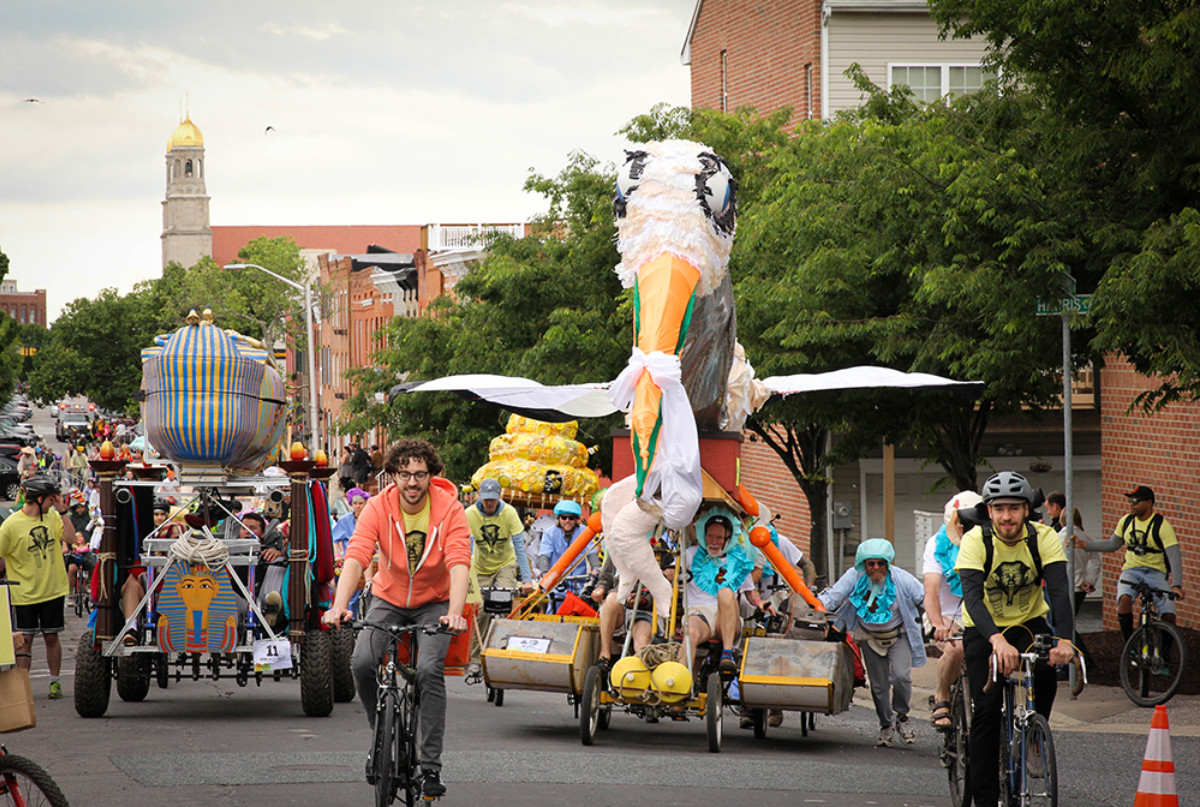 Stumti the Stork, carrying a swaddled baby, glides through the streets of Canton. Stumti—which means "push" in Lithuanian—is the work of carpenters, artists, and other folk (but surprisingly no doctors) from Pennsylvania and New Jersey. This was their fourth year in the race. "Everybody really enjoys it," says participant Mike Barca, who hails from western New Jersey. "That's what keeps us coming back."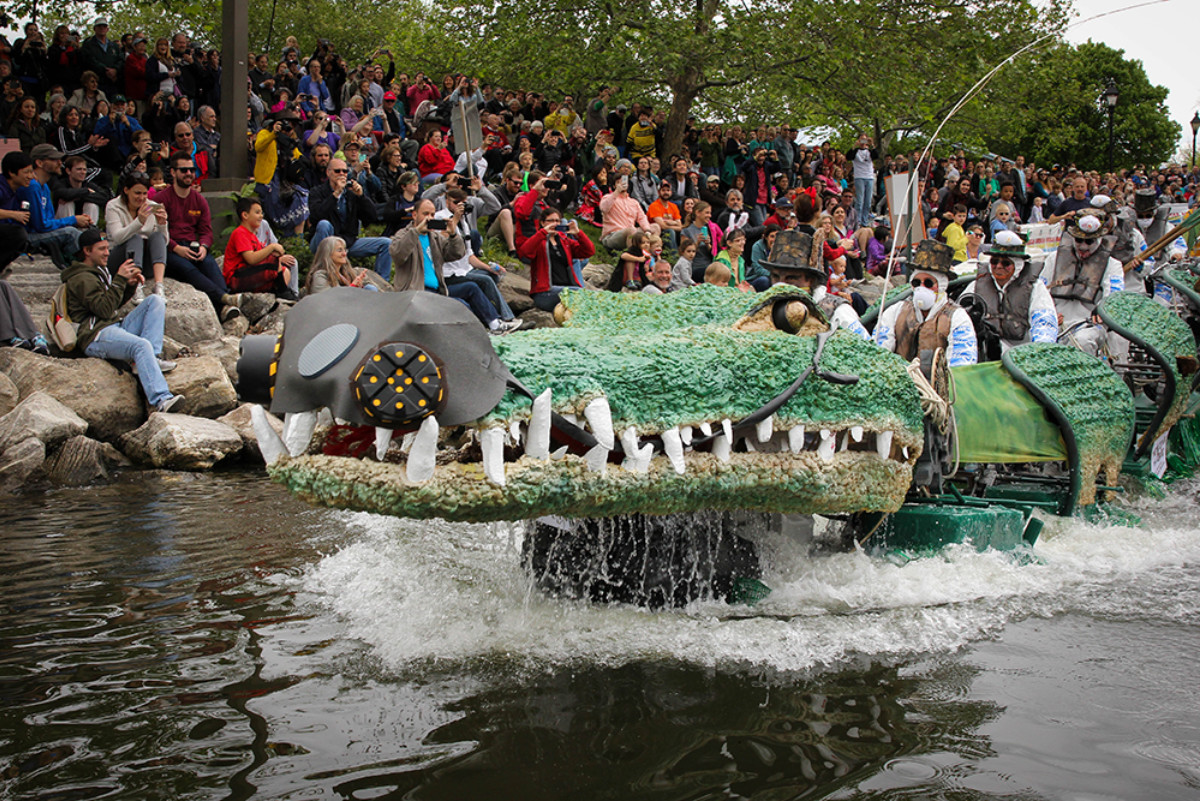 Tick Tock the Croc paddles through the water in Canton. Spectators loudly cheered, "Go Croc!" and it was obvious why this sculpture would go on to become People's Choice Champion.
The legendary pink poodle Fifi has no trouble with the water obstacle as kayakers look on.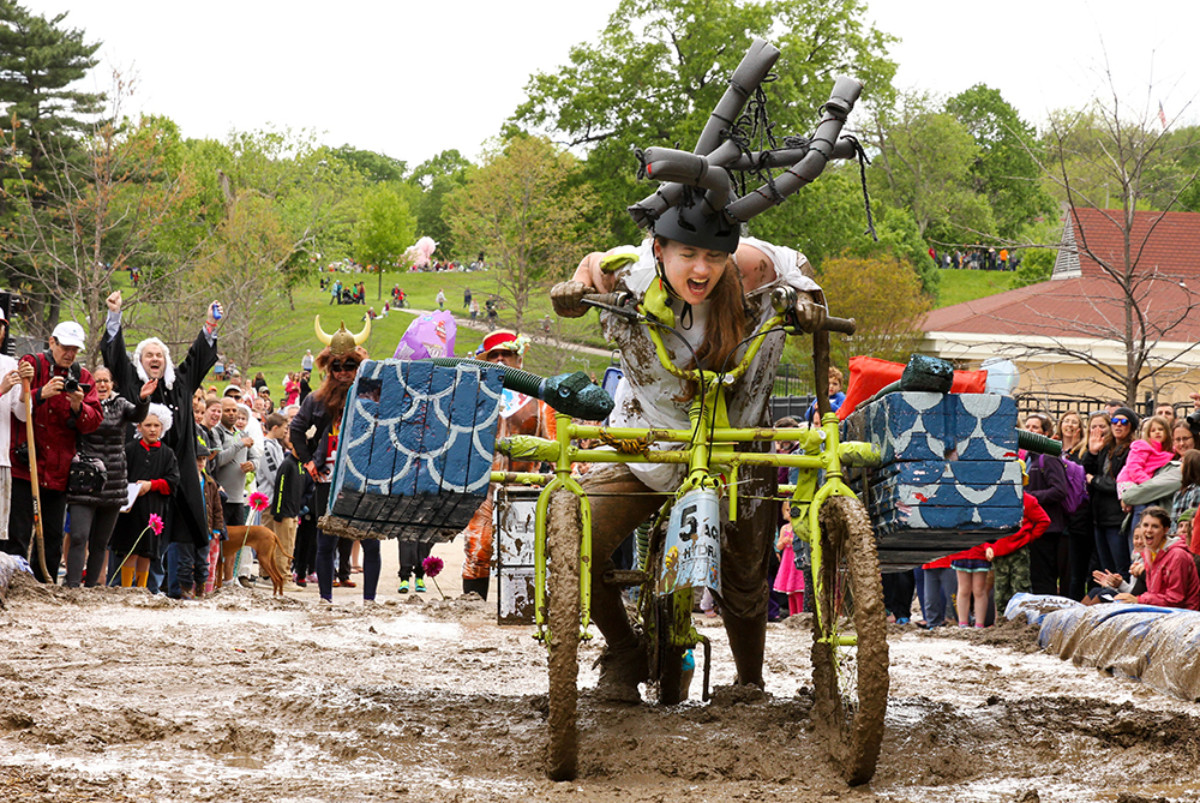 A judge cheers as a racer makes her way through Patterson Park's mud pit, which is likely the most grueling part of the race. "The only role I have is to give this race a veneer of legitimacy,'" says Ed Istwan, who has been a judge of the Kinetic Sculpture Race for all of its 18 years.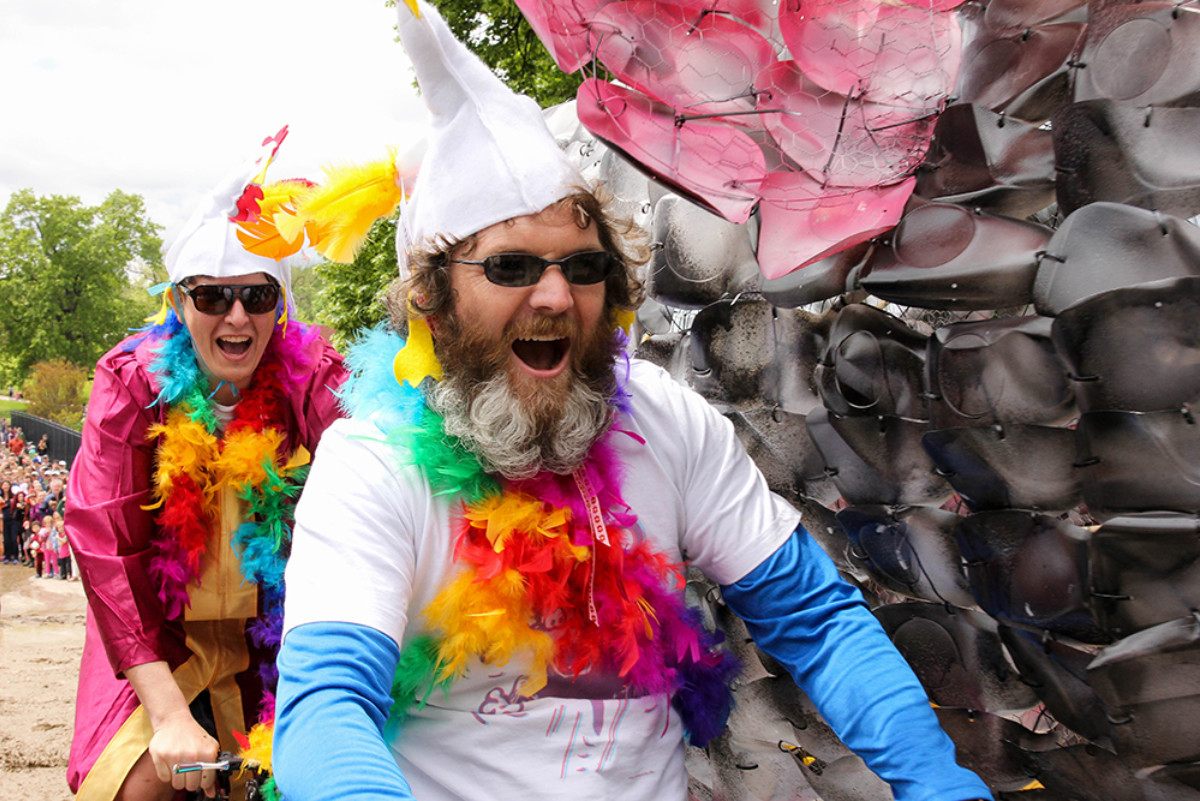 Two bikers are joyful and relieved as they finish powering through the mud pit on Birdie: The Sculpture Vulture, which ended up taking home the Best Engineering prize.
---
---