After watching the amazing swimming performances that kicked off the Summer Olympics in Rio this weekend, people are asking, time and time again: What's exactly in that Maryland water?
So far, three medals—that's a quarter of the total medals the U.S. has won—have been earned by swimmers from Maryland.
It all started on Saturday night when Bel Air native Chase Kalisz took the silver medal in a very tight and challenging men's 400-meter IM. Kalisz said in a post-race interview with NBC that he knew what his pace would be—starting slow and gaining it back in the last half—but Kosuke Hagino of Japan held on, only beating Kalisz by 0.7 seconds to take home the gold.
"It was a really tough race," Kalisz told the Today Show. "But this medal makes all the pain worth it. Happy to be here representing my country and cheering my teammates on for the rest of the week."
One teammate that he's cheering for loud and clear for is Katie Ledecky, of Bethesda, who was a clear favorite to win the women's 400-meter freestyle, but even defied those expectations, sailing past her competition and setting a new world-record time of 3:56.46.
"I just focus on how I am feeling personally and let the race play out as it will," Ledecky told NBC. "It was great to be up there and sing the National Anthem."
Not long after, in a last-minute switch, hometown hero and Towson native Michael Phelps was added onto the men's relay team with Caeleb Dressel, Ryan Held, and Nathan Adrian. Swimming the second leg of the race, Phelps was able to gain a healthy lead over France that USA could maintain until the gold-medal ending. What followed was an emotional ceremony for the group.
"The young bucks brought tears to our eyes," Phelps told the Today Show. "I was trying to hold back as much as I could. Nathan started shedding tears, then Ryan was shedding tears. Being a part of the 400-free relay has been a dream of mine. I've been on the good side and bad side of it. I was happy we could win that relay as a team."
Phelps admitted that having his 3-month-old son, Boomer, in the audience while he won his 19th gold medal, made the experience "a lot more emotional."
"I tried to look for him up there and, when I finally found him, he was asleep," he said with a laugh. "Hopefully we was awake during the race but, if not, I can play it for him when he's a bit older. It's just an inspiration to have him here."
Kalisz and Phelps, of course, have their training at the North Baltimore Aquatic Club in Mt. Washington to thank. Kalisz has trained at the NBAC since 2000—and, more recently, in Scottsdale, Arizona—with mentor Phelps and coach Bob Bowman. In a 2013 interview, he talked about how rewarding that experience has been.
"Training at NBAC with the greatest swimmer of all time has been probably the best environment for me," said Kalisz, pictured, clearly enjoying himself in Rio.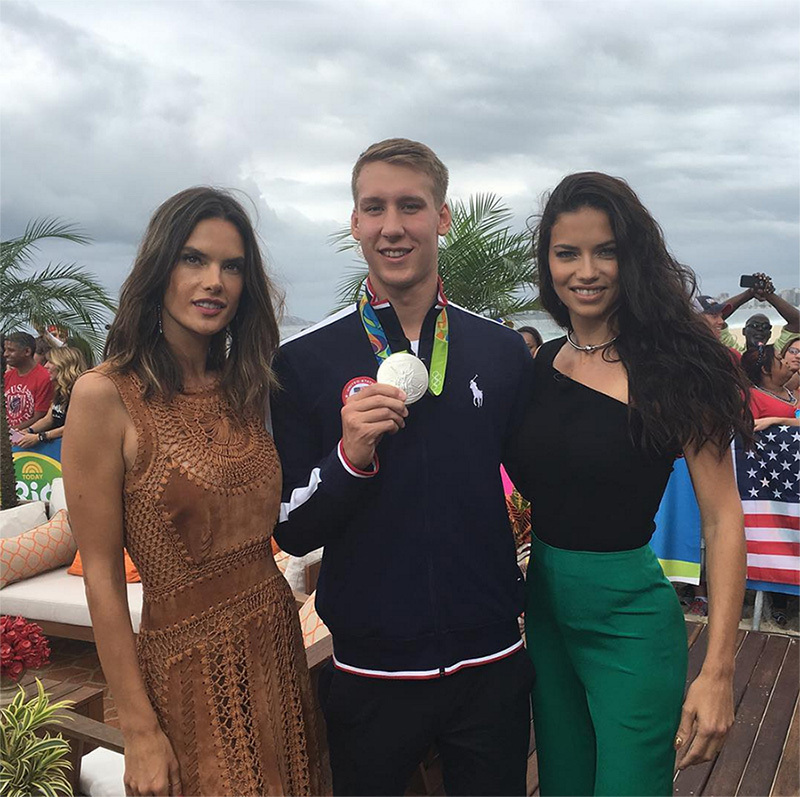 "I've always dreamed about racing and swimming with him. I never thought that would happen to me."
Phelps's work in Rio isn't done yet. On Tuesday night, he'll swim the men's 200-meter fly, on Thursday he'll swim the 200-meter IM he finishes up on Friday night with his signature 100-meter butterfly.
---
---