Over the years, Ina Garten has encouraged countless people to cook with her bestselling books, and has garnered a huge fan following thanks to her Barefoot Contessa show on the Food Network. But it's her husband, Jeffrey (also a Johns Hopkins alum), who has been her greatest admirer, inspiring her 10th and latest tome, Cooking For Jeffrey, which she'll be talking about this month at the Hippodrome. Garten spoke with us about her new book, how she learned to cook, and the best part of her illustrious culinary career.
What inspired you to write this particular book?
People think that Cooking for Jeffrey is about things that I've cooked for him, but it's actually much more than that—it's that cooking for him is what built my career. It's how I started and he always encouraged me to do more of it, so that's why I wanted to tell the story. My husband has been unbelievably supportive and encouraged me. He always said, 'If you love something, you'll be really good at it.' His advice has always been invaluable to me.
What is your writing process?
I get up in the morning and say, 'Oh my God, I have to finish this.' I usually do all the recipes first and leave the writing for last because it's torture. I usually only do it when I have a gun to my head and it's due in two weeks. It's like final exams—I'm cleaning out the closets and rearranging the cabinets. For this one, I just sat down and wrote it—I think I wrote it in a day—it was fun to write. It was a love letter to Jeffrey.
How did Jeffrey feel about being on the cover?
I didn't even ask him—I just told him to show up for the photo shoot. He's such an unbelievably good sport.
What do you want readers to get out of this book?
When you cook, everyone shows up. It creates a community. I love that young people are cooking again. It's not about the food—it's about the community you create when you cook.
How do you think our relationship with food and cooking has changed since you got into this business and how did that frame the book you wanted to write?
The biggest thing I learned being in the food business is that people eat differently at home than in a restaurant. In a restaurant, you want to be surprised by flavor combinations. You want the food to be a little more challenging.
When I first bought [my gourmet food store] The Barefoot Contessa, I was making fancy, complicated things like veal roast stuffed with morels—and it wasn't selling. And I thought, 'Let me try something else. Let's try roast chicken and roast carrots.' I realized that's what people want to eat at home, really good, homey comforting food. They just want it to be really delicious. I wanted foods that were familiar, but better than expected. There's onion dip, but not Lipton Onion Soup Mix. It's the real deal.
Prior to buying The Barefoot Contessa store in East Hampton, you were writing papers on the nuclear energy budget and policy papers under the Ford and Carter Administrations. What made you want to break out on your own?
I looked around and said, 'You know what? I'm probably never going to get to the top of this organization—I'll do something myself.' We each need to find a way to do what we want to do in the world we live in. I just liked the challenge of it.
How did you learn to cook?
I was really never allowed in the kitchen—maybe my mother thought I would mess things up. I learned to cook at 20 when I got married. I was dying to do this. When I got engaged I bought Craig Clairborne's The New York Times Cookbook and I must have read that book 20 times before I even got into the kitchen. When I got married and we moved to North Carolina, where Jeffrey was in the military, it was like the shackles had been taken off. I could make anything I wanted. Early on, I made a challah. And looking back that was as hard a recipe as I could make. I liked the challenge of it. I thought it was fun.
Who has inspired you to cook?
Martha Stewart and Eli Zabar were both inspirations—they are friends. Eli is inspiring because he's always curious. He will walk up to someone at a French street market and say, 'What do you do with these raspberries?' Eli knows what to do with the raspberries, but he wants to know what the guy who sells the raspberry does with them. I find his curiosity inspiring. He's a fabulous cook. He likes simplicity and really simple flavors, but really clear flavors—I really ascribe to that.
Martha is encyclopedic. She knows everything about everything. She's a great cook and really is a teacher and loves to teach people about what she knows and how she cooks.
Do you have any favorite recipes in your book?
The two that are my favorites are the skillet lemon chicken—I've made it a million times and it's really good and vanilla rum panna cotta with salted caramel.
Where do you recipe ideas come from?
I make a list of 60 or 100 recipes that I think I'd like to work on. Over a period of two years, when I'm working on a book, I add to the book, I subtract from the book, I put it in the next book. I just wake up in the morning and say, 'What do I feel like eating that day?' If I feel like making skillet lemon chicken or testing, that's what ill focus on that day. I'll make it four more times or move on to the next recipe. Sometimes if it doesn't work out, it goes in the trash and I say, 'I'll try something else tomorrow.' And then there are recipes like Boston cream pie I've been working on for three books now. I have something in my head—I just can't get it right, but I will. I love the process of writing cookbooks and I love the process of designing the book itself, the object and the photographs I sit with a designer and say what do we want on page one? And we do it together.
Looking back at your career, from owning The Barefoot Contessa to cookbook writing to starring on your own Food Network Show, what has been the best part?
I love it when I'm walking down the street and people say, 'You taught me how to cook.' And I think, 'Wow I never thought of myself as someone who could do that,' but because my original goal for the first book was exactly the same for the last one— which is that you'd open the book, you'd look at the photographs and say, 'That looks delicious,' and then you'd look at the recipe and say, 'I can actually make that.' I love that what I had in my head really worked and that people responded to it.
---
Maple-Roasted Carrot Salad
serves 4 for lunch, 6 as a side dish

This may be my favorite salad ever. With the sweet caramelized carrots, peppery arugula, creamy goat cheese, and salty Marcona almonds, every bite is so interesting!
2 pounds carrots, preferably with leafy tops
Good olive oil
Kosher salt and freshly ground black pepper
1/4 cup pure Grade A maple syrup
2/3 cup dried cranberries
2⁄3 cup freshly squeezed orange juice (2 oranges)
3 tablespoons sherry wine vinegar
2 garlic cloves, grated on a Microplane
6 ounces baby arugula
6 ounces goat cheese, such as Montrachet, medium-diced
2⁄3 cup roasted, salted Marcona almond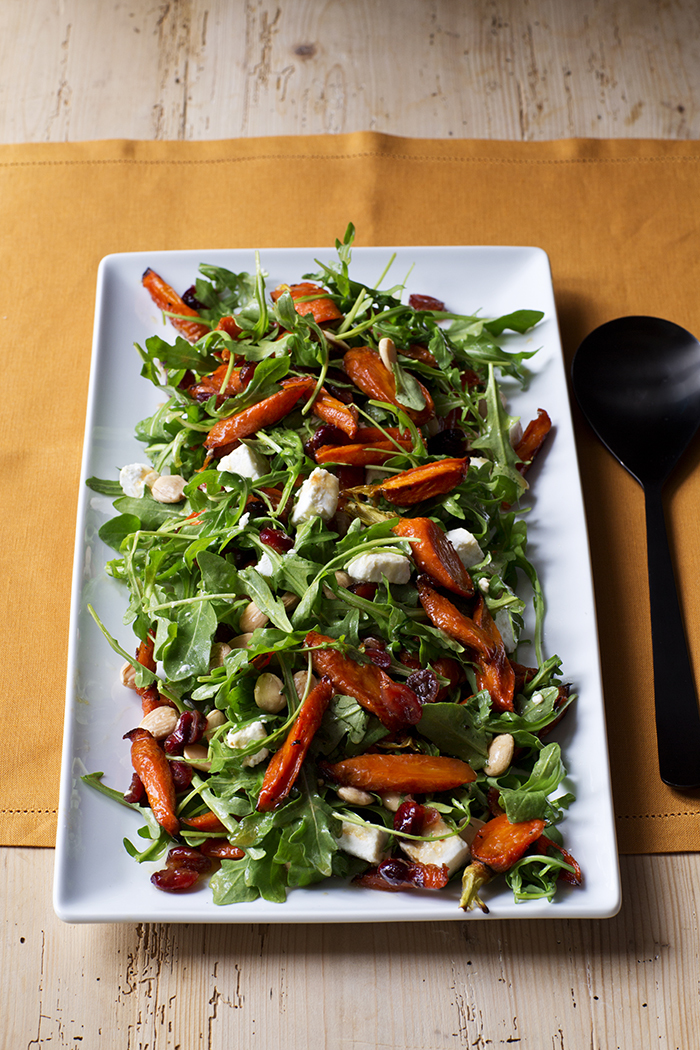 Preheat the oven to 425 degrees. Trim and scrub the carrots. If the carrots are more than 1 inch in diameter, cut them in half lengthwise. Cut the carrots in large diagonal slices 1 inch wide × 2 inches long (they will shrink when they roast) and place in a medium bowl with ¼ cup of olive oil, 1 teaspoon salt, and ½ teaspoon pepper. Toss well and transfer to two sheet pans. (If you use just one, they'll steam instead of roasting.) Roast for 20 minutes, tossing once, until the carrots are tender. Transfer all the carrots to one of the sheet pans, add the maple syrup, toss, and roast for 10 to 15 minutes, until the edges are caramelized. Watch them carefully! Toss with a metal spatula and set aside for 10 minutes.
Meanwhile, combine the cranberries and orange juice in a small saucepan, bring to a simmer, then set aside for 10 minutes. In a small bowl, combine the vinegar, garlic, and 1⁄2 teaspoon salt. Whisk in 3 tablespoons of olive oil. Place the arugula in a large bowl and add the carrots, cranberries (with their liquid), goat cheese, almonds, and the vinaigrette. Toss with large spoons, sprinkle with salt, and serve at room temperature.
Make Ahead: Prep all the ingredients. Cook the cranberries and make the vinaigrette and refrigerate for up to a day. Roast the carrots and assemble the salad just before serving. maple-roasted carrot salad.
---
Vanilla Rum Panna Cotta With Salted Caramel
serves 8

Since I discovered Fran's salted caramels, I've loved the combination of salt and caramel. I particularly like caramel with undertones of vanilla to balance the sweetness. Cold, silky panna cotta is perfect with warm, salty caramel. Make this panna cotta in advance and just heat the caramel and pour it on top before serving.
2 teaspoons (1 packet) unflavored gelatin
3 cups heavy cream, divided
2 cups plain whole-milk yogurt
2 teaspoons pure vanilla extract
Seeds scraped from 1 vanilla bean
3/4 cup sugar
Dark rum, such as Mount Gay
1/2 cup good caramel sauce, such as Fran's
Fleur de sel
In a small bowl, sprinkle the gelatin on 3 tablespoons of cold water. Stir and set aside for 10 minutes to allow the gelatin to dissolve. Meanwhile, in a large bowl, whisk together 1 ½ cups of the cream, the yogurt, vanilla extract, and vanilla seeds. Heat the remaining 1 ½ cups of cream and the sugar in a small saucepan and bring to a simmer over medium heat. Off the heat, stir the softened gelatin into the hot cream until dissolved. Pour the hot cream–gelatin mixture into the cream-yogurt mixture and stir in 3 tablespoons of rum. Pour into 8 serving glasses and refrigerate uncovered until cold. When the panna cottas are thoroughly chilled, cover with plastic wrap and allow to chill overnight. Before serving, heat the caramel sauce with 2 teaspoons of rum in a small bowl in the microwave or a small saucepan set over low heat, just until warm. Spoon a thin layer of warm caramel on each cold panna cotta, sprinkle with fleur de sel, and serve. Note: I make vanilla extract by soaking vanilla beans in vodka. Note: I use 12-ounce old-fashioned glasses from CB2.
---
Skillet-Roasted Lemon Chicken
serves 3

I can't tell you how many times I've made this! I have the butcher butterfly the chicken so all I do is grind the thyme, fennel seeds, salt, and pepper, mix it with olive oil, and brush it on the chicken. When the lemon slices are roasted and caramelized, you can eat them with the chicken.
2 teaspoons fresh thyme leaves
1 teaspoon whole fennel seeds
Kosher salt and freshly ground black pepper
1⁄3 cup good olive oil
1 lemon, halved and sliced 1⁄4 inch thick (see note)
1 yellow onion, halved and sliced 1⁄4 inch thick
2 large garlic cloves, thinly sliced
1 (4-pound) chicken, backbone removed and butterflied
1⁄2 cup dry white wine
Juice of 1 lemon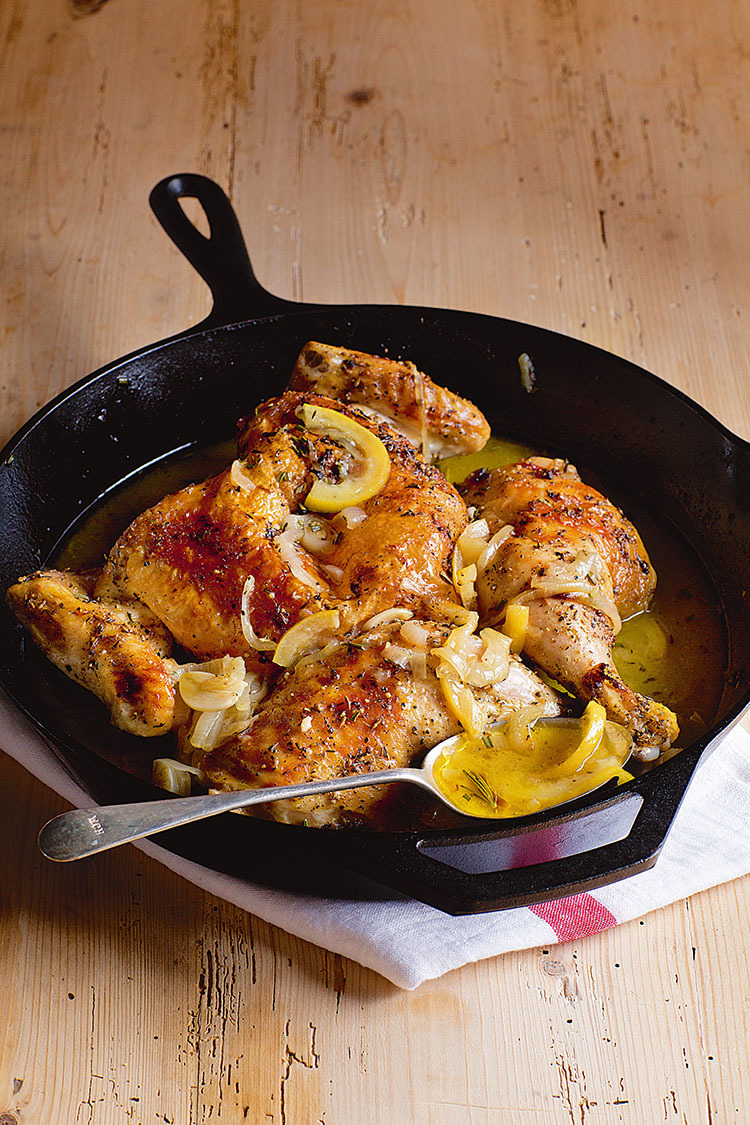 Preheat the oven to 450 degrees. Place the thyme, fennel seeds, 1 tablespoon salt, and 1 teaspoon pepper in a mini food processor and process until ground. Pour the olive oil into a small glass measuring cup, stir in the herb mixture, and set aside. Distribute the lemon slices in a 12-inch cast-iron skillet and distribute the onion and garlic on top. Place the chicken, skin side down, on top of the onion and brush with about half the oil and herb mixture. Turn the chicken skin side up, pat it dry with paper towels (very important!), and brush it all over with the rest of the oil and herb mixture. Roast the chicken for 30 minutes.
Pour the wine into the pan (not on the chicken!) and roast for another 10 to 15 minutes, until a meat thermometer inserted into the thickest part of the breast registers 155 to 160 degrees. Remove the chicken from the oven, sprinkle it with the lemon juice, cover the skillet tightly with aluminum foil, and allow to rest for 10 to 15 minutes. Cut the chicken into quarters or eighths, sprinkle with salt, and serve hot with the pan juices, cooked lemon, and onion. Notes: Remove the ends of the lemon, cut in half through the stem ends, and slice thinly crosswise. Sometimes I sprinkle the chicken with minced fresh rosemary before allowing it to rest.
Make Ahead: Assemble the chicken in the pan and refrigerate for a few hours before roasting.
Reprinted from Cooking for Jeffrey. Copyright © 2016 by Ina Garten. Photographs copyright © 2016 by Quentin Bacon. Published by Clarkson Potter/Publishers, an imprint of Penguin Random House, LLC.
---
---