With more than 25 years of experience, Michael Reilly has earned the title of puppet master on the set of of the hit broadway show and Disney classic, The Lion King. Hailing from Toronto, Reilly has been in the theater scene since the age of 16 when he was on the wardrobe team for Cats. Since then, Reilly has worked on award-winning shows like Phantom of the Opera, Les Misérables, Miss Saigon, and The Who's Tommy, before settling into an 18-year long position with The Lion King, which opens at The Hippodrome on November 16. 
How did you get into puppetry?
Well, my family has been in theater industry for at least 100 years. And growing up I went to a technical school, where I learned how to paint, fix cars, do electrical work, and a lot of other weird skills that I never thought I would use. When I was 16 years old, I got a call from somebody saying they needed help with wardrobe in a theater in Toronto to work the show Cats and I was like, "Okay, I guess I'll do that."
Over the years, puppetry became more and more of a thing in theater and, since I had a technical background, it was really easy for me to do that side of things—so it was just serendipity really. Then The Lion King came along to Toronto in 1999 and they needed somebody in puppets. It was just an easy fit. It worked with my skills and I've never looked back. 
What is a day in the life like for you while on tour?
The morning of a show we come in early and basically do a once-over of all the principle puppets. We make sure there is no damage and we clean them. Usually there is always something that happened in the show the night before so we go over our notes and do any repairs. From there we go onto what we call our "weeklies." Because we have 230 puppets in the show, we can't do basic maintenance on them all in one day so we have a weekly checklist where we go through 30 or 40 puppets every single day and check them for damage and cosmetic repairs. 
By that time, it is usually later in the afternoon and time to start setting up for the show that night. I have two assistants on my team, so there is just the three of us for the 230 puppets. It's a lot of work, and a lot of things to look after starting with puppets that are as small as a mouse or as big as an elephant. During the show, we are all connected via radio in case anything were to happen to a puppet during showtime. We are there with zip ties, tapes, paints, or whatever it takes to get that puppet back onto the stage.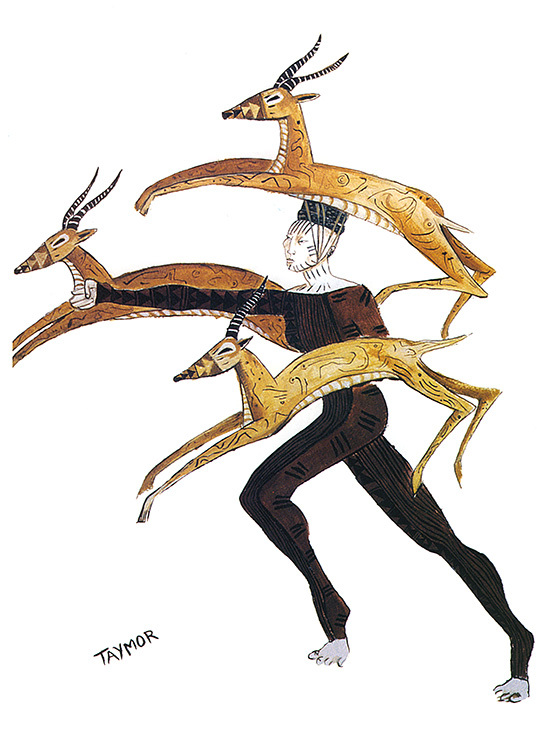 Sketches of Simba, left, and a gazelle.—Julie Taymor
What kinds of puppets are used in this show?
When you think of puppets, you typically think of hand puppets or marionettes, but we use a wide variety of styles. We have shadow puppets, body puppets, masks, and, of course, hand puppets. There are a lot of different aspects to puppetry and with a variety comes a lot of different things to teach. We don't hire puppeteers. We hire actors, performers, and dancers that we teach to be puppeteers. So that means teaching them how to operate the puppets. 
For example, the elephant takes four different people to operate, so having them work together successfully or how to walk on stilts when teaching someone to be a giraffe. We have a whole team that is very involved in the training early on and then, once we feel that they have a handle on it, we hand them over to dance or direction and they continue the training while learning the choreography and the blocking. 
There is a lot of movement with the puppets throughout the show, are there some that are more prone to damage?
The body puppets are probably some of the most prone to damage because of the constant movement and the size, so we have to look after them very carefully. Also, just in terms of ergonomics and the physicalness of working, say, a cheetah, we have to be aware of how that is effecting the puppeteer as well. We have a PT person on staff who helps us look after the performer to make sure she isn't doing something that will hurt or damage her while operating the puppet.
What happens if something goes wrong with a puppet during the show?
If something unusual happens, we get a call from a stage manager and we will rush to see what happened. We're not stopping the show, so we are doing everything we can to make sure that puppet gets back out on stage as quickly as possible. That could mean 30 seconds of triage and fixing the problem with three people breathing down your neck asking you how long in case we need to vamp on stage for a bit. It can be pretty tense, but we just get it back on stage and the show goes on.
So you are saying there are no puppet body doubles? 
There are very, very little. We do have a spare Zazu, so if Zazu were to break very badly we would throw in the other puppet, but all of these puppets are very specific to their actor so if we had to throw in the other Zazu, things would not be set up correctly for the actor and it would be a pretty extreme situation.
What should people be excited to see in this show?
The puppetry in The Lion King is very special, especially because we came from an animated film and we had to adapt it to the stage. I think what Julie Taymor did is use what is best about theater to her advantage. She used real live actors and something she calls the "duel event," which is essentially having the human and the animal together as one, but also being able to isolate one or the other depending on the scene. So, if you are an audience member, you should be aware of that and try to see where the human and the animal are the same and when they isolate one over the other.
At what point in the show is there the most amount of puppets on the stage? 
In "Circle of Life," there are approximately 50 puppets on stage at one time. It's probably the most tense time for us because there are 50 potential things that could go wrong, but it's also probably the best number in the show.
---
---