As in life, Jamie Campbell and Drury Bynum are completely complementary in the kitchen. He's the residential bartender; she handles the cooking. ("I always say that we have a food and beverage program here," laughs Bynum.) She bought him a Breville espresso machine for his birthday; he purchased a set of Global knives for hers. And each appreciates the other's talents. "Jamie can turn a sandwich into a banquet," he adds. Says Campbell, "When I met him, I was at a party at his house and he'd made lasagna. I was like, 'He's hunky, and he's artsy, and he made this big thing of lasagna'—he lit up the room." 
In their professional lives, the duo—who founded Shine Creative, a video-production company specializing in documentary-style storytelling for food, beverage, and travel brands—are equally simpatico. Campbell is Shine's executive producer, while Bynum is the director. (They've even used their kitchen for shoots, including a Jack Daniel's video series aimed at encouraging women to drink whiskey.)
---
⇓ Article continues below ⇓
---
In their downtime, the couple's favorite pastime is entertaining friends and family in their art-filled 1936 Guilford home—"a hodgepodge of our past and present," says Campbell. "We used to get grumpy about dirty dishes," she says. "Now, I just feel grateful for them—dirty dishes mean we've had friends over. We love sitting around listening to music and eating and drinking in our yard." Cracks Bynum: "When people come here, we try to get them drunk, then make them sleep over. It's just fun having a full house."

"I always say that we have a food and beverage program here," laughs Bynum.
Bynum's Winter in Tulum cocktail was inspired by a trip to the celebrated sea-to-table spot Hartwood in Tulum, Mexico. "We had the most amazing spicy margarita there, and we were like, 'We're going to figure out how to make this,'" he says. "I love smoky. I love spicy. I love mezcal. I've tried to make up drinks before and it's really hard, but this one just kind of fell together." 
For her part, Campbell was exposed to a wide range of cuisines in her parents' Annandale, Virginia, kitchen. "My dad was all about the pantry raid," she explains, "so I learned to work with what's on hand. My mom made a lot of Korean food and always had a rice cooker going. She'd be cutting squid in the sink, which made me not afraid of touching food."
And that includes these recipes for salad and roasted chicken. "The salad is pretty free-form," says Campbell, "but I combine handfuls of chopped, mixed greens." 
The chicken, adapted from Gwyneth Paltrow's It's All Good cookbook, has more of a science to it. "I found a recipe that demystified and simplified the dish," says Campbell. "The key is high heat and triple basting. Some people find cooking a whole bird intimidating. This chicken takes like an hour-and-a-half to cook, and it's perfect every single time." 
---
At-Home Recipes
Entertaining at home is a favorite pastime for Jamie Campbell and Drury Bynum. "This is a great last-minute meal you can throw together if company is coming over," says Campbell. Get the party started with the recipes below.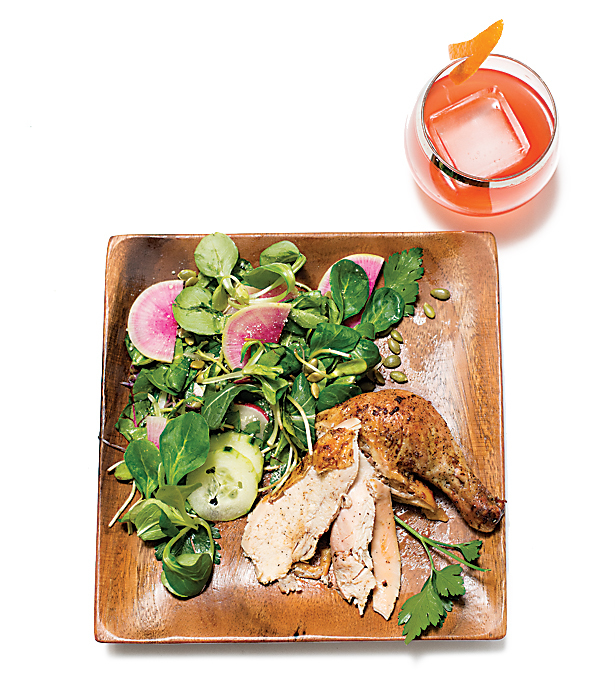 Super Crispy Roasted Chicken
Ingredients
1 4-pound chicken, 
washed and driedcoarse sea saltfreshly ground 
black pepper2 tablespoons 
extra-virgin olive oil½ small yellow 
onion, peeled½ lemonpaprika (optional)
Directions
Preheat oven to 425º F. Sprinkle a generous amount of salt and pepper inside the cavity then rub entire bird with olive oil. Sprinkle salt and pepper on the underside of the chicken and place, breast-side up, in a roasting dish.  Stuff cavity with onion and lemon and sprinkle top with salt, pepper, and paprika. Roast for 1½ hours, basting every half hour with juices that accumulate in the pan. (Do not baste prior to taking out of oven—you want skin to stay crispy.) The chicken thigh should register 165 Fahrenheit on a digital thermometer, at the very least.  Let chicken rest for at least 10 minutes before carving. 
Mixed Greens with Anchovy-Dijon Vinaigrette
Ingredients (Greens)

chopped mixed greens
chopped radicchio or red cabbage
watermelon radish
microgreens
Ingredients (Vinaigrette)
8 anchovies, roughly chopped
juice of one lemon
1 garlic bulb, minced
1 tablespoon Dijon mustard
1 tablespoon white wine vinegar
¾ cup olive oil
salt and pepper to taste 
Directions
Combine all ingredients except olive oil and salt and pepper in a blender or food processor. Blend until smooth.  Slowly drizzle olive oil while still blending to emulsify. Once combined, add salt and pepper to taste.   Store vinaigrette in refrigerator for up to five days. Toss with mixed greens, grated Parmesan, sea salt, and roasted pepitas. 
Winter in Tulum Cocktail
Ingredients
2 ounces Espolon Reposado tequila
¼ mezcal
¾ ounce campari
¾ ounce sweet vermouth
½ ounce Shrub & Co. Grapefruit Shrub
2 dashes Bittermens Hellfire Habañero Shrub
1 dash Bittermens Hopped Grapefruit Bitters
Directions
Stir with ice. Strain and serve over ice with orange peel garnish. 
---
---