This time of year, when the sun brushes the horizon by late afternoon and the mercury stagnates in the single digits, it's only natural to yearn for palm trees, gently lapping azure seas, and soft, sandy beaches. Luckily for us, several such destinations are easily accessible from area airports. We picked six of our favorites (most with nonstop flights), ranging from quaint Caribbean islands to a sophisticated South American capital, and offer tips for what to see, eat, drink, and do in each. So, pack your passport, bathing suit, snorkel gear, and sunglasses, and say hasta la vista to climatic dreariness.
ARUBA
Located outside the hurricane belt—and thus blessedly unscathed by the vicious storms of 2017—this wee Dutch island is replete with white sand beaches and adventure activities galore.
Flights: Nonstop from BWI via Southwest.
Stay: Located on a lovely stretch of the world-renowned Eagle Beach, Manchebo Beach Resort & Spa (J.E. Irausquin Blvd. #55, 888-673-8036, manchebo.com) is an upscale paradise with luxury amenities (full-service spa, anyone?). With just 14 cottages dotting tropical gardens, the colorful Boardwalk Small Hotel Aruba (Bakval 20 North, 866-976-5948, boardwalkaruba.com) is a magnet for those who covet privacy and intimacy. Try the Romance Package, which includes a champagne breakfast in bed for two.
Eat/Drink: You'll have nothing but ocean views at The West Deck (L.G. Smith Blvd at Governor's Bay, 297-587-2667, thewestdeck.com), which serves creative tapas-size Caribbean dishes, such as West Indian samosas with yogurt-honey sauce. Oenophiles must stop at the Screaming Eagle Restaurant and Lounge (J.E. Irausquin Blvd. 228, 917-725-4242, screaming-eagle.net) to sample a vintage from its impressive wine cellar, as well as its French fusion cuisine.
Do: Visit the factory and museum at Aruba Aloe (Pitastraat 115, 800-952-7822, arubaaloe.com), which has been growing and producing aloe products since the late 19th century and is open for tours. Before you leave, purchase a product to protect your sun-kissed skin. For dramatic landscapes, walk cacti-lined paths that wind past bizarrely beautiful divi-divi trees at Arikok National Park (San Fuego 70, 297-585-1234, arubanationalpark.org). Then check out the park's Natural Pool ("conchi"), which is surrounded by lava rocks that protect you from the crashing waves.
---
CANCÚN, MEXICO
The plentiful sunshine of the Yucatán peninsula attracts undergrads gone wild, but Cancún is more than just a spring-break sanctuary. The resort town also offers shopping and culinary options for those whose keg stand days are firmly behind them.
Flights: Nonstop from BWI via Southwest, Spirit.
Stay: Book a room at the chic Live Aqua Beach Resort (Blvd. Kukulcan Km 12.5, 877-927-7666, liveaqua.com) where you can soak in variant-temperature infinity pools, play beach soccer, or sign up for tai chi or yoga. Another option is the minimalist Le Blanc Spa Resort (Blvd. Kukulcan Km 10, 888-702-0913, leblancsparesort.com), a couple's retreat that's chock-full of pampering: Ask the butler to prepare a cucumber bath.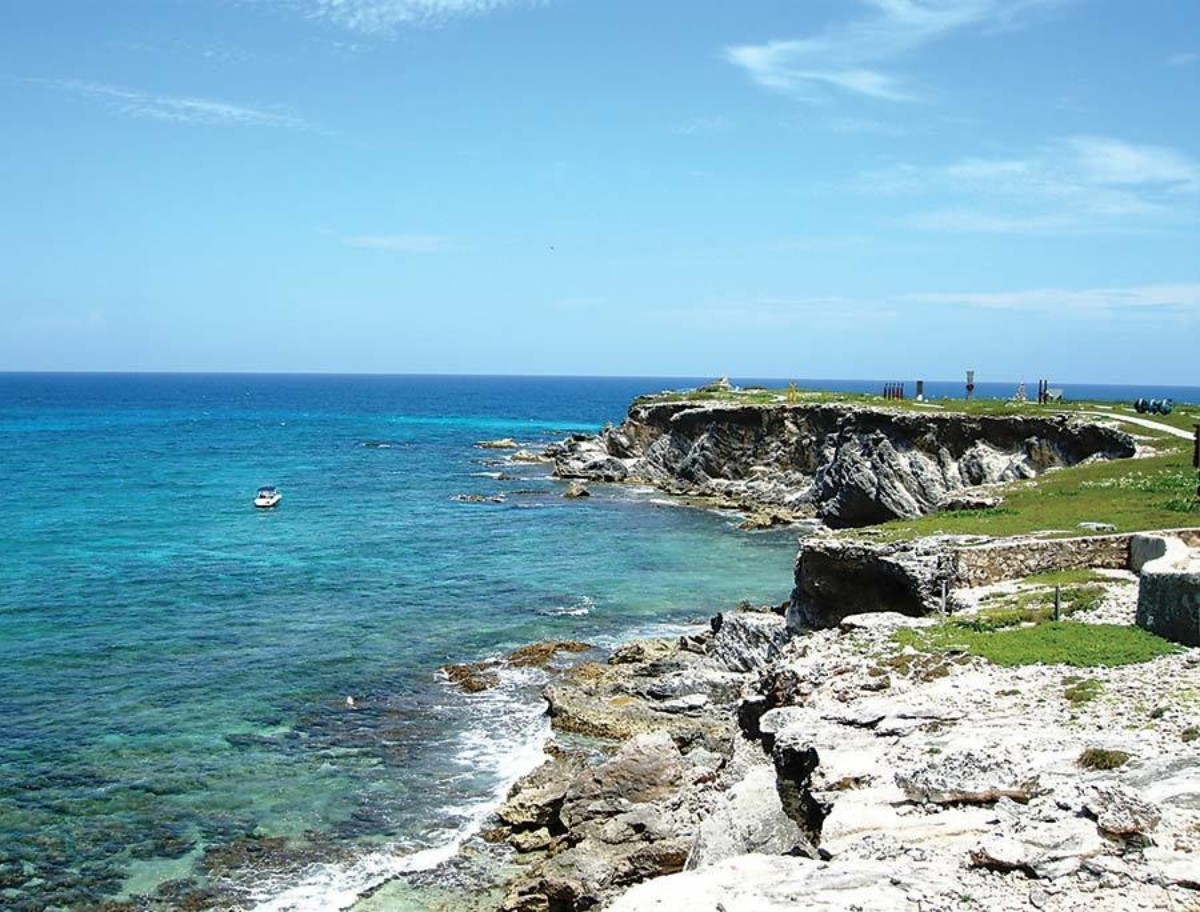 Punta Sur Sculpture Garden on Isla Mujeres, off the coast of Cancun.
Eat/Drink: Gourmands should make a reservation at Le Chique (Carretera Cancun-Puerto Morelos Km 27.5, 998-872-8450, lechiquerestaurant.com) where the 14-course, molecular gastronomy menu was created by chef Jonatán Gómez Luna, who trained at renowned El Bulli in Spain. The innovative menu at Ramona Restaurant (Blvd. Kukulcan Km 21, 855-696-4982, nizuc.com/cuisine/ramona) updates traditional Mexican dishes. Try the chargrilled sardines cooked with plantain leaves. Chocoholics should stop at Ah Cacao Chocolate Cafe (La Isla Shopping Village, H-4, Km 12.5 Zona Hotelera, 998-883-1927, ahcacao.com) where they can sip cocoa in the outdoor cafe before snagging some chocolate-covered coffee beans for later.
Do: Explore the modern Alberto Garcia Lascurián-designed Museo Maya de Cancún (Blvd. Kukulcan Km 16.5, 998-885-3842, inah.gob.mx/es/red-de-museos/313-museo-maya-de-cancun) to see jewelry and statuary from numerous nearby Mayan sites. As a retreat from raucous Cancún, take a ferry to serene Isla Mujeres where, at the southern tip of the island, you'll find the bucolic Punta Sur Sculpture Garden in picturesque Garrafón Reef Park (Carretera Garrafón Lote 9 Km 6, garrafon.com/park). Among the island's numerous beaches is Playa Norte, which boasts a strip of white sand and shallow waters.

GRAND CAYMAN, CAYMAN ISLANDS
The largest of the three Cayman Islands, Grand Cayman is renowned for its world-class diving and iconic crescent-shaped Seven Mile Beach.
Flights: Nonstop from Dulles via United.
Stay: Set along Seven Mile Beach, the luxe Caribbean Club (871 West Bay Rd., 345-623-4500, caribclub.com) offers beachfront villas that provide guests with plenty of privacy and stellar views from expansive balconies. If you prefer to spend your time diving or snorkeling, the Sunset House (390 South Church St., 800-854-4767, sunsethouse.com) has an even more placid location along a rocky coast with less of the island's usual cruise-ship traffic.
Eat/Drink: Agua Restaurant and Lounge (Galleria Plaza, West Bay Rd., 345-949-2482, agua.ky) is noted for its ceviche and Peruvian tiradito (thinly sliced, sashimi-like fish) prepared with international flavors. Set across from the harbor in the island's capital, George Town, Guy Harvey's Island Grill (55 South Church St., 345-946-9000, guyharveysgrill.com) is a favorite among visitors and locals alike; even the fishermen clamor for the restaurant's signature smoked wahoo pate.
Do: For insights into the myriad plants and animals on the island, sign up with the National Trust for a two-plus-mile hike along the Mastic Trail (nationaltrust.org.ky/mastic-trail-tour), which threads through a largely untouched, hard-to-access forest. The National Gallery of the Cayman Islands (Esterly Tibbetts Hwy., 345-945-8111, nationalgallery.org.ky) shows off a wide range of contemporary art with rotating exhibitions and a permanent collection that preserves the island's visual and fine arts.