---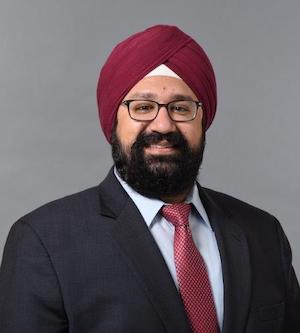 Dr. Gurtej Singh is board certified in physical medicine and rehabilitation as well as pain management. He specializes in:
Spine and Joint Pain
Interventional Pain Management
Cancer Pain Management
Spinal Fractures and Low Back Health
Neurostimulation for Nerve Pain and Regenerative Therapies
Stem Cell Medicine
Dr. Singh was born and raised in Philadelphia, PA. He received his medical degree at Penn State University College of Medicine. He was Chief Fellow in the Department of Pain Medicine and Palliative Care at Beth Israel Medical Center in New York City. Most recently Dr. Singh developed the physical medicine and rehabilitation pain program at Greater Baltimore Medical Center (GBMC) before joining Orthopaedic Associates of Central Maryland (OACM) a Division of the Centers for Advanced Orthopaedics.
Over the past six years, he has been part of two different boards – one serving philanthropic initiatives for the Towson community and the other, the Board of Trustees for his undergraduate school. Dr. Singh has also lectured on multiple occasions to residents in the Department of Neurosurgery at the University of Maryland Medical Center.
Dr. Singh is a fellow of the American Board of Physical Medicine and Rehabilitation and a member of the American Society of Interventional Pain Physicians, North American Neuromodulation Society, North American Spine Society, and American Academy of Anti-Aging Medicine. He is a speaker and instructor for Medtronic where he teaches physicians how to perform spinal cord stimulation, utilize intrathecal pumps, and treat spinal fractures with kyphoplasty.
Catonsville: 910 Frederick Road, Catonsville MD 21228 | 410.644.1880
Columbia: 10170 Charter Drive, Suite 300, Columbia MD 21044 | 410.644.1880
Eldersburg: 5961 Exchange Drive, Eldersburg MD 21784 | 410.644.1800
Visit Website