---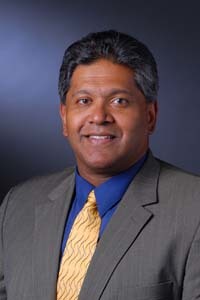 Sam Sydney, MD is a board-certified, fellowship-trained orthopedic surgeon with more than 33 years of experience. His areas of specialty include:
Minimally invasive surgery – hips, knees, shoulders
Arthroscopic surgery
Total joint replacement and joint reconstruction
Design and development of total joint implants
General orthopedics – hips, knees, shoulders
Dr. Sydney earned his MBBS at the University of Ibadan College of Medicine in Nigeria. He completed his general surgery internship at Sinai Hospital in Baltimore, Maryland and a rotating internship at Baptist Medical Center in Ogbomosho, Nigeria. He performed orthopedic residencies at the University of Maryland Hospital in Baltimore and Sinai Hospital, Johns Hopkins University, also in Baltimore.
Dr. Sydney completed two fellowships: one in orthopedic surgery at the University of Maryland Hospital, University of Maryland Shock Trauma, in Baltimore; the other in total joint replacement at Joint Implant Surgeons, Inc. with Thomas H. Mallory, MD in Columbus, Ohio.
In addition to practicing orthopedics, Dr. Sydney serves several roles at St. Agnes Hospital in Baltimore:
Medical Director for Orthopedic Services
Medical Director for the Total Joint Program
Medical Executive Committee Member
Finance/Planning Committee Member
Dr. Sydney is also a clinical instructor in the Department of Orthopedic Surgery at the University of Maryland.
Dr. Sydney is distinguished as a fellow of the American College of Surgeons. He is a member of the Medical and Chiurgical Society of the state of Maryland, Baltimore City Medical Society, American Medical Society, Maryland Orthopedic Society, American Academy of Orthopedic Surgeons, and Arthroscopy Association of North America. Dr. Sydney is a national presenter and his research is published in peer-reviewed medical journals.
Now, Orthopaedic Associates of Central Maryland is part of The Centers for Advanced Orthopaedics – the largest integrated group of orthopaedic surgeons in the region – provides our patients with the highest standard in healthcare. Visit www.cfaortho.com for more information.
Catonsville: 910 Frederick Road, Catonsville MD 21228 | 410.644.1880
Columbia: 10170 Charter Drive, Suite 300, Columbia MD 21044 | 410.644.1880
Visit Website