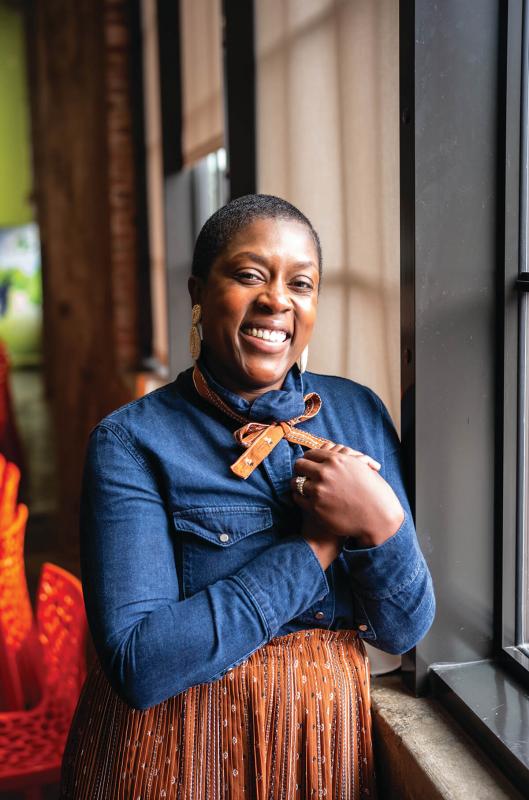 Baltimore Design School
Zaharah Valentine
Even with a name like Principal Valentine, it's stunning to see how often the word "love" is used in her nominations (with a few equally adoring "luv" variations). Winning the hearts of sixth to 12th graders is no small feat, but it's one that the leader of Baltimore Design School has earned by treating her students as valued equals. Within the past five years, she's made BDS a school that's seen a lot of firsts—such as being the first high school in the nation to become a Verizon model, an investment that paid off mightily when COVID-19 hit and students were already equipped with devices. Valentine shows a constant drive to bring in partnerships aligned with BDS's goals, from digital literacy to college readiness.  As a result, Valentine has accomplished something most have not, a 98 percent graduation rate while serving a historically underinvested-in population of students.
Work-life balance is an integral aspect of Valentine's leadership philosophy: Pre-pandemic, wellness breaks and a yoga room were the status quo, and a free daycare for kids of staff was in the works. The building opens at 7:30 a.m. and closes at 4:30 p.m., all at her insistence that teachers find their identity and humanity outside of work—in order to fully show up for their students. Her goal is to pour just as much into her staff and their families as she does her students. "I'm always trying to think of creative ways to make our staff feel valued and loved, and that's then reciprocated to kids in the classroom," she says.
Today, Valentine is most proud of the fact that BDS is a place where everyone can feel safe being their authentic selves, herself included.
"This is the first place in my adult life I've been able to be a black woman with natural hair who gives out hugs and high-fives, and it's such an immensely beautiful place to work and serve," she says. "With all the changes this year, we continue to believe in magic, innovation, creativity, and one another. Every kid deserves an aligned curriculum and someone in their corner who won't give up." It's a belief that's clearly felt by the entire community. As one admiring student said, "My principal makes me feel like I belong, like I'm safe and loved at school."
Meet the other winners here.