Baltimore Honky Tonk Dance Parties Are a Source of Down-Home Joy
Once a month, Hampden's Waverly Brewing Company transforms into an accessible country-western bash headlined by regional favorites.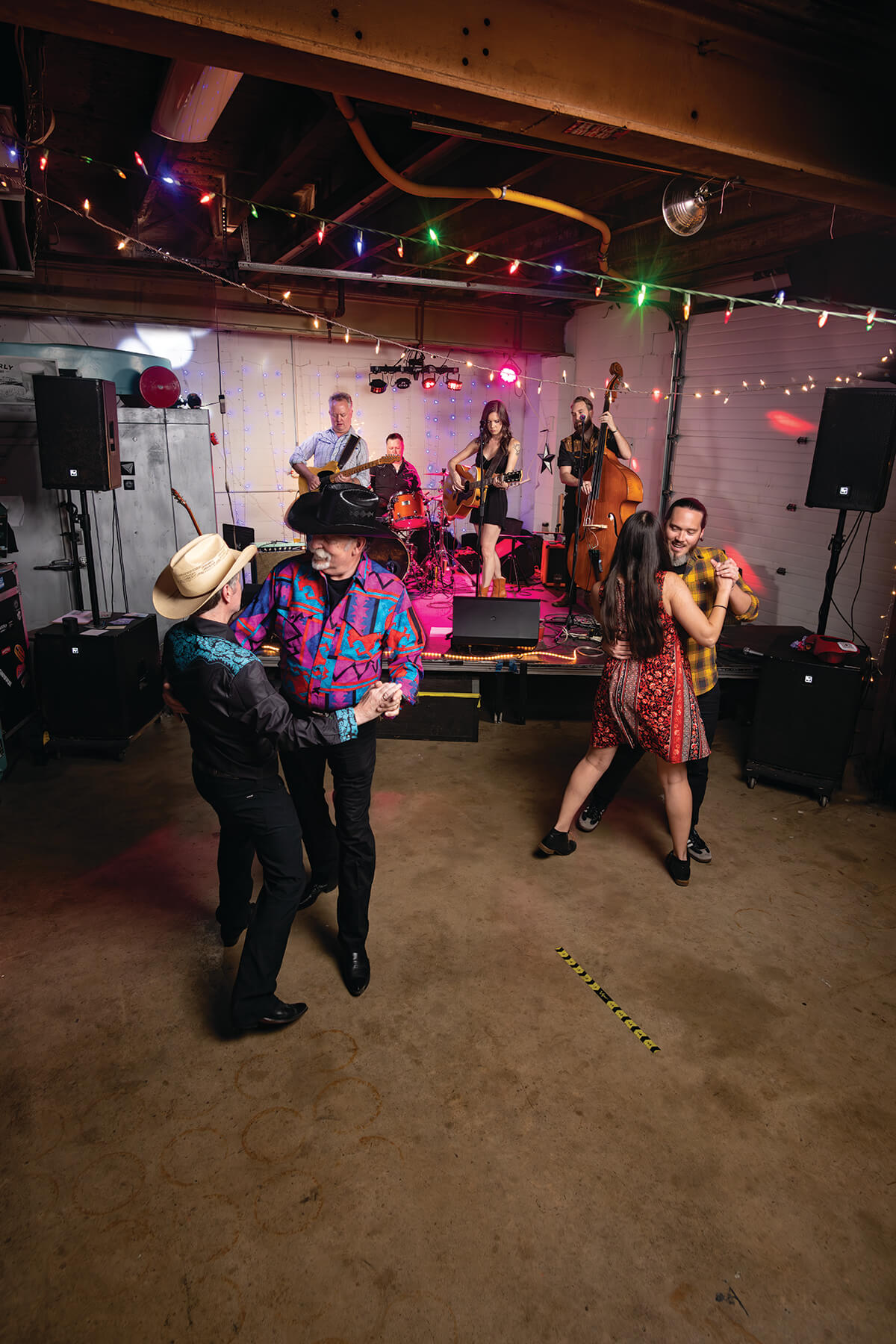 William Chickering might as well be in Texas on this Thursday evening at the end of April—his pink patterned button-up tucked into black jeans over snakeskin boots, his thick white mustache twirled perfectly beneath a crisp cream ten-gallon hat.
Instead, he's at the Waverly Brewing Company, beneath the hum of I-83 in Hampden, where once a month, the beer-packing room transforms into a country-western dance party, known as the Baltimore Honky Tonk. On this night, the four-piece Karen Jonas Band twangs out a cover of the classic 1972 "Ballad of Spider John" by Willis Alan Ramsey as dozens of dancers partner up and move in time with its lilting melody across the ad-hoc dance floor, the smell of brewer's yeast wafting through the air.
"I've been two-stepping for over 25 years," says Chickering, pictured second from left, above, the 70-year-old board president of The Peale Museum and a regular Honky Tonk patron with his partner, Mike. "I started with two left feet—and some patient friends."
Before long, the event's host, Alex Lacquement, appears and then the duo is off, hand in hand, heels and toes synchronized in a precise tandem—four steps in the same direction, four in the other, repeat.
"I was tired of having to travel around the country to dance," says Lacquement, a 36-year-old musician and elementary school music teacher, who years earlier had become enamored by this simple partnered dance style, often paired with classic country music. "I'd been two-stepping in Nashville and in Austin, attending festivals in West Virginia or Louisiana, and I just wanted to have a place where people could get together and dance to live music right here in Baltimore."
As a member of the local Americana music scene, Lacquement was hip to other dance styles already underway across the city, like the upbeat swing and peppy square dances at Mobtown Ballroom. But from his days performing with the alt-folk Bumper Jacksons and bluegrass-inspired Charm City Junction, he found himself increasingly drawn to that old lonesome country sound. With friends Letitia Van Sant and Luke Chohany, he started a new band named Rusty Sal in 2016 to play exactly that, and the following year, launched the first dance night that would eventually become the Baltimore Honky Tonk—first at 1919, then at the Ottobar, before winding up at Waverly.
"There's just something about this music that feels good to move your body to, and it's so easy to grasp from the start," says Lacquement, who mans everything from promotional marketing to sound engineering for this grassroots event, with the help of dedicated volunteers. "I always tell people, if you can move your feet back and forth, and if you're having fun, you're dancing."
There's a degree of vulnerability to dancing in public, so each Honky Tonk begins with a lesson. It's explained that any participant is able to lead or follow, and the importance of respecting personal boundaries is emphasized, as two-stepping can be both romantic and platonic. To enhance accessibility, Lacquement offers sliding-scale admission, from $10 to $20, which allows him to pay his bands a fair wage.
Headlining acts are often regional favorites like Caleb Stine and Arty Hill, and on June 22, Oregon's critically acclaimed Caleb Klauder and Reeb Willms will likely draw a packed house.
"It's a big love fest, isn't it?" says Melissa Yukna, co-owner of Waverly, popping in to observe the scene as the band fires up "Can't Let Go" by Lucinda Williams.
By 9 p.m., the room is nearly full, with novice and veteran participants, ranging in age from twentysomethings to retirees, with a diversity of genders and ethnicities. They try out moves, switch partners, and pop into the taproom as songs lilt between serenades and barn burners. Some show up in pearl-snap shirts and belt buckles. Others wear saddle shoes or sneakers.
"It's grown into a beautiful thing," says Lacquement. "My dream is to get it to a place where people start to associate Baltimore with country music, and country dancing…and it makes them want to come here, too."