Health & Wellness
Shock Value
Electroconvulsive therapy, one of psychiatry's oldest—and most powerful—treatment tools to combat severe mental illness, is feared, revered, and still used at area hospitals.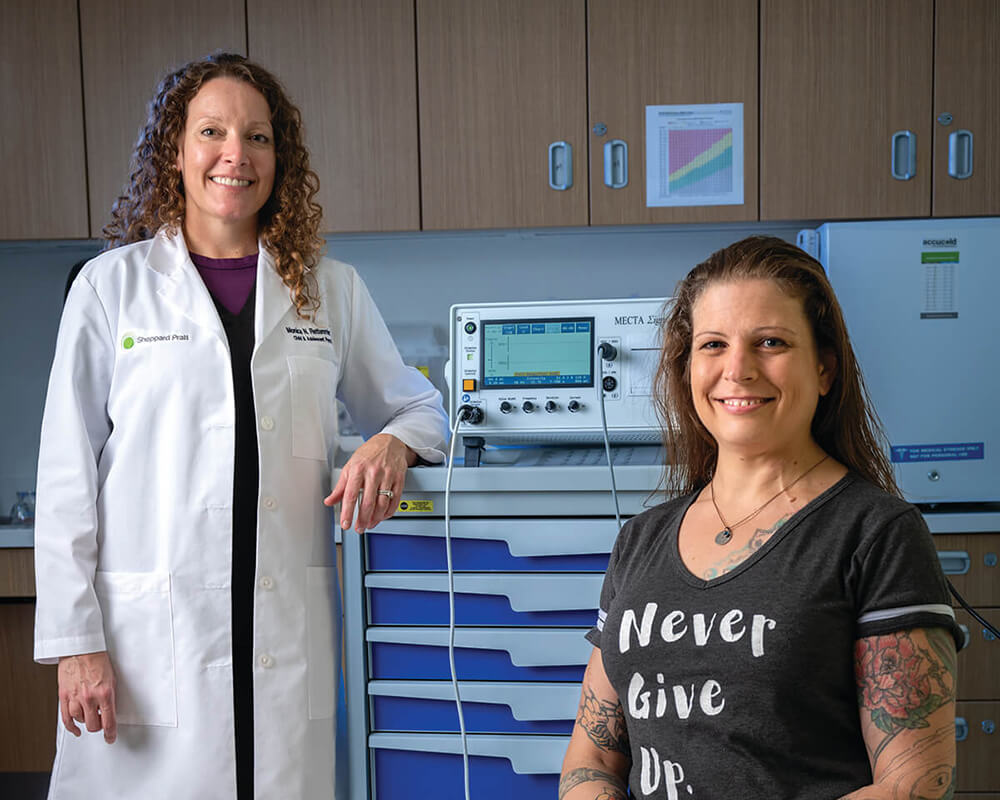 [Editor's Note: *Some of the names in this story have been changed to protect the privacy of the subjects. If you or someone you know are in need of mental health resources, please call or text 988.]
W hen Bethany Gresser was 9 years old, she would sit on the top bunk of her childhood room hitting herself in the shin with a hammer. "I'd let it swing and hit, swing and hit, swing and hit...," she says. "The pain blocked something from my head that needed to go away, although I didn't understand what it was."
While Gresser's memory can be faulty at times, the image of hitting herself with the hammer remains intact. Like it was yesterday, she also remembers the constant bullying she endured in her primary school years. To cope, by middle school she turned to recreational drugs and continued self-harm—snapping herself with rubber bands and eventually cutting. "I smoked a lot of weed—and that got me through," she says. "Even high, I still got straight As in all gifted and talented classes. My dream was to become a software technology developer for spacecraft technology."
In her teenage years, Gresser was diagnosed with bipolar illness and borderline personality disorder. In 2004, after a failed suicide attempt in which she checked into a hotel room and swallowed a bottle and a half of Tylenol, she was taken to The Johns Hopkins Hospital, where doctors eventually recommended electroconvulsive therapy (ECT). The procedure, done under general anesthesia, passes a calculated and controlled electric current through the brain to trigger a brief seizure. When successful, that seizure acts as a temporary reset to the brain's chemistry.
When the doctors suggested ECT, she was nonplussed. "I was like, 'I've been to doctors for 10 years, and no one can figure out what to do with me. I'm a complete failure at every drug, every therapy, every suicide attempt, I don't care what you do to me,'" she recounts. She began getting the procedure at the Towson campus of Sheppard Pratt. "I was hoping it would kill me or put me in a catatonic state so I wouldn't have to exist anymore. And then," she says, just as she was giving up, "it helped."
Shy as a child, Gresser, 40, now lives her life out loud. In fact, you could say Gresser's autobiography is writ large on her body, from her gray "Never Give Up" T-shirt to various tattoos—a tiger, a Japanese lantern—that mask cutting scars that run across her arms and legs.
"One of my biggest missions is to decrease stigma around mental illness," she says.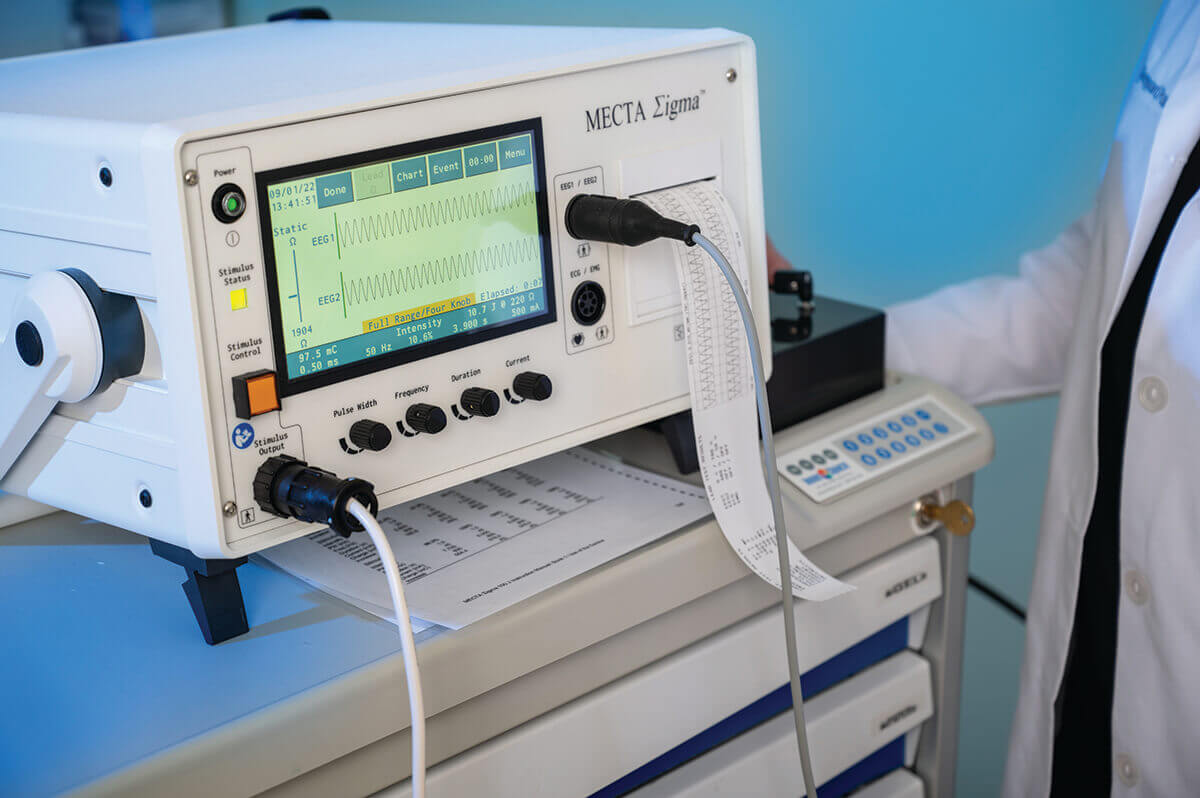 E CT, colloquially known as "electroshock therapy," or "shock therapy," is highly effective for certain types of mental illnesses, including severe depression, bipolar illness, certain schizophrenic syndromes, and severe autism when self-injurious behaviors are present.
Modern day ECT is nothing like the nightmarish procedure of the past, when the therapy could be violent and painful, with high doses of electricity leading to major memory loss.
In the United States, ECT is administered to an estimated 100,000 people a year at leading academic medical centers and some community hospitals. New patients receiving care in the hospital typically stay for a month or so for the standard six-to-12 course of ECT treatments. (In an acute course, treatments are done two to three times a week. After that, it is usually administered on an outpatient basis.) Despite its widespread use, and effectiveness at reducing symptoms for many patients, the most commonly heard refrain, says Irving Reti, director of the Brain Stimulation program at The Johns Hopkins Hospital and a professor of psychiatry and behavioral sciences is, "'You still do that?'"
"It is a highly effective treatment and an extremely safe treatment," says Reti, who cites an 80-to-85-percent positive response rate. "I really like this job," he says, "because I can tell patients, 'We have something that is very, very likely to help you.' And I don't think that in any other part of psychiatry, you can say that with as much confidence."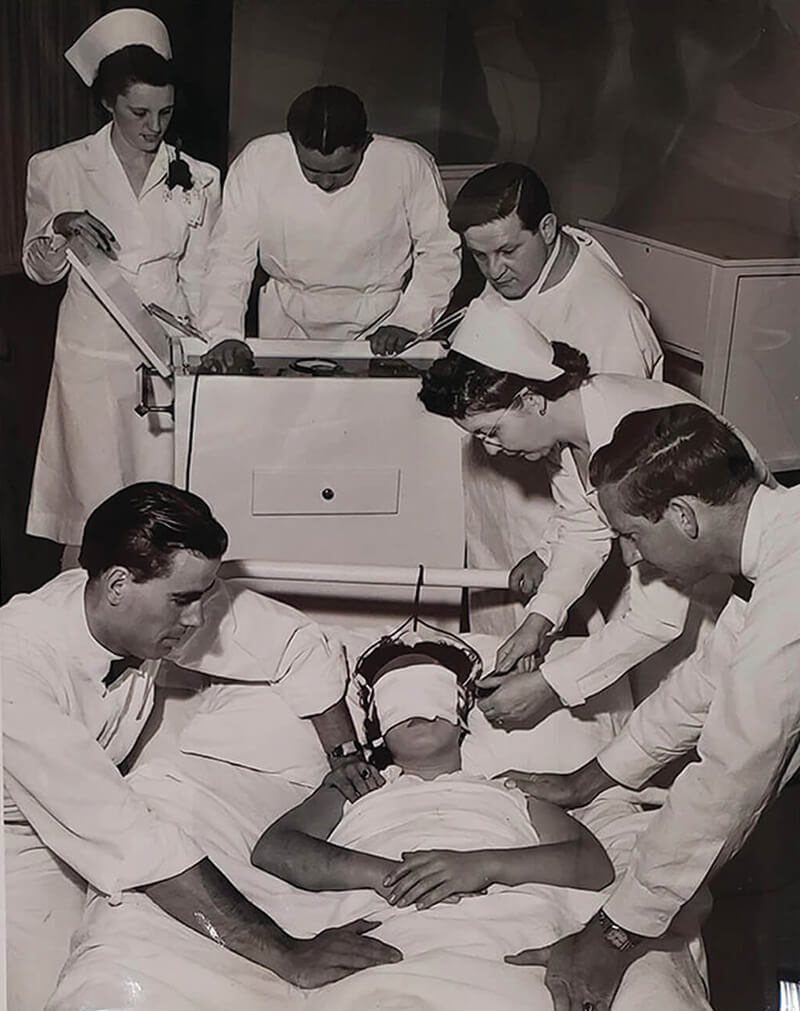 A patient receives ECT in 1942.

—Courtesy of the Library of Congress
ECT is most often used for depression that doesn't respond to medication. In the U.S. alone, an estimated 21 million adults have suffered at least one major depressive episode, according to the National Institute of Mental Health. Suicide remains a leading cause of death, with 45,979 deaths in 2020 amid 1.2 million adult suicide attempts in that same year, according to the Centers for Disease Control and Prevention.
"Depression is estimated to become the number-one cause of disability in the country," says Steven Crawford, assistant chief of psychiatry at University of Maryland St. Joseph Medical Center in Towson, one of the only community hospitals in the state to perform ECT. "There have been a lot of advances in medication and treatment, but we still struggle with a significant percentage of the population." While about two-thirds of people on medication for depression respond to that treatment, says Crawford, "that leaves a third of patients with major depression with significant symptoms and disability."
Karen Swartz, director of clinical and educational programs at The Johns Hopkins Mood Disorders Center, explains that ECT can allow medications to work more effectively. "I've seen many patients where the depression was so severe the medication could not get them well," says Swartz. "They were too far down in the pit. But once they were better, the medications could sustain the improvement from ECT—there's no doubt that ECT is our most powerful treatment against depression; however, the side effects make it a challenging treatment."
The most serious side effect, and the one that is most concerning to patients, is memory loss, though doctors say that it is usually temporary, depending on the length of the treatment and whether the patient has had unilateral ECT (where electrodes are placed on the vertex—top—of the head and typically on the right side) or bilateral ECT (temple to temple). Unilateral is often used first to minimize memory loss.
Though in some states, including Texas and Colorado, ECT has been banned for use on those under 16, Crawford says that "ECT is safe in adolescence, it's safe in older adults, it's safe in pregnancy."
That said, "It is not for everyone," says Monica Rettenmier, service chief of ECT for Sheppard Pratt, which oversees the ECT departments at the Towson and Baltimore-Washington campuses. She explains that each patient is thoroughly evaluated to see what other methods or medications can be used before ECT is prescribed. "On the other hand, there is no reason to suffer for 20 years trying every medication under the sun if there is a treatment option that will get you back to where you want to be," she says. "It does not cure you of anything, but it can pull you out of the depressive episode."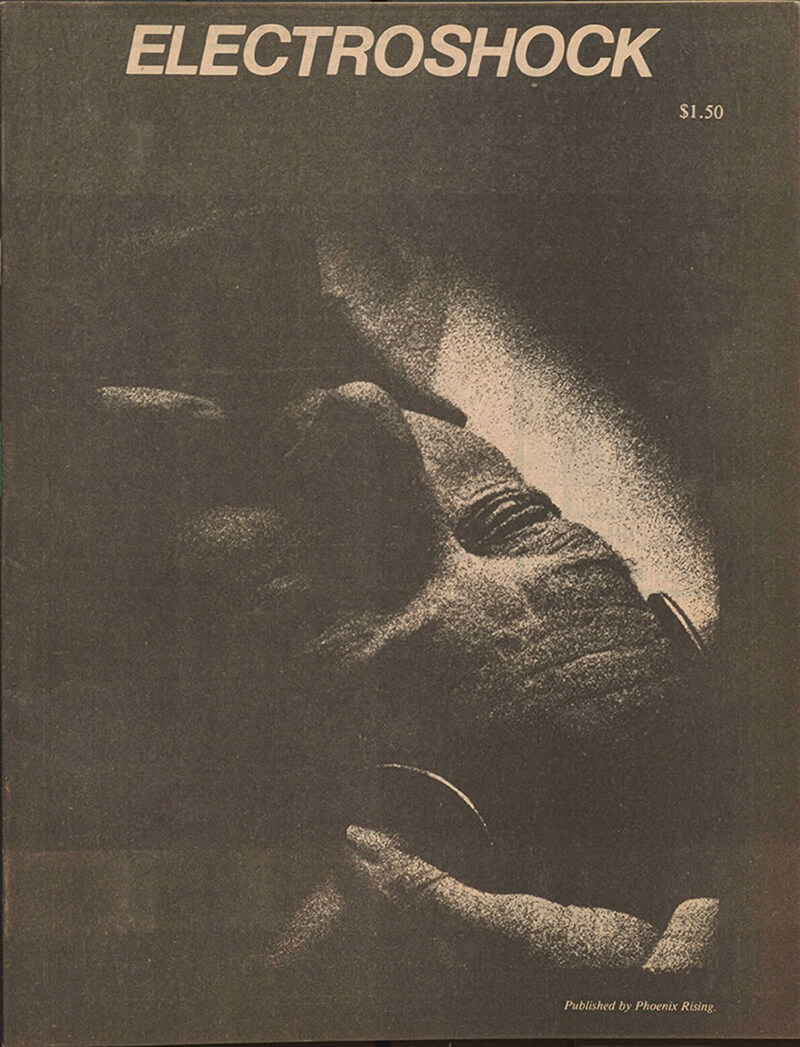 An anti-psychiatry journal fuels fear.

—Courtesy of The Library of Congress
Why it works is largely unknown. "It remains a bit of a mystery as are the exact mechanisms of almost every psychiatric medication," points out Swartz. But in layman's terms, it's often described as a brain reboot or reset. "ECT is really doing what the medicines do but just in a more robust and quicker way," says Reti.
"ECT tends to have a very rapid response," says Crawford. "As early as after one to two treatments, people can start to feel better, so if someone is acutely suicidal, that's really critical to getting them to feeling better, whereas medication takes a longer time."
Harry Brandt, chief of psychiatry at University Maryland St. Joseph Medical Center, describes it this way: "Electroconvulsive therapy shakes up the neurotransmitters in the brain," he says. "It sounds kind of simplistic, but the convulsion itself causes a global release of many neurotransmitters. No one knows why it works—we will someday—but it does."
However it is accomplished, ECT has been endorsed by the National Institute of Mental Health, the American Psychiatric Association, the American Medical Association, and the U.S. Surgeon General as a valuable treatment tool for psychiatrists and their patients who suffer.
Yet for all its effectiveness, there are few medical treatments so simultaneously feared and revered. "ECT is really unusual in the extent of controversy it causes," notes Jonathan Sadowsky, a professor of history at Case Western Reserve University, and the author of Electroconvulsive Therapy in America: The Anatomy of a Medical Controversy. "Charles Kellner, who is a prominent ECT doctor, called it the second-most controversial procedure in medicine, the first being abortion."
Few ECT patients are willing to share their stories due to the stigma attached to the treatment. There's a long list of luminaries who have shared their accounts, however, including fashion designer Yves Saint Laurent, poet Sylvia Plath, musician Lou Reed, actress Patty Duke, Pulitzer Prize-winning author William Styron, and journalist Mike Wallace. Their reactions vary, between denouncing it as a torture treatment and lionizing it as lifesaving.
Ernest Hemingway, who was as famous for his depression as he was for his prose, had ECT in 1961 when the procedure was still very crude. Hemingway biographer A.E. Hotchner visited the Pulitzer Prize-winner shortly before Hemingway committed suicide. Hemingway told Hotchner at the time: "What is the sense of ruining my head and erasing my memory, which is my capital, and putting me out of business? It was a brilliant cure, but we lost the patient."
Like Hemingway, film star Gene Tierney, who suffered from chronic depression, received treatments when they were still primitive. "I had been subjected to electric shock treatments that deadened my brain, stole chunks of time from my memory, and left me feeling brutalized...Pieces of my life just disappeared," she wrote in her 1979 autobiography.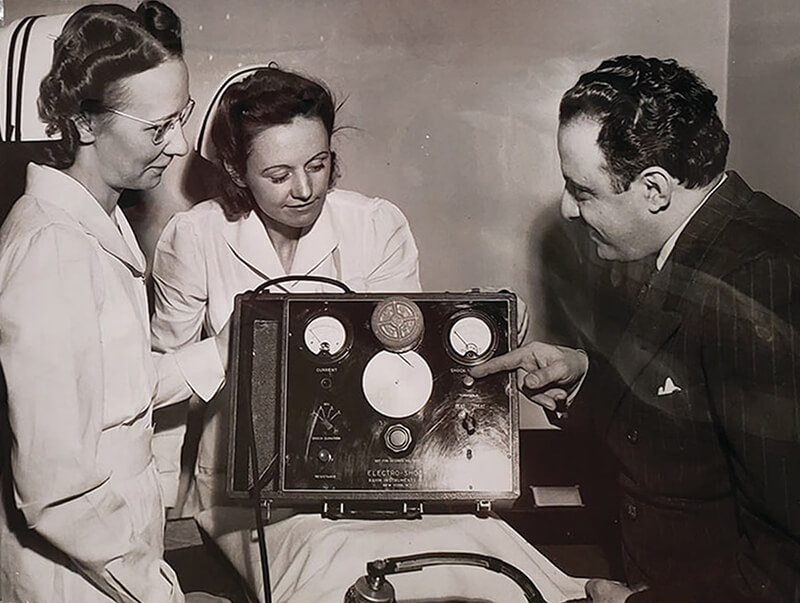 A doctor explains ECT.

—Courtesy of The Library of Congress
As the treatment became refined, others had more positive reactions. Talk show host Dick Cavett called it "miraculous" and "a magic wand," and surgeon-writer Sherwin Nuland said that ECT was "the only miracle psychiatry has."
In her 2008 memoir, Wishful Drinking, Carrie Fisher wrote movingly about getting ECT to alleviate the symptoms of her bipolar illness, as well as the accompanying memory loss. "Some of my memories will never return," she wrote. "They are lost—along with the crippling feeling of defeat and hopelessness. Not a tremendous price to pay."
And former first lady of Massachusetts Kitty Dukakis, who struggled with debilitating depression, became the treatment's biggest booster. In 2001, after years of psychotherapy, antidepressants, and hospitalizations, she had her first treatment at Massachusetts General Hospital in Boston. After her first of dozens of ECT treatments, she wrote, "I felt alive—as if a veil of darkness lifted."
In hopes of changing the narrative, psychiatrists are eager to share their success stories. Reti recalls an acutely manic patient who went from requiring the attention of multiple security officers while hospitalized to a successful career in finance after ECT treatment. Another patient was so plagued by suicidal ideation he was unable to function. Ongoing ECT treatments, provided over many years, have enabled him to work as the CEO of a technology company.
"The other day we had a patient who said, 'I feel human for the first time since I was 13,'" says Rettenmier, "and he was 19."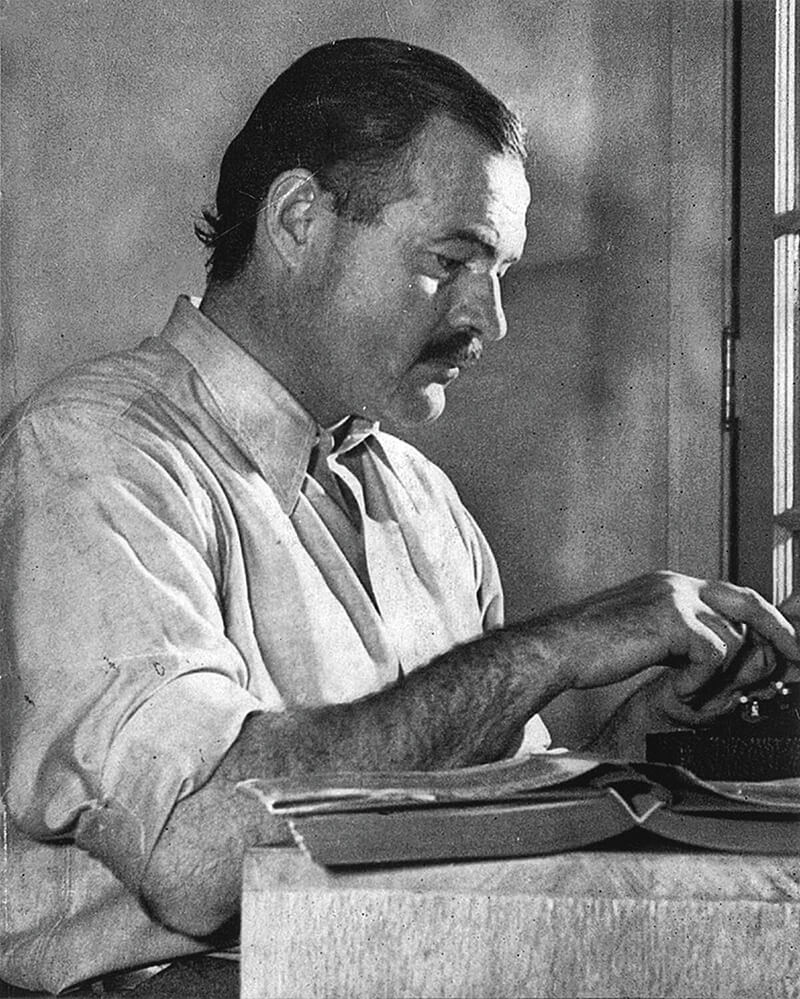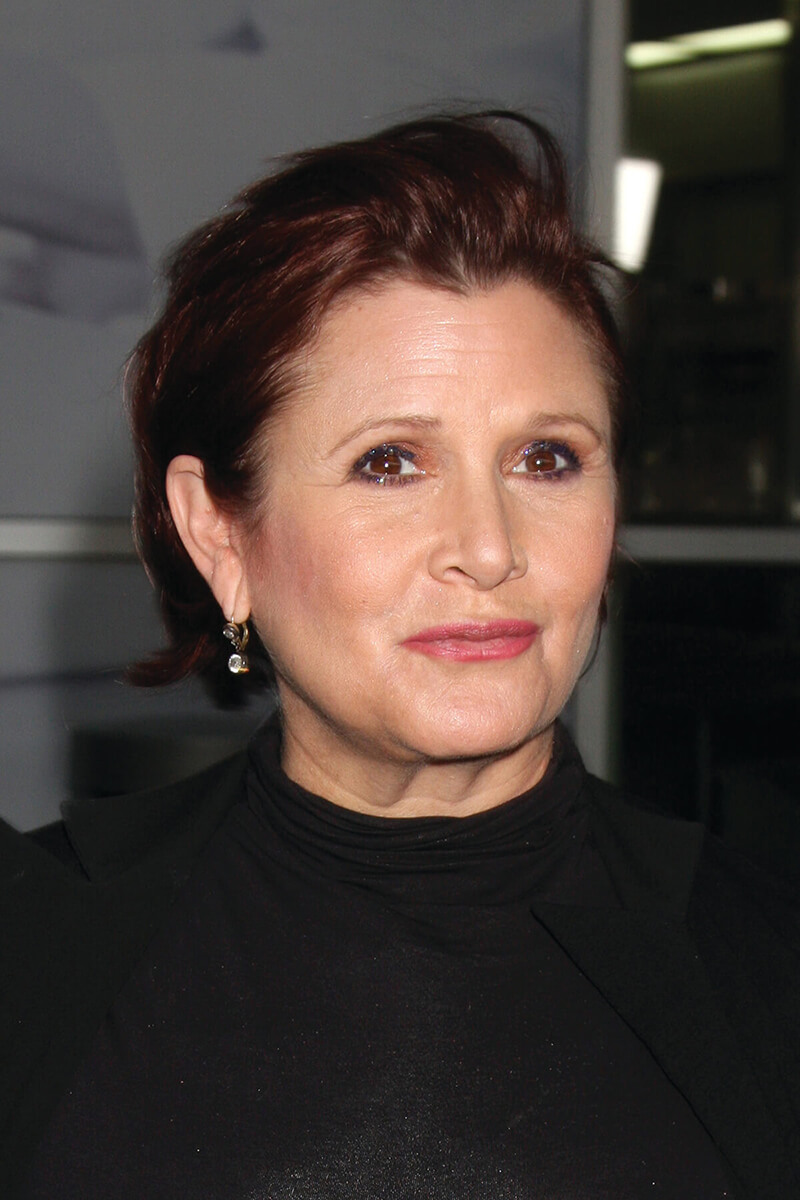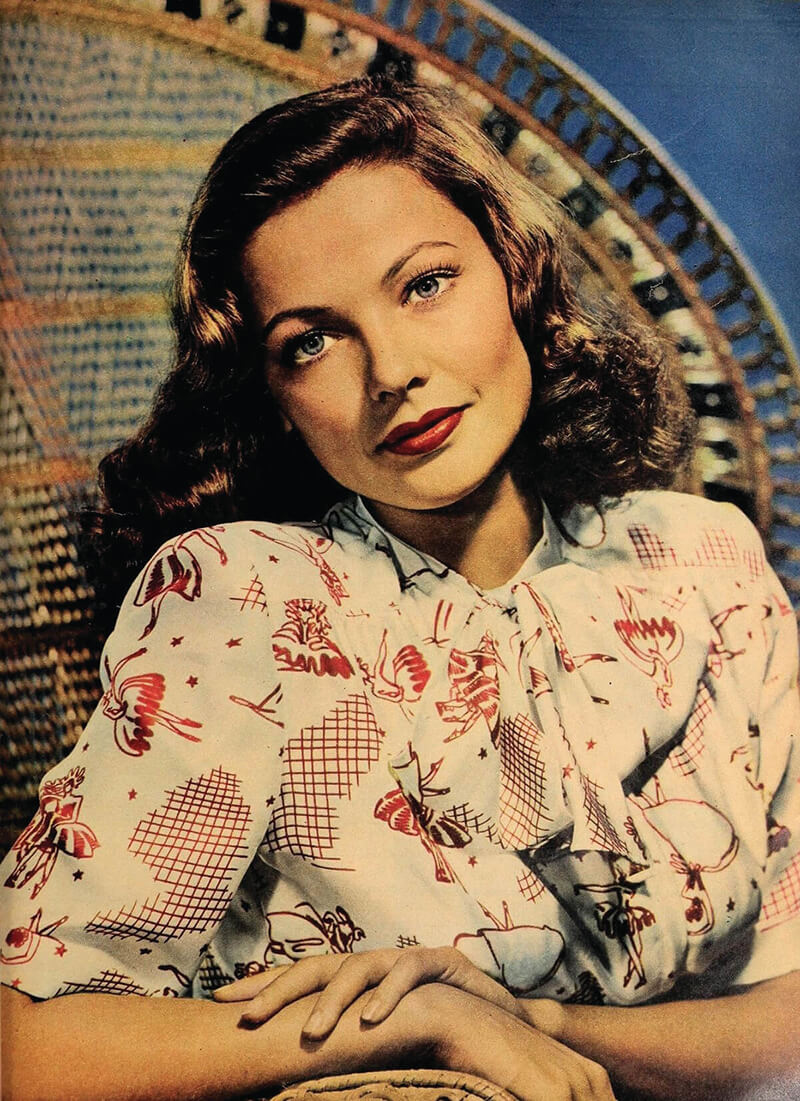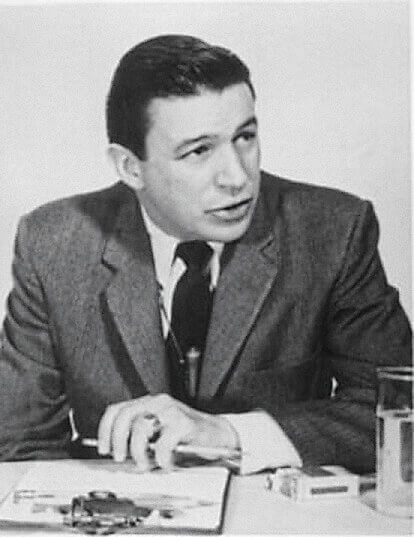 Above: Writer Ernest Hemingway, actress Carrie Fisher, journalist Mike Wallace, actress Gene Tierney. —Courtesy of Wikimedia Commons: Carrie Fisher via Shutterstock
A ttempts to treat mental illness date back as early as 5000 B.C.E., as evidenced by the discovery of trephined skulls, which entailed perforating the scalp with a crude stone instrument to release the evil spirit or demonic deity thought to be trapped inside the head of the sufferer. In ancient Mesopotamia, exorcisms, incantations, and other mystic rituals were performed to fend off evil spirits. In the Middle Ages, medical astrologers, apothecaries, folk healers, and the like would recite prayers while the afflicted wore talismans etched with astrological signs.
Though our understanding of the brain and brain illnesses has evolved since those days, in many ways, treatment for mental illness is still in its infancy. Many providers call it "the final frontier of medicine."
ECT was invented in Italy in the late 1930s by Italian neurologist Ugo Cerletti and psychiatrist Lucio Bini. Through serendipity, psychiatrists had already discovered that seizures could relieve symptoms of mental illness, but prior to ECT the seizures were chemically induced using an injection of Metrazol or insulin. But patients reported feeling terrified while they waited for the seizure to start.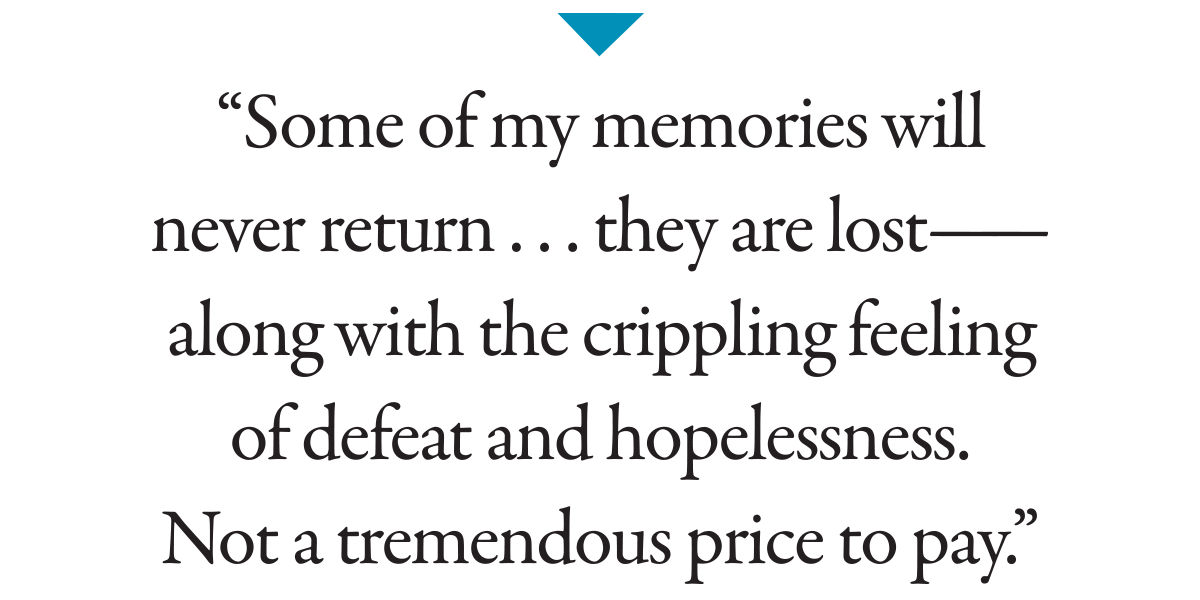 "When Cerletti and Bini first proposed the idea of using electricity instead of a chemical substance, their very hope was that this would be less scary and more humane," says Sadowsky. "That's one of the many ironies that haunts the history."
The first human to ever undergo ECT was a homeless man who was brought by police to the Rome Royal University Clinic for Nervous and Mental Illnesses one morning in April 1938. The man was said to be delusional and speaking gibberish. Cerletti and Bini, who had conducted animal experiments for many years, were ready to try ECT on their first human patient, whom they diagnosed as paranoid schizophrenic. (It would be decades before Italy embraced the notion of informed consent.) "Cerletti felt considerable anxiety preceding the attempt, fearing that the patient would die," writes Sadowsky. At that time, the only human who had been infused with electricity was in the U.S., where the electric chair was used to put people to their death.
In total secrecy, the patient was taken to an isolated hospital room, where the first dose of electricity caused a petit mal seizure, after which the patient started to sing, according to a well-documented account from a member of the medical team. Cerletti was so nervous, he reportedly sent an aide into the hallway every few minutes to make sure that no one was spying on them.
During that first mini seizure, writes Sadowsky, "The patient uttered what witnesses said was his first coherent sentence since being detained. The coherent sentence was a plea to stop treatment." Another attempt was made, but still there was no full-blown (or grand mal) seizure, which the doctors believed was necessary to "reset" the brain. (There are several accounts of the story, but Sadwosky reports that in one version, after the second round, the patient cried out in Italian, "Not again! It will kill me!") While his staff urged him to stop, Cerletti increased the intensity and duration of the charge—and the patient experienced the first electrically induced grand mal seizure in the world.
After 10 additional sessions over the course of two months, the man was reunited with his wife and was able to resume work. While the patient eventually relapsed, this was a win for science—Cerletti and Bini, who were later nominated for a Nobel Prize for Physiology or Medicine, demonstrated that seizures could be safely induced with electricity and relieve serious symptoms.
Due to lack of alternative treatments at the time—neuroleptics and antidepressants were not synthesized until the 1950s—within a few years, ECT was widely used in mental hospitals all over the world, from England to India to Japan. "It very quickly became the mainstay for treatment of mental illness," says Reti, who notes that nowadays, except for extremely rare cases, it is almost always performed with patient consent (or parental consent with pediatric ECT, which is rare).
Despite its early promise, the treatment was fraught. While effective at managing symptoms, the delivery was problematic. In the early days, it was administered without muscle relaxants and the severity of the seizures could cause fractures and dislocations.
Part of its dark past includes abuse—and overuse—as well. It was used for deadly experiments in Nazi Germany. It was used to "cure" homosexuality and alcohol addiction. And it was disproportionately used to control the poor wards warehoused in state mental asylums. For these reasons, ECT was viewed by the public not as a miracle cure but as barbaric and draconian, akin to lobotomy or bloodletting—a stigma that persists to this day.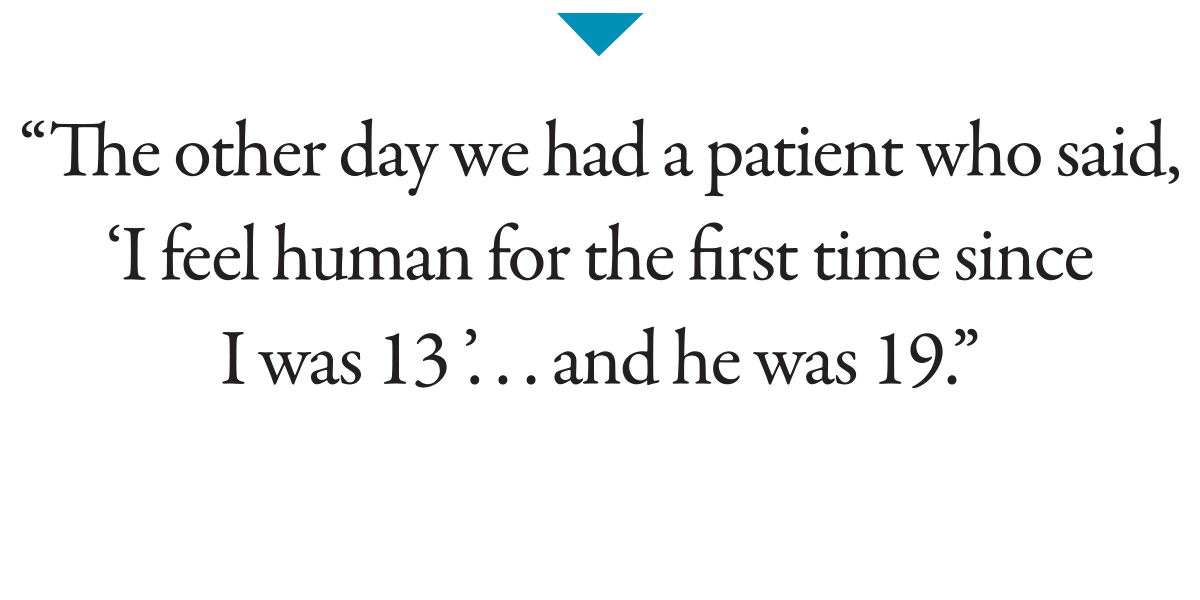 Popular culture has depicted ECT as a torture treatment for decades, but nothing has shaped the public's perception—or lingered longer—quite like the Academy Award-winning One Flew Over the Cuckoo's Nest. In the 1975 film based on the 1962 novel by Ken Kesey, Jack Nicholson plays an out-of-control misfit who is sent to a state mental hospital, where a sadistic medical team tames him with ECT ("he's frosted over completely with sparks," Kesey writes)—and finally a lobotomy by the film's end.
Some say the film was an accurate portrayal of ECT in the '50s and '60s, when it was sometimes used punitively on patients, but the vagueness of the film's ending was another setback. "They don't really show you what happened, which is that he had a lobotomy," says Rettenmier. "That is not ECT, but they are connected together simply because people assume that's what happened." (While extremely rare, psychosurgeries are still performed in extraordinary circumstances in the U.S. However, the type of lobotomy depicted in Cuckoo's Nest, that is a surgical procedure that severs connections in the brain's prefrontal cortex, is illegal.)
Myths propelled by popular culture, in combination with the growth of psychotropic drugs, led to ECT's fall from grace. However, with improved technology in the '80s and '90s, it was revived. Part of that improved technology included changes in the way the electrical charge is delivered. "It used to be a solid sine wave of constant energy," says Sheppard Pratt's Rettenmier. "Today, our machines have very small pulses of energy and the FDA limits how much energy you can actually give to a patient." It also came back when doctors realized that many psychotropic medications had their own shortcomings, including limited efficacy for some patients.
An image from Phoenix Rising; an archival news clipping. —Courtesy of The Library of Congress
W hile ECT is back in regular use, it is still shrouded in secrecy. On a June day, inside the waiting room of the so-called "Special Procedure" area on the new Baltimore-Washington campus of Sheppard Pratt, Ann,* a middle-aged woman who suffers from severe depression, waits for her ECT treatment to start. Between this location and Sheppard Pratt's historic campus in Towson, approximately 3,500 procedures like this one are performed a year. And Sheppard Pratt, which opened as The Sheppard Asylum in 1891 and is one of the oldest private psychiatric hospitals in the nation, has been doing ECT as far back as 1939, one year after it was invented. On a sunny morning, Ann has come in for her 10th, and likely one of her last, treatment. "Nothing else has helped," she says simply.
Later, Ann sits on a bed in the prep area and her vitals are monitored. She is evaluated by her treating physician to gauge how she's been faring since her last treatment, if her mood has dipped, held, or improved. As is true for most patients who come through these doors, ECT is reserved as a last resort, despite being psychiatrists' most effective weapon against recalcitrant mental ailments. "It's a treatment that is underutilized, but at the same time, we have to be judicious when we are using it," says Rettenmier.
After the assessment, Ann, who never has to change out of her street clothes, is taken to the treatment room, where she's tended to by a medical team. The anesthesiologist, Lea Stern, places a rubber bite block in her mouth to keep her from biting her tongue or cracking a tooth. A blood-pressure cuff is fastened to her right ankle to monitor seizure activity.
"We are going to take good care of you," Stern tells her. "We will be with you the whole time."
Moments later, Stern sedates her. Once Ann has fallen asleep, succinylcholine, a muscle relaxant, is fed through the IV. Her skin is prepped with alcohol and an exfoliant gel to remove anything that could interfere with conduction. Electroencephalogram (EEG) monitoring leads are placed on her head to track changes in the brain's electrical activity, while electrocardiogram (EKG) leads, a blood pressure cuff, and a pulse oximeter are put in position to monitor her heart rate and oxygen levels throughout the treatment.
Psychiatrist Ameya Amritwar applies a conductive gel to the flashlight-like paddles, placing one on the top of her head and the other on the right side, after dialing in the appropriate settings on the state-of-the-art MECTA machine that resembles an old stereo receiver. Next, Stern uses a handheld bag/valve mask made to maintain oxygen levels during the procedure and help the patient hyperventilate, which will enhance the oncoming seizure. Finally, Amritwar delivers the charge, which releases rapid pulses of energy, mere milliseconds apart, to the brain. Except for some slight twitching in her toes and hands, Ann lies completely still.
"That was 55 seconds," says Amritwar, referring to the length of the seizure as he studies the peaks and valleys on the paper strip spit out of the machine like an itemized receipt coming off a cash register. The strip shows the patient's brain waves, as well as a sharp spike in activity when the seizure started and a flattening of the spikes when it stopped. Within a few minutes of the seizure's cessation, Ann wakes up and is wheeled out into the recovery area. She remains there for 30 minutes or so before someone drives her home to rest for the remainder of the day.
For all the controversy surrounding it, says Rettenmier, "the procedure is incredibly anti-climactic. When you say the word 'seizure,' you think of someone falling on the floor and moving a lot and foaming and losing bowel and bladder function," she says. "ECT is a very well-controlled, well-monitored intervention. It's a medical treatment and we have things in place to help protect the patient, so that they aren't going to get hurt."
In the aftermath, Ann will recall little to none of what happened. The only reminders will range from possible muscle soreness to a headache or nausea, maybe some pain in her jaw. There's a good chance she will experience some brain fog or confusion in the hours immediately after. In fact, it is doubtful that she will remember the treatment at all.
Memory loss—how much and for how long—is different for every patient and dependent upon a variety of factors, including age, number of treatments, and type of treatments. And while most of the loss is thought to be temporary, some loss, especially a few days to weeks before and during treatment, is likely permanent. "Memories that are most recently formed are the memories that are most vulnerable," says Reti. "Conversations I have with patients in the ECT suite before the treatment may never return, but the memories that were formed earlier are better preserved. We warn patients that there is the potential for them to lose memories and for them not to come back, although we expect the vast majority of them to come back over time."
In addition to memory loss, as treatment progresses, cognitive functioning can deteriorate, impeding a person's ability to learn new things and form new memories, but that also usually gets better within weeks of finishing an acute course. "Planning, organizing, language ability, the ability to form new memories—all of those things return to normal once the ECT is tapered off," says Reti, who points out that depression itself can cause impairment in one's memory. (Of note, many patients do better on memory and reasoning tests after ECT, since it lifts the depression that clouds their thinking.)
Even with the side effects, Steven Crawford of St. Joseph Medical Center says that "some research shows that 85 percent of people who've had a course of ECT would elect to get it again if they experienced a return to depression—that's a significant majority of people willing to go through it a second time," he says.
That's certainly the case with Nancy,* a 65-year-old Maryland woman who had eight ECT treatments at Sibley Memorial Hospital, a Johns Hopkins Medicine affiliate in Washington, D.C. She doesn't remember the treatments themselves, but she does remember what brought her to the hospital. For many years she suffered from severe depression and anxiety. Although intense therapy and medication helped, eventually she started to spiral.
"I was getting paranoid," she says. "I was quickly falling apart. My depression and anxiety took on a life of its own. I don't want to overdramatize it, but every day, I wanted to die."
In November 2019, she tried to take her own life.
"I was mad that I hadn't died," she remembers, "but I gradually got to a different place. I knew that I needed to figure out a way to live and not think about dying."
Nancy's psychiatrist suggested ECT. She had unilateral treatment three times a week over two and half weeks. "I don't remember a lot about that," she says, "but I do remember the horrible smell of the oxygen mask when I was lying on the table. They put you out quickly, but the smell of that mask was awful."
But the results made it worthwhile, and for now she feels good and can enjoy life again. Like many patients, Nancy knows there's a chance she'll need to go back for more ECT if her depression returns. "I worry about when the next shoe is going to drop, and my husband worries, too," she says. "But if it does, I know what to do. I don't want to give people false hope, but it saved my life."
While her husband's immediate reaction was one of fear, over the course of several months, with the help of Nancy's psychiatrist and therapist, they decided to move forward. The treatment was effective immediately. "When I came back to pick her up, she was waiting outside the hospital," he recalls. "She was surprised to see me there, and she said, 'What are you doing here?' She seemed to be in a better frame of mind—and she smiled." By the end of her treatments, he says, "I had my wife back again. Her attitude has been tremendous. Every once in a while, there are holes in her memory that are missing, but overall, the difference in her attitude is night and day."
For all the positive testimonials, the procedure has its fair share of naysayers, too.
In some circles, there are those who believe that ECT causes brain damage, though Reti says, "There's no evidence ECT causes brain damage other than the extremely rare complication of having a stroke." Anti-ECT websites and activists populate the internet, which fuels the debate and fans fear. Detractors still consider ECT barbaric, despite how advanced the procedure has become. Many of the same groups that oppose ECT are also against antidepressants and psychiatry in general.
"I would say to these groups, 'I don't want to invalidate your experience,'" says Swartz, "but I've taken care of so many patients where it's been a positive and, for some, a lifesaving experience. I would hope they wouldn't deny other people treatment that could save their life."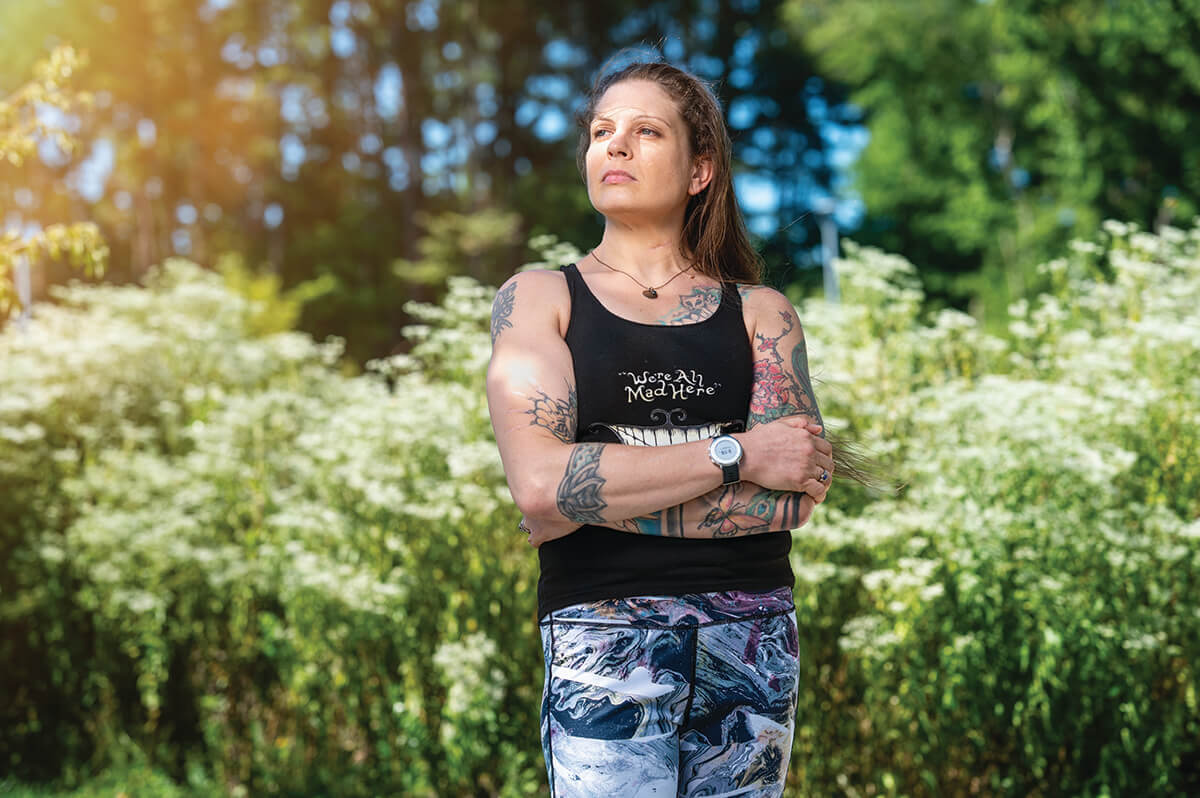 Bethany Gresser stands tall on the grounds of Sheppard Pratt.
T here are new, promising therapies such as ketamine and transcranial magnetic stimulation (TMS) on the horizon. But for now, one of the oldest psychiatric treatments in the modern world is here to stay. "ECT, or some form of ECT, is going to remain a major component of the tools we have in our toolbox to treat significant depression," says Crawford.
That's enough for people like Bethany Gresser, who hopes to help others by sharing her struggles.
On a sunny summer's day, Gresser sits on the sofa in her cozy Greenbelt home surrounded by her cats. Her long brown hair falls around her face. Her blue eyes dance with light when she talks about her passion for rock climbing, attending Quaker church services with her father and her husband, writing poetry, and dancing to live music at the local bar. "After years of practice, I've finally gotten to the point where I can actually get up and dance in front of people without being embarrassed about it," she says with a laugh.
She's lost count of how many treatments she's had over the past 15 years—"I know it's greater than 250, I stopped counting after that," she says—but she accepts that ECT will likely be a permanent part of her mental health plan.
Gresser's upbeat attitude belies the decades lost to suffering and pain, just as her myriad tattoos cover years of physical hurt. Years ago, Gresser got her tattoos to hide the deep, striated scars that lace across her legs and arms from years of cutting. "I was deeply ashamed," she says. "I wore long sleeves year-round for two years straight to cover them. But I'm not ashamed now—these are my battle scars. The war is never over, but these battles, these I won."