GameChanger: Jennifer Mendelsohn
We catch up with the genealogist and co-founder of the DNA Reunion Project.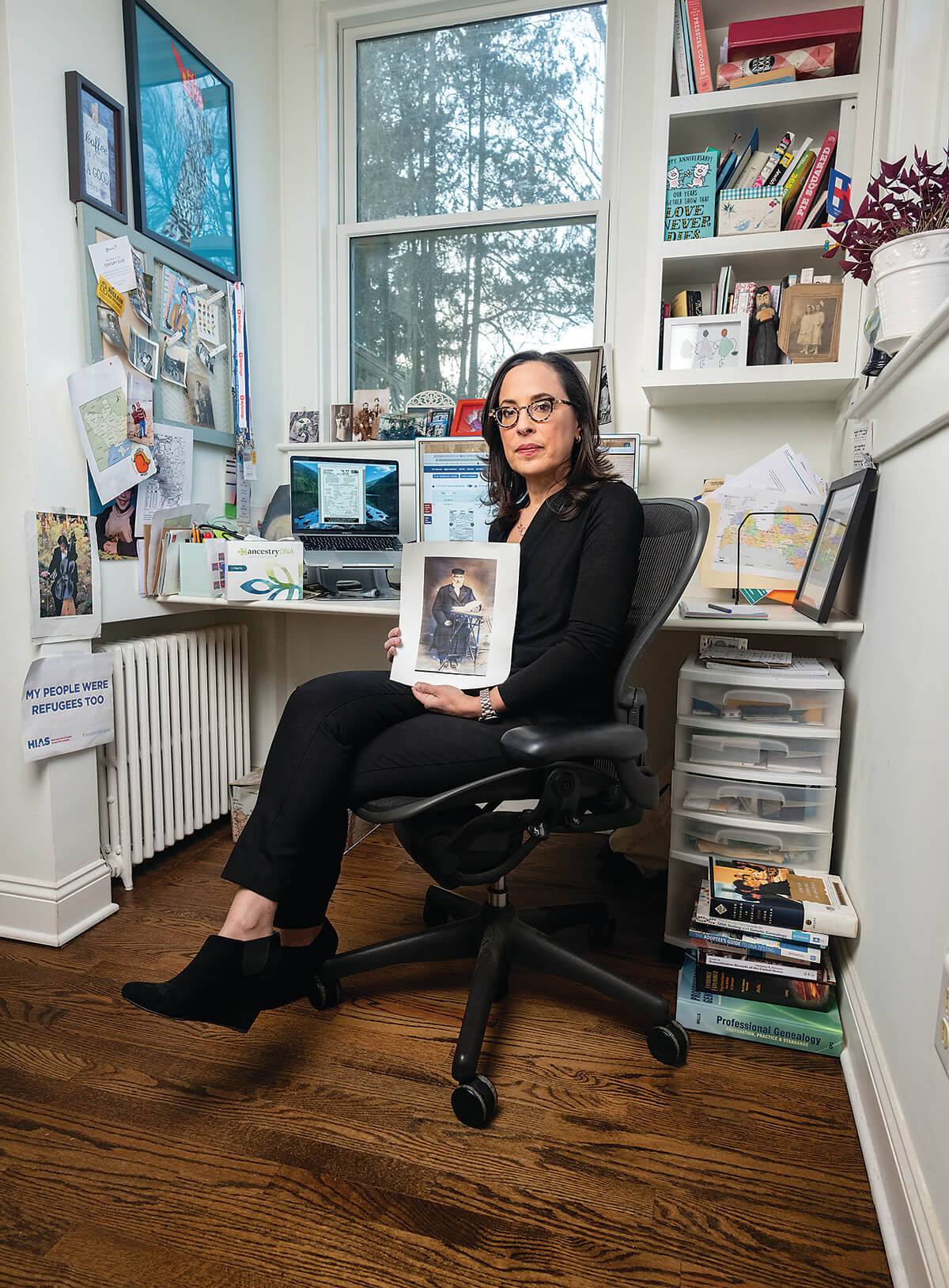 Jennifer Mendelsohn found genealogy by accident. She stumbled upon a documentary about a matzo factory on the Lower East Side of Manhattan. Mendelsohn remembered her mom had cousins who lived on the same street, but hadn't thought about them in years. So, she did what anyone would do—Googled their names and "Rivington Street," and the 1940 census listing from Ancestry.com popped up. It piqued her journalistic curiosity, so she started looking up other family members.
"The next thing I knew I had completely fallen down the rabbit hole," says Mendelsohn, an occasional Baltimore contributor and now an expert in the field of Ashkenazi Jewish genetic genealogy.
In partnership with the Center for Jewish History in New York City, you are leading a new worldwide effort to reunite families separated by the Holocaust. The pilot program you co-created, known as the DNA Reunion Project, will make commercial DNA kits available free of charge to survivors or their children. How did that come about?
Over the past few years, I've taken on a number of pro bono cases helping Holocaust survivors find family—the last few with my research partner, Dr. Adina Newman. We both felt like there should be genealogical support, and particularly genetic genealogical support, available on a wider scale to the survivor community to help restore, in part, precisely what was taken from them: family. We hoped that partnering with an existing Jewish organization would provide resources that would allow us to help more people, and we were thrilled to be able to make that happen through the Center for Jewish History.
Why is it so important to get DNA kits into the hands of survivors?
DNA can be an incredibly powerful tool for making connections and filling in gaps when the genealogical paper trail has been severed. And the Holocaust severed paper trail connections in myriad ways. Part of this project is just making people aware that DNA testing can link you to relatives. So many people don't bother testing because they mistakenly think it will only tell them their ethnicity, which they already know. Many Holocaust survivors are in the twilight of their lives and have been haunted for decades with questions about relatives. We want to give them the reassurance of knowing they did absolutely everything possible to find family—and the possibility that they might actually make a connection—while we can.
What is your personal connection to the Holocaust and genealogy reunification?
My mother lost her uncle, aunt, and four first cousins in the Holocaust; they were the subject of a well-known book by my brother, Daniel Mendelsohn, called The Lost. But the very first genealogical research project I undertook on my own was discovering that my husband's 95-year-old grandmother, a Polish Holocaust survivor who lost her entire nuclear family and 99 percent of her extended family, had three living first cousins in the U.S. that she had never known about. Reuniting them after more than 70 years was an incredibly powerful experience for our entire family, and I was hopelessly hooked. We joke that my book will be called The Found.