JBees Jamaican Me Crazy Comes Home to Roost at Lexington Market
Thanks to jerk chicken master Jeff Brown—plus some other spiced and fried chicken purveyors—the entire market is often perfumed a bit like the best imaginable state fair.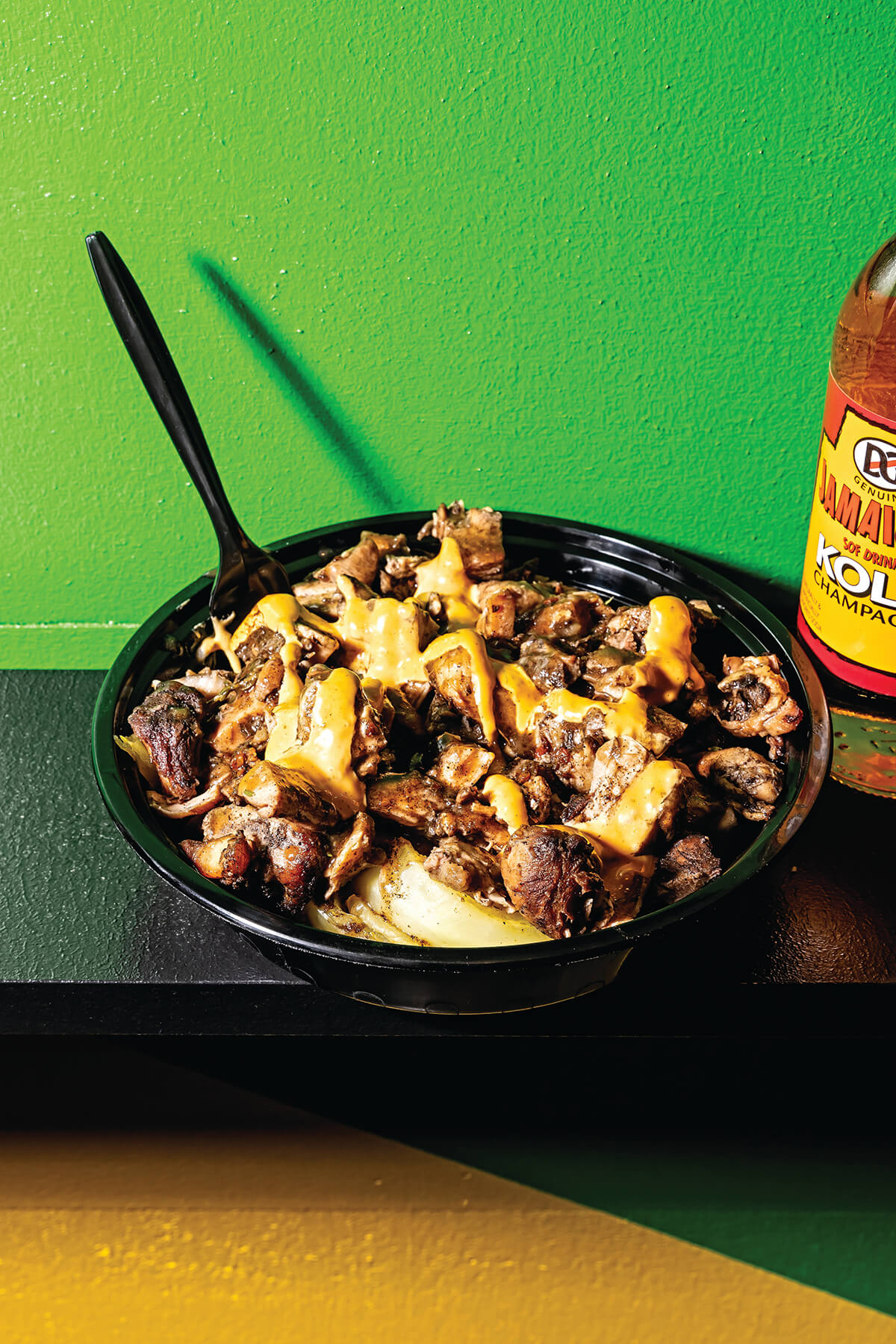 When Jeff Brown opened his first brick-and-mortar restaurant, JBees Jamaican Me Crazy, inside the newly reborn Lexington Market in November, he thought he was ready.
After all, he'd been parking his food truck (same name), outside the oldest public market in the country during its reboot, as his new stall and crew were being built. And he'd been running his truck—specializing in his jerk chicken, jerk fish sandwiches, and other dishes born, as he was, from Jamaican parentage—since 2015, so he'd had that mobile restaurant purring.
But Stall 51 was a shiny new operation, with all its issues—plus the pent-up demand of hungry marketgoers—and he found himself in the weeds, as orders piled up faster than he and his crew could fill them. Plus, opening day in any venue can be tough. JBees' jerk chicken, jerk fish, and jerk chicken bowls were on the roll-out menu; roll-out menus were also in play it at other stalls that were just opening, had already opened, or were soon to open.
Lexington Market, the flagship of Baltimore's storied market system, had a soft reopening in October, unveiling the stalls and kiosks—the former mostly food, the latter all non-food vendors—in its own slow early days. When the market is finally completed next summer, there will be 48 vendors, comprising about half legacy, half new merchants.
Of the stalls that opened in the first weeks, a noticeable number sold chicken, mostly spiced or fried. The cumulative effect was that the entire market was perfumed a bit like the best imaginable state fair.
So Brown coached his staff, took calls about deliveries, then filled the bowls: generous portions of spiced, slow-cooked chicken atop rice and peas and a thatch of curried cabbage. Aioli went over the top, and a dose of (optional) Scotch-bonnet pepper sauce. It looked like home-style comfort food because that's what it is, though in the hands of a master.
"I've been cooking since I was nine," said Brown, who was born in New York and grew up in his father's hometown of Mandeville, Jamaica. "Cooking Jamaican food for family, and then cooking for people. Ten dinners turned into 200."
After coming back to the U.S. and to Maryland, where he spent 17 years in the Baltimore Police Department, Brown turned to food full time. Of the jerk chicken he says: "That's my recipe. I mean, that's my father's recipe; that's my grandmother's recipe."
Brookdale Farm Poultry, one of the legacy vendors, had opened before Brown's stall, and was doing brisk business in chicken: whole birds, thighs, all manner of wings, drum- sticks, eggs, plus rabbit, turkey, duck, and (maybe best of all) smoked bits in hotel pans. Later, a crowd gathered and snaked around Super Fried Chicken, which has been at Lexington Market for nearly 40 years. The display case was loaded with different parts of the bird—fried chicken livers!—all burnished, crispy, deeply fragrant. And across the hallway from JBees was another paean to chicken, in the form of Connie's Chicken and Waffles.
Thus, a day spent at the market can be a one-stop shop: uncooked birds for your soup pot, crispy birds for any reason—and a bowl of Brown's pretty spectacular jerk chicken.

JBEES JAMAICAN ME CRAZY AT LEXINGTON MARKET: 400 W. Lexington St., Stall 51. HOURS: Mon.-Sat. 10 a.m. to 5 p.m. PRICES: $3-24.