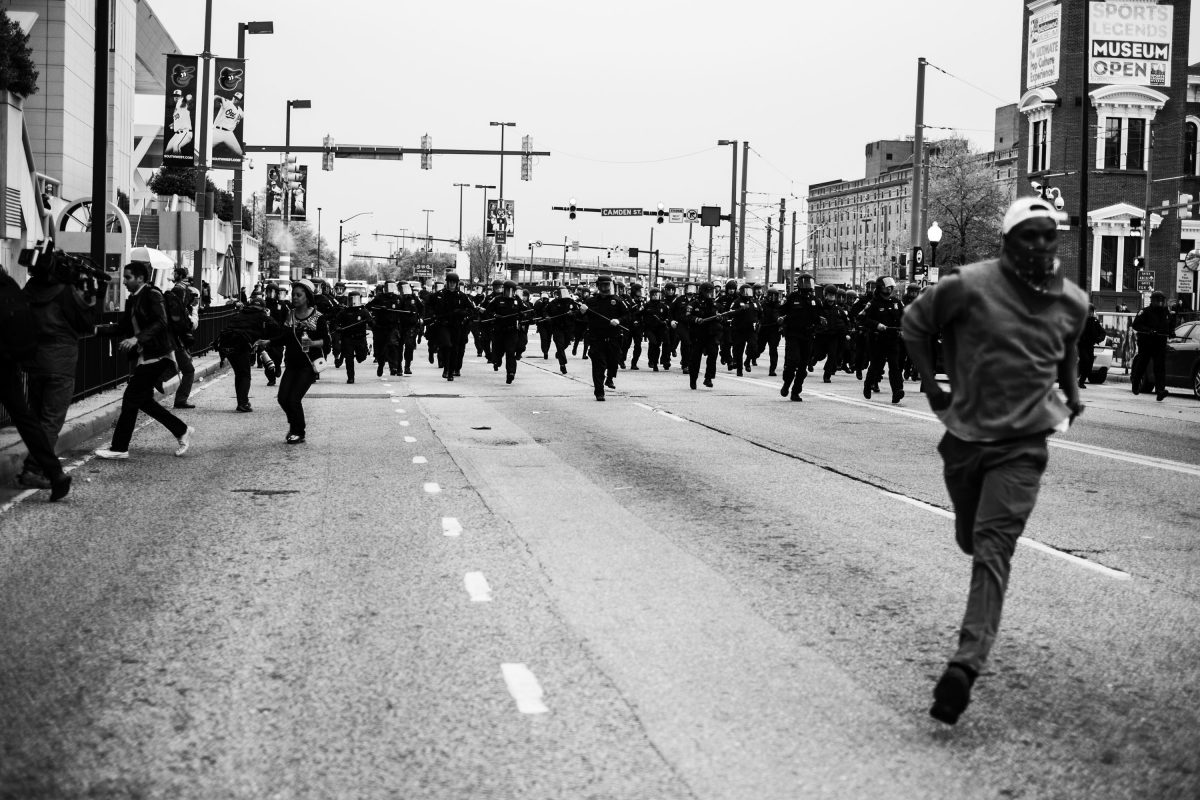 Visual Art
Devin Allen's A Beautiful Ghetto exhibit
Baltimore street photographer Devin Allen became known across the nation for his work after one of his images of the 2015 Baltimore protests was featured as the cover of Time magazine. Three years later, and in honor of that anniversary, the Institute for Integrative Health will exhibit a series of his black-and-white photos documenting the riots in A Beautiful Ghetto. Maybe more importantly, the show will serve as a launchpad for community-wide discussions. This kicks off with an artist talk during the opening reception, where his 2017 book by the same title will be available, and it continues with various events with a focus on healing, such as the April 13 dialogue with artists, writers, and leaders about creating healing spaces for their communities. The Institute for Integrative Health, 1407 Fleet St. Opening reception: 6 to 8:30 p.m. March 15.
Adam Davies: Reroutings
Creative Alliance resident artist Adam Davies will transform the space there to bring us Reroutings, an exhibit of his large-format film photographs of outdoor structures that have served as unofficial public forums (think graffiti-strewn bridges and unexpected street art found during a stroll). The gallery space will be completely darkened and the walls painted black and replaced with his huge (56- by 70-inch) photographic images, which will be lit from behind. Alex Zhang Hungtai of Dirty Beaches will perform his lo-fi electronica soundscapes—which were an influence on the photography series—during an opening reception on March 10, and more events will follow. Opens March 10 at the Creative Alliance, 3134 Eastern Ave.
Stephen Towns: Rumination and a Reckoning
Story quilts are an African-American tradition dating back at least some 200 years. Some historians believe that secret codes were sewn into quilts, providing maps for navigating the Underground Railroad. Baltimore artist Stephen Towns continues in this tradition, exploring themes of slavery and perspectives of women and people of color through his large-scale fabric and bead-work pieces, often featuring faceless black figures that appear as silhouettes. The Baltimore Museum of Art will exhibit 10 of his quilts in Rumination and a Reckoning beginning this month, seven of which depict the story of Nat Turner and his 1831 rebellion. As if that weren't enough, the museum will host Towns in conversation with internationally renowned artist Mark Bradford. March 7 through Sept. 2 at the Baltimore Museum of Art, 10 Art Museum Drive.
Music
Baltimore Plays The Miseducation of Lauryn Hill 20th Anniversary
Hard as it may be to believe, it's been 20 years since the release of the seminal album The Miseducation Of Lauryn Hill. In a homage to the work, several artists—Jasmine Pope (J Pope and the HearNow), Christen B, Joy Postell, Karin Sings Evans, Marc Avon Evans, Jamaal Black Root Collier—will gather at the Creative Alliance to perform its tracks in their own style. March 18 at the Creative Alliance, 3134 Eastern Ave.
Theater
Humbug: The Great P.T. Barnum Séance
Magician David London will attempt to summon the spirit of The Great P.T. Barnum via—what else?—séance in his new show Humbug at The Peale Center. While we can't guarantee audiences will make contact with the legendary showman, we do guarantee the exhibition of genuine Barnum artifacts (honestly, that might be a hoax, too—in the spirit of P.T. Barnum, of course). March 8 to 25 at The Peale Center, 225 N. Holliday St.
Film
Everything is Terrible!'s The Great Satan
Imagine being able to get a taste of more than more than 2,000 horror, satanic, and religious films in under two hours. You don't have to imagine anymore. Everything is Terrible! has done the work for you, creating a narrative from scraps of material to make the kitschy, trippy new film The Great Satan. In their own words: "Since the dawn of time, man has searched for answers . . . and failed. But the fog of existence has finally cleared thanks to the eternal fruits of your favorite found footage collective." The makers will be at the theater to present their film as part of their cross-country tour. Guests are encouraged to bring offerings of VHS tapes of Jerry Maguire. March 7 at SNF Parkway Theatre, 5 W. North Ave.
Baltimore's Matt Porterfield, best known for his films Hamilton and Putty Hill, will host and do a Q&A at two screenings of the gorgeous Argentine film Kékszakállú, co-written and co-produced by him and directed by Gastón Solnicki. The coming-of-age film's title and inspiration comes from the opera Bluebeard's Castle and follows a group of upper-class girls as they enter the world outside of their privileged lives. March 2 to 8 at SNF Parkway Theatre, 5 W. North Ave.
Literary Arts
An Evening with Laura Lippman at Federal Hill Prep School
Baltimore's literary darling and New York Times bestselling author Laura Lippman will be at Federal Hill Prep School as part of a book tour for her latest release, Sunburn. The novel tells the story of Polly, a runaway wife who's ready to start a new life but wasn't quite ready to fall in love in the process. March 24 at Federal Hill Preparatory School, 1040 William St.