Art in Motion
Mobile studios are bringing paintings, books, and DIY workshops to a neighborhood near you.
These days, it's no longer necessary to go to an art museum for art or a library for literature. Using two feet and four wheels, local movers and shakers are now shedding these stationary structures to bring paintings, books, and DIY workshops to a neighborhood near you.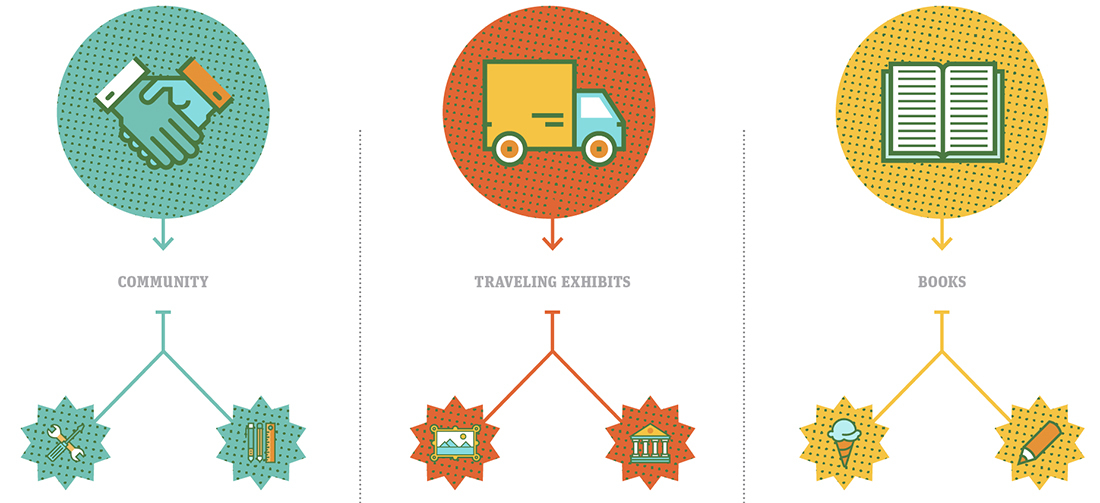 Open Works Mobile
The new Station North maker-space has launched a mobile extension of its Greenmount Avenue brick-and-mortar, geared toward offering workshops and events for city students in grades K-12. The van will feature classes and curricula centered around its DIY equipment, including a portable 3-D printer, laser cutters, and a large whiteboard on its exterior.
JHU Art Cart
In 2014, a group of Johns Hopkins employees and students transformed a janitor's cart into a ray of sunshine for patients and their families. Now an arts-and-crafts station, the volunteer-led cart brings art projects to hospital rooms and waiting areas, toting materials to make paper flowers, origami, and more.
SOGH Art Truck
After his grandmother's death, Shawn Theron was inspired to make the most of his life, which eventually meant creating art. His colorful, whimsical paintings landed in an exhibit at AVAM and even the pages of our very own Baltimore Bride. Now, via his art truck, they can be found and purchased on Sundays during the farmers' market under 83.
BMA Outpost
With its high ceilings and marble columns, The Baltimore Museum of Art is the grand dame of Charm City culture, but it turned hip in 2014 with the launch of its mobile museum. Setting up shop at locations like Lexington Market and Healthcare for the Homeless, it encourages passersby to participate in art making, storytelling, and, ultimately, community building.
Taharka Change-Maker Mobile
Out of its bright pink truck, Taharka Brothers' small-batch ice cream shop is hawking more than just delicious flavors like honey graham and key lime pie. In the back, a small retail space features an ever changing selection of books, showcasing everything from Ta-Nehisi Coates' Black Panther comic book to D. Watkins' acclaimed memoir The Cook Up.
Bookish
This nomadic bookstore features a beautifully curated collection of artist-made, independently published, and small press books. Among the green and white delivery van's minimalist, hipster-chic interior, you'll find local poetry, photo albums, adult coloring books, and alternative zines. It also doubles as a mixed-used space for workshops and events related to all things print.