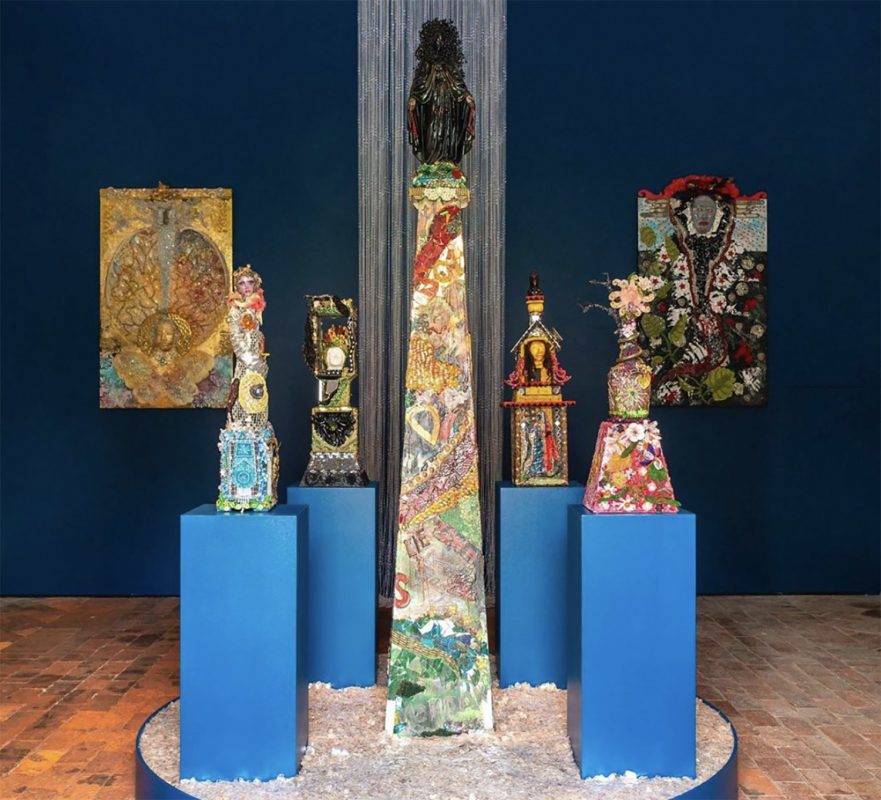 Baltimore Museum of Art
Inspired by pre-Abrahamic religious traditions from Asia, Africa, and the Caribbean, local multidisciplinary artist Oletha DeVane repurposes found objects to construct monumental spiritual sites. Her new exhibit Traces of Spirit, currently on view in the Spring House at the Baltimore Museum of Art, includes old and newer sculptural assemblages that have been reworked to establish an immersive spirit house—which is loosely inspired by Thai constructions believed to contain the spirits of protective entities.
DeVane's spirit house serves as a homage to anticolonial liberation efforts, Juneetenth, the legacy of her father, and humanity's tireless existentialism.
"In terms of looking at religion itself, it's about how we as human beings are on this incredible search," DeVane said during a recent studio visit. "It doesn't mean that any one practice is wrong, it just means that we are all, as a world community, on different paths of searching for that ultimate spiritual essence."
Traces of Spirit is an etheric exhibition that attempts to embody some of the metaphysical resonance that DeVane initially encountered while traveling to sacred sites around the world. The proximity of the installation to the viewers within the small house creates a deeply intimate and contemplative environment. Out of context, the installation could be interpreted as a meaningless experiment in ornamentalism. But DeVane's work relies on contextualization beyond Western philosophies, and an openness to appreciate humanity's attempts to comprehend and encompass the immensity of god.
The signature work, Saint for my City (2007-2010), an onyx black figurative sculpture reminiscent of Catholic statues of sainted martyrs, is situated in the center of the installation. The black saint sits on the apex of a decoratively embellished pillar laden with the names of immortalized African diasporic deities including Isis, Osiris, Horus, Ogun, and Dembala. There is a large snake that coils from the base to the top where the saint stands. The black saint is beautiful. Her crown of floating spheres evokes orbiting planets or stars. She is draped with a long cape that appears to float in mid-air.
There is something hopeful about the presentation of an astral-black holy figure. Imagine the impact such a figuration could have if it were installed around Baltimore City. Stories about the sacredness of the city and its inhabitants are often overlooked. (Most recently, our greatness has been reduced to rat infestation, poverty, and crime.) But those who live here and opt to stay here know that the city is more than its traumas. Baltimore is vibrant unbridled brilliance—charged invention and adaptation. DeVane channels that spirit of the city, its energy, and humanity through the black saint whose outstretched arms reach towards the doorway of the small house as if beckoning saint and sinner alike to find solace in her embrace.
Saint for my City is surrounded by four other smaller sculptural works, including Woman Who Married a Snake (2017), Spring (2018), Two Daughters (2007), and Health (Pilgrimage) (2018). Bottles, mosaics, masks, insects, and a host of other recognizable—and unrecognizable—objects recur throughout the pillar like sculptures. Each work holds layered narratives that include both global and hyper-local musings about the universal, ethereal, and distressing instances of everyday life. Many of the motifs are founded in Haitian and West African spiritual traditions, origin myths, and folktales.
"Many of the pieces are made with materials that I have gathered and things that really speak to me," DeVane says. "For me, it's really gleaning—trying to understand my religious experience and what it means to look at nature and those gods with respect."
DeVane's inclusion of those narratives stands as a miraculous reminder that despite slavery, and centuries of colonial violence, many of the traditions persist in modern African American communities. "I wanted something that really evolved out of my history and my understanding of what it meant to create."
Two similarly elaborate large sculptural assemblages, Epiphany (2018) and Dumballa (2018), are installed on the wall behind the altars. A long string of translucent blue and highly reflective beads cascade down the wall between the two panels. Coupled with a meditative soundscape of gently flowing water and a shimmering projection that simulates soft waves, the installation triggers troubling and transformative histories about the volatile and life-sustaining nature of water.
"As a people, we traversed the waters and oceans, either because we were enslaved, or when we were moving around this world, because Africans are on every continent in every country," DeVane says. "The water is a major conduit for movement and our ability to be everywhere. I look at water as a spiritual element. It's the lifeforce of the planet and something that we need to take care of."