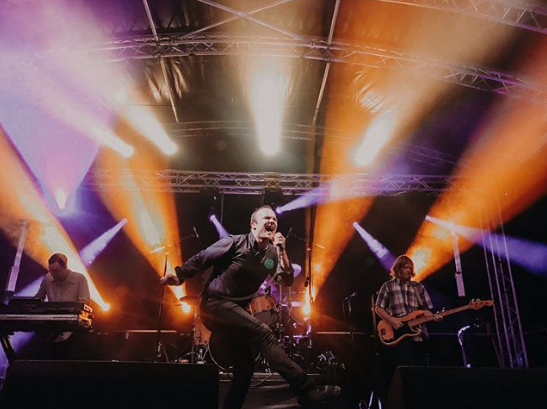 Morgan Kelley
Every year, we're seriously impressed by the amount of artistic talent in Baltimore, and 2019 was no different, with top-notch music coming out of the city—making its way onto both the local and national stage. It also felt like a year where the musical community came into its own. No, Rolling Stone didn't name us the best music city in America again (not that we need that recognition to know that we are), but there were numerous moments of reckoning, if you will. Rising artists finally got their due. Established acts performed epic homecoming shows. Hallowed institutions wrestled with their futures. There were both losses of legends and celebrations of lifetimes, and each reminded us of the great impact this city has had, and continues to have, on the musical form. Here, we round up some of the most memorable moments of 2019. And we recommend keeping your ears perked for all that is to come in 2020.
Ethel Ennis passes away.
This past February, Baltimore's "First Lady of Jazz" passed away at age 86. During the late 1950s and 1960s, the West Baltimore singer recorded for major labels, toured Europe, headlined the Newport Jazz Festival, and performed regularly with the likes of Louis Armstrong, Miles Davis, John Coltrane, and Duke Ellington. As a child, she learned to play piano at the Ames United Methodist Church in Sandtown-Winchester and later became a mainstay at the Red Fox on Pennsylvania Avenue. Disillusioned by the music industry, Ennis ultimately eschewed national stardom and returned to Baltimore for a more simple life, where she performed until her later years. Her mark on the greater musical world remains.
Dan Deacon performs with the Baltimore Symphony Orchestra.
It felt like fate had somewhat of a hand in the moment when Dan Deacon first took to the Joseph Meyerhoff Symphony Hall stage with members of the BSO this spring. At the time, the orchestra was in the midst of a contentious contract dispute that would eventually lead to a summer-long lockout of the musicians by the organization's management (see below), while the electronic artist—15 years after moving to Baltimore and forever changing the local music scene—was quietly working on a new record about overcoming doubt, and reckoning with age and death and time. For a few hours, the two iconic musical acts, seemingly from opposite of the sonic spectrum, though Deacon studied composition in college, came together for a night that would become a gift to the city. The musicians filled the halls with hope, as concertgoers got out of their seats, ran down the aisles, and started an impromptu dance party in front of the venerable stage.
Abdu Ali releases FIYAH!!!.
Over the last several years, few musicians have been as influential and integral to the Baltimore music scene as Abdu Ali. From the glory days of their all-inclusive, underground Kahlon dance party at The Crown to national coverage by the likes of The New York Times, The New Yorker, and NPR more recently, the avant-garde rapper has helped put Baltimore's DIY culture on the map, remaining deeply rooted to their hometown city along the way. This spring, the release of their studio debut, FIYAH!!!, took their artistry to a new level, fusing hip-hop and Baltimore Club music with jazz and punk. The record and its release solidified Ali's star power with a full-band lineup, led to a sold-out show at the Ottobar, and helped them nab a well-deserved "Artist of the Year" award from City Hall.
André De Shields wins his first Tony.
As a cherry on top of a 50-year acting career, 73-year-old Charm City native André De Shields took home his first Tony Award in June, winning best featured actor in a musical for his performance of the god Hermes in Hadestown. De Shields grew up in West Baltimore, one of 11 children, and graduated from City College before moving from regional theater to Broadway. He would go on to gain renown for his roles in shows like The Wiz and The Full Monty. A few weeks after the Tonys, he was also presented with a mayoral salute and key to the city by Mayor Jack Young. "This is what you get when you blow them out of the water," he said during his acceptance speech, showing the crowd his Tony. "I did it the only way you could—the Baltimore way."
Jeremiah Lloyd Harmon slays on American Idol.
If you don't watch American Idol, you might have missed, in our opinion, one of the most special stories of the television show's history. If you do watch American Idol, you've already been a Jeremiah Lloyd Harmon fan for months. The Catonsville singer-songwriter placed sixth in the competition, wowing judges and viewers with his sensational falsetto, his original song "Almost Heaven," and his backstory, the son of a Baptist pastor who discovered he was gay at age nine. This fall, Harmon released his debut album and this winter, graduated from Towson University, where he studied vocal performance.
Beach House gets sentimental at the Hippodrome.
In June, dream-pop duo Beach House returned to the city for their first big hometown performance since the Windjammer music festival at Pier Six in 2015. Taking over the hallowed stage of the Hippodrome Theatre at the France-Merrick Performing Arts Center, singer Victoria LeGrand and guitarist Alex Scally put on a powerful show to promote their latest album, 7, with some old favorites thrown in along the way. Typically stoic performers, they both spoke sentimentally about the city, even referencing the Orioles. Opening acts were also must-see sets by Dan Deacon and Future Islands' William Cashion.
The Ottobar persists and, as The Windup Space closes, Rituals opens in its stead.
Two big changes took place at local music venues this year, with the announcement of sales and closures stirring fear for a scene that already lamented a dearth of creative space. But a few months after the Ottobar announced that its longtime owners were selling the business, it was revealed that longtime bar manager Tecla Tesnau would be taking over the Remington rock club in late summer, keeping it in local hands, and it seems that little has changed. And just weeks after word surfaced that The Windup Space would be closing its doors, news broke that the location would be reopened as Rituals, a bar and venue that would keep the same all-inclusive, DIY tradition alive and well, allowing the arts community to let out a collective sigh of relief. There, lineups have included local favorites like Lower Dens, Eze Jackson, and Chiffon.
TT The Artist pays homage to Baltimore Club.
This summer, TT The Artist made her directorial debut with the sneak peek premiere of her upcoming music documentary, Dark City: Beneath The Beat. Despite relocating to Los Angeles, the beloved rapper has long been a fierce advocate of, and an active participant in, the city's hometown musical genre, Baltimore Club—the story of which she tells in her unique, colorful film. Featuring cameos and music by fellow local artists such as DDm, Eze Jackson, Mighty Mark, and Rufus Roundtree, it now enters the finishing-touch and fundraising stages in hopes of joining the festival circuit in 2020.
DDm drops Beautiful Gowns.
This summer, DDm released his debut full-length album, Beautiful Gowns, which, unsurprisingly, turned out to be one of the most fun, infectious records to come out of Baltimore this year. That's thanks to the pure showmanship of the city-born rapper who has brought bravado, wit, humor, and heart to his music and live performances across the city for years, from the local battle rap circuit through his Bond St. District duo and now in his solo career. A year after his planned debut, Soundtrack To A Shopping Mall, was nixed, these 13 tracks stood testament to DDm's determination and dauntless creativity. Self-released, locally produced, and spread without the help of local radio, singles like "He Say She Say" and "Pull Up"garnered thousands of listens on Spotify and views on YouTube all on their own. We personally love the bright, buoyant ballads of "Hooray" and "Forever 21."
Future Islands rocks out at Union Collective.
In early September, thousands of Baltimore City music lovers packed into the parking lot of Union Collective for a night to remember by local dream-pop darlings Future Islands. Much like their impromptu Hampdenfest performance in 2014, the band's free live show took place outside as the sun set, featuring both new material off their upcoming album and fan favorites like "Seasons" and "Balance," with frontman Sam Herring's mercurial dance moves out in full force. Opening acts included Baltimore artists Smoke Bellow, Joy Postell, and DJs Jason Willett and Jay Buim, and the brewery's neighbor, The Charmery, sold three Future Islands-themed flavors of ice cream to support city non-profits.
The BSO survives a tumultuous year.
It was a long, strange trip around the sun for the century-old Baltimore Symphony Orchestra: ongoing contract negotiations that tumbled into labor disputes, the cancellation of the summer season, a highly publicized lockout of the musicians by BSO management, followed by months of player protests outside the Meyerhoff Symphony Hall. But this fall, both parties reached a one-year agreement that resulted in the meeting of many players' demands and the on-time opening of the fall schedule. The organization has also since launched their newly formed vision committee and brought in outside help from arts-org "turnaround king" Michael Kaiser, so things are looking up. (Except for maestra Marin Alsop hinting at her departure.)
JPEGMAFIA continues to soar.
It's been another big year for JPEGMAFIA. The alternative rap artist, known as Peggy, toured the U.S., to many sold-out crowds. He performed at the likes of Afro Punk, Firefly, and Coachella, where rolling stone called his set one of the best of the festival. He opened for big-name acts like Vince Staples and Flume. He garnered national press and profiles by the likes of Billboard, The Guardian, and Paper. And this fall, he released his latest album, All My Heroes Are Cornballs, to national acclaim— a colorful, cacophonous collage that takes us on a trip into his beautiful, manic, often NSFW dream world. All the while, even though he has since relocated to L.A., Peggy always gave love back to Baltimore, his former city, selling out two nights at the Ottobar, hopping on Abdu Ali's latest record, and bringing fellow rising local rapper Butch Dawson along on his tour. For that, for as long as we can, we'll continue to claim him as our own.
Morgan State's marching band leads the Macy's Thanksgiving Day Parade.
The holidays came early this year when it was announced that Morgan State University's Magnificent Marching Machine would be leading the iconic procession of marching bands in the 93rd annual Macy's Thanksgiving Day Parade in New York City, making MSU the first of Maryland's historically black colleges to perform in the parade's history. Ahead of a giant Snoopy balloon, the college band, led by band leader Melvin Miles Jr., marched triumphantly in blue and white uniforms for nearly three miles from the Upper West Side, around Central Park, and down to the famed namesake department store on Herald Square. Millions of viewers watched from the city streets and on their television sets at home.
A star is born in Maggie Rogers.
In the 12 months of 2019, Eastern Shore native Maggie Rogers released a debut album via Capitol Records, starred as the musical guest on Saturday Night Live, sold out her U.S. tour, performed at the likes of Coachella, attended the Met Gala, and garnered her first Grammy nomination for Best New Artist. While still a student at NYU, the singer-songwriter got her first taste of fame serendipitously, when a video of Pharrell Williams going ga-ga for one of her songs went viral. But everything that came next, and all that lies ahead, has undoubtedly been the result of her own talent and star staying power.
Check out our Spotify playlist below for Lydia's Top 30 songs of 2019.