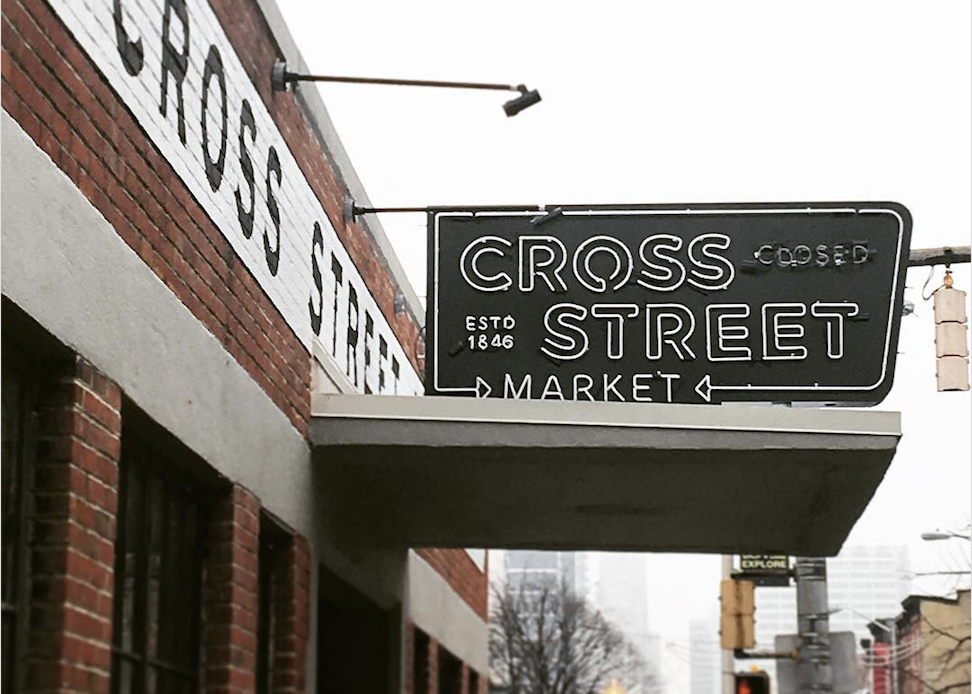 Cross Street Market
Noticeable changes have taken shape since Caves Valley Partners began its revitalization of the 173-year-old Cross Street Market in Federal Hill last year. Most recently, retro signage that harkens back to the market's original rebuild—after a fire destroyed it in 1951—went up around the exterior.
While the neon logos are a reminder of its storied history, the renovated interior will bring the market into the present with a diverse lineup that reflects the breadth of Baltimore's current dining landscape.
"As a team, it was important for us to keep it Baltimore-centric," says Nick Alevrogiannis of Cana Development, which handles leasing for Cross Street Market. "We wanted authentic and artisan, and we're seeing a pretty big swing of that growing here."
By keeping an eye out for unique concepts at local pop-ups and farmers' markets, the firm was able to bring on vendors that span multiple different cultures and cuisines, many of which are minority and female-owned and operated.
According to the Project for Public Spaces, a national nonprofit dedicated to helping communities sustain public properties, public markets are a great entryway for chefs and restaurateurs—especially minorities, immigrants, and women—to grow their businesses.
"A lot of small businesses want to be able to grow, but the capital required and the vetting process from landlords to get your own brick-and-mortar is typically really expensive, and the liability is huge," Alevrogiannis says. "But with a market, capital requirement is significantly less to get in, which promotes small businesses from the beginning."
When it reopens this spring, a number of veterans that operated in the market pre-construction (think Fenwick's Choice Meats, Steve's Lunch, and The Sweet Shoppe) will be joined by a new class of budding businesses. There will be Baltimore spinoffs including Burger Bar from the team at Southside Diner in Riverside, Annoula's Kitchen from the owners of Sobo Cafe across the street, Cans Filling Station from the operator of Taps Filling Station at Mount Vernon Marketplace, and a new Ceremony Coffee location.
But diners will also be able to expand their knowledge of global cuisine with Hawaiian grinds from Ono Poké, Mexican eats from Taco Love Grill, Southeast Asian dishes from Rice Crook, Vietnamese fare from Phubs, and authentic Haitian cuisine from Sobeachy—a JFX farmers' market favorite founded by husband-and-wife duo Chanel and Leo Fleurimond.
"It's really important to have all of those different flavors," Chanel says. "When people think of Caribbean food, they automatically think of Jamaican food. So for us, it's great that we now have an opportunity to be there alongside every other diverse, ethnic option and bring a different Caribbean island to Baltimore."
The owners are looking forward to introducing diners to their eclectic blend of African and French flavors, which is showcased in stewed meats, chicken wings, stuffed plantain cups, "Cod Yatti" sandwiches (deep-fried cod on a cocoa bread bun with mango sauce), and "Pati Kode," a veggie or meat-filled turnover similar to a fried empanada. Sobeachy will also be able to serve its fresh juices and alcoholic Island drinks in its new stall.
Other new vendors are excited about the move, even if they've been around for a while. Take brothers Chuong and Paul Nguyen, who established their Vietnamese soup and sub shop Phubs in Hanover five years ago, but are enthusiastic about the benefits of joining a communal market.
"Vietnamese food in general is getting more popular, but it's still not super mainstream," says Chuong. "With the market being so diverse, it requires people to come in with an open mind. Those are the type of customers we want."
Phubs will continue to offer its signature banh-mi sandwiches and pho with all the fixins, but the owners are adding a few new twists that cater to the market's clientele. Specifically, the eatery will offer its bone broth in coffee-sized cups for diners in need of a hangover cure or quick energy boost.
"We simmer the bones for 24 hours because that's how our parents did it growing up," says Chuong, a Columbia native. "We ate pho weekly, and always felt great the next day. But it's really all about the broth and making it the right way. We didn't want to get away from that."
In addition to providing that authenticity, vendors agree that the market environment fosters a more personal relationship between makers and customers. In the future, organizers hope to strengthen the community focus by activating the space with more startups (a new wave will join the scene summer 2019) and launching an outdoor farmers' market in April.
"To me, what sets a market apart from a food court is that it's interactive and engaged," Alevrogiannis says. "You have to tell that story. Just having good food and good service isn't working anymore."