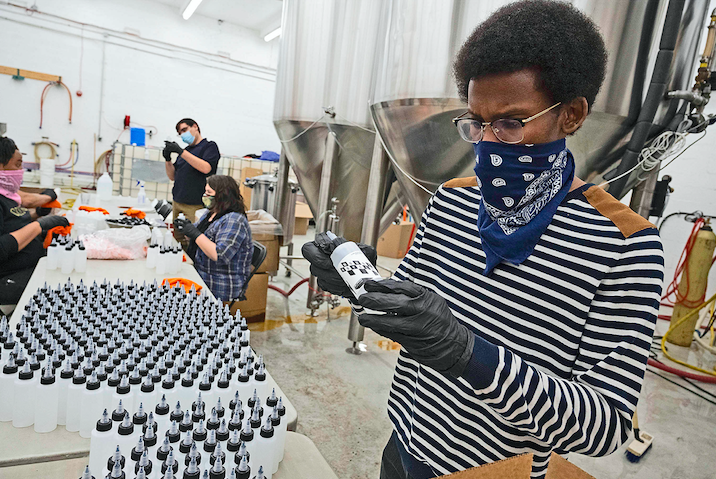 A soap maker and a tattoo artist walk into a meadery. This might sound like a comedic set-up, but rather, far from it, it's the sort of unlikely trio of Baltimore craftsmen who have quickly come together to help combat the novel coronavirus and its rapid spread across the city and state.
In early March, when Maryland confirmed its first case of COVID-19, the Mount Royal Soap Company started using its 20-quart stock pot, typically reserved for making artisanal suds and skincare products, to start testing recipes for hand sanitizer, a scarce resource since the very start of the pandemic.
At the time, there was already a global run on antibacterial products like Purell, and the Remington soapery founders wanted to supply their neighborhood in a time of need. The three-man team infused their first version with a so-called "four thieves" blend of essential oils—said to have been used during the Middle Ages to ward off the Black Death plague—and started selling directly to local customers out of their 700-square-foot corner store.
"It got to the point where we were making batch after batch after batch," says Sam Kiffer, one of Mount Royal's co-founders. "As things escalated, it became apparent we needed a larger capacity."
Luckily, they quickly found a bigger boat, located five minutes away at Charm City Meadworks on Biddle Street. Having collaborated in the past on events and workshops, the business owners had been friends for years. With mead sales down following social distancing measures implemented by Governor Larry Hogan, the meadery's 7,500-square-foot warehouse offered ample room for production, and Meadworks founder James Boicourt was looking for a way to keep his staff of nearly 20 employed.
Then the Mayor's Office called, requesting 1,000 bottles of hand sanitizer, and this new joint venture was up and running, with Meadworks and Mount Royal converting into a hand sanitizer factory overnight.
"The last few weeks has been this huge scramble to move forward as fast as possible," says Boicourt. "We started out doing test batches of 30 or 40-gallons. Now we're trying to get to a point of 1,000 gallons a day."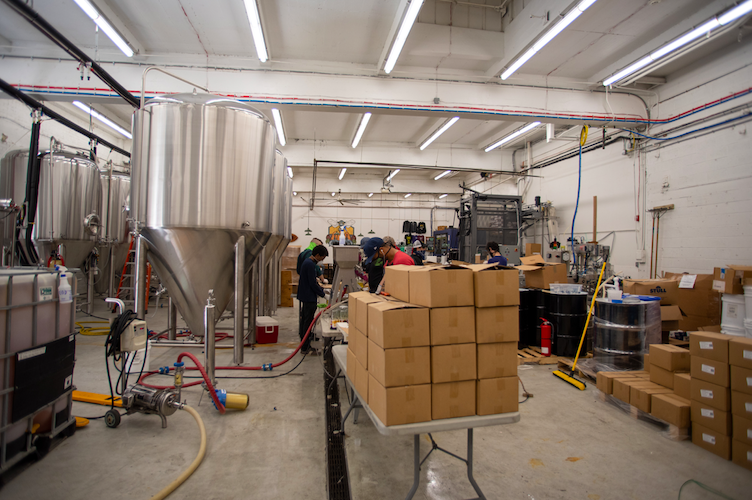 Working seven days a week, their joint staffs runs several shifts, including nights, to meet demand and ensure employee safety, with workers practicing social distancing and wearing personal protective gear like gloves and masks.
Together, they're now producing some 4,000 bottles each day, packaged in two, four, or eight ounce units for area hospitals, nonprofits, and city and state services, including the Baltimore City Police Department, Fire Department, and the U.S. Postal Service. The general public can also purchase their own sanitizer on Mount Royal's website.
"The urgency is really what drives us," says Kiffer. "So much has happened and changed, we've learned so much."
And they're hoping to ramp up production, having invested in new equipment that could bring their daily capacity to 25,000 bottles, a fivefold increase. But Meadworks' existing infrastructure, including two 1,200-gallon mixing tanks, has already played an important role.
As makers of a fermented honey beverage, "We're used to working with viscous liquids," says Boicourt, helping them to produce a thicker gel formula, which is still scented in the "four thieves" style, in addition to the World Health Organization's more liquid version, which is better suited for spray applications.
But with a worldwide spike in demand and disrupted supply chains across most sectors, sanitizer manufacturers, big and small, have been struggling to source key ingredients, which include alcohol, hydrogen peroxide, and glycerin.
"It's a shock to the system," says Boicourt. "Even if Purell runs three shifts, they can't keep up. But the hope is that all of these smaller producers can help fill in the gaps," with other alcohol producers across the state joining in, like Baltimore Spirits Company in Medfield, DuClaw Brewing Co. in Rosedale, and Lyon Rum on the Eastern Shore.
For that reason, though, none of this could be possible without their third partner, Waverly Color Company, a producer of high-end tattoo ink run by Bill Stevenson. Also co-founder Waverly Brewing in Hampden, he operates out of a studio just down the street from Mount Royal's Remington shop. With the closure of non-essential businesses and the tattoo trade on hiatus, his stockpile of plastic bottles was the last piece of the puzzle, being another in-demand item with a backorder through summer.
"It was the perfect fit at the right time," says Stevenson, whose right-hand man is working the line, too. "The nature of community is to immediately figure out what can be done for your people, it's a natural reaction to think what can I do. And that's what we're doing."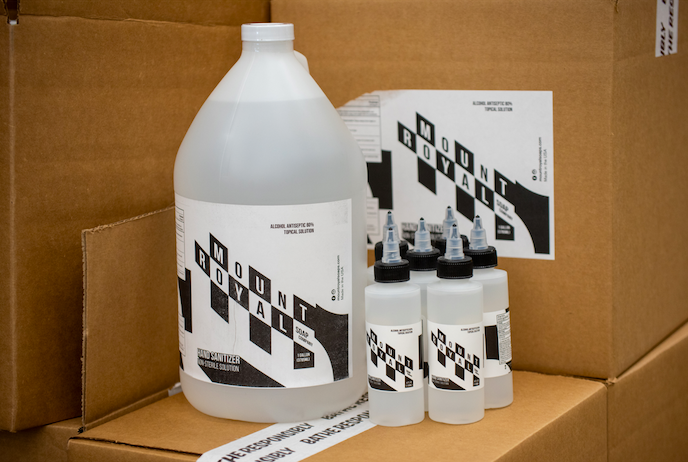 These days, Boicourt is running the logistics from home, having had a high-risk lung condition since childhood, while his Meadworks teammates, like general manager Elliot Madre, act as his eyes and ears on the ground. In addition to wrangling orders, Mount Royal co-owner Pat Illes helps oversee operations at the warehouse, while Williams has been churning out liquid soap back in Remington, teaming up with Bayview's Pompeian Olive Oil to source a larger tank for increased production.
Their soap bars are flying off the shelves, too, with large donations made to the Douglas Homes in East Baltimore and the Maryland Correctional Institution for Women in Jessup. Sanitizer has also been handed out to the Service Employees International Union's local chapter and the nonprofit Baltimore Harm Reduction Coalition.
"We realized early on that this pandemic is going to infect everyone, but it's going to affect certain segments of our population worse than others," says Illes, noting a pay-it-forward option for purchases that benefit local community organizations in need. "We want to make sure everyone in our community is getting the resources they need to protect themselves."
For Mount Royal, this newfound mission has given them new meaning, and it might live on past the days of this current pandemic.
"We haven't thought about what an end date would look like, but we hope this is a jumping off point for us," says Kiffer. She and her teammates are excited by the possibility of providing jobs and essential products using their environmentally and ethically sourced ethos for the city and state in the long term.
"There's this broader idea that manufacturing needs to be more regional going forward, because what happens when the next crisis happens?," says Williams. "Maybe we'll be a little bit better prepared here in Baltimore. This is an ode to the city's manufacturing history, for sure, and we're humbled to be a part of it in some small way."