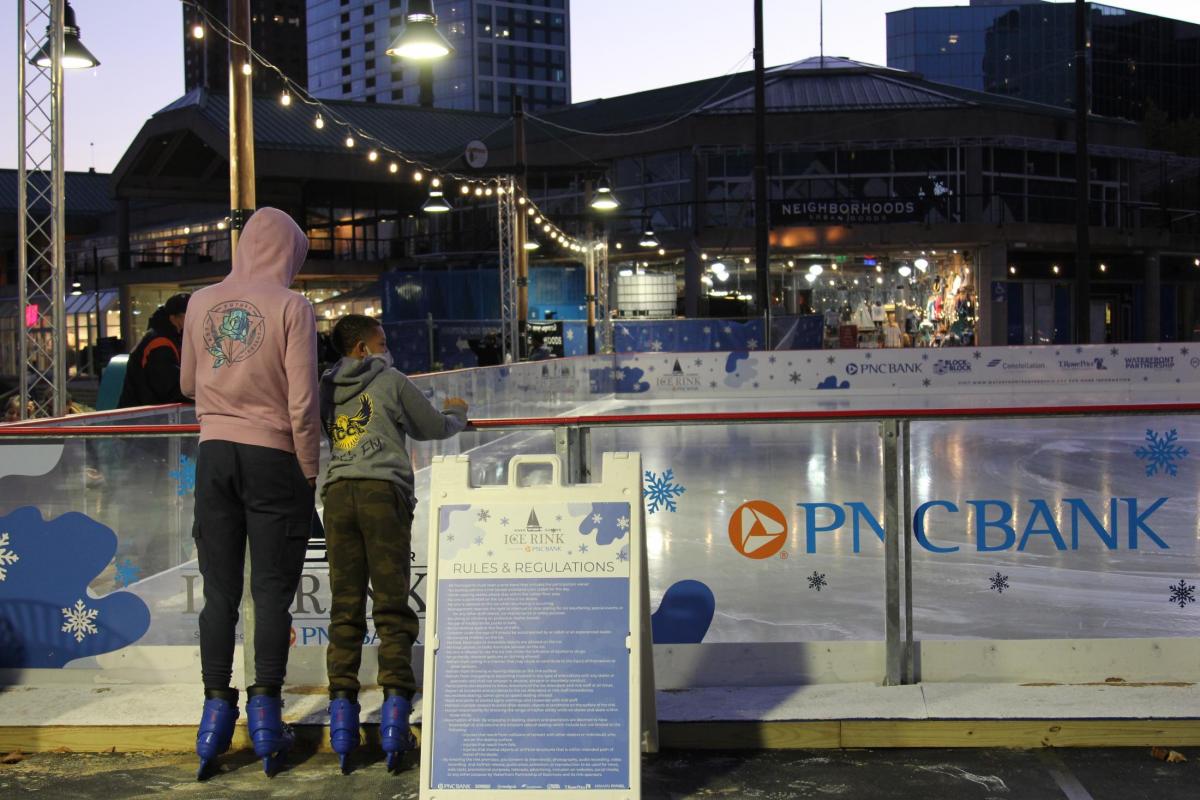 The Inner Harbor Ice Rink has officially opened for the season. —Lauren Cohen
Well, Baltimore, the countdown to Christmas has officially begun. And, our neighbors—in trademark, festive fashion—have been ready for this moment since before Thanksgiving turkeys left their tables. From the annual Monument Lighting in Mt. Vernon to the new Candy Lane in Center Plaza, Charm City has no shortage of winter happenings. Below, we've listed some to help you make this season the most exciting one yet.
12/10-12: A WINTRY DANCE
The Mt. Vernon Virtuosi troupe summons the theme of winter with performances of works by great composers Joseph Haydn, Gustav Holst, and Arcangelo Corelli. Mount Vernon Virtuosi. Locations & times vary.
12/11: CANTON HOLIDAY MARKET
Visit Church on the Square to fill your holiday shopping bag with handmade wares. With goods including everything from hot sauce and pop culture merch to crystal charging trays, you're bound to find a gift for everybody on your list. 1025 S. Potomac St. 10 a.m.-3 p.m.  Free. 
12/11: EGGNOG TASTING TOUR OF FELLS POINT
Register online before you take off to score sweet eggnog sips served throughout the waterfront neighborhood at spots including Alexander's Tavern, Max's Taphouse, and Barcocina. As you quench your thirst with variations of the age-old delicacy, don't forget to cast your vote for your favorite recipe. Plus, stop to snap some pictures at a festive photo booth and sing along to Christmas carols with The Ding Dongs. Broadway Square. 900 S Broadway. 1:30-4:30 p.m. $12.
12/11: GREENSPRING HOLIDAY MAKERS MARKET
At Green Spring Station, enjoy live holiday music and sweet cocktails by the friendly folks at Cane Collective as you fill your holiday cart. Everything from toothsome treats by Charm School Chocolate to vibrant postcards made by Tiny Dog Press will be available to help you check off all the items on your gift-giving list. Green Spring Station. 10751 Falls Road. 10 a.m.- 4 p.m. Free. 
12/11: HOLIDAY BAZAAR AT UNION CRAFT
In its second year, this festive pop-up at the Hampden brewery will play host to a bevy of vendors. Look out for goods by brands like Wormhole Workshop, Stiff Clay, Lunch Punch Studio, and Garburn Designs. 1700 W 41st St #420. 12-5 p.m. Free. 
12/11: MOBTOWN BREWING HOLIDAY MARKET
Find everything to fill your loved ones' stockings when you head to the Brewers Hill taproom. Local makers such as Opalescent Soul Garden Co., Smigg Art, and Fern & Folk will be on site. 4015 Foster Ave. 11 a.m.- 4 p.m. Free. 
12/11: JINGLE BELL RUN
This year's festive 5K race returns to West Shore Park. Jog in-person with friends or chart your own virtual course to benefit the Arthritis Foundation. 401 Light St. Times TBD. $25-45.
12/14: NATIONAL LAMPOON'S CHRISTMAS VACATION TRIVIA AT HYSTERIA BREWING
See how well you really know this classic Yuletide flick, in which the wacky Griswold family raises holiday Hell. Hysteria Brewing Co. 9570 Berger Road, Suite J. 6 p.m. Free. 
12/16: NOT SO SILENT NIGHT
Indulge in an array of festive treats, sip on sugary concoctions, and show off your dance moves at this sweet soiree, which takes place at Center Plaza's all-new Candy Lane exhibit. Center Plaza. 7-11 p.m. Prices vary.
12/16: SANTA PAWS AT THE POINT IN FELLS
Christmas comes to Thames St. early for our four-legged friends, who just can't wait to grab some photos with the jolly man in red. While Fido strikes a pose on Santa's lap—and chows down on complimentary doggy treats—loosen up with a Jameson cocktail (one drink comes included with your online ticket purchase.) 1738 Thames St. 5-9 p.m. $20.
12/16: SWEET SPOT: SNOW QUEENS (A WINTER WONDERLAND DANCE PARTY)
Get into the spirit of the season at The Manor in Mount Vernon, which will offer up a series of cute cold-weather libations and a steady stream of Christmas bangers all night long. The Manor. 924 North Charles St. 9 p.m. $10.
TO 12/18: THE NUTCRACKER: A MAGICAL TALE IN MT. VERNON AT THE BSA
Curated by Baltimore School for the Arts' Dance Department head Laura Halm Hamilton, and choreographed by the school's resident artist Amy Hall Garner, this heartwarming take on the 19th-century tale (set in 2019) features nods the annual Mount Vernon Flower Mart, plus local haunts including Tio Pepe's and the Walters Art Museum. Baltimore School for the Arts. Mark K. Joseph Building. 712 Cathedral St. Times vary. $20. 
12/20-22: A VERY JERRY CHRISTMAS WITH CRIS JACOBS & FRIENDS
Cris Jacobs, aka "the king of Baltimore rock and roll," brings The Grateful Dead to life with a selection of essentials by the psychedelic band. Groove along to tracks including "Touch of Grey," "Box of Rain," and "Eyes of the World." The 8×10. Times & prices vary.
TO 12/23: A CHRISTMAS STORY: THE MUSICAL 
This month, the Tony-nominated adaptation of the cult classic holiday film, composed by the songwriting team behind the Oscar-winning La La Land and Broadway hit Dear Evan Hansen, will take to the Hippodrome stage on December 21-23. Follow nine-year-old Ralphie Parker as he lobbies for a Red Ryder BB gun, dons fuzzy pink pajamas, and navigates Christmas mischief in small-town Indiana. The nostalgia-packed performance should be three nights of festive fun. Hippodrome Theatre at the France-Merrick Performing Arts Center. Tues.-Wed. 7 p.m., Thur. 2 & 7 p.m.
TO 12/23: CANDY LANE IN CENTER PLAZA
For the first time ever, Center Plaza comes to life with sugar-spun splendor. Stop for photos as you saunter through a candy-coated wonderland adorned with 24-foot ice cream cones and sweet displays. 100 N. Charles St. 4-9 p.m.
TO 12/24: CHRISTMAS VILLAGE IN BALTIMORE
Baltimore's authentic German Christmas market returns for its eighth season with plenty of crafts from more than 50 local and international vendors, plus German delicacies, such as bratwurst, sauerkraut, and pretzels. Inner Harbor. Mon.-Sun. 11 a.m.-7 p.m. Free-$5. 
TO 12/30: GUINNESS HOLIDAY MOVIE NIGHTS   
On Thursdays this month, hit up the Halethorpe brewery for festive, outdoor viewings of your favorite Christmas films, including greats like Home Alone, Jingle all the Way and A Muppet Christmas Carol. Guinness Open Gate Brewery. 5001 Washington Blvd. 7:30 p.m. Free. 
TO 12/31: MIRACLE ON 34TH STREET
This annual holiday tradition in Hampden features an entire city block of festive decor and thousands of wintry lights through New Year's. W. 34th St. 6-11 p.m.
TO 1/2022: WINTER VILLAGE POP-UP
Now through January,  at the Inner Harbor hotel's rooftop terrace, enjoy a wonderland of frosty fun. Rent a posh and toasty semi-private cabana, flex your ice skating chops and fill up on a host of sweet and savory treats (think cookies, Bavarian pretzel sticks with cheese sauce and build-your-own crepes.)  Four Seasons Hotel Baltimore. 200 International Drive. 
TO 1/2/22: ZOO LIGHTS
From Thanksgiving through New Year's Day, the Maryland Zoo hosts its highly anticipated celebration of holiday lights among the animals. The Maryland Zoo. Fri.-Sun. 5-8 p.m. Free-$26.
TO 1/17: INNER HARBOR ICE RINK
Courtesy of Waterfront Partnership, this seasonal downtown landmark—housed atop the Inner Harbor Amphitheater on Pratt St.—returns for another season full of winter fun. Waterfront Partnership. Times vary. $4-150. waterfrontpartnership.org.