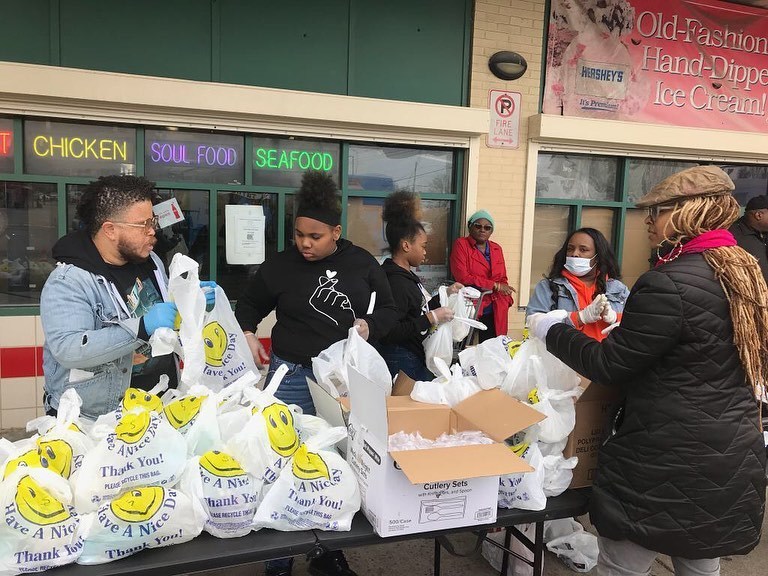 Even during a global pandemic, Charm City continues to live up to its name. A constant light in this socially distant darkness is seeing how Baltimoreans have stepped up to help those in need. And right now, many of those good deeds revolve around food—the universal language that brings people together even in the most challenging times.
Whether organizing donation drives or providing resources to the hospitality industry, the local food scene remains dedicated to lifting each other up as the quarantine continues. This week, we're dedicating our food column to some of the many praiseworthy groups, as well as providing information on how to support their causes:
Baltimore Hunger Project: During a normal week, the Baltimore Hunger Project (BHP) spends about $3,500 to feed students at its supported schools throughout the city and county. Now, the organization is increasing those efforts to help serve the thousands of students who are learning from home. Volunteers have been hard at work stocking the BHP warehouse (donations of ready-to-eat canned goods, granola bars, and other snacks are welcomed), organizing deliveries, and collecting notes of encouragement to distribute along with the food. Plus, other local partners including H&S Bakery, which has donated hundreds of loaves of bread, and Kona Ice, which has used its truck to help with distribution, have come on board to lend a hand.
Baltimore Restaurant Relief Group: Local restaurant publicist and hospitality advocate Dave Seel continues to provide resources and push for industry relief with his Baltimore Restaurant Relief Facebook group, which now has nearly 2,000 members. "My mom is a life coach," Seel recently told us. "She always said, 'Put your anxiety into action.' That's what I'm doing here." Read more about his efforts, here.
Cocina Luchadoras: Devastated by the hit that the restaurant industry has taken due to the spread of the virus, Cocina Luchadoras co-owner Rosalyn Vera established a new pay-it-forward system for diners to add an extra taco, drink, or meal to their takeout orders, which will later be donated to industry workers who have been laid off. Vera started the system by contributing 50 tacos, and will continue to offer any of the pay-it-forward meals to those in need.
Ed Reed Foundation: When principal Mischa Scott of Booker T. Washington Middle School in West Baltimore reached out to the Ed Reed Foundation about quickly emptying the boxes of perishable goods at its food pantry, volunteers came out in droves to help. The foundation looped in Nick Schauman and his team at The Local Oyster, and within a matter of hours, it was able to redistribute a few hundred boxes of fruits, vegetables, and milk using bags donated by John Minandakis of Jimmy's Famous Seafood.
With the help of community school director Mariel Pfiester and the school's kitchen director, Mrs. Travers, all of the items were donated to the Outcast Food Network and the Ruth M. Kirk Recreation Center, which distributed them to families in need.
Foraged: Before this Hampden favorite closed its doors earlier this week, chef/owner Chris Amendola provided curbside family meals for service industry workers, as well as Baltimore police, firefighters, medical professionals, and other essential personnel. The restaurant plans to reopen soon, and currently offers merch and gift card sales online.
Horseshoe Casino: Earlier this week, the team at the South Baltimore casino came together to donate nearly 7,500 pounds of milk, cheese, vegetables, and other foods to Baltimoreans in need. The donations were distributed among congregants and Head Start families at New Psalmist Baptist Church, students and families connected with Thread, and the Maryland Food Bank.
Hotel Revival: In addition to offering its unused first-floor kitchen to local food startups in need of a prep space to organize delivery orders, this Mt. Vernon gem also hosted a food and supply drive earlier this week for service industry workers who have been laid off. The hotel partnered with Dave Seel, as well as Jason Bass and Ryan Rhodes of Kiss Tomorrow Hello and The Night Brunch to hand out care packages full of Hungry Harvest and Coastal Sunbelt produce. The team plans to continue these efforts—a bagged lunch drive is planned for Friday, March 27 at 12 p.m.—and you can learn more about how to lend a hand to the Baltimore Service Industry Fund, here.
Jimmy's Famous Seafood: In partnership with Tito's vodka and Baltimore-based animal nonprofit Show Your Soft Side, this Dundalk staple is offering free meals for members of the bar and restaurant industries. Hospitality workers can enjoy the complimentary eats by presenting a 2020 paystub when ordering.
Juliet Ames: If you're not familiar with Juliet Ames' artwork, which repurposes vintage dishes into custom jewelry and framed pieces, do yourself a favor and follow @thebrokenplate. Earlier this week, Charleston's chef Cindy Wolf donated one of her signature textured plates to Ames for a new design. Once it's finished, Ames plans to donate the proceeds from the piece to the Virtual Tip Jar.
McCormick for Chefs: This initiative from the famous Baltimore spice purveyor provided free condiment packets for local restaurants to include in their carryout orders. In addition to the Frank's Red Hot and French's mustard and ketchup packets, the company is also offering free cases of Cattleman's barbecue sauce to eateries in need.
Mera Kitchen Collective: During these trying times, this local worker-owned cooperative, which focuses on the empowerment of immigrants and refugees, is doing what it does best—helping to bring the community together through food. Throughout the past week, Mera Kitchen Collective has prepared and distributed more than 1,000 free meals to families across Baltimore. The group is accepting monetary and bulk food donations to aid in continuing its efforts for weeks to come.
Saval Foodservice: Adding to its efforts to provide meals to the community during this difficult time, local distributor Saval Foodservice set up a donation drive in partnership with Atlas Restaurant Group at The Choptank in Fells Point on Thursday. Using a contactless pickup model, vice president Brian Saval gave out food packages to service industry workers who had been recently laid off. The drive will occur once again on Thursday, April 2 from 12-2 p.m.
Virtual Tip Jar: After Governor Hogan signed an executive order indefinitely closing dining rooms at restaurants throughout the state, hospitality veteran Abby Hopper created this resource for diners to send a few dollars to their favorite servers, bartenders, and baristas while they are out of work. The names of more than 1,800 workers, as well as their Venmo, Paypal, and CashApp information, are now included on the spreadsheet.
Wilde Thyme Baltimore and Black Yield: Perhaps one of the most beautiful stories of neighborhood unity that has come from these circumstances is the work of food truck Wilde Thyme Baltimore, nonprofit Black Yield, and other community partners in Cherry Hill. Throughout the past two weeks, the teams have merged with volunteers to provide 250 free dinners each night to those in need in the South Baltimore community. Joining forces with others including Mexican on the Run, Kitchen Girl Farm, The Sporty Dog, Casalag Pop-Up, Real Food Farm, Beth El Temple, and Broadway Market, the project continues to distribute food and toiletries at the Cherry Hill resource and shopping centers.
Gift Card Donations: We'd be remiss without mentioning organizations such as Foreman Wolf Restaurant Group, Atlas Restaurant Group, and White Oak Hospitality—the team behind Bandito's Bar & Kitchen and 101 Baltimore—who are all donating 100 percent of gift card sales to support staff members during this difficult time. Atlas is also matching all gift card donations dollar for dollar, and donating crops from its new farm in Finksburg to the Maryland Food Bank.