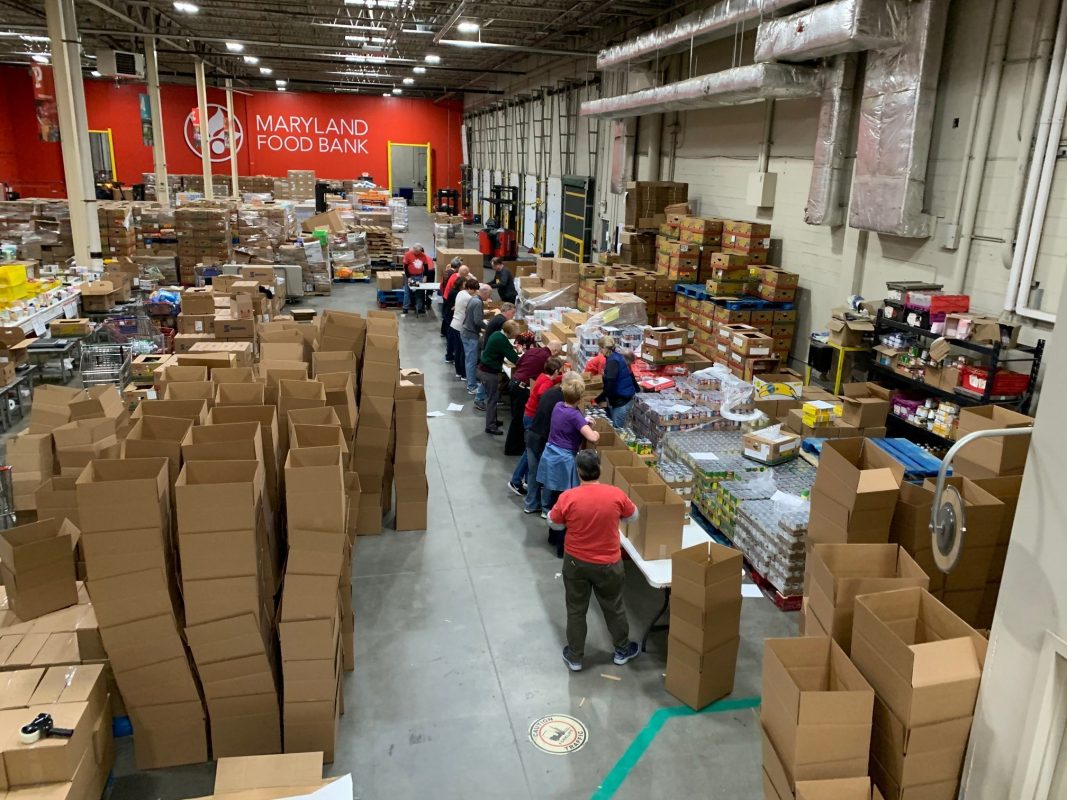 Throughout the past few weeks, everyone has heard the same advice on how to prevent the spread of the novel coronavirus: wash your hands, practice social distancing, and sanitize all shared surfaces.
But as COVID-19 continues to impact practically every aspect of daily life—from bar and restaurant closures to scrambles at area hospitals—many Baltimoreans are looking for more ways to help their neighbors in need.
"Today, with statewide closures and increasing anxieties around COVID-19, the food-insecure Marylanders we serve need us now more than ever," reads a statement from the Maryland Food Bank, which is offering grab-and-go meals for students at select sites, working with seniors to double distribution efforts, and creating "Back Up Boxes" of nutritious non-perishables for families, all while continuing its normal food programs.
And there are plenty of other local organizations doing their part to support the community while maintaining social distance. While this is by no means an exhaustive list, here are a few ways to give back to the Baltimore community during this time of need.
Things To Do
Start a Virtual Food Drive
While self-isolating, as recommended by the Center for Disease Control, the best and easiest way to donate nonperishable food items to Marylanders in need is through a virtual food drive. Here's how it works: Start by creating a no-boxes-needed drive through Maryland Food Bank's website, fill your "cart" with desired donations (examples include everything from canned vegetables and fruits to milk and brown rice), and then share your page with your friends, family, and social media circle. The Maryland Food Bank will fill your "shopping list" and provide all donations to local families that are food-insecure.
Donate Blood
As Gov. Larry Hogan emphasized during his press conference on Thursday, area hospitals are facing an emergency blood shortage and are in need of donations from healthy individuals. Visit the Red Cross website to check your eligibility, find a nearby blood drive location, and make an appointment to give back to patients in need.
Join a Neighborhood Quarantine Response Team
Amid the pandemic panic, Baltimoreans from all corners of the city have come together to support their neighbors with compromised immune systems by forming neighborhood quarantine response teams. Volunteers can sign up to buy groceries, pick up prescriptions, and walk dogs for in-need community members in 15 (and counting) Baltimore neighborhoods and districts. If you don't see your area on the list, create your own response team using the COVID-19 Volunteer Support Pack.
Order Takeout or Delivery from Local Businesses
Although Gov. Larry Hogan mandated that all bars and restaurants close their doors to prevent the spread of COVID-19, as of now, takeout and delivery services are still fair game. Since then, dozens of Baltimore restaurants have pivoted to offering customers take-home options such as curbside pickup and home delivery. To help keep your favorite local eateries afloat during these uncertain times, order a meal (or two) using our Charm City carryout guide. Don't forget to wash it down with libations from a Baltimore distillery or brewery, which are now allowed to offer carryout booze.
Make Donation Kits
In a time when supermarket aisles are empty and household items are in short supply, local donation centers are in need of provisions now more than ever. Check out the wishlists of area charities, such as the Jewish Volunteer Connection and Health Care for the Homeless, to prepare donation kits filled with everything from bagged lunches to blankets to distribute to at-risk communities.
Contribute to Little Free Pantries
We all know and love the little free libraries that are scattered throughout the city, but in recent days, locals have transformed the small wooden boxes into temporary food banks. Drop off any extra nonperishable food items at spotted locations in Hampden and Canton, or transition a close-by mini community library into a makeshift food drive to help passerbys in need.
Places to Donate
United Way of Central Maryland
This nonprofit organization has continued its dedication to helping families and individuals living in poverty by founding the COVID-19 Community Fund, which supports its helpline call specialists who operate on the frontlines of providing resources to people in need.
Moveable Feast
While Moveable Feast, the local nonprofit that delivers nutrient-rich meals to people living with chronic illnesses, suspended its volunteer program to avoid in-person contact, the 30-year-old organization will continue providing meals to its at-risk clients.
Baltimore Virtual Tip Jar
There's no way around it: The city's service industry and its fleet of servers, bartenders, baristas, and other staff members are taking a tremendous hit during the coronavirus crisis. To put tips directly in their pockets, scroll through the Baltimore Virtual Tip Jar, which now lists more than 1,200 hospitality professionals, and make a PayPal or Venmo donation.
Paul's Place
For 38 years, Paul's Place in Southwest Baltimore has been improving the community's quality of life by supplying visitors with hot meals, clothing, support services, and health and wellness programs. During these uncertain times, Paul's Place representatives continue to provide emergency food boxes, as well as shower and laundry services, to neighbors in need.
COVID-19 Emergency Fund for Artists and Freelancers
As more events, performances, and productions cancel their events in compliance with the CDC's recent guidelines, Baltimore-based performers are struggling with the loss of work. To help support their efforts, Alanah Nichole has started an emergency fund that will distribute donations to individuals and families impacted by COVID-19-related cancellations.
---
If you're an organization helping the community during the ourbreak, let us know by completing the following form: