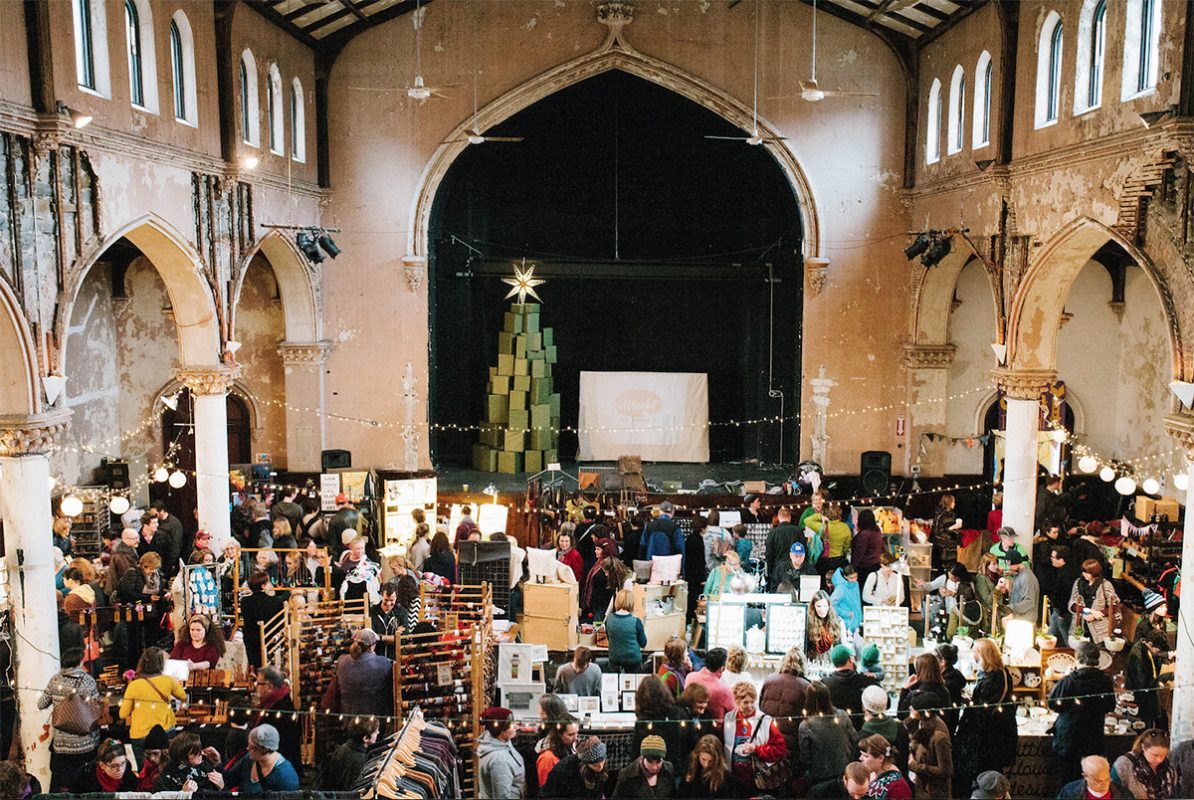 Courtesy of Charm City Craft Mafia
As the gift-giving season creeps closer, it seems that everyone is in the market for the perfect market. It's easy to understand why: There's hot chocolate to sip, delicious bites to nibble, and copious amounts of crafts and clothes to buy from Baltimore businesses. Whether it's a bazaar, pop-up, fair, or fest, there's no better place to find one-of-a-kind presents for your loved ones during the holidays.
Nov. 20-Dec. 27: Holiday Delights Pop-Up Shop
The Women's Exchange, 333 N. Charles St. Fri. 4-7 p.m., Sat.-Sun. 10 a.m.-5 p.m.
The Women's Exchange is partnering with the Industrial Arts Collective to bring Charles Street a sampling of locally made goods from over 90 Baltimore businesses. The pop-up will host a preview party on Nov. 20 from 5:30-7 p.m., a monument lighting gathering in Mt. Vernon from 4-8 p.m. on Dec. 3, and a closing party on Dec. 27 from 2-4 p.m.
Nov. 21: Friends School Holly Fest
Friends School of Baltimore, 5114 N. Charles St. 10 a.m.-4 p.m. Free.
The holiday season wouldn't be complete without the Holly Fest from the Friends School. In its 30th year, the fest will have no shortage of charitable cheer this year. Along with the standard stalls of vendors, the event will feature a multitude of student-run booths such as UNICEF and Habitat for Humanity, and a silent auction of class gift baskets that supports the school's parents association. And though there is no admission fee, attendees are encouraged to donate to the school's mission fund. Foodies can chow down on dishes from Gourmet-to-Go and La Cakerie in between all the philanthropic fun.
Nov. 26-Dec. 27: Christmas Village in Baltimore
West Shore Park, 501 Light St. Sun.-Thur. 11 a.m.-7 p.m., Fri.-Sat. 11 a.m.-8 p.m.
This market is hard to miss. Smack dab in the harbor, the Christmas Village is pretty much a winter wonderland. In addition to the copious amounts of food and array of gift vendors, each weekend has a different theme: German American weekend on Dec. 5-6 and Stocking Filler weekend on Dec. 19-20, to name a few. As if that wasn't enough, they also offer wine, cheese, and chocolate tastings; musical performances; and family fun days throughout the week.
Nov. 28: Bazzart
American Visionary Art Museum, 800 Key Highway. 10 a.m.-5p.m. Free.
For all things wacky, weird, and wonderful, head to the AVAM to shop creations from more than 40 different artists and to support Small Business Saturday. Expect all the ordinary holiday market wares like apparel and paintings, plus sculptures, metalworks, and more. When you're worn out from spending, re-up at the museum's new restaurant, then take a spin around the museum itself.
Nov. 28: Charm City Flea Market's Small Business Saturday
St. John's Church, 2640 St. Paul St. 10 a.m.-4 p.m. Free.
The first-ever holiday Charm City Flea Market will make it way easier to support small Baltimore businesses this holiday season. With the community in mind, there's almost no excuse not to step out and grab fabulously made soaps, jewelry, and housewares from this Baltimore staple.
Nov. 28: Miracle on Main Street Waverly Holiday Pop Up Farmer's Market
East 32nd Street and Brentwood Avenue. 9 a.m.-3 p.m. Free.
Come support dozens of Baltimore's most creative artisans at this one-day event during Small Business Saturday. The market will be giving away free "Shop Small" canvas tote bags at their table throughout the day, so how could you say no?
Dec. 3: Artifact Coffee Holiday Bazaar
1500 Union Ave. 6-9 p.m. Free.
One of our favorite coffee spots is hosting a holiday bazaar. Gather 'round with a coffee or cocktail in hand to browse and purchase local wares for your loved ones, coworkers, and everyone else on your list. If you miss out on the fun, don't freak. Bazaar vendors will be featured on the shop's retail wall throughout the month of December.
Dec. 3: Park School Holiday Artisan Market
2425 Old Court Rd. 3:30-7 p.m.
Get your hands on some Buddha Bites, quirky aprons, organic skin care products, and other unique goodies at this artisanal market. Members of the Park School community will be on site selling their wares as well. The wide variety of enticing makers will likely tempt you into grabbing a present for yourself, too.
Dec. 5: Holiday Barn Sale
Star Bright Farm, 2950 Garrett Road, White Hall. 1-6 p.m.
What's more adorable than a barn decorated with twinkle lights that's brimming with holiday cheer? Absolutely nothing, in our opinion. Warm yourself with wine at Star Bright Farm while you browse the sale's intimate selection of homemade goods from the Sassy Cyclist, Stella and Dot, Words with Boards, and a handful of others.
Dec. 5: Makers Alley
Local Color Flowers, 3100 Brentwood Ave. 9 a.m.-1 p.m. Free.
Makers Alley is bringing together local food and craft vendors for a third joyous year. Get there bright and early and grab some Woot Granola and Kinderhook Snacks to munch on as you mingle amongst awe-worthy, hand-screened designs from Highway to Hill, crafted pieces from Rebcycle, Papercuts by Annie Howe, and more.
Dec. 6: Merry Mart
Creative Alliance, 3134 Eastern Ave. 11 a.m.-6 p.m. Free.
Members of the Baltimore Etsy Street Team, Charm City Craft Mafia, and other artisans will showcase their creations in a juried holiday market just in time for you to grab gifts for the deserving guys and gals in your life. Between browsing, stop in to the mart's arts workshop at any time for a free craft session that will keep your kids chipper.
Dec. 9-12: MICA Art Market
Brown Center, 1301 W. Mount Royal Ave. Wed.-Fri. 11 a.m.-7 p.m., Sat. 10 a.m.-6 p.m. Free.
Get acquainted with artists new and old at the art school's annual market. There's really no excuse to give your mom, brother, and the like a mediocre present when you can gift them a piece lovingly handmade by a MICA student, faculty member, staff member, or alumni. What's best? A portion of the proceeds generated during the four-day event will go toward MICA scholarships.
Dec. 12: Holiday Heap
St. John's Church, 2640 St. Paul St. 10 a.m.-5 p.m. Free.
Didn't get enough Charm City Craft Mafia goods at the Merry Mart? Fret not. The crew will showcase and sell their unique array of goods once again at Holiday Heap. If you're a morning person, grab yourself an early-bird ticket available Dec. 1. The ticket allows you to shop for an hour before doors open, mingle with the artists, and snack on complimentary eats from Carma's Cafe. You'll even get a swag bag filled with exclusive goodies. Tickets are limited and not sold at the door, so get 'em before they go.
Dec. 17: Last Stop Hops 'n' Shop
Peabody Heights Brewery, 401 E. 30th St. 5-9 p.m.
Charm City Craft Mafia is almost single-handedly ensuring you finish up your holiday shopping this year. Finish mingling at Holiday Heap, then head over to 30th Street for vendors galore, beer, and a free tour of the Peabody Heights Brewery. Aren't all the best purchasing decisions made after a few beers?
Dec. 19: Charm City Flea's Holiday Market
St. John's Church, 2640 St. Paul St. 10 a.m.-4 p.m.
For the ultimate procrastinator, Charm City Flea hosts a second holiday event this season, this one the weekend before Christmas. Didn't think you'd need to get your boss' wife or your distant cousin a present? You'll look nothing but poised and prepared when you hand over their one-of-a-kind gift from one of the market's 35 vendors.