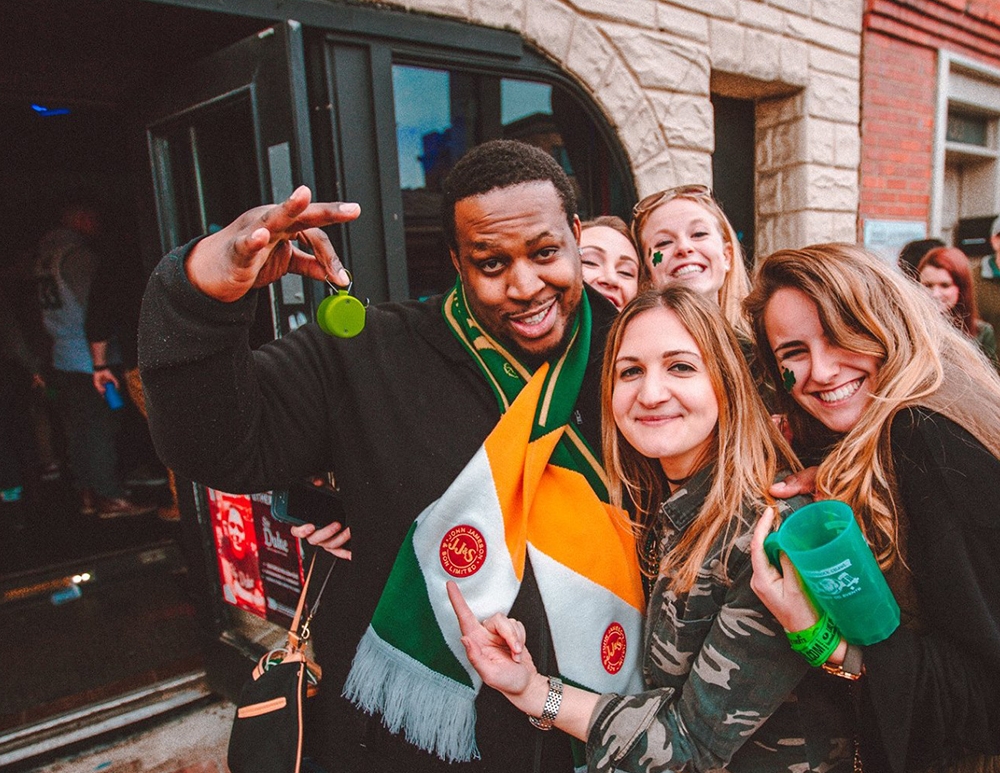 Project DC Events
Fortuitously falling on a weekend this year, St. Patrick's Day is always a good excuse to toast the Emerald Isle no matter what your nationality. In celebration of the Celtic culture, local bars and restaurants are hosting tons of shamrock-themed shindigs leading up to the big day. So throw on your green-and-gold garb and take advantage of these events highlighting everything from beer and brunch to jigs and jam sessions.
Pub Parties

3/1-18: 17 Days of St. Patrick at Sláinte Irish Pub
It's the greatest month of the year at Sláinte in Fells Point, which is going all out with its annual daily celebrations leading up to St. Patrick's Day. Highlights this year include a Guinness pint glass engraving on March 7, charity kissing booth on March 11, and a Jameson toast at midnight on the big day. The culminating event will begin at 6 a.m. (a prize basket will be given to the first guest through the door) and continue with dancing, drinking, and live music by the Rachel Ann Morgan band at 10 p.m. 1700 Thames St. 410-563-6600
3/9-10 & 3/17: High Holy Daze at Mick O'Shea's
Conveniently located along the annual St. Patrick's Day parade route in Mt. Vernon, this Irish staple acts as a headquarters for all of the festivities. Starting on parade weekend March 9-10, the bar will host live music by local jam bands Murphy's Shambles and Gaelic Mishap. For the main event, post up at the pub to enjoy all-day food and drink deals, as well as live tunes from The Donegal X-Press at 4 p.m. 328 N. Charles St. 410-539-7504
3/10-17: St. Patrick's Day Celebration at An Poitin Stil
Complete with exterior harp logos and its own steeple clock, An Poitin Stil looks a pub straight out of Dublin. And the building's Irish authenticity carries into the restaurant—which is celebrating its 20th annual St. Patrick's Day celebration this year. For eight days straight, the Timonium spot will offer nonstop live music, Irish trivia, dance performances, food specials, and drink deals like $5 Tullamore Dew Irish coffees and $7 car bombs. The family-friendly festival on March 16 (think balloon artists, face painters, and the works) will pause at 7 p.m. for a toast to officially ring in St. Patrick's Day in Ireland, and, on the big day, expect beat-the-clock specials, as well as live performances by The Shamrogues and Ernie Fowler Trio. 2323 York Rd., Timonium. 410-560-7900
3/16: St. Paddy's Day Block Party at Delia Foley's
For the third year in a row, Delia Foley's is taking over the intersection of South Charles Street and Fort Avenue for this epic block party. The all-day rager will feature three live bands, giveaways, food vendors, a Jameson ice luge, and even a Guinness beer truck on site. The party continues on the actual holiday, when the bar will open at 10 a.m. with live music, corned beef and cabbage specials, and free swag for the first 25 people through the door. 1439 S. Charles St. $5. 443-682-9141
3/16: 24th Annual Meet in the Street at Claddagh Pub
This two-day tradition is one that everyone should check off of their Baltimore-bar-scene bucket list. Gather with friends and neighbors outside of Claddagh Pub on O'Donnell Square to jam to familiar tunes by local rockers Under the Covers while cracking open cold beers. There will also be heated tents with tons of grub to help everyone keep warm. 2918 O'Donnell St. 410-522-4220
3/17: St. Patrick's Day at James Joyce Irish Pub
This Harbor East staple is bringing new meaning to the term Sunday Funday. Starting at 7 a.m., James Joyce will be pouring pints, serving up its signature Shepherd's Pie, and offering extra seating in heated tents on its outdoor patio. Other food specials to look out for throughout the day include authentic bangers and mash and Irish lamb stew. 616 S. President St. 410-727-5107
Beer Blarney

TO 3/17: Month-Long Celebration at Guinness Open Gate Brewery
It only makes sense that Guinness would pull out all of the stops for its first official St. Patrick's Day on American soil. Head to the Halethorpe facility for the month-long celebration featuring festive decor, an immersive Irish phone booth, a special menu of food specials at the upstairs restaurant, a new Guinness food truck parked out front, and an Irish tap takeover featuring pours from the likes of Smithwick's and Harp. Throughout the holiday weekend, the brewery will host ticketed events that include a free beer, giveaways, and live music. 5001 Washington Blvd. Halethorpe. 800-909-2645
3/15: St. Patrick's Day Celebration at Diamondback Brewing
Diamondback's Green Machine IPA is coming in handy for the brewery's first-ever St. Patrick's Day party. To honor the patron saint of Ireland, head to the decked-out taproom for $4 Green Machine drafts, $4.50 lagers, and the release of the DQ'D IPA with lactose and Madagascar vanilla beans. 1215 E. Fort Ave. 443-388-9626
3/15-17: St. Patrick's Weekend at World of Beer
Irish brews will take the spotlight at this craft beer mecca throughout the holiday weekend. Stop in for $5 Guinness, Smithwick's, and locally brewed Guinness Blonde drafts featured alongside $5 Jameson shots and $7 Irish car bombs. 125 E. Joppa Rd. Towson. 410-825-0020
Shamrock Shenanigans

3/9: Canton Irish Stroll
Kick off stroll season with this 18th-annual Canton extravaganza that sends attendees bar hopping everywhere from Silks and Southern Provisions to Looney's and Lee's Pint & Shell. Along the way, sip discounted beers ($3 Miller Lites and $4 Blue Moons) while collecting free koozies and green beads. 2917 O'Donnell St. $20
3/15: Shamrocks & Shenanigans with DJ Pauly D at Power Plant Live
Much like DJ Pauly D's signature hairdo, this St. Paddy's event is expected to be a huge blowout. Dress to the nines and head to Power Plant Live to dance all night to tunes spun by the famous Jersey Shore guido himself. An opening set by local DJ Janko will get the party started at 8 p.m. 34 Market Place.
3/16: Fells Point Shamrock Crawl
With green mugs in hand, revelers will make their way to more than 10 Fells Point watering holes on this self-guided pub crawl. Go overboard with the green accessories and take advantage of $3 beers, $3 rail drinks, and $4 green shamrock shots before eventually making your Irish exit. South Broadway. $15
3/16: 21st Annual Federal Hill Irish Stroll
Known as one of Federal Hill's liveliest days of the year, this recurring rager offers $3 Miller and Coors Light bottles and $4 Summer Shandy and Blue Moons at a number of participating bars. Head to Magerk's for the traditional pub experience before stopping by other favorites like Wayward, Ropewalk, Bandito's, Crossbar, and Blue Agave. 1113 S. Charles St.
3/17: The Shake Off
Wear green to receive $3-off admission to this epic dance party at The Crown that celebrates Baltimore club culture mixed with global influences. For the special St. Patrick's Day version, expect to hear everything from R&B and reggaeton to EDM and old-school hip-hop. Live DJs including DJ Tigga, McMumblez, DJ Thunder, K-Glizzy, and DJ AyyMello will be taking turns spinning all night long. 1910 N. Charles St. $7-10. 410-625-4848
Gaelic Grub

3/15-17: Waterfront Hotel Goes Irish
Dublin-inspired dishes will be added to the the (magically) delicious brunch menu at this Fells Point bar throughout the holiday weekend. Wash down all of the eats by throwing back $6 Jameson drinks and $7 Irish pancake shooters, while also enjoying a live music lineup with six local bands. The weekend kicks off with Ricky Wise & The Dirty Unit on Friday night, and continues with performances by Grayson Moon, The Whiskies, Frenchie & Alisha, and The Animal Project. 1710 Thames St. 410-537-5055
3/16: St. Patrick's Day Brunch and Whiskey at Sagamore Spirit
Given its love of whiskey—namely, Maryland rye—it should come as no surprise that the Sagamore Spirit distillery in Port Covington is getting in on the fun. Embark on a tour of the facility before enjoying a guided tasting and bottomless brunch spread with the experts themselves. 301 E. Cromwell St.
3/17: St. Patrick's Day Beats & Brunch at Mother's
Mother's in Federal Hill is religious about its Sunday brunch service, and the staff is always down to throw in a theme for special occasions. (Regulars are familiar with the frequent pajama brunches and Purple Patio pregames.) St. Patrick's Day will be no exception, featuring bottomless mimosas, Bloody Marys, beers, and rail cocktails. There will also be live DJ music to bob your head to while chowing down on all of the specialty omelets and breakfast sandwiches. 1113 S. Charles St. $20-25. 410-244-8686
3/17: St. Patrick's Day Brunch with Bottoms Up Bagels at Checkerspot Brewing
Every third Sunday, Bottoms Up Bagels stops by Checkerspot Brewing to serve hand-rolled bagels, signature schmears, and other mid-morning eats crafted specifically for each brunch. This month, the event just so happens to fall on March 17. Head to the South Baltimore hangout to load up on St. Patrick's Day-inspired specials while downing suggested beer pairings, as well as "beer-mosas" (beer and orange juice) and "beer-linis" that mix beer with fresh-squeezed peach juice. 1399 S. Sharp St. 11 a.m.-3 p.m.
3/17: Luck O' the Irish St. Patrick's Day at Mt. Washington Tavern
Head to this neighborhood haunt to chow down on the regular brunch menu with a few Irish specialties thrown into the mix. Among them will be corned beef hash and eggs and Irish nachos. As always, guests can wash down all of the eats with bottomless mimosas and Bloody Marys. 5700 Newbury St. 410-367-6903