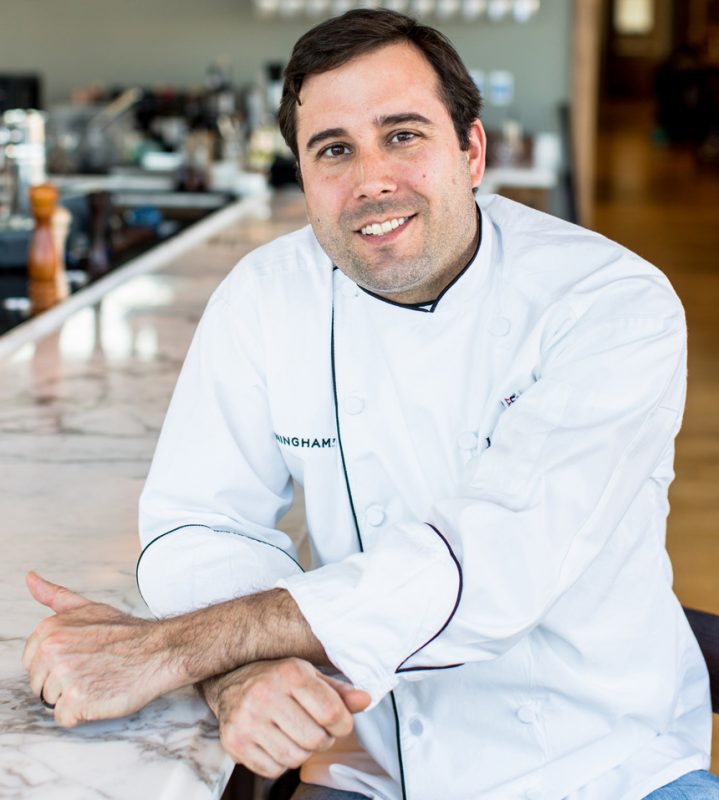 The past year has been a banner one for chef Jay Rohlfing. He took first place on the Food Network's Chopped in June. His son, August, joined the family, including big sister, Scarlett, in October. And earlier this week it was announced that Rohlfing would take on a leadership role and spearhead the rebranding of Towson's now-closed Cunningham's, as well as overseeing the sister spot Cunningham's Café and the operation's wholesale bread business.
"It's a major responsibility to represent something," he says, "but it's also a great blessing." And just in case the always humble chef gets less humble with each accomplishment, his family keeps him in check.
"People ask me how it's going, and I'll say, 'Scarlett is screaming for ice cream, Gus is drooling, and my wife, Lisa, is yelling about how I load the dishwasher. In other words, it's business as usual.'" Between working on menu development and meetings with Patrick Sutton to discuss the restaurant's redesign, we caught up with the chef.
What led to the decision to close Cunningham's and rebrand?
One of the things that put the timing into perspective was seeing the huge cranes outside the building and the fact that Towson is starting to change. The high-rise, high-end condos that are going up hit our demographics perfectly, and we want to be the go-spot for the people living there. Every restaurant has to reinvent itself at some point, and we've been in Towson for seven years. We figured it was time to be a part of that renaissance.
What can you tell us about the new space?
We've seen such a great bar business, we're busy on weekends and weekdays. We want to create a more open, larger bar area and then have a smaller intimate dining space. We're still in the creative process of planning that, but we're hoping that the restaurant will be more like 80 seats than the 150 seats we had at Cunningham's. As much as we enjoyed the space, what we want to do is design a space that creates a buzz and a vibe that's is more intimate and social. We are hoping to double size of the bar that we have now. We will still have around 30 seats with some lounge area, as well.
I know you're still in the planning stages, but what can you tell us about what the concept will be?
We really want to tell a story. When people go out to eat, they want to be taken away to an experience. Patrick Sutton, who will design the space, is so good at telling stories. Good food is good food, and people will return for that. But for longevity, you have to have a clear vision and a clear story.
Now that you're running operations, will we still see you in the kitchen?
I'm heading the leadership team, but I will still be the restaurant's executive chef—that's where my heart is.
Are there any specifics you can share about the menu?
We're going to continue to source locally. One thing that really attracted me about being at Cunningham's was not just the role, but how we became a member of the community using local products and keeping those vendors involved here. What I can say is that the menu will be classic American.
What will happen to Cunningham's Café during the renovation?
The café will stay open. The fun thing is that, during the renovation, we will have extended hours in the café and be open for dinner every night until 9 p.m., starting next week. I'm going to use that kitchen as a great R&D kitchen to test dishes for the restaurant.
Depending on what we see, most likely, the café will stick to its new hours. The café has turned into this spot where Towson students like to go and do their studying. Instead of getting eggs over easy at the Towson Diner, they're getting more artisan-created food and free Wi-Fi. We are seeing this great influx of students and people who work remotely. We are also going to enclose the outdoor dining area, which will add about 40 seats.
Please tell me that you're still going to have that wonderful bread and baked goods.
Upstairs, the restaurant kitchen will become the total kitchen that we use for the café and restaurant. Downstairs, the bakery, where there was a shared kitchen space, will double in size.
How is the county diner different that the city diner?
It's a different dynamic for sure. We had an amazing New Year's Eve this year, the best in the history of Cunningham's, but at the same time, the restaurant emptied out at 10 p.m. There's also a difference in some of the foods that sell. Octopus, for example has performed really well here, foie gras is a hard sell.
I know you've had to let some of your staff go during the transition. That must be emotional.
Monday was a hard day. How do I explain to the employees that this is just a transition? But it was received well by the staff. [Dining room manager] Laura organized a great list for them to find work in the interim with restaurateurs like Linwood Dame and Alex Smith—and some of them are working already. There's no playbook on having to shut a restaurant down for renovation—it has been a learning process for me. I care about people, and I wanted to make sure that people are taken care of. How can you expect someone to come back and work for you in the future if you don't care about them in the present?
You won $10,000 in prize money when you came in first place on Chopped. What did you do with the money?
We are currently living in a Cape Cod-style house in Parkville. The goal is to purchase some land a little bit further north in Baltimore County, so we are saving for that.
So, if we don't see you working in the new restaurant, will we get to see you on the Food Network again?
I'm excited for next opportunity—I've been contacted multiple times.