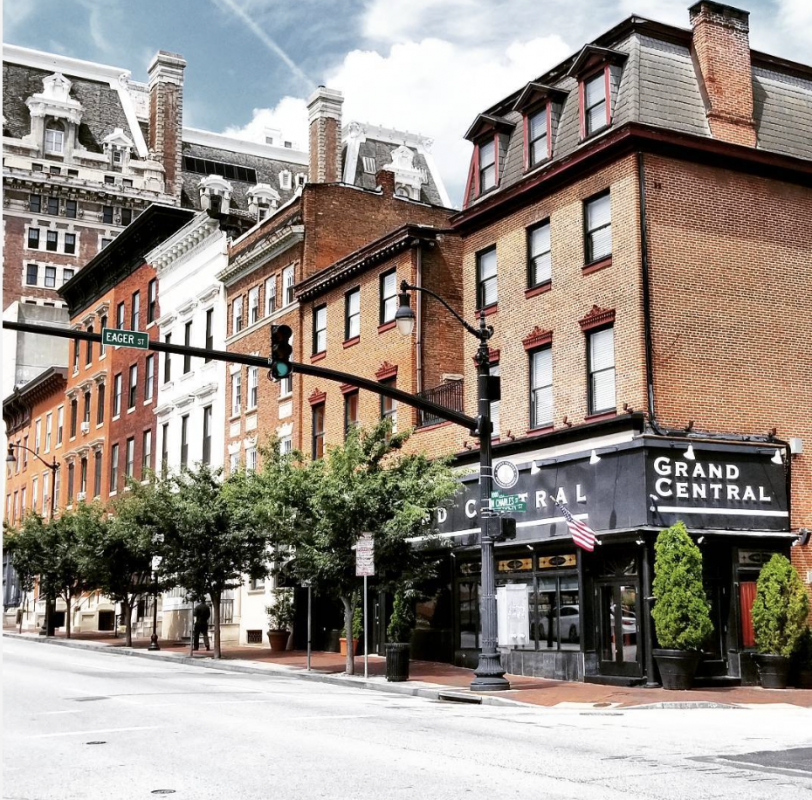 Courtesy of @peachsake via Instagram
NEWS
Grand Central Nightclub: It's the end of an era for this stalwart dance club in Mt. Vernon, which was put on the market earlier this week by longtime owner Don Davis. "I'm tired," he tells us. "There comes a time when you just have to pass the torch on to somebody else." Davis—who debuted the spot in 1991—has been operating the business remotely for the past decade, and currently resides in San Antonio, Texas. His hope is for a new local buyer to continue with the Grand Central concept. "It's a viable business," he says. "And there's a lot of room for growth." The $1.85 million turnkey sale would include all furniture, equipment, and the bar's on-and-off-premise liquor license. "My heart has always been there," Davis says. "I've met so many wonderful people in the past couple of decades. I'll miss it, but it's just time." 1001 N. Charles St., 410-752-7133
Play Cafe: In other business news, co-owners Ryan Sterner and Kathy Schott are in the midst of a transition at their kid-friendly Hampden hangout Play Cafe. Sterner will be moving overseas with his family at the beginning of 2018, and the owners are in search of a buyer who is interested in either investing in the partnership, or taking over the business entirely. "Business is good," Schott says. "But it's a lot for one person to take on themselves." Since opening in 2015, the cafe has become a go-to for parents to sip smoothies and enjoy light bites while watching their little ones play with various games and toys. If a partner were to come on board, the owners hope that the family-inclusive concept would remain the same. "Half of the stuff that we decorated this place with are things that my parents saved from my childhood," Sterner says, mentioning toys like an old-school Radio Flyer tricycle. "It's nice to have my past be a part of the cafe." 3400 Chestnut Ave., 410-469-9784
OPEN
Molina Pizze & Polpette: This New Haven-style pizza place is now open at R. House in Remington. The communal food hall's newest (and now permanent) tenant is the brainchild of J.J. Reidy and Christian De Paco of local farming collective Urban Pastoral. In collaboration with chef Melanie Molinaro, who runs Stall 11 at the market, the duo has crafted a menu that makes use of sustainable ingredients like local arugula, kale, and roasted squash. Be on the lookout for snacks including charcuterie plates, crispy Brussels sprouts with aged balsamic, and ground short rib meatballs. But the real stars of the show are the creative wood-fired pizzas, including the "Terra" (lemon-sunflower seed pesto, cashew ricotta, and crispy kale) and the "Parma" topped with parmigiana reggiano, prosciutto, and arugula. 301 W. 29th St., 443-681-1907
COMING SOON:
Moby Dick House of Kabob: This celebrated Persian dining destination is making its Charm City debut. The regional chain launched in Bethesda in 1989, and has since expanded with dozens of locations across the tristate area. Next month, Moby Dick is bringing its authentic staples to The Rotunda in Hampden. Menu highlights include an array of dips, colorful salads, falafel sandwiches on housed-baked naan, and the namesake kabobs in varieties ranging from spicy chicken and tender beef to marinated salmon and grilled lamb. Moby Dick will join CineBistro and MOM's Organic Market in the mixed-use development, which will also house a second location of Federal Hill favorite The Local Fry early next year. 727 W. 40th St.
Prigel Family Creamery: Diners strolling around Belvedere Square Market will soon be able to grab a scoop from Glen Arm's beloved Prigel Family Creamery. The family-run dairy farm's new retail location is slated to celebrate its grand opening in the market on Friday, November 3. In addition to its fun flavors (favorites include caramel pretzel and honey graham), the creamery has become known for its other treats like ice cream sandwiches, cakes, and pies. 529 E. Belvedere Ave.
CH-CH CHANGES
La Cakerie: In a message posted to Facebook earlier this week, La Cakerie owner and executive chef Jason Hisley announced that he would be parting ways with his business partners to start a venture of his own. Since opening the Towson bakeshop six years ago, the frequent Food Network competitor has gone on to launch two other locations in Mt. Vernon and Bel Air. "My vision for La Cakerie was to introduce a small, cozy shop where our community could enter in one mood, and leave happier than when they entered," the post reads. "As the brand became more recognized by a national audience, it became less recognizable as the vision I had when our journey began." Looking ahead, Hisley plans to open a new shop—Cake by Jason Hisley—in Timonium early next year, highlighting cupcakes, donuts, pastries, coffee, and custom cakes. Stay tuned for more details.
No Way Jose Cafe: Rebranding seems to be all the rage in Federal Hill these days. Recently, the neighborhood has welcomed reimagined watering holes including Wayward Smokehouse and The Charles Baltimore, and No Way Jose Cafe is the next in line. Though details about the new concept are still under wraps, the Tex-Mex favorite is expected to retire its cantina vibe by the end of this month. "We've struck a concept that will give us a fresh look while allowing us to still deliver the upbeat and laid-back atmosphere people always come here to find," said general manager Don Messinese, in a statement. "We're not making this change too complicated or elaborate, we're simply shifting gears so we can provide more fun for our guests."
More details are expected to be released by the end of the month, but, to celebrate No Way Jose's run, the bar is throwing a weekend-long bash October 20-22. "We understand people have a sense of nostalgia attached to Jose's, as we do too," Messinese said. "But we're confident that after a weekend of celebrating all the joy Jose's has brought, our patrons will join us in welcoming this exciting new chapter on Cross Street." 38 E. Cross St., 410-752-2837
EPICUREAN EVENTS
11/4: Stars, Stripes, and Chow: Chili Edition
Next month, locals will gather at City Garage in South Baltimore for this chili cook-off benefitting The Baltimore Station—a Federal Hill facility which works to support veterans transitioning from homelessness. The competition will feature unlimited chili samples, as well as beer and wine, and a full buffet catered by Mission BBQ. The family-friendly afternoon will also highlight a kid's zone, and live DJ entertainment by Shore Sounds. City Garage, 101 W. Dickman St., 1-5 p.m., $25-50.
11/5: Movember Brunch at La Food Marketa
La Food Marketa in Pikesville is hosting this special brunch in support of the Movember Foundation—a global charity that has funded more than 1,200 initiatives to improve men's physical and mental health in the past 13 years. Grab your brunch buddies to indulge in dishes including everything from acai bowls and avocado toast to fish tacos and chicken and waffles. A portion of the day's sales will be donated directly to the Movember Foundation. La Food Marketa, 2620 Quarry Lake Drive, 410-415-0606
SHUT
G.A.Y. Lounge: After only five months in business, this modern Mt. Vernon spot has shuttered its doors. Back in April, partners Joshua Persing and Robert Gay took over the high-ceilinged space from its former owners Ezra Tilaye and Tegist Ayalew—who operated Ware House 518 in the building for seven years. Persing and Gay took to Facebook to explain the closure earlier this month. "Unfortunately, when we entered into this venture, we entered with what we thought was a concrete contract with the previous owner," the post reads. "Legal jargon aside, the bottom line is that this contract has become more fluid than we are comfortable with, and, at this time, we do not have the ability to keep up or comply with the ever-changing demands and expectations." The post goes on to explain that Persing and Gay have every intention of reopening "when the time is right and the cards fall back into place." 518 N. Charles St.
Starlite Diner: The rotating door at 510 East Belvedere Avenue in Belvedere Square has spun around yet again. The space has housed a handful of restaurant concepts throughout the past decade, and, earlier this week, a spokesperson for property management group MacKenzie Commercial Real Estate confirmed that the latest tenant, Starlite Diner, has also closed for good. Details surrounding the closure are still unclear. Opened by former Red Maple owner Leonard Clarke in the summer of 2016, Starlite was best known for its relaxed diner vibe and classic comfort foods. 510 E. Belvedere Ave.