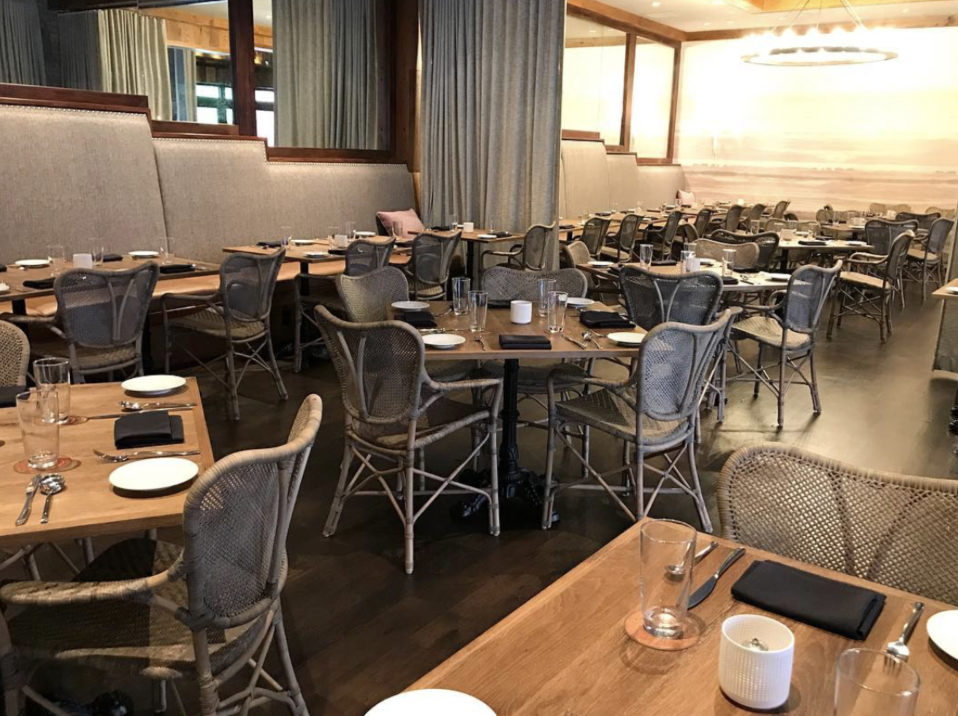 Courtesy of Tagliata
COMING SOON
Tagliata: Atlas Restaurant Group is putting the finishing touches on this new fine-dining den in Harbor East—as well as its neighboring cocktail bar The Elk Room—which are slated to debut in the next coming weeks. Set in the building that previously housed Fleet Street Kitchen, the new Italian chophouse will boast a rustic interior with nearly 140 seats, and a modern piano bar on the lower level. Headed up by former Cinghiale chef Julian Marucci, the kitchen will focus on house-cured charcuterie, pasta, and an array of steaks and chops. 1012 Fleet St., 410-244-5830
The Local Fry: North Baltimore locals will no longer have to make the trek south to dig into chicken wings and gourmet French fries at this Federal Hill shop. Husband-and-wife owners Kevin and Elizabeth Irish announced yesterday that they would be opening a second location at The Rotunda in Hampden. Slated to debut early 2018, the shop will feature the couple's signature wings (think flavors like Old Bay, lemon pepper, and Gochujang), banh mi sandwiches, and loaded fries topped with everything from Buffalo chicken to barbecue pork. Though the new spot will be a bit smaller than the flagship (approximately 1,200 square feet), the owners are excited to cater to the Hampden, Roland Park, Charles Village, and Johns Hopkins communities. "We feel our menu perfectly suits these areas' demographics," Kevin and Elizabeth tell us. "We can't wait to be a part of another great Baltimore neighborhood." 711 W. 40th St.
The Bun Shop: Towson University students will have a new study spot to check out when classes resume this fall. The Bun Shop—which operates a flagship in Mt. Vernon and a second location on Light Street downtown—is making moves to the county, debuting yet another cafe at 40 W. Chesapeake Ave. in Towson. The artsy spot specializes in worldly offerings including everything from Paraguayan empanadas to Vietnamese iced coffee. 40 W. Chesapeake Ave., Towson
Duck Duck Goose: The Fells Point building that previously housed dive bar Bad Decisions is in for a makeover. Chef Ashish Alfred, a Montgomery County native, will bring a second location of his Bethesda restaurant Duck Duck Goose to the space later this year. A spin on the classic French brasserie, the restaurant offers small plates like beef tartar and Japanese eggplant ratatouille, alongside heartier entrees including scallops with Israeli couscous, and, of course, dry-aged duck. 1928 Fleet St.
Huckle's Hot Sauce: This homegrown hot sauce startup will join the likes of Earth Treks, The Charmery, and Baltimore Whiskey Company inside Union Collective next year. The 138,000-square-foot Medfield warehouse will combine an expanded Union Craft Brewing facility and taproom with makerspace for eight local businesses. Huckle's—which currently bottles its sauces out of Lauraville restaurant Maggie's Farm during off hours—will take up 6,000 square feet of the communal market, making use of a test kitchen, retail area, and additional production equipment. 1700 W. 41st St.
Annabel Lee Tavern: This beloved corner bar has taken us all on a bit of an emotional rollercoaster over the past few months. Back in May, foodies were devastated when owner Kurt X. Bragunier announced that he would be closing his tribute to Edgar Allan Poe due to financial reasons. But soon after, two local investors swooped in to save the spot—and we're happy to report that a grand reopening date has officially been set for Friday, August 11. The dimly-lit hangout will reopen its doors with plenty of duck-fat fries, barbecue chicken nachos, and Buffalo mushrooms to go around. Moving forward, the bar will open for lunch on the weekends, expand its carry-out menu, make use of delivery services like OrderUp, and offer beer, wine, and growler refills to go on a daily basis. 601 S. Clinton St., 410-522-2929
OPEN
Avenue Kitchen & Bar: Earlier this week, two local restaurateurs launched this new concept in the space that formerly housed Le Garage on the Avenue in Hampden. Aptly named for its location, the restaurant from Patrick Dahlgren of The Rowhouse Grille and Bill Irvin, formerly of La Folie Steak Frites, will focus on American staples paired with local beer and wine. Dishes to look out for include duck taquitos, spicy grilled octopus, cast-iron strip steak, and crab cakes with lemon potatoes. 911 W. 36th St., 443-961-8515
B'more Licks: Just in time for peak summer temperatures, this ice cream shop on the corner of South Milton and Eastern Avenues is now officially open for business in Highlandtown. The lengthy menu lists snowballs, Italian ice, a plethora of soft serve concoctions (including specialty flavors like amaretto, cinnamon, red velvet, and lemon cookie), and scoops of vegan ice cream. If you're feeling adventurous, sample outside-of-the-box treats like waffle cone nachos, tacos, and cones filled with warm espresso. 2437 Eastern Ave.
CH-CH CHANGES
Aggio: Maryland's own celebrity chef Bryan Voltaggio is bringing new energy to his modern Italian concept in Power Plant Live. He recently appointed chef Dan Metz, formerly of Canton's Fork & Wrench and The Wine Market in Locust Point, as chef du cucina. A graduate of L'Academie de Cuisine in Gaithersburg, Metz puts his own spin on traditional Italian flavors with new dishes including foie gras bruschetta topped with cherries and pickled mushrooms, a zucchini salad with burrata and basil-buttermilk dressing, and spaccatelli pasta with Marcona almond pesto. 614 Water St., 410-528-0200
Claddagh Pub: Don't be surprised if things seem a bit different the next time you hit up this Irish staple on O'Donnell Square in Canton. Not only does the 24-year-old mainstay have a new chef and menu (think smoked kielbasa, pan-seared rockfish, and Asian duck), but it also boasts a revamped outdoor courtyard. The previously underutilized space, which is now named The Cork Yard Bar, is equipped with a custom bar, strung lights, water misters, a designated area for live bands, and furniture imported from the Emerald Isle. 2918 O'Donnell St., 410-522-4220
The Charles: Federal Hill revelers will be happy to hear that the building which previously housed Mad River Baltimore will soon reopen with a brand-new concept called The Charles. Spearheaded by operation partners Andrew Wheeler and David Yike, the rebrand will yield modern-industrial touches, elegant banquette seating, and a menu of fine-tuned fare when it debuts this fall. Stay tuned for updates. 1110 S. Charles St., 410-727-2333
EPICUREAN EVENTS
7/26: Rum on the Roof
The Maryland Science Center continues its series on the science behind adult beverages with this special tasting led by master distiller Ben Lyon of Saint Michaels-based Lyon Distilling Co. Head up to the roof to enjoy sweeping views of the city skyline while sampling light bites, knocking back different varieties of Lyon's rum, and sipping tropical umbrella drinks. 601 Light St., 7-9 p.m., $55-60, 410-685-2370
7/26: Smoking Bowls Cookout
Head to Hampden's Union Craft Brewing to enjoy craft beers paired with eats from Jon Carroll of local ramen pop-up Smoking Bowls. The evening's menu will include Carroll's take on classic American barbecue dishes, with options like carrot salad, teriyaki wings, cheeseburger steamed buns, and pork belly lollipops.  1700 Union Ave., 5-10 p.m., 410-467-4290
NEWS
Travel + Leisure Gives Love to Charm City: Baltimore received some well-deserved praise in a piece published by Travel + Leisure magazine earlier this week. Aside from lauding attractions like the Sagamore Pendry Hotel and Fells Point waterfront, the article—which calls us "the coolest city on the East Coast"—gives love to foodie hangouts like Café Hon, Woodberry Kitchen, Clavel, Cosima, and Bottega.
Giada De Laurentiis Teases Baltimore Restaurant: In a Facebook Live Q&A last week, Food Network star Giada De Laurentiis mentioned that she plans to open a new restaurant in Charm City next year. "I'm going to open a restaurant in Baltimore," she said. "Don't ask me why, I have to think of a reason. But I am going to open a restaurant in Baltimore in 2018." Though there's no word yet on the location of the spot, De Laurentiis joins a slew of celebrity chefs targeting the Baltimore area. The most recent being Gordon Ramsay, who will open a British-inspired steakhouse inside Horseshoe Casino later this year.
Wit & Wisdom Receives Honors from Wine Spectator: For the fifth consecutive year, Wit & Wisdom inside the Four Seasons Baltimore has received an Award of Excellence by Wine Spectator magazine for its top-notch vino varieties. The restaurant was lauded for its expansive wine list, as well as its strength in champagne. "As an American tavern, we, of course, focus on domestic deliciousness," said lead sommelier Julie Dalton, in a statement. "But I'm particularly thrilled for the nod to our strength in champagne. The world would be a happier place if we all drank more champagne." 200 International Drive, 410-576-5800
SHUT (FOR NOW)
Club Charles: The neon lights inside this 66-year-old Station North staple will dim for the foreseeable future on August 1. According to reports by City Paper, owner Joy Martin will be closing the bar for renovations starting next month, and there is no clear indication of when it will reopen, if at all. The dive bar has long been a destination for locals to down drafts of beer, marvel in eclectic décor, and sing along to familiar jukebox jams. 1724 N. Charles St., 410-727-8815