At Home in Nature
Liza Hathaway Matthews' layered floral paintings have found their way into the world of textiles.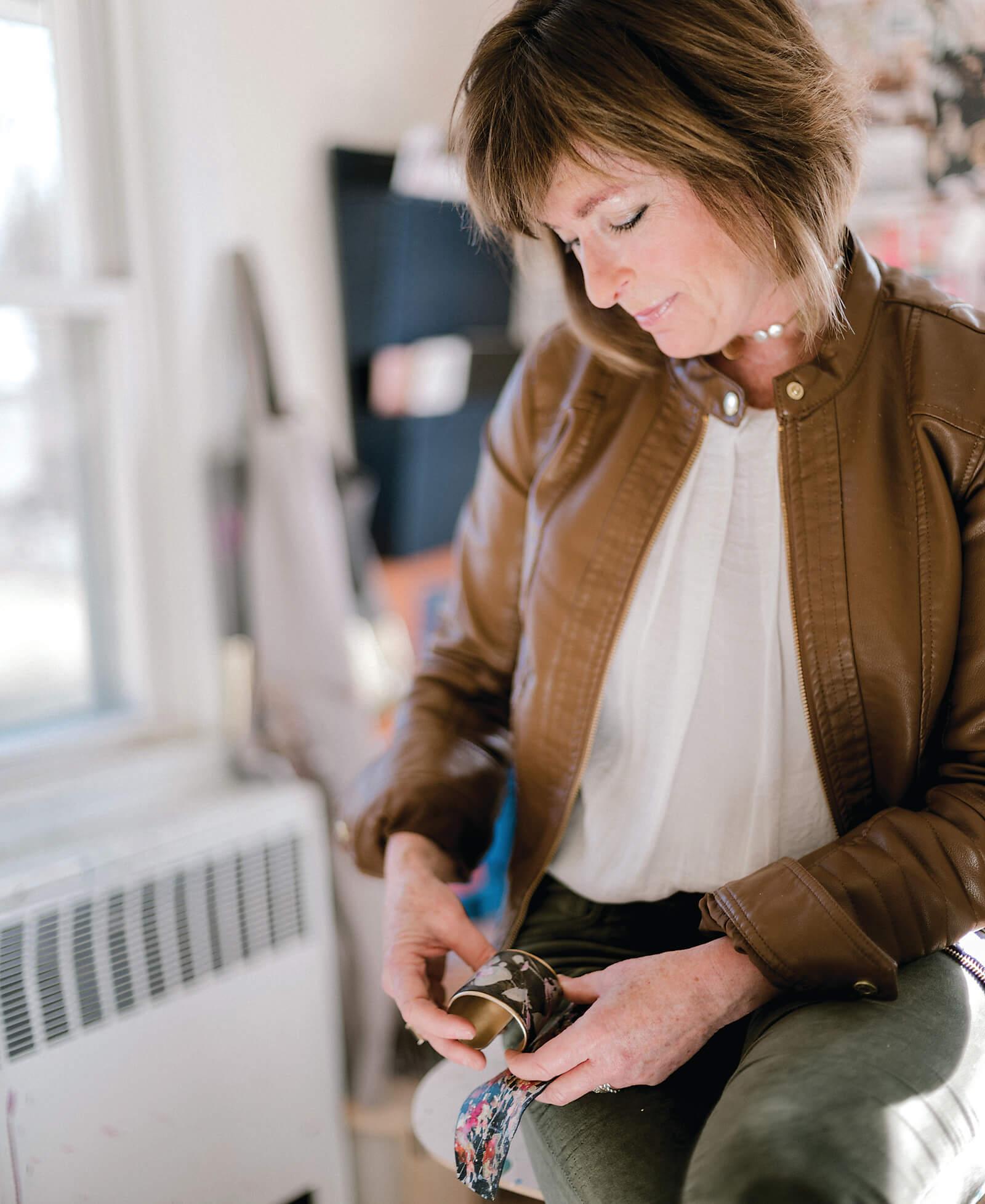 Contemporary abstract artist Liza Hathaway Matthews needn't look any further than her own backyard for inspiration. Large windows lining the back wall of her home in Woodbrook not only provide the natural light that artists live for, but also overlook a picturesque expanse of Lake Roland. The ever-changing hues of water and sky work their way into her landscapes, seascapes, and abstract floral paintings.
"Do you see that line of blue just above the horizon, under the clouds?" she asks, pointing toward a day-blue swatch just above a pine tree line. She stands in her living room, surrounded by her work—which is not just framed pieces on the walls but throw pillows, linens, and a fabric lampshade. "It's in my work. I'm influenced every day by what I see outside. And the moon. I literally have the best spot for it. All week, I've been watching it."
Her vibrant, nature-inspired paintings—some of which have been transformed into textiles by Cotton & Quill and Anthropologie—often reflect the loose, organic shapes she sees outside. Her most recent series of paintings was done on leather, but she also works with paper, canvas, and mylar and incorporates oil and acrylic paints, alcohol ink, gold leaf, oils, and other materials to achieve layered effects.
"I don't like everything to be so predictable. That's probably why I also love working with so many different mediums," she says. "I literally put everything and the kitchen sink onto my paintings. One day, I didn't have any Wesson oil for a piece, and I came running downstairs and grabbed the olive oil, and my husband was like, 'Oh my God—now you're using olive oil?!' And I was like, 'I need it, and I need it now.'"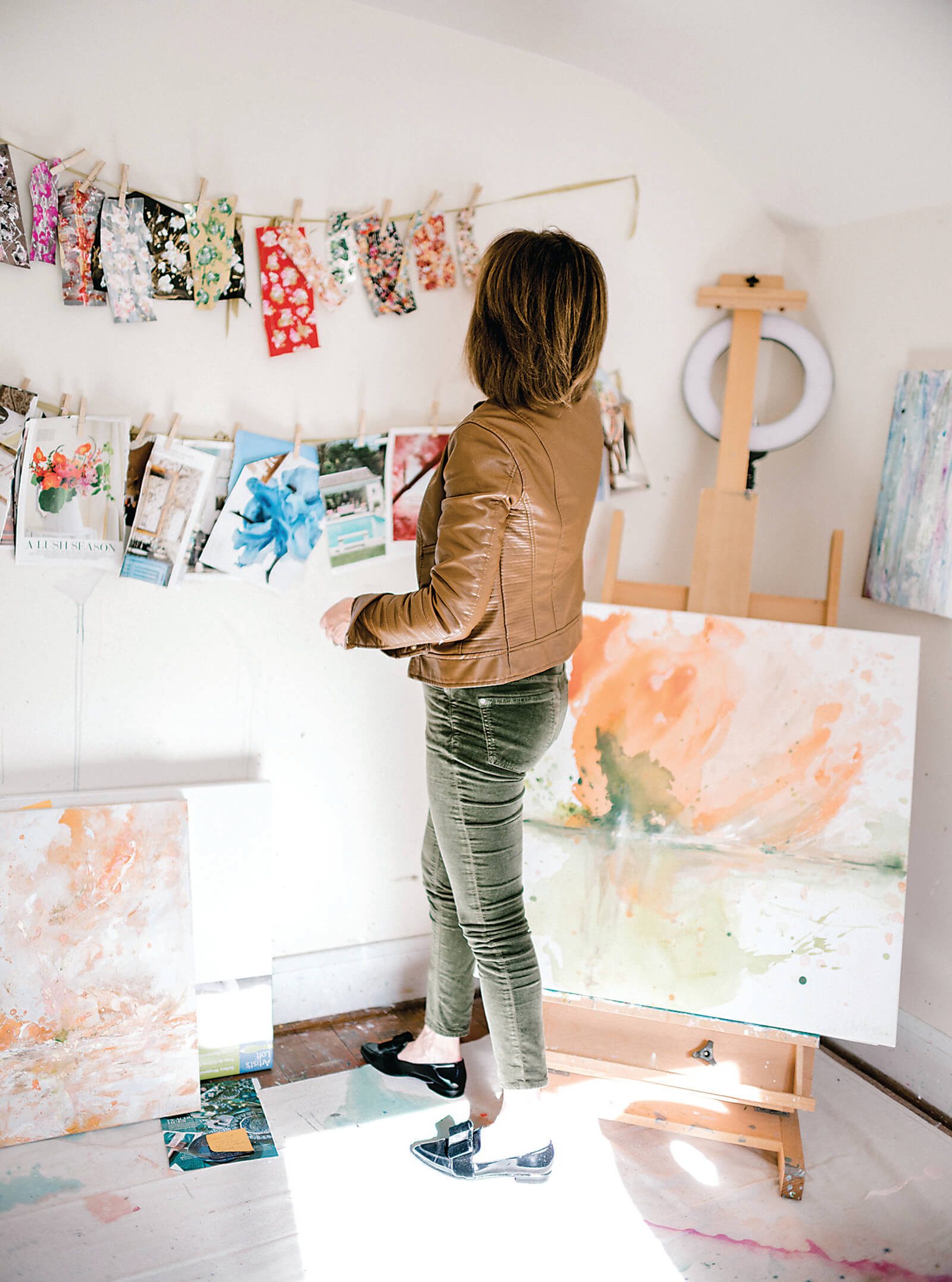 Hathaway Matthews was born and raised in Baltimore and, as she puts it, "lived in the woods as a kid," always exploring the natural world around her.
She grew up in a creative family, with a mother and cousins who dabbled in art and were supportive of her pursuits. "I always loved my art classes in elementary and high school," she says. "All of that was just so in my wheelhouse."
She majored in painting and minored in interior design at Maryland Institute College of Art, earning a BFA before joining the workforce at a commercial interior-design company. But that gig was relatively short-lived. She found it too limiting, wanting to focus solely on making her artwork. She then went in a totally different direction and began fundraising for United Way, wanting a reliable salary as she and her husband raised their three children.
As the kids got older and her schedule became more flexible, she found herself painting again. It was mostly just for herself, until a friend, a residential interior designer, began selling some of her work to clients. This morphed into Hathaway Matthews working with other local interior designers and later hiring someone to build her website, getting plugged into social media (Instagram and Pinterest remain her favorite platforms), and launching a business that now draws clients from across the country and Canada.
"I think the social media piece has really opened my world," she says. It's often how clients find her, but also how she finds new ideas. "I'm inspired by landscapes I see on social media, but I'm also inspired by home interiors. I love bohemian-looking interiors. I like a mix of things. I like texture and things that are built upon other layers."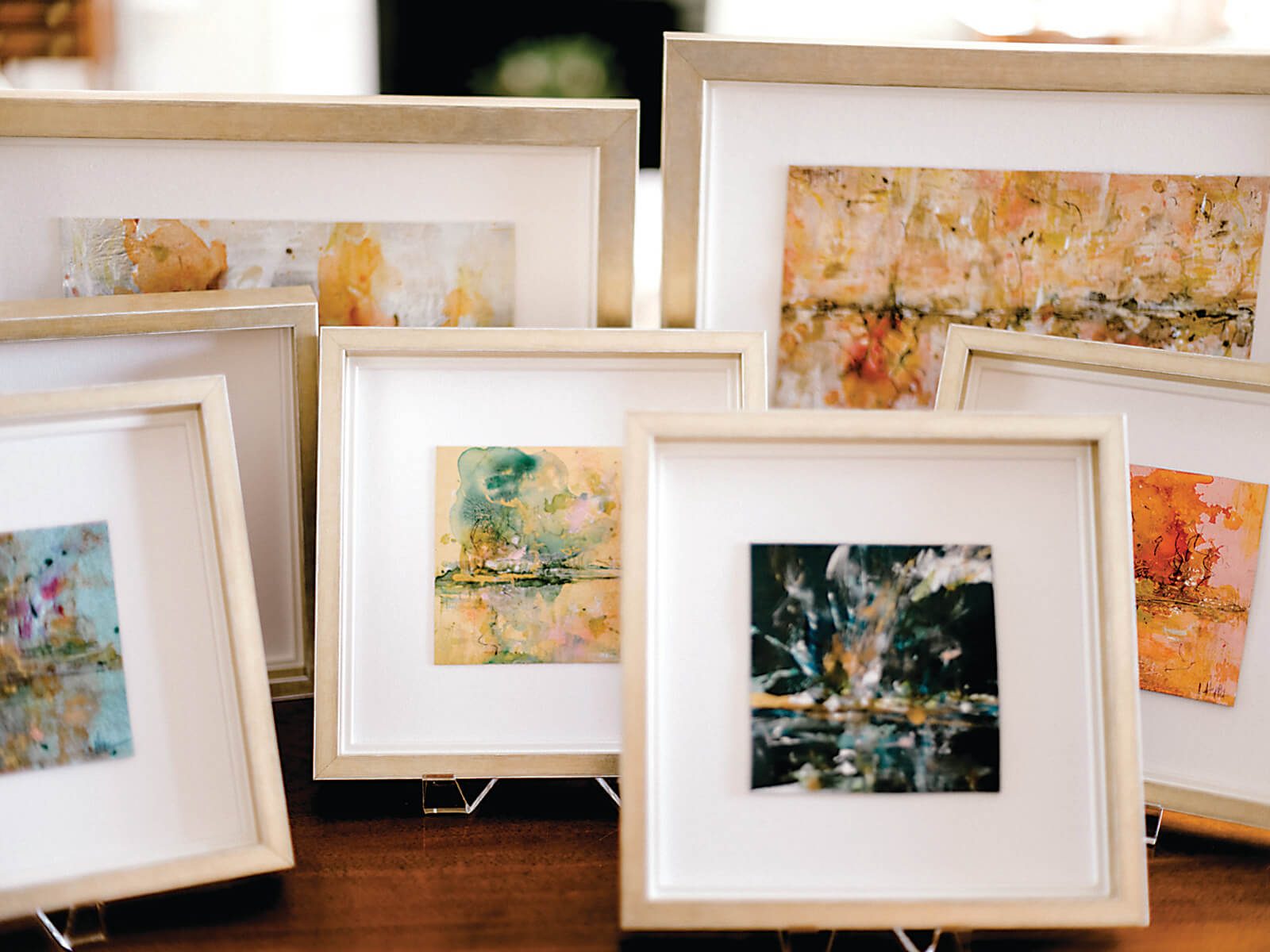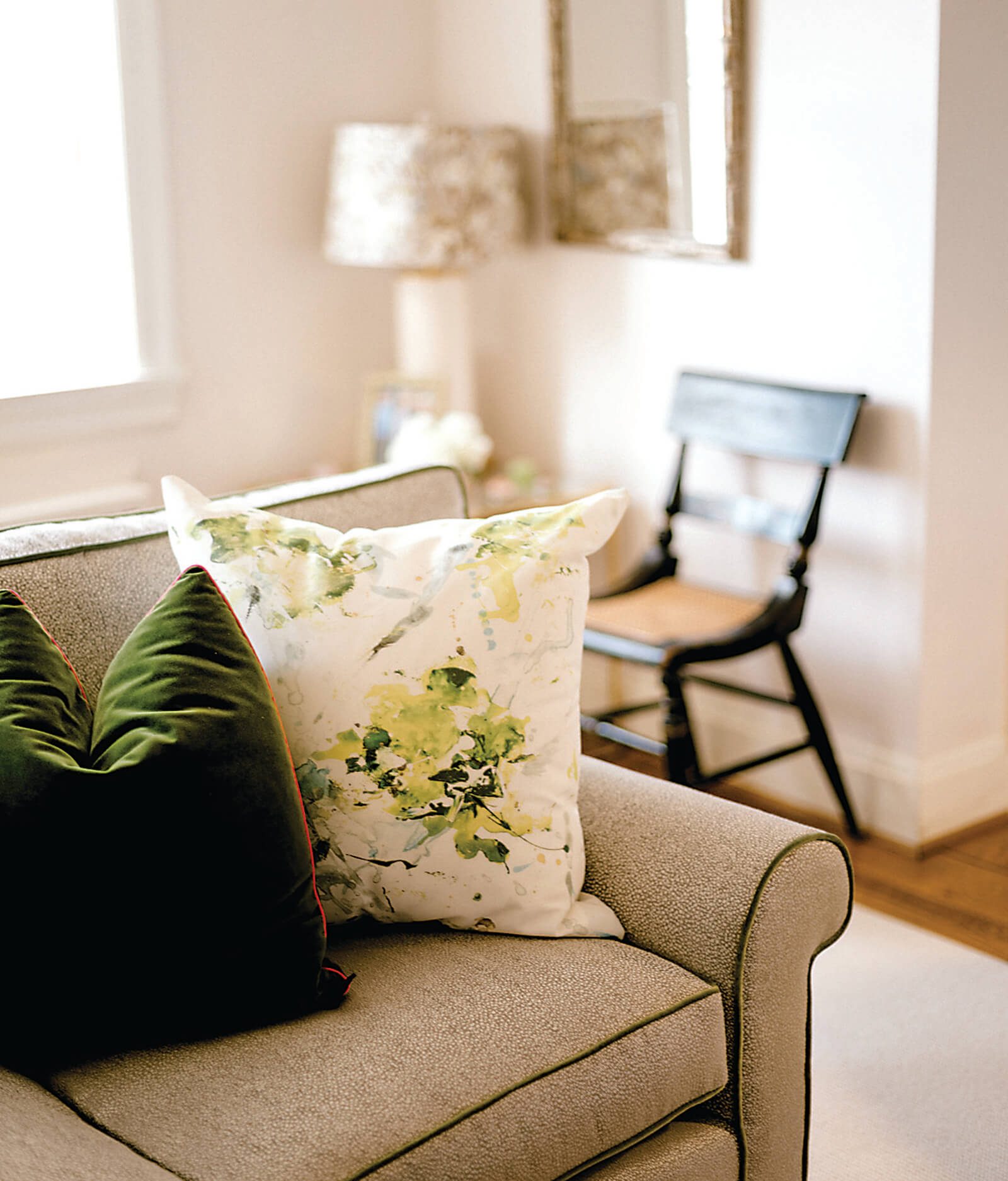 Cotton & Quill, a hand-illustrated textile company, found her work online about five years ago and began collaborating with her to create fabrics and wallpaper based on her work.
Anthropologie was among the companies that found her through Instagram (@lizahathawaymatthews), and she has loved working with them. "They're very hands-on, but they also want me very involved," she says. "They're not taking my design and totally changing it; they're still keeping my vision of how I painted it."
They were interested in her floral work, so, after talking with them, she painted a large abstract floral piece in acrylic, oil, and charcoal with a silver background and mailed it to them. Anthropologie was determined to retain a bit of the metallic aspect, which she uses in many of her pieces, when they created a line of her designs titled "Rites of Spring" (released in the fall of 2018), including a lampshade and digitally printed wall mural.
"They'd send me the prototypes to see if I liked it or had any thoughts," she says. "Everything they've done so far, I've really loved."
The finished lampshade almost appears to have been hand-painted by Hathaway Matthews, and it changes drastically depending on whether the light is turned on or off—another detail she appreciates.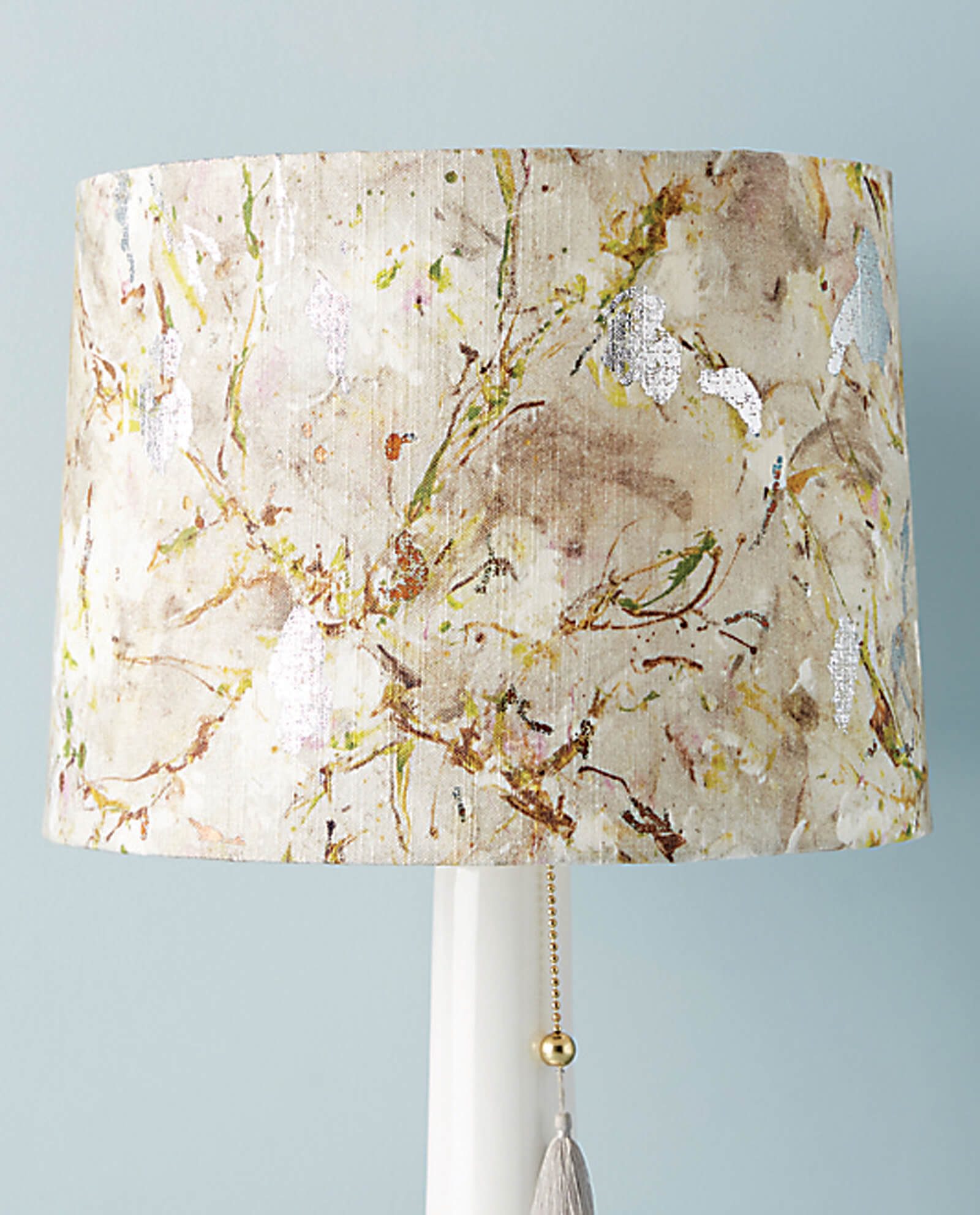 A typical day for Hathaway Matthews starts early in the morning in her second-floor studio, as she does some of her best work during those hours and finds it to be her most productive time of day. She might put in a four-hour day, or it might be a 10-hour day, but suffice it to say, she's constantly working on her craft—whether that means keeping up with commissions, collaborating with clients, or, yes, gazing out her window, taking in the view, and jotting down ideas.
About two years ago, she met Jenny Benscher, founder of Lema J Design, at a holiday gift show at the Baltimore Country Club. Benscher, who grew up in Baltimore and now lives in Florida, makes one-of-a-kind exotic leather cuffs and donates all proceeds to Karma for Cara Foundation, a nonprofit that formed when Benscher's niece was diagnosed with leukemia at the age of 21 and passed away shortly thereafter. Hathaway Matthews loved the cuffs, Benscher loved Hathaway Matthews' work, and so it was a no-brainer for them to collaborate.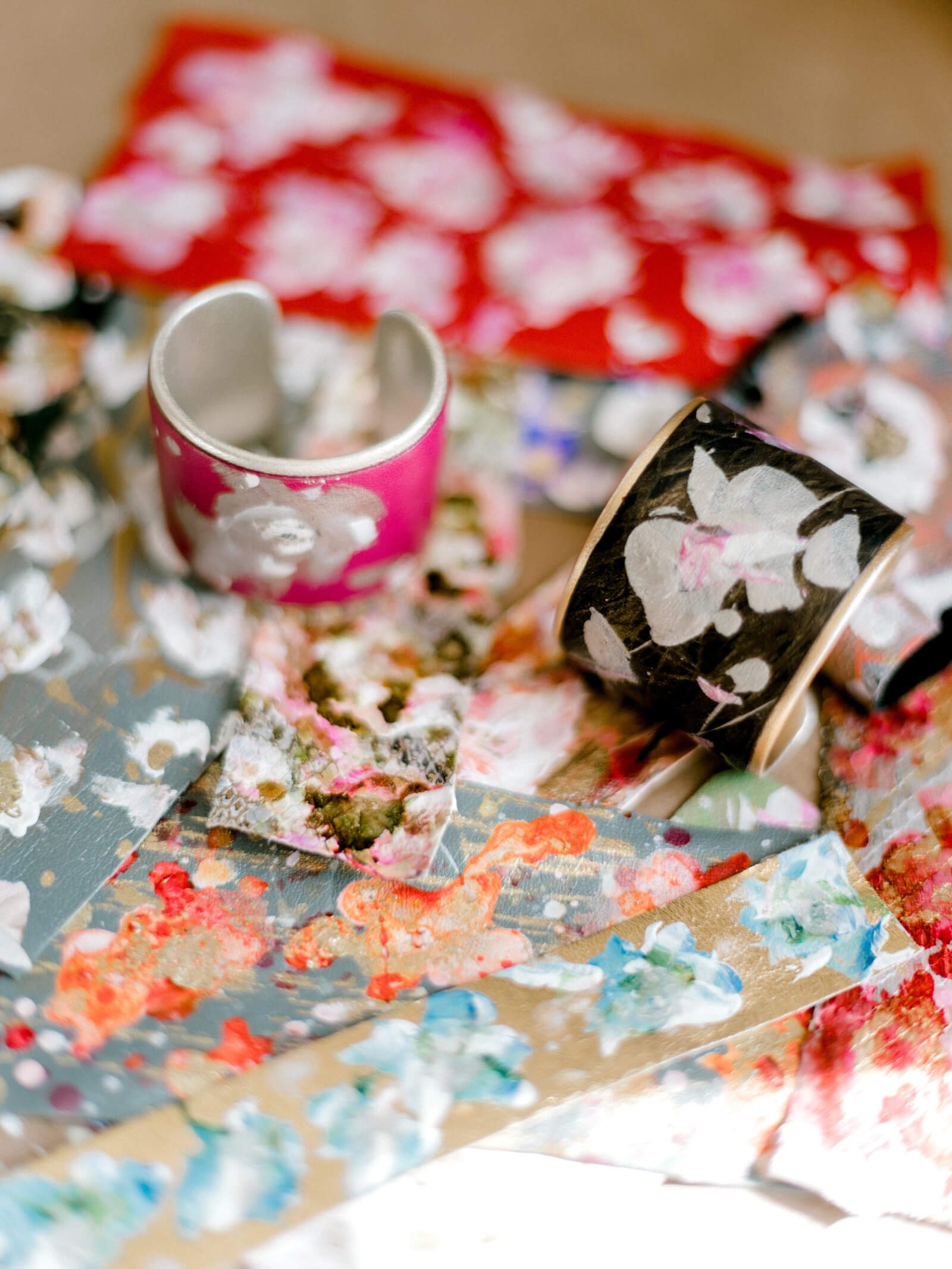 "I just loved her loose strokes and the florals and the colors, and I thought it would translate really well into these cuffs," Benscher says. "I didn't want it to look like a pretty little flower on a cuff; I wanted it to look like pieces from an abstract painting. And they do. To me, they look like little paintings."
They began working together in the spring of 2018, Benscher mailing assorted leather strips up to Baltimore, Hathaway Matthews hand-painting them with acrylic and using a sealant, then mailing them back to Florida, where Benscher crops and cuts them and affixes them to the metal cuffs.
"She sends me the coolest leathers: stingray, python, or a silver or a matte leather," Hathaway Matthews says. "It's really fun to come up with ideas for them, and I also just wanted to be involved."
This collaboration launched Hathaway Matthews' appreciation of leather as a medium. She was drawn to the added texture it provided, as well as the metallic leathers that give off a reflective glimmer.
She's created so many paintings on leather over the past year, in fact, that she's exhibiting them in a solo show, Radiating Nature, that begins this month. Her series of leatherette pieces in various sizes will be shown at Bozzuto Greene Art's gallery space, Gatehouse at Green Spring Station in Lutherville, with an opening reception on April 3.
Lexie Greene, who co-owns Bozzuto Greene Art with Robin Bozzuto, had been talking with Hathaway Matthews, whom they represent, about an exhibit. They knew a springtime show would be ideal for her work. After all, what better time of year to put these pieces on display than the magical season when the Earth wakes up again and begins showing all its colors?
Says Greene, "Liza's work is feminine, glamorous, and inspired by nature's beauty."