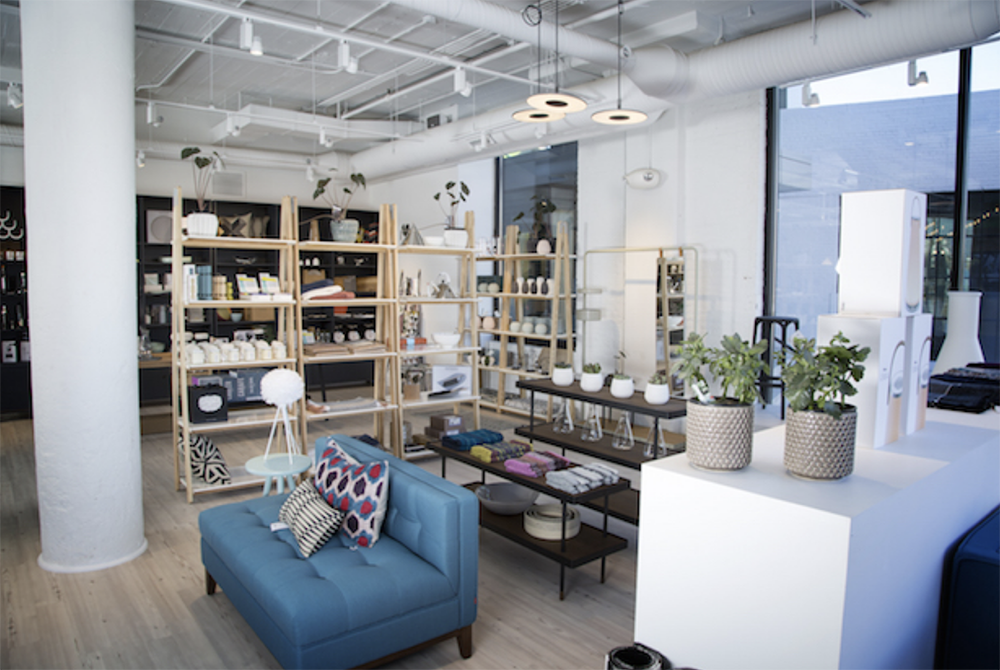 Design Distillery
Remember Home on the Harbor? Well, now the Key Highway home of interior design goals is bigger and better than ever before. After undergoing a rebrand and redesign in 2016, Design Distillery was born. The new expanded space features even more modern design inspiration, curated vignettes, and a free Skee-Ball machine. We talked with owner, Karen Graveline and her design dream team—Seth Kaiser, Pearl Laaveg, and Erin Friedel—about the new and improved store, current trends, and guilty pleasures.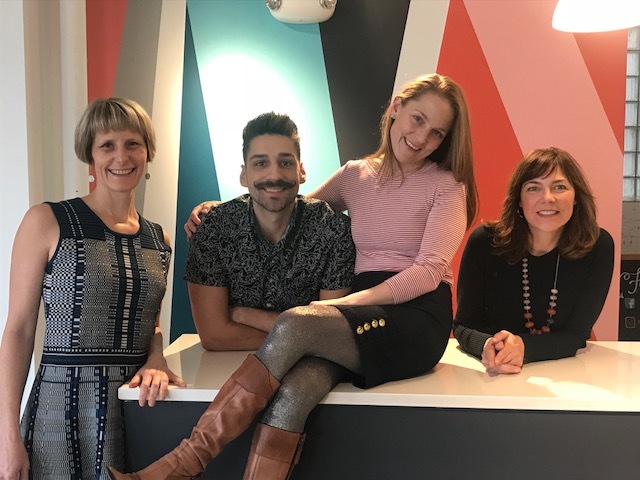 If you could describe Design Distillery in one sentence what would it be?

Karen Graveline: It's the place you come to find a piece that you connect with and can live with.
What does Design Distillery specialize in?

KG: So our collection is based on the idea of modernism. Clean, simple, and classic designs and we really try to offer items for an urban space, whether it's a big loft or a tiny row home, we have things that fit.
Why did you change your name?
KG: Home on the Harbor was established 15 years ago and it was a much different store during a much different time. We were selling mainly vintage and we were in a very small space, so when we were able to expand our space, we thought it was a good time to rebrand and really choose a name that fits us better for what we do now. Design Distillery still captures what Home on the Harbor started, which is finding really good designs and distilling it down to the best that is out there and staying really curated.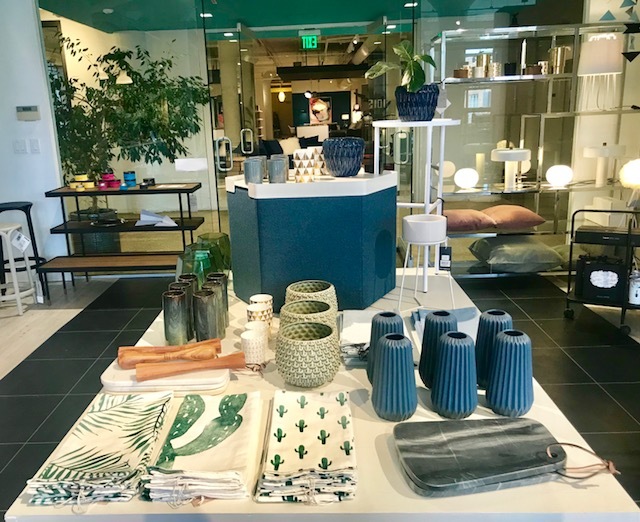 What do you think sets Design Distillery apart from other businesses?
KG: It's a fun atmosphere—we are trying to keep furniture shopping fun. I also think it's about the way we help people. We are more so a coach and want them to really be a part of the design process and make the design their own. And we have Skee-Ball.
If you could have one super power, what would it be?

Erin Friedel: We could move things without lifting them.
Seth Kaiser: Telepathy. The ability to move furniture with your mind—Jean Gray style. That would make floor sets so much easier.
Pearl Laaveg: I'd fly. I know that's not original but how fun.
SK: As long as it has a good costume change, I don't really care what the super power is.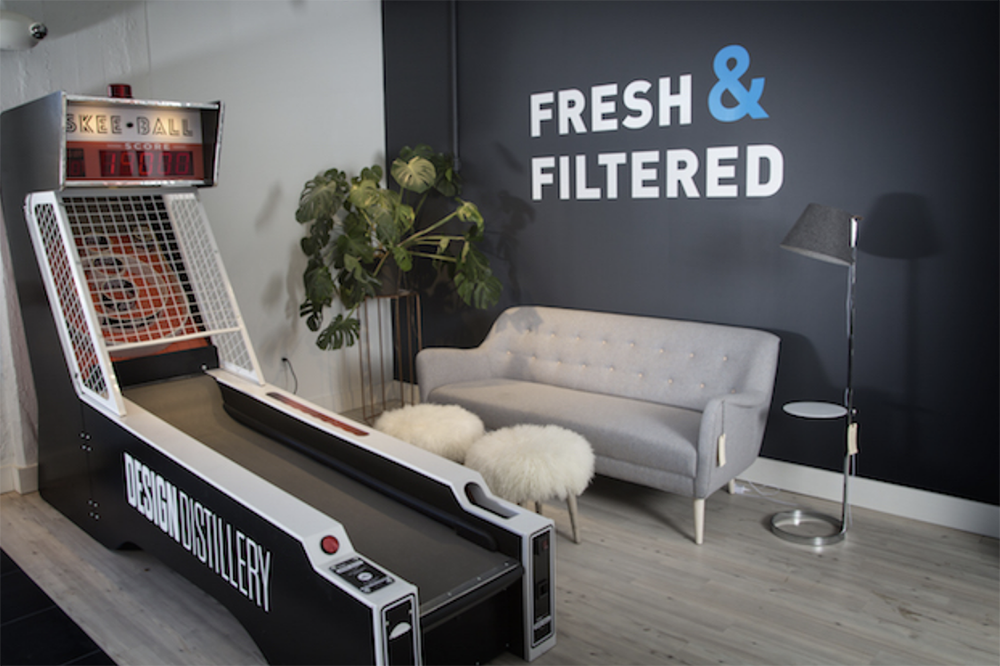 Who is your interior design hero?

KG: A source we go to a lot is Dwell magazine. It's just very inspirational. But I think more of our heroes are furniture designers like Patricia Urquiola. We think she is amazing and there's not too many women at that level so she is kind of my design hero.
SK: One of my favorite blogs that I continue to return to is desiretoinspire.net, they run the gamut on styles but they always have really refined photography that is really modern but original.
What is your favorite item currently in store?

KG: It's on its way! The velvet womb chair by Knoll. It's a classic design, I have one in my house, and I love it. We are getting it in this teal velvet.
EF: I would say the Saarinen dining table because it's so iconic and you could put it in any kind of home and make it work.
PL: I sat on the Eilerson Plano sofa recently and I wanted to move in. Like, I actually got busted by a customer as I was saying, 'I want to live here.'
SK: I was going to say the same thing! That sofa is awesome. It's different than a lot of things on the market. It's really been drawing people in and is insanely comfortable.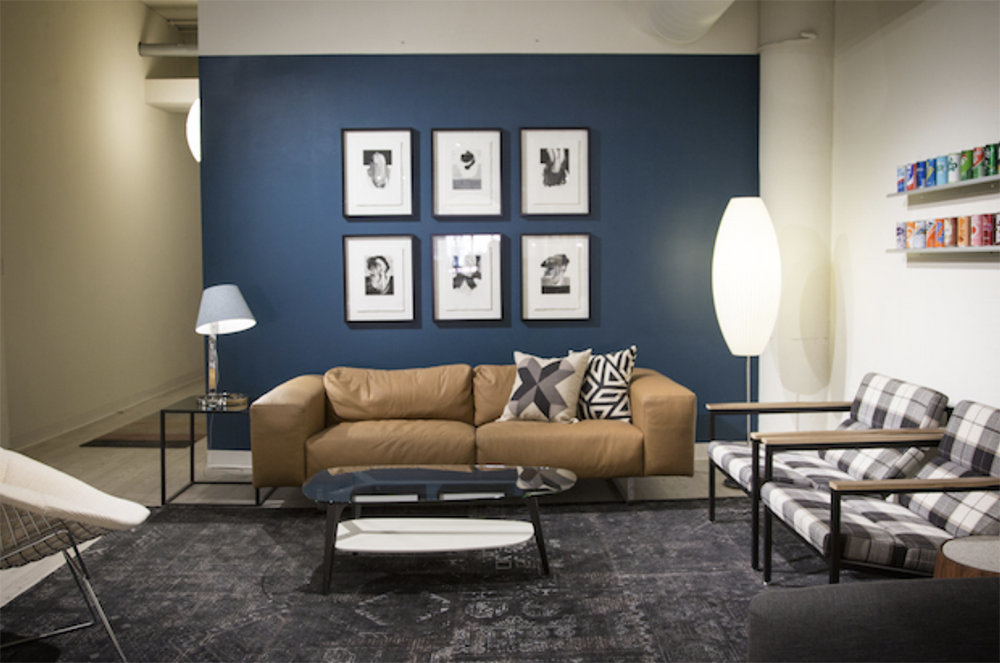 What is your favorite home decor trend right now?
SK: Dark, saturated walls. I'm still really vibing on the really dark charcoal walls and then pops of pink and a really light or bleached oak wood. Those things combined create something really beautiful for me right now.
KG: I'm always drawn to the Scandinavian aesthetic, the light wood hues and soft colors. Old spaces with more modern furniture.
What's the most embarrassing trend that you used to love?

KG: It was, I guess, the early 2000s, and I liked the chocolate brown and avocado or lime green. There was also the orange and chocolate thing and I think I bought a bunch of orange at that time. So that's one thing I don't want to see right now.
SK: I used to like the really heavy industrial stuff when I got into this industry and that's definitely faded. But it's all going to come back and get us, right?
What is your guilty pleasure?

PL: Glitter!
SK: Ru Paul's Drag Race.
KG: Chocolate.
EF: That's mine, too!