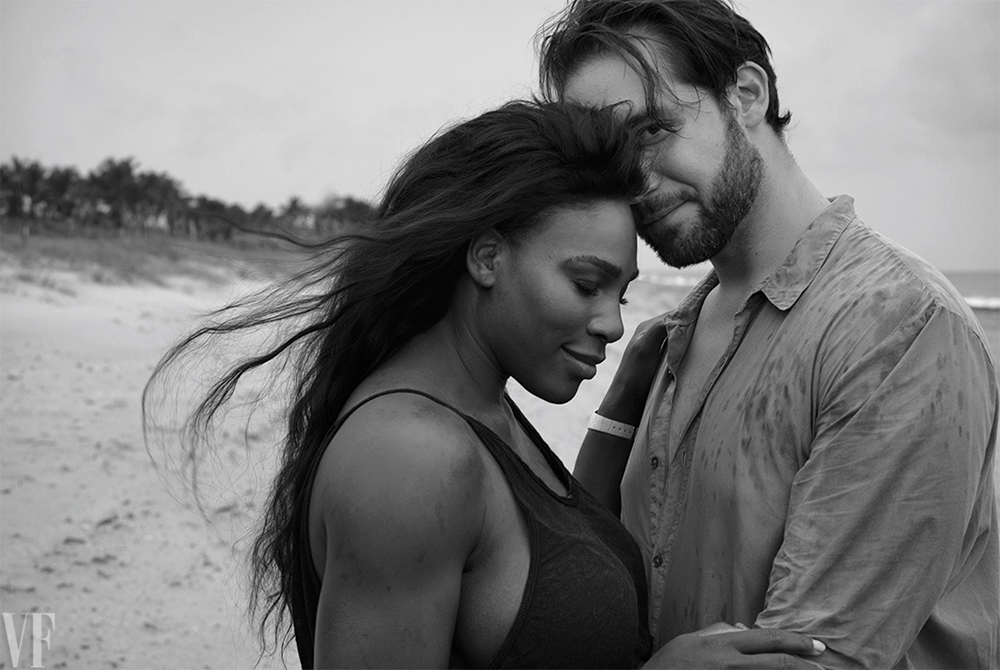 Annie Leibovitz / Vanity Fair
Serena Williams and Alexis Ohanian are couple goals.
On the cover of this month's Vanity Fair is a radiant Serena Williams, doing her version of the Demi and posing six months pregnant. By her side is Maryland native and Reddit co-founder Alexis Ohanian, who is planning to marry Williams this fall. 
Shot by Annie Leibovitz and written by Buzz Bissinger, the article reads as a chronology of their love story, from an improbable meeting when he was hungover by the pool to her handing him a paper bag with six positive pregnancy tests. 
The story cements the fact that they are an unlikely couple—him knowing nothing about tennis and her not realizing what Reddit was when they first met. But through travels, tennis matches, and tech conferences, they seem to make perfect sense.
"I felt like a door had been opened to a person who made me want to be my best self," Ohanian said in Vanity Fair. "I find myself just wanting to be better by simply being around her because of the standard she holds."
The Michael Phelps vs. Shark hype is real.
The over-the-top, dramatic trailer that the Discovery Channel released this week for Michael Phelps' upcoming televised race against a great white shark leaves us giddy, and with many obvious questions. 
From the show's title, Phelps vs. Shark: The Battle for Ocean Supremacy, we know this man vs. beast competition will happen in an ocean, but which one exactly? And will the Baltimore native and 23-time Olympic gold medalist be separated from one of nature's most dangerous predators by something like a swimming-pool lane-line we're used to seeing Phelps freestyle alongside, or the sturdy metal cages we often see divers and scientists protected by on Discovery's annual summertime Shark Week programming?
I guess this is the point of marketing hype. Discovery will air the race at 8 p.m. on Sunday, July 23, and, for now, we're left with a hilariously intense 30-second preview. (Cue Phelps standing on the beach and staring into the distance of a faraway ocean…)
One thing the trailer did not include was mention of the event being live. And, judging from Phelps' recent social media posts, he may have already made it through the battle unscathed and alive to tell the tale. Indeed, a few weeks ago, Phelps said during a panel discussion that he was recently in South Africa and that "Sharks are like my No. 1 favorite animal in the world. Being able to see them face-to-face was pretty cool."
Still, this piece of sensationalist entertainment bears watching. Early odds peg the shark as the favorite, with experts saying a great white can reach estimated speeds of 25 miles per hour when in attack-mode. The soon-to-be 32-year-old Phelps, in his prime, was clocked swimming at six miles per hour.
Ed Reed invests $250,000 in an emoji company.
Do you really blame him?
"All of my conversations seem to be in emojis," the future Hall-of-Famer and former Ravens safety said in a press release announcing him as one of five angel investors in the New York-based tech startup company, Mojiit.
The company intends to pair emojis (and we thought to write this entire item with them J) with smartphone and 3D hologram technology. So when you see live emojis one day beaming out of the iPhone 9 (or 10), be sure to thank Ed Reed, be him in real or hologram form.
Terps land a big in-state recruit.
Good news for Maryland basketball fans: The Terps locked up a commitment from highly-regarded, 6-foot-10 forward Mount Saint Joseph's rising senior Jalen Smith. Recruiting services, for what they're worth evaluating still-maturing high-schoolers, say Smith is Maryland's second-highest ranked recruit in the last 15 years.
(Hey, look at those emojis in his Twitter announcement!)
Don't throw beer! Justice is served for Orioles outfielder Hyun Soo Kim.
Remember this…
The man who tossed a 24-ounce beer can at Orioles outfielder Hyun Soo Kim during last year's wild-card playoff game in Toronto has been banned from all Major League Baseball games while he completes a 12-month probation sentence after pleading guilty to a mischief charge.
The man, Ken Pagan, who lost his job as a sports copy editor at the Canadian Postmedia in the wake of the incident, also must complete 100 hours of community service. What's more, the Canadian prosecutor of the case levied some tough language, calling Pagan's behavior "unsportsmanlike," and "un-Canadian." (They usually are a level-headed bunch.)
Kim said he received a remorseful letter from the man, and that he accepted the apology. "People make mistakes," Kim told reporters through an interpreter. "I'm sure it's not going to happen again."
Well, this is at least one more win for the Orioles, who coincidentally beat the Blue Jays twice in three games this week in Toronto to bring their record back to .500 (39-39). Of all people, Ubaldo Jimenez—who ultimately ended the O's season by teeing up a three-run homer in the bottom of the 11th inning of that same playoff game last year (with Zach Britton chilling in the bullpen)—returned to the scene of the crime Thursday night and tossed eight unexpected shutout innings to earn a needed victory.