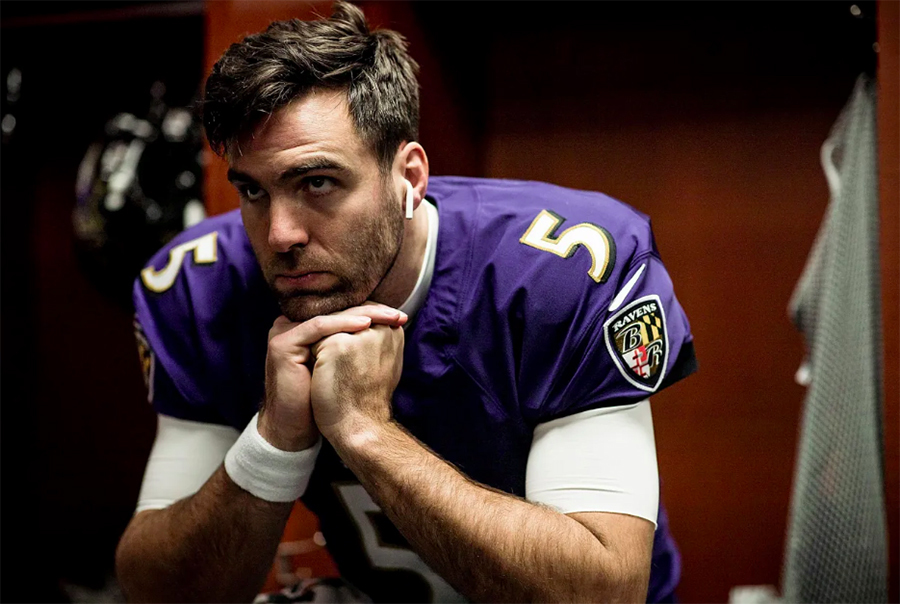 Shawn Hubbard / Baltimore Ravens
The reported trade of Joe Flacco to the Denver Broncos—which won't become official until next month, per NFL rules—shouldn't come as a surprise. The Ravens made it clear they were moving on from the oft-maligned, Super Bowl-winning quarterback several times over the last few months.
But the news of Flacco's impending departure does deliver a sense of finality for an era that started 11 years ago and saw ups, downs, the streakiest of flawless playoff performances in 2012 en route to a championship, followed by a much debated monster contract, and all the questions and discussion about Joe Cool's unassuming demeanor along the way.
The last few years haven't been great on the field for the now 34-year-old— he was 24-27 as a starter the last four seasons, and he faced several different injuries. The last of those, a hip injury suffered against the hated Steelers (it seems appropriate Flacco's final game as a Raven came against Pittsburgh), coupled with rookie Lamar Jackson's electric play in his place, put the strong-armed Flacco out of a job in Baltimore for good.
Maybe Flacco was never elite, as a nation of football fans and local sports-talk radio callers loved to publicly ponder, but Flacco sure does leave a lasting legacy behind that's comparable to those of other heroes in Baltimore sports history.
Flacco, the New Jersey native and University of Delaware alum with a last name perfectly suited for the Baltimorese dialect, is the best quarterback to ever play for the Ravens franchise. Replicas of his No. 5 jersey hang in closets, restaurants, and bars everywhere. He might not have done things exactly the way you (or Ray Lewis) would have liked, but he gave years of Ravens teams what was needed, a steady presence and dose of understated class at arguably the most important position in pro sports, even as so much changed around him. It's a career that, in all likelihood, will become more appreciated as the years go on.
Right now, it feels weird to imagine Flacco wearing an orange and blue Broncos uniform. (Though you don't even have to imagine it; here's a Photoshopped look.) But, pending a retirement or a catastrophic preseason injury, that's what we'll see for real next year. The Ravens, under new general manager Eric DeCosta, have agreed to trade Flacco to Denver for a fourth-round draft pick.
You won't hear any public comments from Ravens coaches or players about the move until it becomes official on March 13. For now, we're left with Flacco's thoughts before he left the Ravens locker room for the final time — "I love the people of Baltimore," he said. "I can't imagine a better 11 years." — and other reaction, like from safety Tony Jefferson, who acknowledged Flacco on Wednesday after the trade reports broke:
Just want to give a S/O to Joe Flacco, true pro. Couldn't ask for a better guy in the locker room. How he carried/conducted himself even when things weren't always in favor - It takes a true pro to do that and I'll always respect him. Congrats broncos got a good one. Best of luck

— Tony Jefferson (@_tonyjefferson) February 13, 2019
Ah, Denver. The site of the "Miracle at Mile High," the beautiful, cathartic 70-yard touchdown heave from Flacco to wide receiver Jacoby Jones in the final minute of the 2012 divisional round playoff game that was the most astounding of all the moments of the Ravens' Super Bowl XLVII winning season, and probably of Flacco's entire Ravens career. It's a "where were you when?" sort of thing.
There were plenty of other memories, like various rivalry games with the Steelers, and for every cool touchdown pass a seemingly comical scramble, or fumble, around a collapsing pocket. Or when he sauntered into the end zone with a rare touchdown run. Or wore an ugly fu man chu on his face. Or graciously paused to sign autographs or take photos around town (as he did one evening with my wife and dog after dinner; lineman Marshal Yanda was the photographer.)
But that was Joe Flacco. He was who he was, and is who he is. This isn't an obituary, after all, but it is the end of Flacco's football time here. (Well, at least Joe's. His brother, Tom, still has one season of eligibility left as the quarterback at Towson.)
Onward the NFL goes. Flacco, a father of five, will relocate across the country, get paid $18.5 million, and become the source of polarizing debate for another city, while the Baltimore sports scene will move on to the Lamar Jackson era. Flacco himself officially ushered that in with his gracious acquiescence to the 21-year-old ("It's out of my hands," he said)—and with his part in the decision to stay on the bench of the Ravens' wild-card playoff game against the Los Angeles Chargers.
Fans chanted for Flacco to enter the game then, and how could they not? This was a guy who gave this city a whole lot, including a championship and plenty of classic, quirky local commercials—featuring corny jokes and looks ranging from boyish crew cut in a Pizza Hut jersey (Flacco's Favorite!) to manly makeover and talking to kids while hawking banking services.
We'll miss those spots, of course, but Flacco will be back this way someday, when his name and number are affixed to a concrete façade at M&T Bank Stadium, alongside all the other Ravens greats like Lewis, Ed Reed, and Jonathan Ogden. Because that's the company that Flacco keeps.